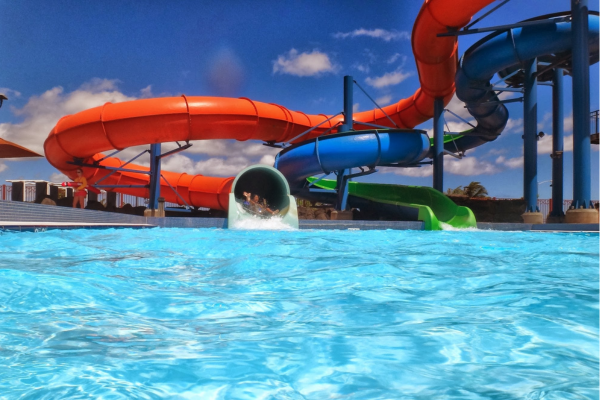 The only thing better than a summer road trip in your RV is driving to a destination where you can cool off. Is there anything more enjoyable than camping near a waterpark when the sun is high, the humidity is thick, and you're eager to shake off the summer heat? RV Trader has compiled a list of five waterpark RV campgrounds around the United States that would love to welcome you and your family this summer.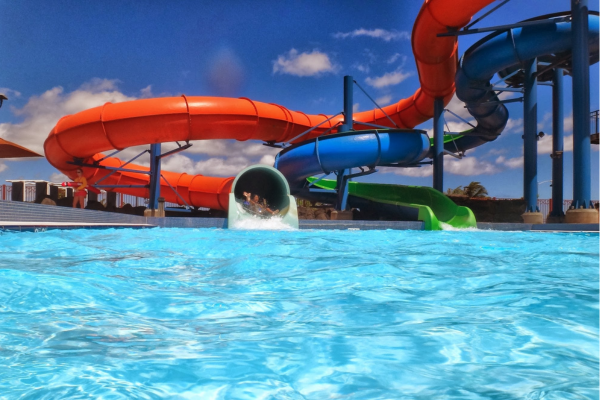 1. Splashway Waterpark & Campground (Sheridan, Texas)
If Texas is on your road trip itinerary in your Class B RV this summer, you don't want to miss Splashway Waterpark. Just a short drive from Houston, Austin, and San Antonio, Splashway Waterpark has several attractions. From plunging water slides and lazy rivers to wave pools and a kiddie lagoon, there are endless ways to stay cool in the summer heat.
Splashway Waterpark's campground include sites that can accommodate even the largest RVs, such as fifth wheels and Class A motorhomes. Each RV site includes full hookups with either 30-amp or 50-amp service.
 2. Ripplin' Waters RV Park (Sevierville, Tennessee)
 Also called "The Friendliest Campground in the Smokies," Ripplin' Waters RV Park has countless attractions for visitors. Whether you want to spend time in nature at Great Smoky Mountains National Park, cool off at Dollywood's Splash Country, or ride thrilling water coasters at Soaky Mountain Waterpark, there's something to do for the entire family.
The RV sites at Ripplin' Waters Campground are affordable and convenient. There are 155 back-in sites, and some are over 55 feet long. All sites offer 50-amp electric connections, and 50/30 adapters are available at their Camp Store. Other amenities include fire pits, picnic tables, restrooms, showers, laundry facilities, Wi-Fi, water, sewer, and more.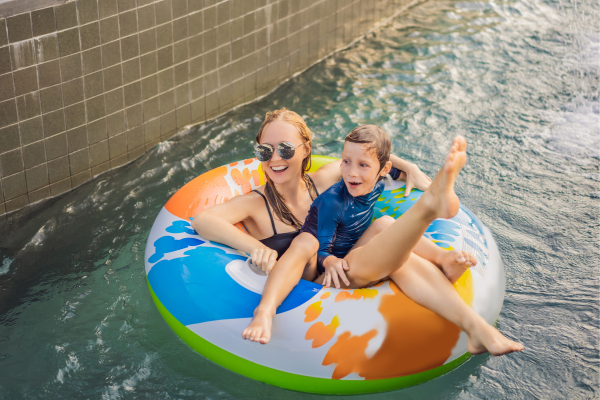 3. Yogi Bear's Jellystone Park Camp-Resort (Luray, Virginia)
 Located in the gorgeous mountain town of Luray, Jellystone Park is an award-winning campground with several attractions and amenities. From a massive waterpark to mini golf and a playground, there are multiple ways to keep the entire family busy. Jellystone Park's waterpark includes swimming pools, water slides, and a splash pad.
RV campers at Jellystone Park have access to back-in, pull-through, and buddy sites. There are sites close to the park and the action, and there are more secluded sites amongst the trees. All RV sites offer water, sewer, and electric hookups. There are also picnic tables and fire pits for campers to enjoy.
4. Lake Siskiyou Camp Resort (Mt. Shasta City, California)
 Commonly referred to as "The Jewel of Northern California," Lake Siskiyou Camp Resort is the perfect escape if you're looking for a quiet vacation in the outdoors. There's hiking, fishing, kayaking, and paddle boarding for the whole family to enjoy. There's also a Splash Zone with inflatable toys on the lake. This isn't a traditional waterpark, but it's a great opportunity to cool off for those who prefer to relax in scenic, less crowded places.
Lake Siskiyou welcomes RVs of multiple shapes and sizes. For those who don't need full hookups, there are sites that offer water and 30-amp service. For those who want more, there are sites with full hookups that include 30-amp or 50-amp service. All sites include a picnic table and a fire pit with a grill top.
5. Silverwood Theme Park & Boulder Beach (Athol, Idaho)
 This park offers scenic mountain views, roller coasters, bumper cars, water slides, and more. The waterpark side, called Boulder Beach, is filled with a wave pool, lazy river, splash pad, high speed waterslide tower, and countless slides. Their attractions are categorized into low, medium, and high intensity rides, which makes it convenient to pick which ones your family will most enjoy.
If you want to camp near Silverwood in your travel trailer or other RV, you can stay at their RV park and campground. There are 123 sites with full hookups, and if you stay there, you'll get a discounted ticket to Silverwood and Boulder Beach. Other amenities include 30-amp and 50-amp power, fire pits, picnic tables, free Wi-Fi, laundry facilities, and a volleyball court.
This summer, escape the heat in your RV by embarking on a road trip to a waterpark RV campground. Many of these awesome campgrounds offer various attractions and amenities that will ensure a vacation you'll remember for years to come. If you're ready to start shopping for an RV to take you on your next adventure, check out our nationwide inventory of new and used RVs on RVTrader.com.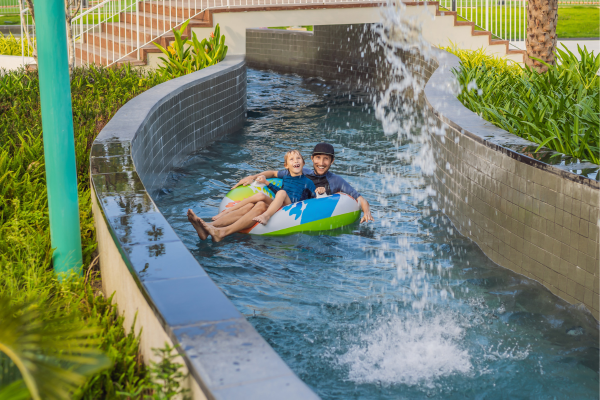 RVTrader.com is the industry-leading online marketplace for buying and selling new and used RVs, including Class A, B, and C vehicles, as well as campers and trailers. With over 200,000 recreational vehicle listings, RV Trader is a trusted resource for buyers and renters nationwide. And with over 6.5 million site visits every month, no marketplace is more trusted to generate inventory exposure for dealers and private sellers. RV Trader is a division of Trader Interactive and belongs to the well-known "Trader" family of brands.