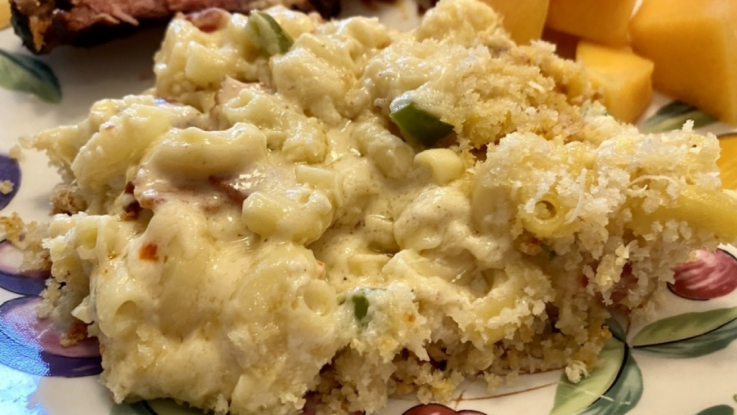 File this delicious dish in the "where have you been all my life?" file folder. Holy smokes, this bacon & jalapeno mac & cheese is good.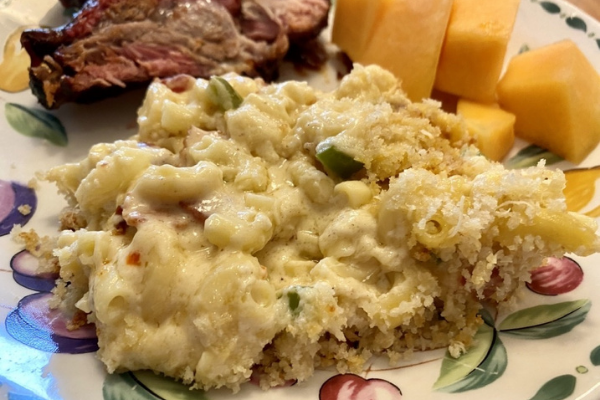 I've cheated making macaroni and cheese almost my entire adult life. Making it from scratch just took too long for this busy mom. I am hereby apologizing to my children right now for this terrible motherly failure. From-scratch macaroni and cheese requires a process for sure, but a darn good process!
The maiden voyage for this recipe was Father's Day, and it was amazing, even with our measuring mishaps. I knew Sunday would be busy, so I grated all the cheese on Saturday. Instead of measuring the cheese by the cup like the recipe says, I thought I'd be smarter and measure it by weight. To quote one of my favorite lines from the movie Pretty Woman, "Big mistake. Huge."  We had so much sauce, so very much. The macaroni noodles were swimming in the deep end of a sauce-filled pan. We quickly boiled more noodles and salvaged the mess.
This time I measured the cheese by the cup, not the weight, and it was perfect. A beautiful, perfect pasta-to-sauce ratio, and a delightfully perfect dish. I think that's the right number of superlatives to describe it's perfectness. So, learn from my lesson: measure the cheese by the cup!
Here are some notes:
It comes together pretty fast, so you'll want to have all your ingredients measured and ready to go.
Two jalapeños give it a nice, warm taste without too much heat. You can leave some seeds in or add more jalapeños if you'd like.
You can make this ahead of time. I make it a few hours early and store it covered in the refrigerator. I wouldn't make it the day before, though.
You can bake it in your Traeger grill.
Let's get cooking!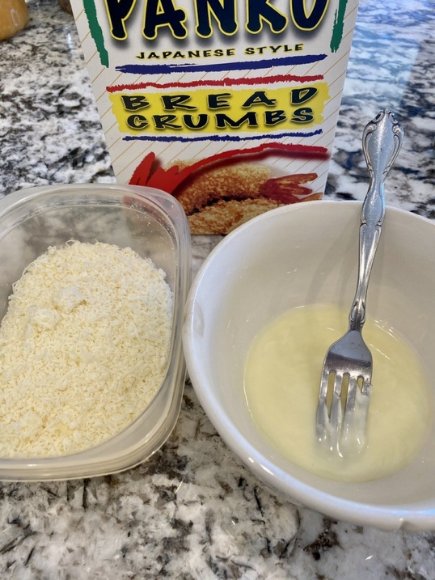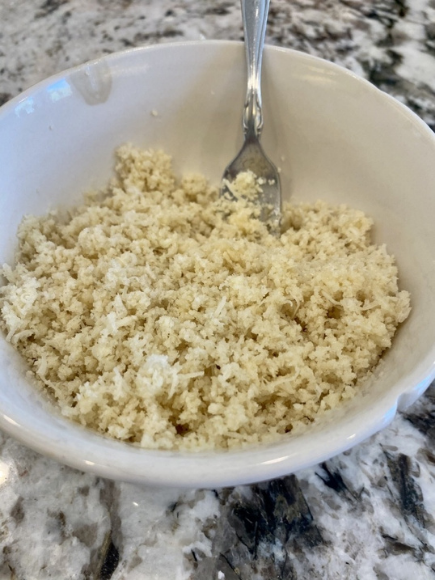 Use a fork to stir together the melted butter, panko bread crumbs, and Parmesan cheese and set aside.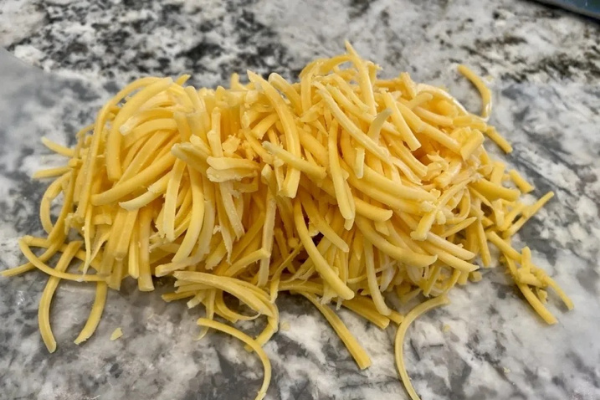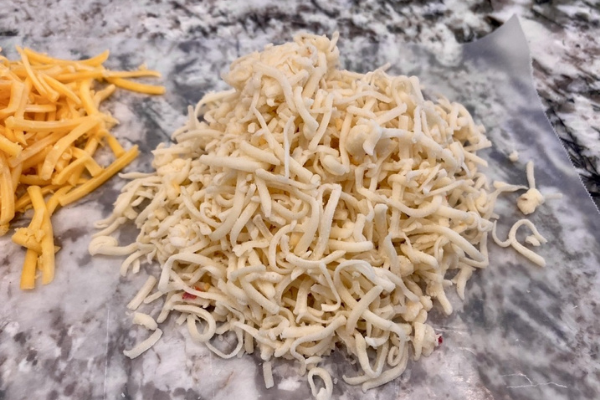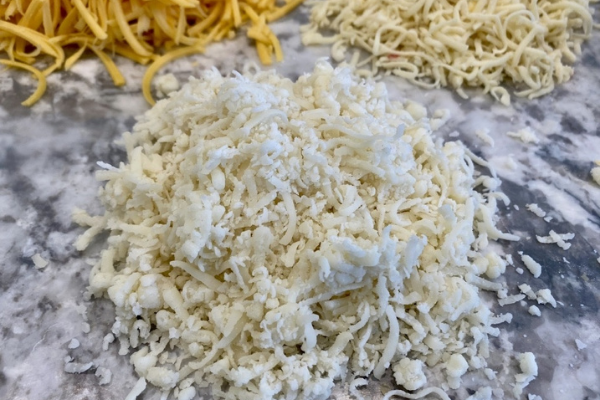 Shred your cheeses, measure, and put in a bowl.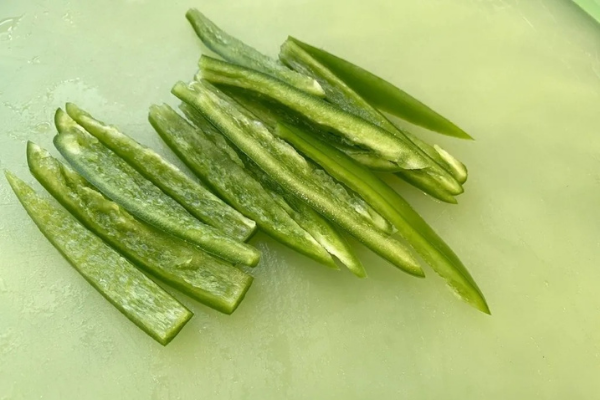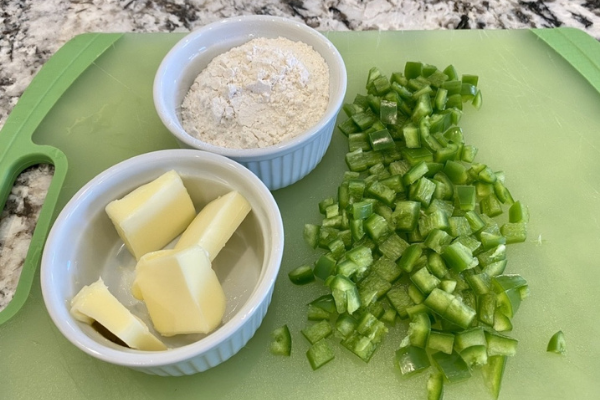 Seed and dice the jalapeños. Measure and have the flour and the half & half ready.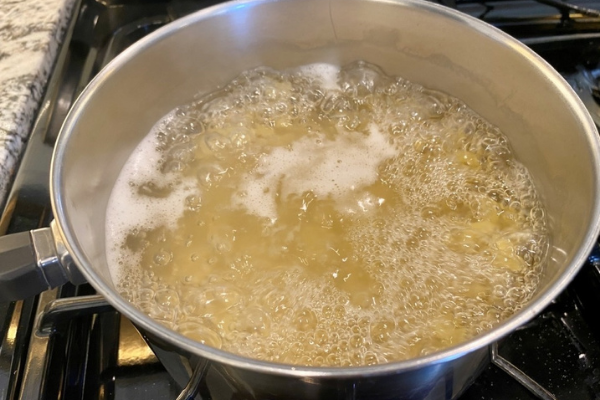 Boil salted water and cook your pasta two minutes under al dente. It will finish cooking in the oven. You don't want mushy pasta at the end.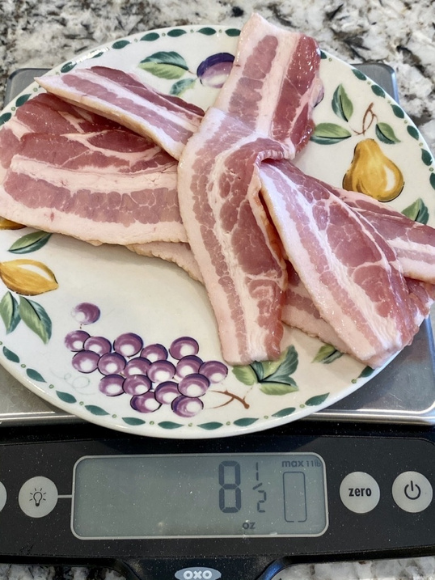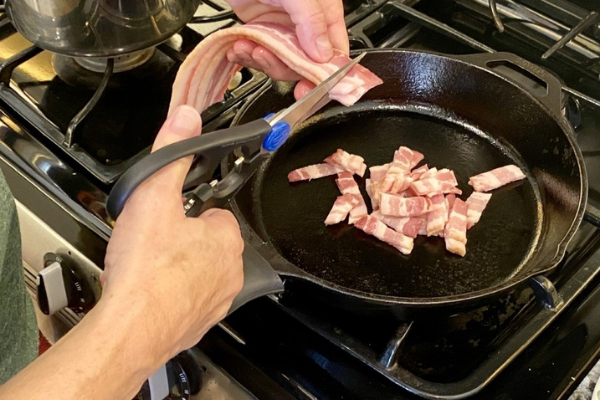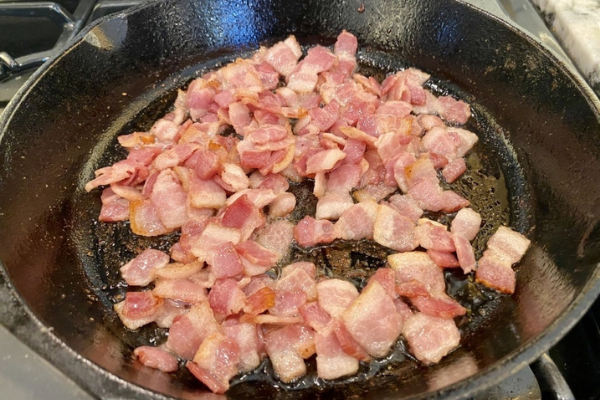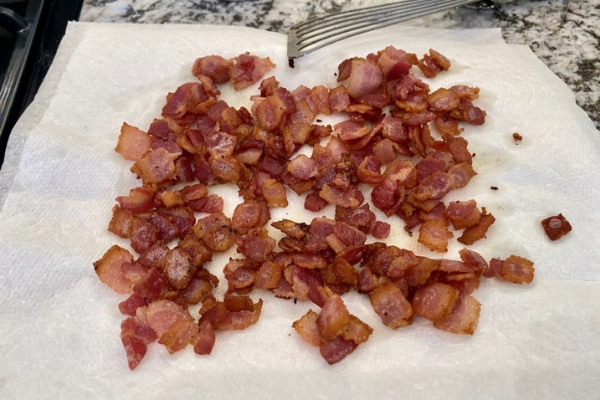 Cut 1/2 pound of bacon and cook in a cast-iron skillet until crisp; drain on paper towels.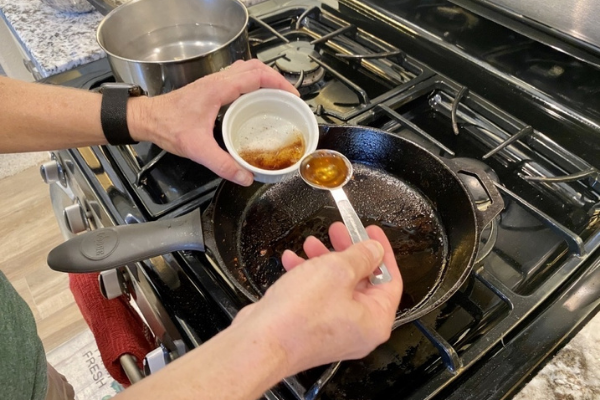 Drain all but three tablespoons of the bacon grease. I'm not good at eyeballing it in the skillet, so I drain it into a small ramekin and then measure back three tablespoons.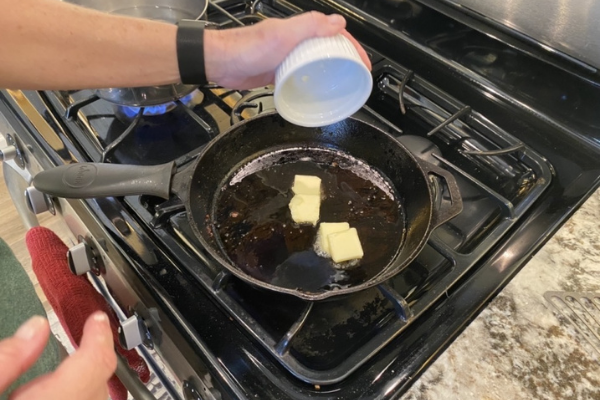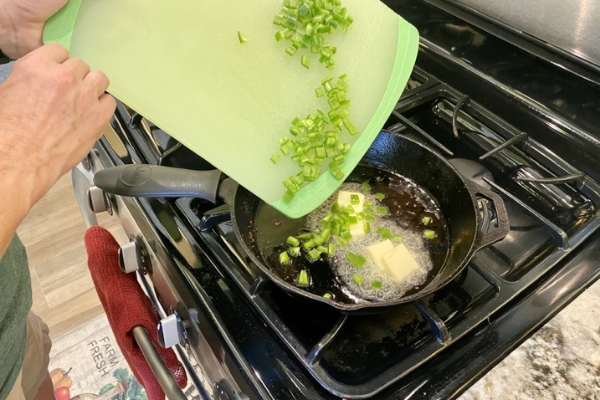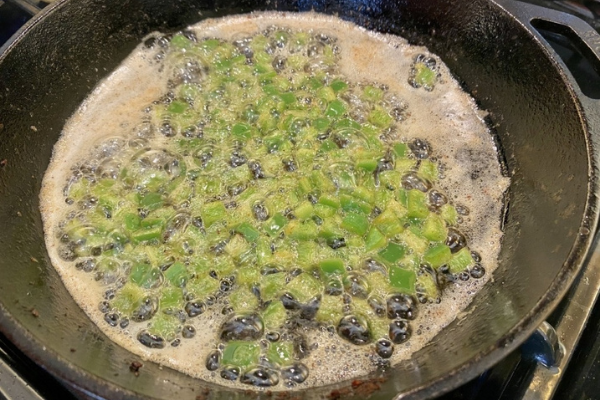 Add butter and jalapeños and sauté until they are soft, about one minute.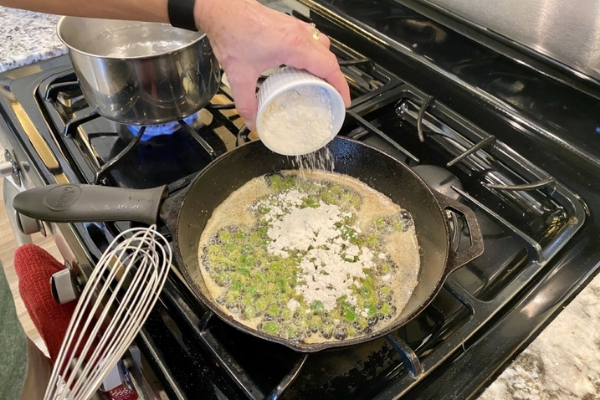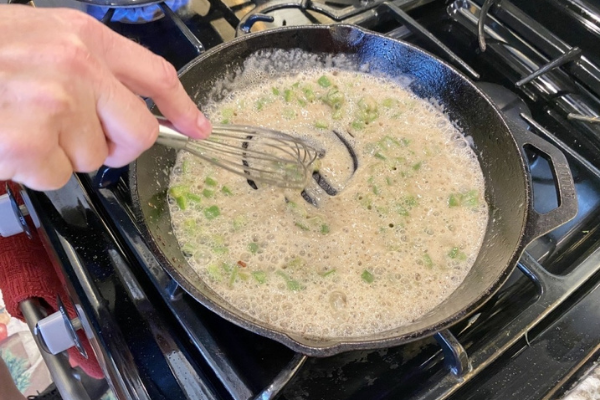 Add flour and whisk for 30 seconds.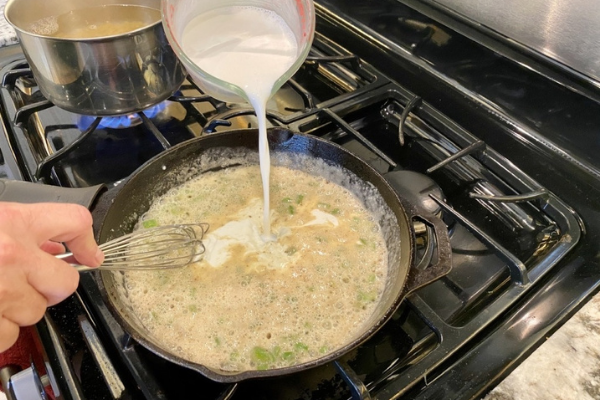 Reduce heat, add half & half, and whisk until lumps are gone and it's nice and smooth.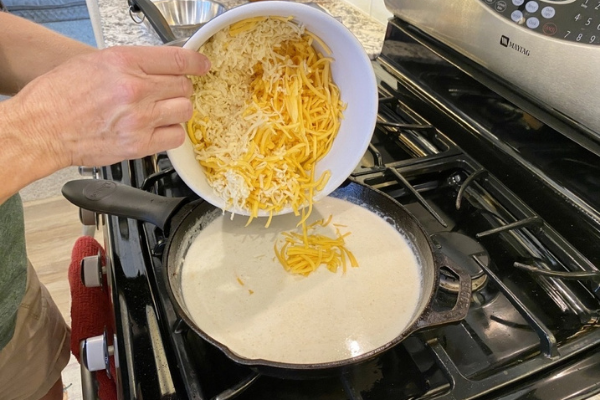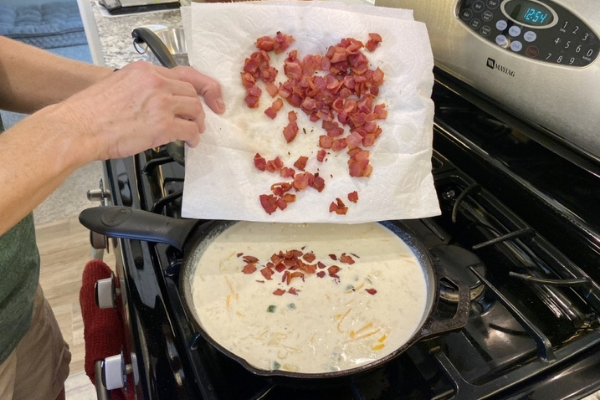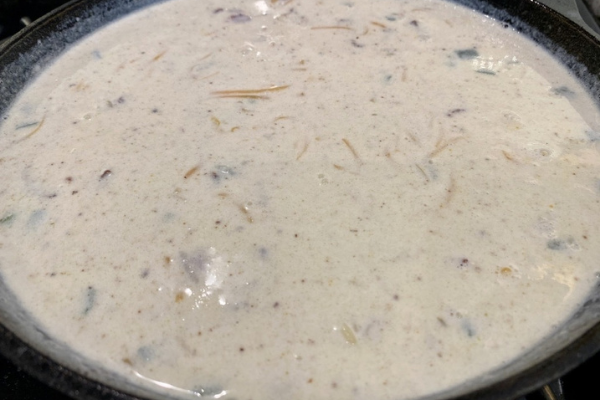 Turn off the heat, add cheeses, salt, and pepper and then stir to combine. Cheese may not completely melt right away and that's okay.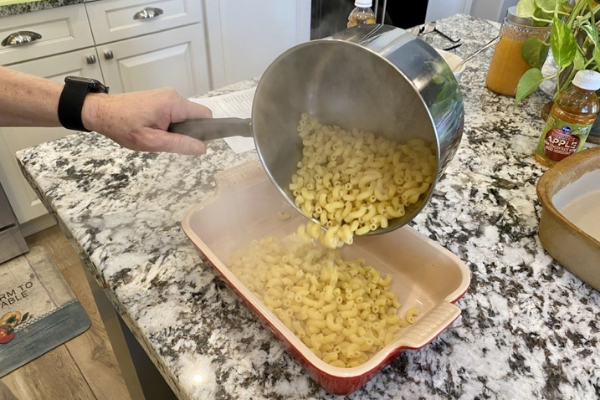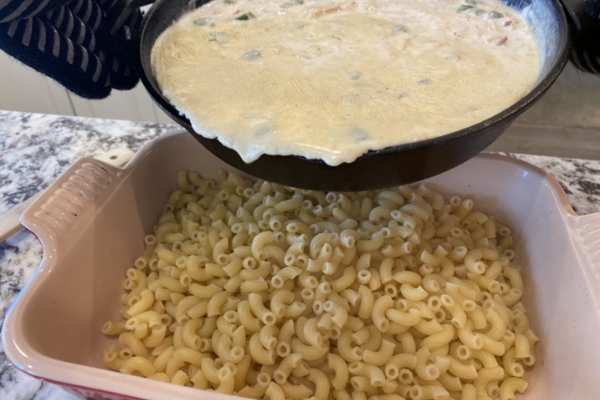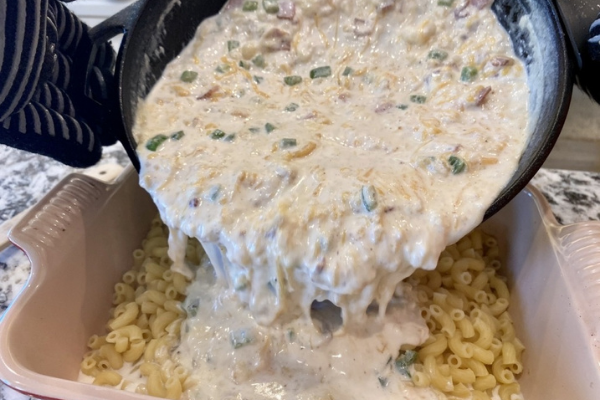 From here, you can add the cooked pasta to the cheese sauce in the cast iron, add the crumb topping, and bake it. My skillet is just a little too small, so I finish it off in a baking dish. I pour the noodles in the dish first and then add the cheese sauce.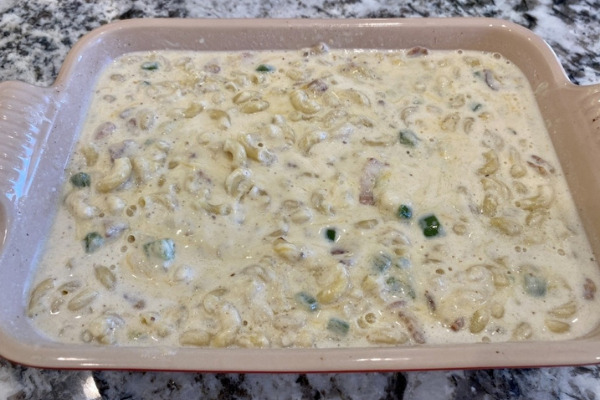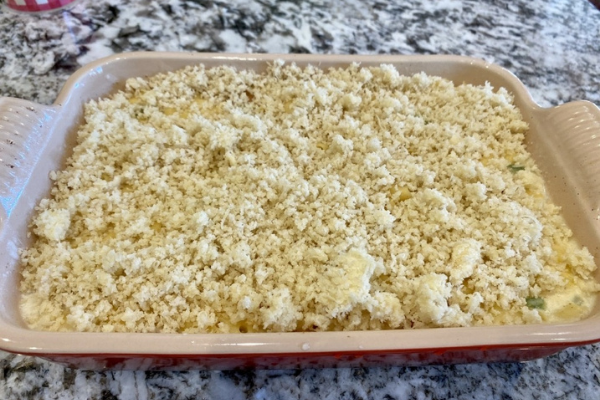 After I give it a good stir to combine, I add the crumb topping and bake it for 20 minutes in a 350-degree oven.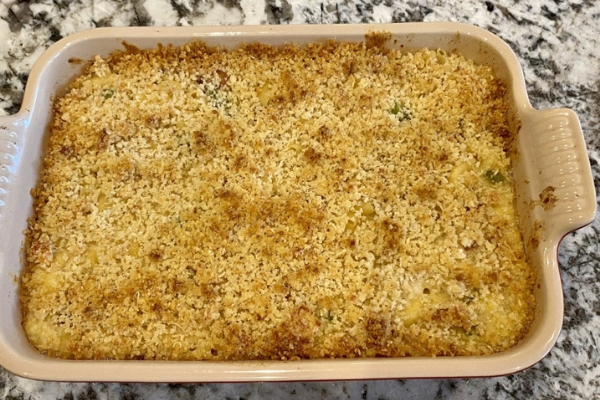 If you make it ahead, the dish will be cold, so I add 10 minutes, baking it for 30 minutes.
We freeze our leftovers in a square storage container for an easy and delicious side dish anytime.
Bacon Jalapeno Mac & Cheese
Recipe Credit:  Butter Your Biscuit
8 ounces pasta
1/2 lb. bacon
1 or 2 jalapeños, diced
3 Tablespoons butter
1/3 cup flour
3 cups half & half
2 cups cheddar cheese, shredded
1 cup pepper jack cheese, shredded
1 cup Mozzarella cheese, shredded
1 teaspoon pepper, or to taste
1 teaspoon salt, or to taste
Panko topping
3/4 cup Panko bread crumbs
1/4 cup shredded Parmesan
3 Tablespoons butter, melted
Preheat oven to 350 degrees.
Cook pasta two minutes under al dente.
Stir together topping ingredients and set aside.
Chop bacon into small pieces and cook until crispy. Drain on paper towels.
In the same skillet, drain all but three tablespoons of bacon fat. Add the butter and the diced jalapeños and cook a minute or two until soft. Add flour and whisk together about 30 seconds to cook flour. Reduce heat, add half & half, and whisk until smooth, without clumps.
Turn off heat, add cheeses and bacon, and whisk until combined. Add cooked pasta, salt, and pepper to taste to the cheese sauce.
Leave it in the cast-iron skillet to bake if it fits, or use a baking dish, adding the pasta first and then the cheese sauce; stir to combine.
Bake for 20 minutes until top is golden.
Meet the Family
I'm Maureen Milne, F446881.  Mark and I are becoming empty nest veterans and you know what, we enjoy it!  We are always on the lookout for the next adventure, our friends call us the X-Games family. We are avid hikers, cyclists and skiers (both snow and water).  Mark does triathlons and we run several races a year.  We've been RVing together since we were teenagers and we love traveling with our two grown sons.  I share our RV adventures, RV friendly recipes, wonderful campgrounds and more on my blog, M&M Hit The Road.  You can also find our fun on Facebook, Instagram, Twitter and YouTube.