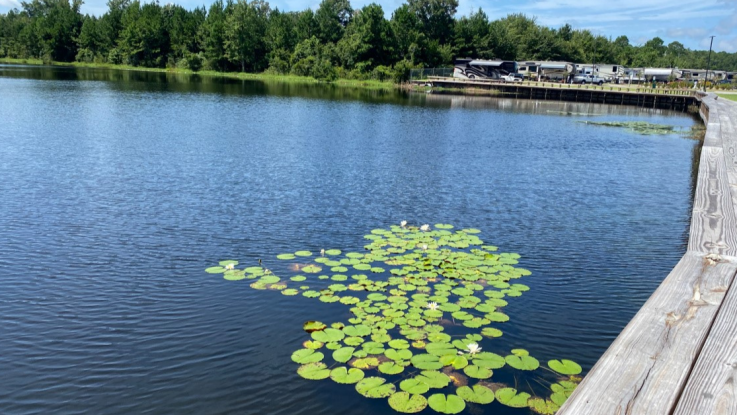 My husband and I are two weeks into becoming full-time RVers for the next 18 to 24 months. We ended up at Coastal Georgia RV Resort in Brunswick, Georgia, as a great home base for seeing the Golden Isles. Coastal Georgia RV Resort is a super clean and convenient resort, just a hop, skip, and jump from Interstate 95. As we rolled into the campground, rows of magnolia trees, some partially in bloom, separated the RVs for a bit of privacy. We immediately knew we were going to like it here.
We pulled into our pull-through site and appreciated seeing the concrete pad and picnic table to use at our leisure. The park was laid out in a manner that provided some privacy, but, also, the grounds were immaculate and had space to roam around. We had our 11-year-old King Charles Cavalier with us and are pretty sure that every camper there had at least one dog traveling with them.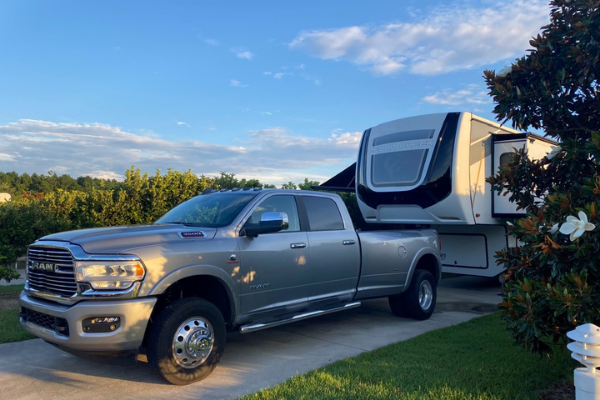 Attractive Campsites and Great Amenities
Our hookups were attractively stored in a whimsical lighthouse-looking apparatus that turned those pesky cords into yard art. I was a big fan. Wi-Fi and cable TV were complimentary. Rates run $50 per day or $300 for a week, plus tax. The resort also has a dock and a store that sells some RV supplies — an excellent offering. Bonus, the entire resort is handicap accessible.
My favorite thing at the RV resort was the heated swimming pool. It had a few lounge chairs and high-top tables (great for playing cards with friends or for working, as I used one) and was a popular spot but not congested with people. We met several people who live at Coastal Georgia RV Resort full-time, and for the monthly rate, I can see why. What a steal! Cute story: one man bought an RV and came to this park first and just never left. That was a month or two after COVID, and he is still there today.
We had to do a few loads of laundry at the campground, and even the washer and dryers were super clean, and the room was spacious, with tables for folding clean clothes. This was our fourth campground to date and the only one with fully working laundry room facilities. The bathrooms and shower house were equally as clean and had plenty of hot water.
On the backside of the property was a long pier to stroll alongside the water. We didn't see a gator, but the locals say they are around every morning. A recreation room, or pavilion, is also in the area and ordinarily is used for campground events. Many are not happening now due to COVID. Coastal Georgia RV Resort has horseshoe pits and shuffleboard, too.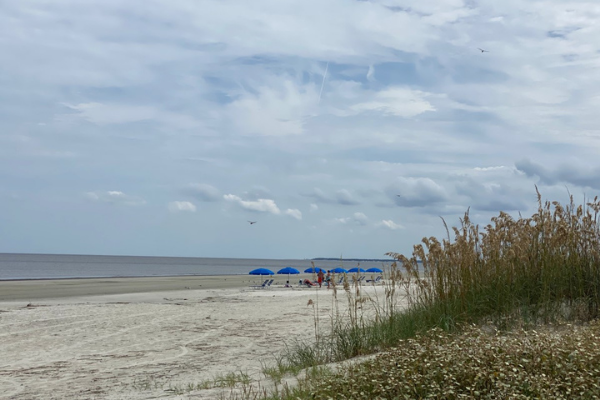 Seeing the Golden Isles: St. Simons and Jekyll Islands
As I mentioned earlier, we chose this resort because of its proximity to the city of Brunswick and the Golden Isles barrier islands: St. Simons, Sea, and Jekyll. Little St. Simons is also one of the islands, but it is a private island that requires a boat ride to get there for the luxury, eco-friendly, all-inclusive resort, so we skipped that one.
First, we drove over to St. Simons Island, the best known of the Golden Isles. St. Simons Island is an excellent place for taking the family, with great resorts, several miles of beaches, two popular shopping areas, and some really good restaurants. We had lunch at Porch, a cute and trendy eatery with Nashville hot chicken tenders, cheese grits, and baked beans. Nom. Porch also serves raved-about catfish and shrimp. Then we did some shopping around town and strolled over to see the beautiful St. Simons Island Lighthouse Museum. I have toured the museum before, but if you haven't, feel free to climb the 129 steps to the top for fantastic aerial photos.
Next up was Jekyll Island. There is a toll of $8 per car to visit Jekyll, a protected barrier island that was a former millionaire's playground. Families such as the Vanderbilts, Rockefellers, Goodyears, and Carnegies had residences here in this country-club-like setting. You can participate in a paid tour that takes you by trolley (or some form of a motorized vehicle) to see the historic homes that are now in a gated community. We even toured inside a couple of the houses on tours I have taken in the past.
Jekyll is also famous for the Jekyll Island Club Resort, a gorgeous Southern gem that is great for having a glass of wine or a cocktail on the wrap-around porch, even if you are not staying there. Jekyll, too, has pristine beaches. Ecotourism is an integral part of the well-preserved island's landscape. You shouldn't ever find the beaches too crowded, and the landscape, flanked by sea oats and dunes, is excellent for taking photographs.
At both Jekyll and St. Simons, tours to explore the historic sites on the island, chase dolphins, fish, or learn about the island's commerce and agriculture are popular. I recommend Cap Fendig Tours, which offers an excellent guided boat tour. He is a local and shares so many cool details about living around these beautiful islands.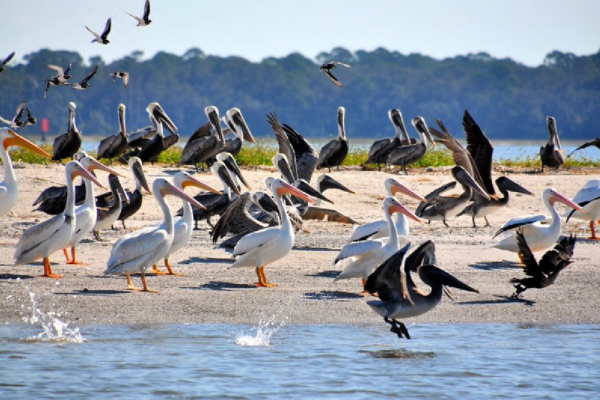 Golden Isles: Sea Island and Brunswick
Sea Island is where you'll find world-famous golf courses, more beaches, and two of the historical gems of the Golden Isles. One is Fort Frederica National Monument, which is part of the U.S. National Parks System. Another is Christ Church, a beautiful old Episcopal church with a Louis Comfort Tiffany stained-glass window. You'll see another Tiffany window at Faith Chapel on Jekyll, too.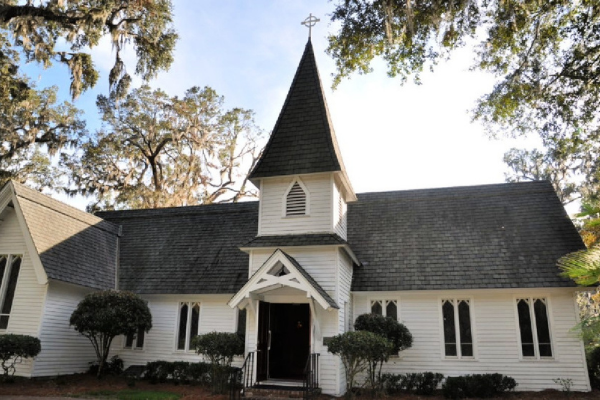 Brunswick is on the mainland but is still a part of the Golden Isles. It is one of the largest shipping ports in the United States, which is apparent as you drive into the city. It is also where the 2019 accident occurred when a container barge carrying 4,400 cars crashed and sank. The efforts to bring all the metal and cargo up are ongoing, and you can witness it from several places at the port. A colossal machine had to be brought in to cut up the vessel and bring it out one piece at a time.
Meanwhile, in historic downtown Brunswick, you will find roads with live oak trees arching over them; several interesting historical buildings; and a few streets with locally owned businesses, shops, and restaurants. It looks like Brunswick is growing and revitalizing its historic area, so I applaud their efforts. We had a great Italian meal from Fox's Pizza, with a mandarin orange salad that was to die for and excellent baked pasta dishes. I expect we will hear lots more about tourism in Brunswick very soon.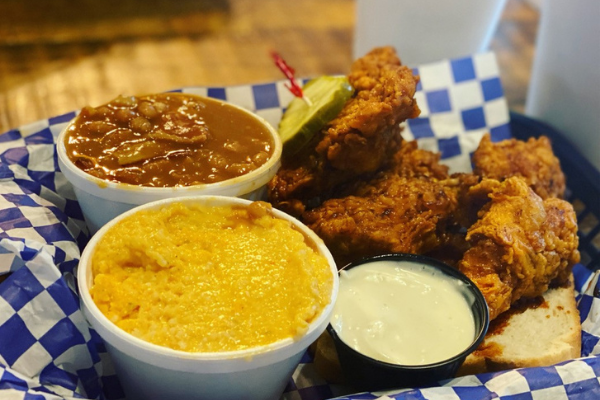 Fun Fact: If you are interested in fishing, you have the Brunswick River, Intracoastal Waterway, and Oglethorpe Bay to choose from. Fishing is big business in this part of the country.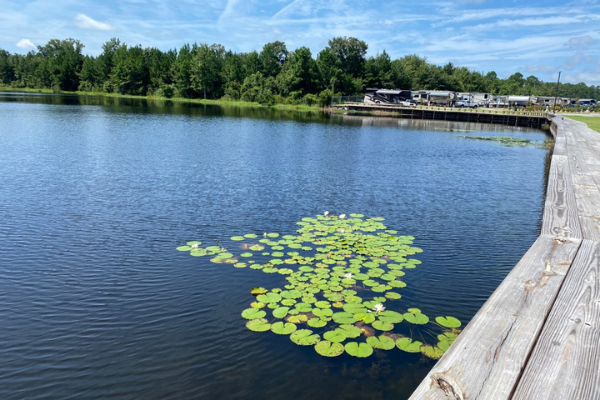 If you want to see a unique area and stay at a beautiful campground that won't break the bank, Coastal Georgia RV Resort is where you'll want to be.
Hi! I'm Melody Pittman, a freelancer, influencer, and co-owner of Wherever I May Roam Blog (Facebook) (Instagram) and Wherever I May Roll. Originally from Charleston, West Virginia, I moved to Vero Beach, Florida, 10 years ago and have loved every minute of it. I own the two blogs with my daughter, Taylor, and we also host an annual travel conference (Southern Travelers Explore) and small retreat.
I branched off of "Wherever I May Roam" to "Wherever I May Roll" now that I'm on an 18 -to-24-month extended RV trip with my husband of nearly 30 years, Eddie, and our 11-year-old King Charles Cavalier, who is deaf. We are seeing a different state each month and sharing our adventures as brand-new RVers (elementary level here) on our YouTube and Instagram channel of the same name. You can also follow our adventures at #whereverimayroll or on our YouTube or Instagram channels.  
Aside from RV life, I am an expert cruiser, love small towns, history, buying and eating local, and unique adventures. I'm blessed with two beautiful daughters — Taylor and Peyton, also my best friends; a fantastic son-in-law; and an inquisitive almost 3-year-old angel granddaughter, Scarlett, who will be joining in on my adventures very soon.