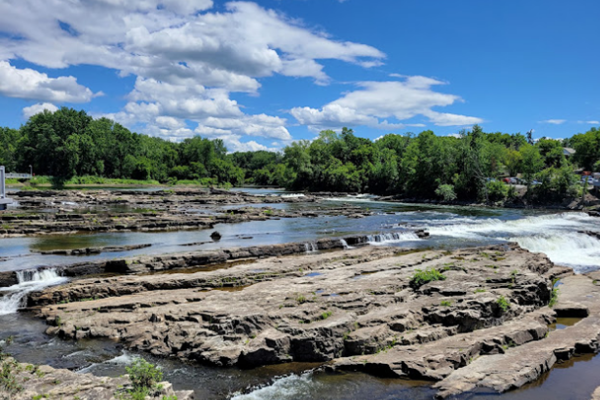 Lake Champlain stretches from the Canadian border more than 100 miles south and creates a partial northern boundary between New York and Vermont.  In the far northern reaches of the lake are a series of picturesque islands.  The Lake Champlain Byway winds through the islands with a series of bridges passing through quaint towns that offer batches of history and fun.  The islands are fairly flat and scattered with cow pastures and hayfields, creating beautiful views of expansive water and the islands.  Flanking both sides of the islands are the Adirondack Mountains in New York and Vermont's Green Mountains, which rise up to create a beautiful backdrop.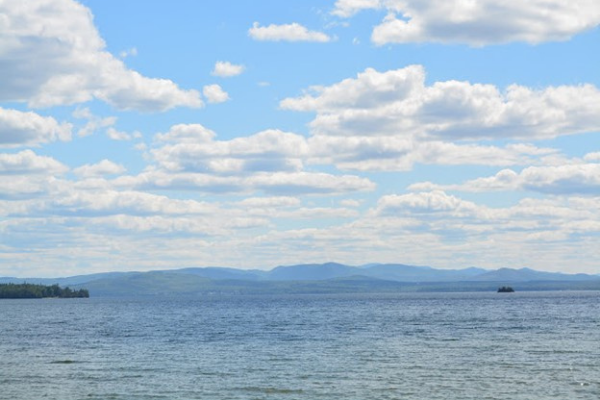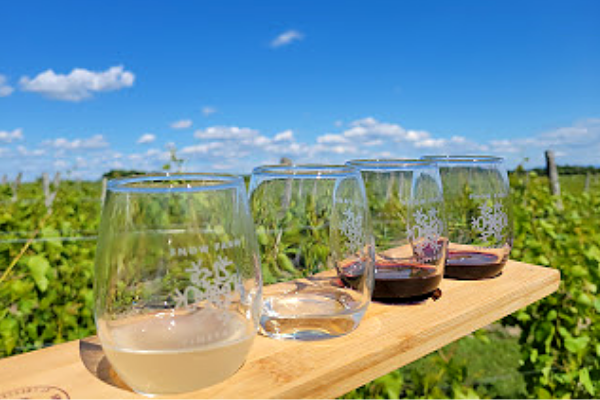 We settled into Apple Island Resort (in South Hero, Vermont) to use as our base while exploring the islands and Vermont's largest city, Burlington.  Pretty soon we came to know our new town of South Hero pretty well.  We discovered there are a few small nature preserves in the area with hiking trails that made for pleasant walks, and we especially liked the trail that led us to Lake Champlain and a refreshing spot for Spirit to cool off.  Just a five-minute drive from the campground was a winery with beautiful outdoor seating, which was nice to enjoy a wine flight.  The winery is also popular for their free evening concerts.  We found a great local grocery store that was well-stocked, a delicious bakery that made tasty sandwiches, a fun thrift store, and many farm stands.  
A fellow camper told us about the Bird House Forest located at nearby White's Beach.  The history of it is that when two neighbors became fed up with biting mosquitos, they went to battle.  After a bit of research, they discovered that tree swallows naturally found in the wetlands near their homes are capable of devouring an impressive number of flying insects, especially mosquitos.  So, the two neighbors got busy building birdhouses.  Their wives came up with the idea of painting them bright and cheery colors with red roofs, and the locals started calling them the "Jelly Bean Suites."  The birdhouses were a success, and soon every one of them was occupied.  What started as 20 birdhouses hanging on trees has now swelled to over 400 colorful houses dotting the woods of South Hero.  Local contractors and hardware stores donated paint and supplies to the neighborhood war on mosquitos, which is now a tourist attraction.  The birdhouse-building neighbors also turned into business entrepreneurs and sell their birdhouses along the roadside ($25).  We didn't have anywhere to hang one!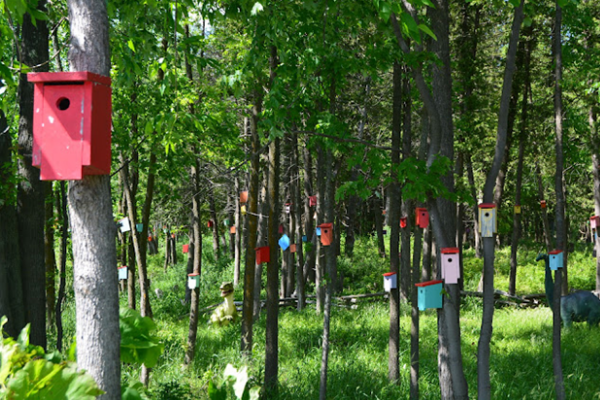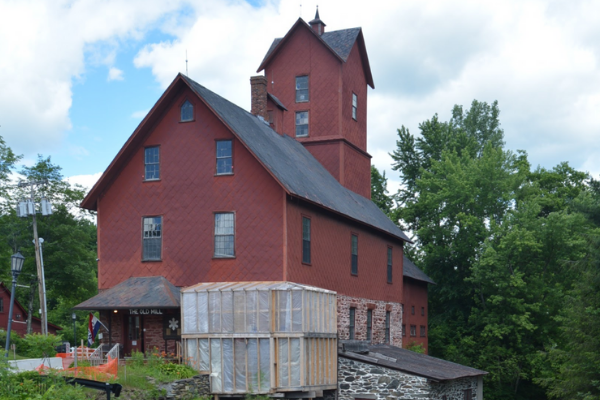 The charming village of Jericho, Vermont, was of interest to us for a couple of reasons: there is an old mill and a museum about a man named Wilson Bentley.  Before exploring the mill and museum, we sat down for lunch at the Jericho Café and Tavern, where we shared a delicious fried chicken sandwich, hand-cut french fries, and a cold beer.  The most prominent feature in the town is the "Old Red Mill," which claims to be one of the most photographed sites in the Northeast.  Officially known as Chittenden Mills, the building stands tall above a gorge in the Browns River. The facility has an art gallery, craft shop, hiking trails, picnic area, and the "Snowflake" Bentley Museum.
Remember your first time playing in the new falling snow when you heard the statement "no two snowflakes are alike?"  We have a man by the name of Wilson A. Bentley to thank for that.  Bentley, a farmer by trade, pioneered the technique of photomicrography and in 1855, at the young age of 19, became the first person to capture a single snowflake on a glass plate and photograph it.  "Snowflake" Bentley, as he became known, went on to photograph over 5000 snowflakes, never finding two alike.  Bentley published numerous articles in publications such as National Geographic and Scientific American and garnered worldwide attention for his photography techniques and discoveries.  The museum that bears his name houses some of his original equipment and many pictures of snowflakes he took over the years.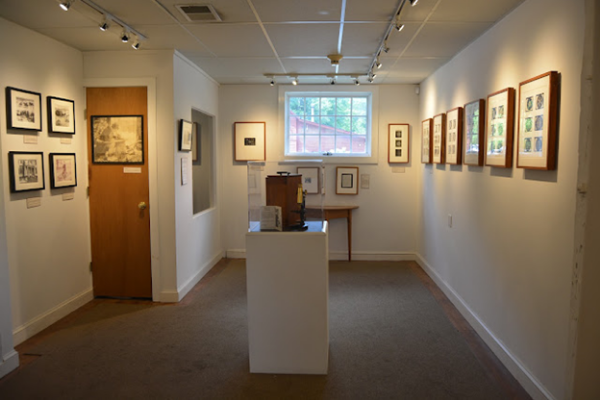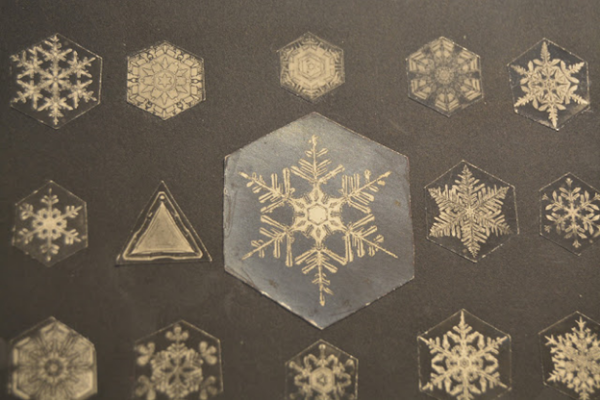 For those of you with a sweet tooth, head over to Snowflake Chocolates for some homemade deliciousness or pop into Palmer Lane Maple, where you can get maple candy, syrup, and other maple specialties.  Palmer Lane also has a Vermont original — a "creemee."  What's a creemee, you ask?  It looks like soft serve to the out-of-towner and essentially is, but it has a higher butterfat content, thus making it creamier.  Creemees come in many different flavors like other soft-serve ice creams, but since you are in Vermont, why not get a maple creemee?  We tried the maple and red raspberry swirl.  Delicious!
One of the more northern islands in the chain is Isle La Motte.  Isle La Motte was established in 1666 as the first French settlement in Vermont.   The most prominent features that draw worshipers near and far is the Saint Anne's Shrine, which has become a popular pilgrimage destination featuring daily outdoor masses in summer.  The shrine dates back to the middle 18th century and is located on expansive grounds that have a tranquil feel.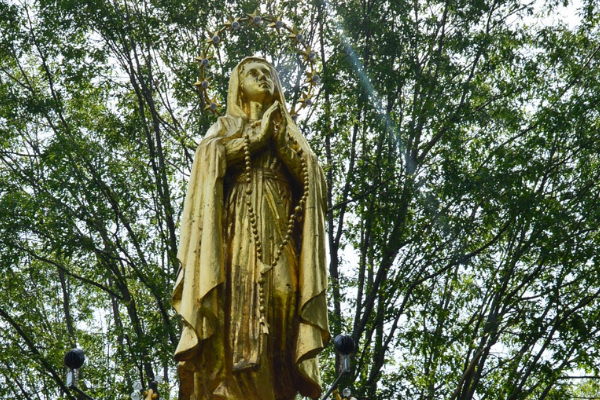 The island also is home to the Chazy Reef, which is the world's oldest known diverse fossil reef, formed approximately 480 million years ago.  The reef is protected by the Fisk Quarry Preserve and the Goodsell Ridge Preserve and has also been awarded National Natural Landmark status.  Remnant fossils and rock formations are open for the public to view, and you'll find a museum, an education center, and outdoor trails that let you explore the quarries and fossil formations.  One of the trails is a Walk Through Time, which has some 80 colorfully illustrated panels set up along a 4,600-foot trail that teach visitors about the history of life on Earth.  After walking the trails, we settled down at one of the few picnic tables for a lunch I packed.  There are not many, if any, places to eat on Isle La Motte, so plan accordingly.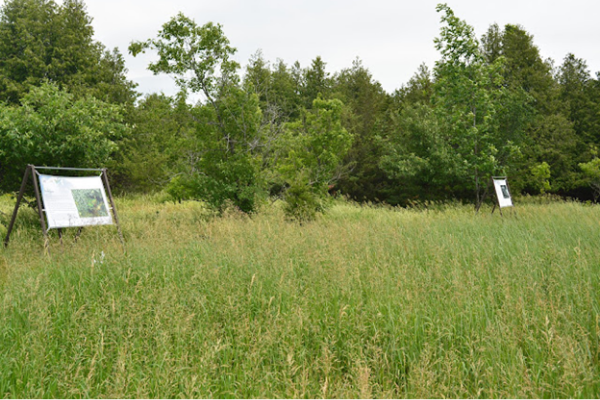 Driving around the island, we noticed a sign for an "Art Barn."  The studio is located at the historic Fisk Farm and is a place where local artists can display their crafts in the historic horse and carriage barn.  The farm was visited by three U.S. Presidents — McKinley, T. Roosevelt, and Taft.  It was the site where then-Vice President Theodore Roosevelt was visiting the Vermont Lieutenant Governor when he received the news that President McKinley had been shot.  The farm is still inviting guests today to view local art, listen to live music, sleep in a rental cottage, and celebrate weddings.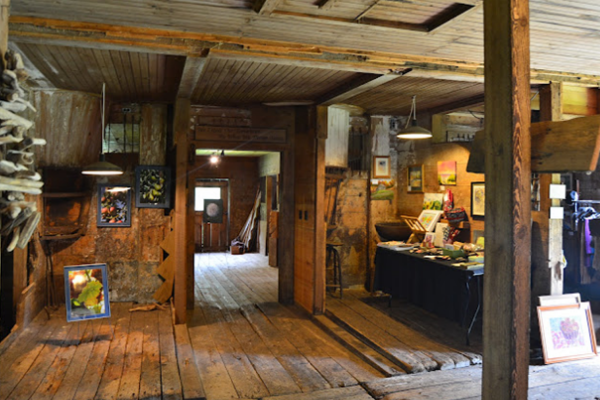 Before leaving the island you may want to stop at Happy Bird Poultry Farm, where they have all kinds of poultry products, smoked meats, various fresh produce, and, shockingly, 65-day dry-aged beef.  On our way back from Isle La Motte, we stopped alongside the road to admire a beautiful log cabin built in 1783. This South Hero attraction is often cited as the oldest surviving log cabin in the United States.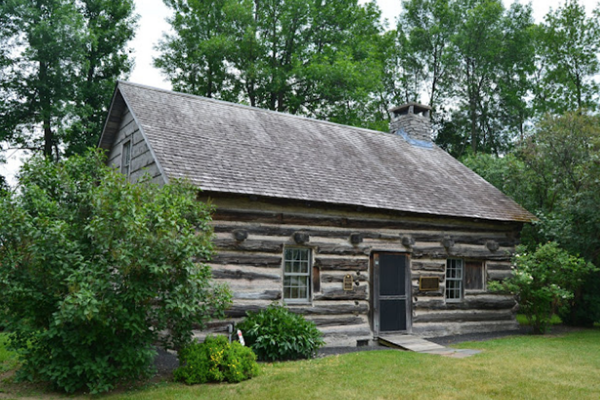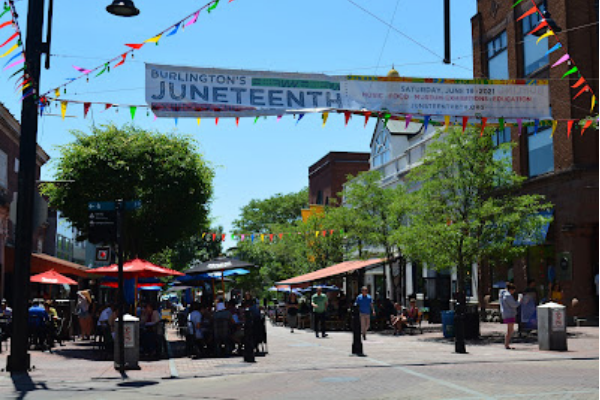 Downtown Burlington is only about 20 minutes from the campground and is a fun place to wander around, shop, and have lunch.  Church Street is a popular pedestrian street that is the center of town and hubbub.  The street is lined with cafés and restaurants with attractive outdoor seating and scrumptious food.   The farmers market is also a great place to get a bite to eat and pick up some items for a later meal at home.  The market has an array of vendors selling fresh produce, meats, flowers, and more.  A couple distilleries and a brewery have stands, and there are many artisan craftspeople selling their goods.  We ended up chowing down on a "famous" scallion pancake, a pork burrito, beef taco, baklava, and fresh bread.  Needless to say, that was our lunch.
Another cute town between South Hero and Burlington is Winooski.  We found a great Vietnamese restaurant (Pho Dang) that we visited a couple of times.  Downtown has a few other restaurants and some nice stores in refurbished buildings.  There is the Heritage Winooski Mill Museum located in one of the renovated old mills.  The small museum has exhibits and displays equipment used in the textile mills. It also  has a great view of the river and the falls.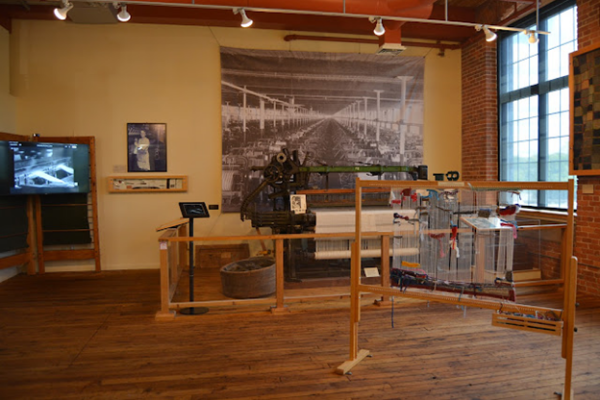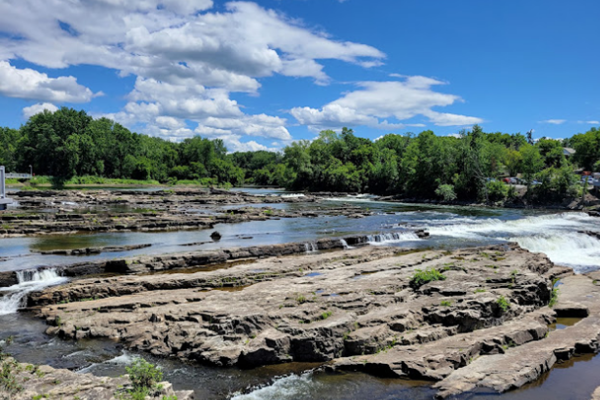 The Lake Champlain Islands were a beautiful introduction to our month-long stay in Vermont.  The area has a pastoral setting with all its farms and lake views.  As you drive through the islands, leave time to pull over at the many farm stands, general stores, art galleries, breweries, parks, and other interesting places along the way.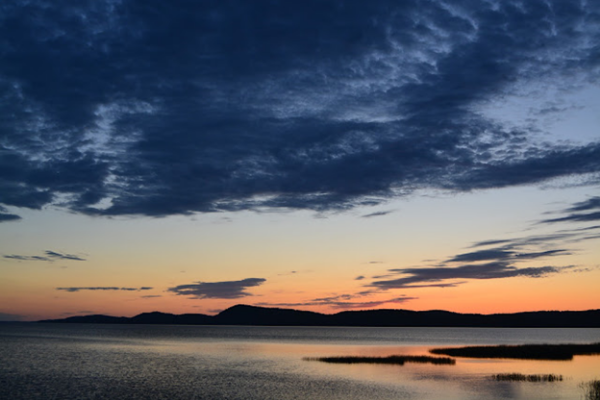 Nancy Walters and Dr. Betsy Dresser are the co-authors of RV-A-GOGO, a blog they started in 2011 to chronicle their travel adventures living full-time in an RV.  They retired from wildlife conservation careers and, after traveling the world, are now crisscrossing America seeking out everything there is to explore, from natural wonders and historic landmarks to quirky attractions and divey restaurants.  Their blog provides readers with information about travel destinations, "must-see" attractions, the RV lifestyle, recipes, campground reviews, and more.