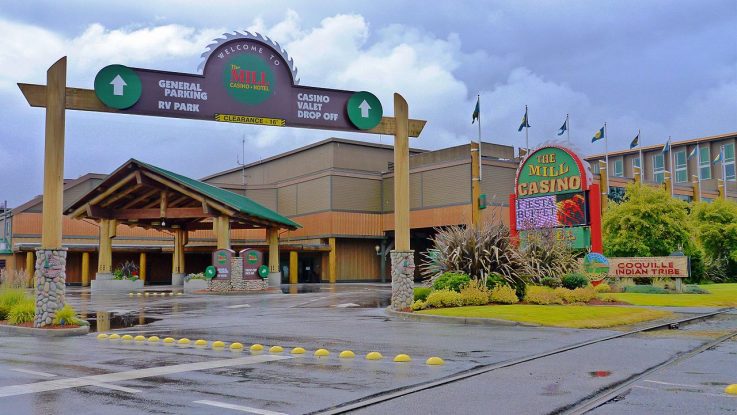 Are you looking for a fun overnight stop or a weekend destination? Nowadays, it's common for casinos to allow RVers to park overnight. And many RVers take advantage of camping at casinos that offer free or discounted RV accommodations. With many casinos poised to reopen, we wanted to help you know what to expect if you plan on casino camping in your RV. Read on to learn more.
About RV-Friendly Casinos
For many RVers, finding a free or an inexpensive place to stop for the night is a top priority. Many casinos recognize this and offer RVers free overnight parking. On that note, some casinos even have exclusive RV parks or RV parking areas. The RV parks at casinos usually come complete with full hookups and dump stations, which RVers can take advantage of for a reduced rate.
But what's the catch? Of course, they are hoping you will spend your money on meals and entertainment while you visit!
Viva Las Vegas (RV Style)
As many know, some of the most popular casino attractions are located in Las Vegas, Nevada. It only makes sense that the casino mecca of the world would be ahead of the game in RV accommodations, too. In Nevada alone, there are over 60 camping-friendly casinos. Many of these casinos accommodate daytime and overnight RV parking.
For example, an RV-friendly Nevada casino is Circus Circus Casino in Las Vegas. Its RV park has 170 big rig sites with full-size hookups. Sites feature 60- to 80-foot pull-thrus with grass patios and outdoor furniture. The park includes dog parks and dog trails. Plus, the park is kid-friendly and located near the Adventuredome, the largest indoor theme park and Midway Arcade in the United States.
Finding RV-Friendly Casinos
So are you considering adding a casino into your RV travel plans? Here are a few planning resources:
CasinoCamper.com is a thorough casino camping resource. Managed by full-time RVers, the site includes information for the U.S. and Canada.  The site is user-generated and updated frequently.
Also, another site to check is the National Information Site of the American Indian Gaming Industry. Did you know there are more than 300 tribal gaming properties in the U.S.? Many of these American Indian-owned casinos feature RV parks, complete with amenities.
In addition, FMCA members have recommended these casino camping destinations:
Click here to read the full article from Family RVing magazine, detailing members' experiences at these locations.
Booking Reminders
As with all trip reservations, some basic booking rules apply to casino camping.
If you are traveling with children, it is strongly advised that you contact the RV park prior to arrival. Casino RV parks may not be appropriate for children. Some parks may have age restrictions that extend to the entire property, not just the casino area.
And just like you would as your planning any RV trip, it is recommended to call the property beforehand. Verify if reservations are required. Some casinos are first-come, first-served when it comes to RV parking yet other RV-friendly casinos allow guests to book reservations in advance.
---
Have you ever stayed overnight at a casino's RV park? What was your experience like? Comment below.