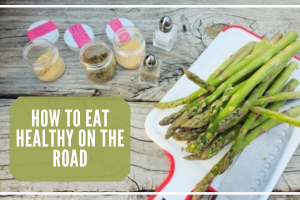 Most of the time when we think of road trips, we think of not only the landmarks we will see and the overall adventure but also about the food we need to pack.  I can see it now, a MAJOR list of items that we take to the grocery store – some kind of junk food, lots of bread, hot dogs (let us not forget the s'mores items!), and basically, anything else that might not fit into our daily healthy eating habits and efforts.  We may think that "it's just for the trip" but many may find it difficult to recover from so many of the wrong choices for even just a weekend trip. 
Trust me!  Even with my own healthy eating habits, I want to lavish in a weekend filled with every "not so healthy" camping food I can get my paws on but, I know that by day 2, I will probably regret it.  I will regret not packing in foods that will give me the boost of energy I need for a potential hike or bike ride.  I will end up craving something that is nutrient-dense instead of just having a can of spaghetti and meatballs or a pack of processed hot dogs. Sometimes I even kick myself for not bringing some kind of fruit with us on the trip. 
Preparation is Key
This is why I plan!  I am a planner by nature.  Whenever we go anywhere, whether it is a short road trip or an RV camping adventure, my first priority is to plan our meals.  This would include snacks, drinks, breakfast, dinner, and anything in between.  It also means that I am actively thinking about the ways I can keep meals healthy and still make it feel like fun camping foods! Let's face it, we go camping/RVing for the fun adventure and food is a HUGE part of that fun! The following will be some tips, recipes and outside of the box meals to think about for your next adventure! 
Packing the Right Equipment
Let's first talk about the cooking equipment that you can take or might need for your trip.  Most RVs will have a cooktop and a microwave and some will have an oven. If you choose to cook inside, this is all you will need! Now, there are some things that are nice to have, but this would only make sense if you have the room for any of this equipment.
Items like pressure cookers or multi cookers are great options to take since you can make a multitude of meals in them (I even love the ones that are also air fryers!). Grills are also a great option and so are flat cooktops.  For us, it all depends on where we are going and how long we will be staying but, most times I only use an outdoor cooktop and sometimes a flat top.  Overall, you don't need to complicate it with equipment.  Fire/Heat and a pot or pan is all that is needed. You could even get creative and cook something healthy and delicious with a campfire pie iron!
Packing the Right Food
OK, now let's talk about the food, let's start with breakfast!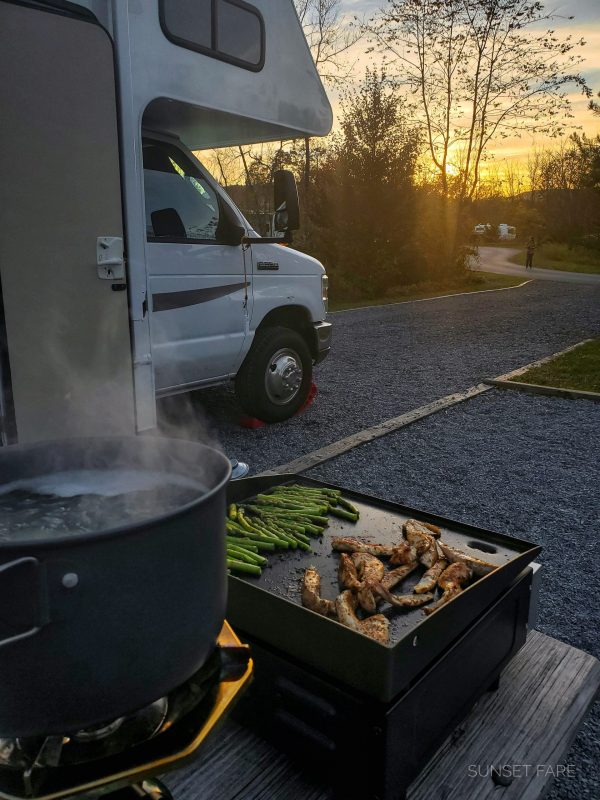 Healthy Breakfast
Breakfast is the meal that some will take or leave. From a nutritionist standpoint however, this is the meal that not only starts your day with energy, but it will also dictate how and what you choose to eat for the rest of the day.
This meal (or any for that matter) doesn't have to be complicated or huge.  Keep it simple with things like oatmeal topped with fresh or frozen fruit, eggs, turkey, bacon, or sausage or even a veggie crumble.  Bring items like bagged spinach or kale, tomatoes and a couple of whole wheat tortillas, and you will have an amazing nutritionally dense breakfast on your plate! Some other items like pancakes (even the shake and pour kind) or yogurt topped with a low sugar granola or fruit are also great choices.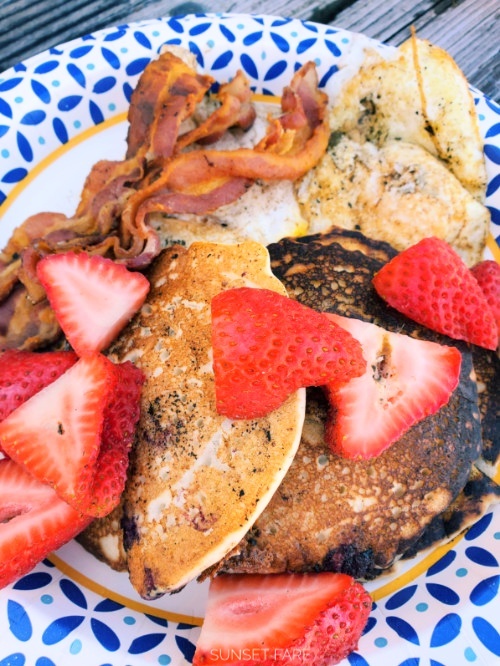 Healthy Lunches and Dinners
Now, on to lunch and dinner.  Like I mentioned before, some may see these meals as a great opportunity to chow down on anything canned, or just a huge ham and cheese sandwich. Many enjoy meals that potentially only include some kind of meat and a very heavy carb like potatoes or rice on the side.  These aren't bad choices, but we are talking about how we can keep meals healthy!  Pack in some bags of salad to add to the side of any dish, bring lean proteins to cook like fish, chicken or turkey breast. You can even pack lean cuts of beef.  All of these can be grilled or sautéed and served with a side of cubed up sweet potatoes that have been roasted on the stovetop (am I making you hungry yet?!) and a side of grilled vegetables like zucchini and asparagus.
 If you want to keep it on the vegetarian side (and high in protein) roast some chickpeas on the oven before your trip (or you can even make them in a cast iron over a fire, just make sure you cover your skillet as they will tend to pop as they crisp up).  Serve the crispy chickpeas over quinoa, add in some roasted veggies or a handful of salad and you have a very tasty vegetarian dish that travels well!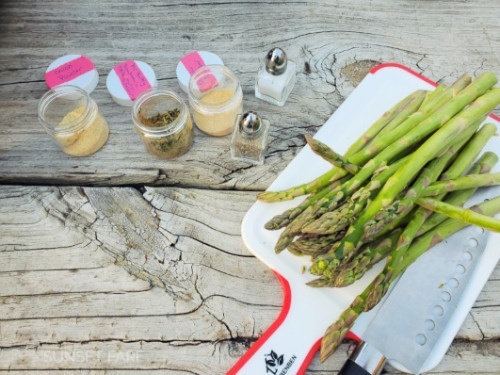 Healthy Snacks
Lastly, snacks!  We all love snacks and sometimes we just need a little something to hold us over for a bit until our next meal.  This is key when staying on track with your health and nutrition goals. 
Some simple snacks can be sliced up veggies like celery, carrots and cucumbers served with hummus for dipping. Another tasty snack is apples or bananas with almond or a natural peanut butter served on rice cakes. If you want to make it fun, make fruit skewers that you can dip into some yogurt or make your own trail mix some natural mixed nuts.  Air popped popcorn is also a great snack to eat that is high in fiber.  Veggie chips are another great substitute to bags of potato chips. 
It takes some pre-trip planning and prep but you can make your own veggie chips at home using a dehydrator, air fryer or even in the oven!  Don't forget a cheese platter with some crispy multigrain crackers and slices of lean turkey or chicken.  All of these can make great substitutes and can help you overcome the temptation to just grab every bag in the chip aisle.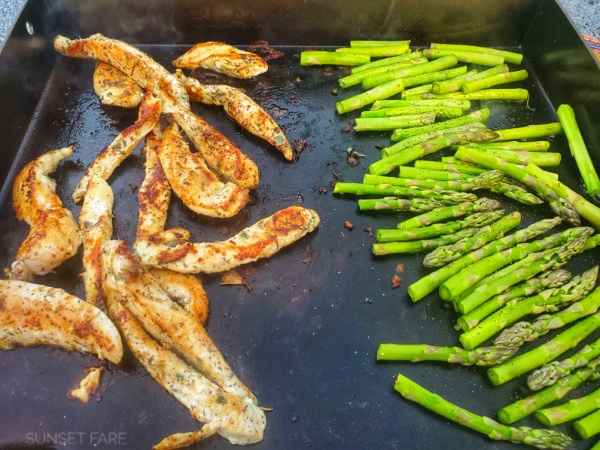 Make the Healthy Choice
Overall, food can be a HUGE part of the RVing and camping experience.  Eating healthier foods that fuel you for your adventures can make a big difference between feeling present and mindful of all that you are experiencing and feeling like you might not have the energy to see all that is out there on your journey.  Safe travels and healthy eating!
Yvette Rodriguez is a US Air Force Veteran, Nutritionist and Personal Trainer who found her love for the outdoors after her first camping trip.  Since then, she has found ways to combine all of these passions and brings them together on her blog Sunset Fare.  She recently self-published a cookbook geared towards RVers and campers.  Yvette enjoys camping and RV trips with her husband, cat and dog, always with a camera and spatula in hand!