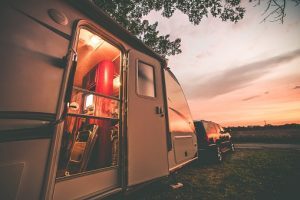 Tired of the constant commercials from your RV's radio? FMCA has tips on creating the perfect road trip playlist for a long drive.
Don't be afraid to sing along!
Don't be afraid to add your favorite karaoke songs to your playlist. Sing along to your favorite songs and even your guilty pleasures. The best road trip playlists have songs your whole traveling group can sing along to (think one-hit wonders). Don't be afraid to add the cheesiest songs possible. Songs by pop divas and 90's boy bands are always welcome.
Listen to FMCA's Road Trip Karaoke Playlist
Oldies are a must.
Everyone has a song that takes them back to their childhood or a moment from their past.  Classic songs that everyone can sing along to make long trips shorter and more enjoyable!
Listen to FMCA's Flashback Playlist
Make a playlist for every trip.
Every trip deserves its own soundtrack!  Make a country-hit playlist while heading down south or a Jimmy Buffet-inspired soundtrack on your way to Florida.  The right music can make a great start to your vacation.
Listen to FMCA's Beach Trip Playlist
We've created the perfect playlist for your trip to the desert for our 101st International Convention & RV Expo, Sunsets and Saguaros, in Tucson. It's filled with desert-themed songs along with a handful of hits from our evening entertainers, Three Dog Night and Josh Turner. This will help prepare you for the fun in the sun! 
Listen to FMCA's Sunsets & Saguaros Playlist
Don't drive distracted. 
Your favorite song can wait! Make sure you create and download your playlist on your preferred music streaming platform BEFORE you drive your RV or other vehicles. Also, do not let your music become too distracting while you are on the road. Your safety is more important than finding the perfect song to play.
Hopefully, deciding what songs to add to your playlists are the only "traffic jams" you have to worry about the next time you are on the road! Have the playlist but not the destination? Visit FMCA's Pinterest for inspiration-worthy trip ideas.
What song inspires you to go on your next road trip? What are songs on your road trip playlist? Share in the comment section below.