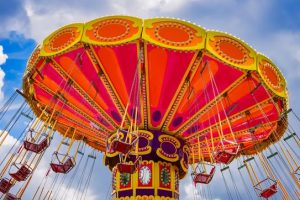 Warmer weather is here, and there are so many theme parks for RVers to visit. Nomads can finally come out of hibernation as temperatures rise and the sun starts showing its face again. Outdoor activities and trips can start being planned, and what is more classic and American than a good ol' road trip to a theme park? Luckily, there are a variety of theme parks across the U.S. that feature RV campgrounds with full hook-ups. Now is your chance to combine camping AND roller coaster fun for the whole family!
Located in northern Idaho, Silverwood has more than 65 rides, slides, and other attractions. Not only are there roller coasters varying in intensity so the whole family can enjoy a thrill, there is also an attached waterpark with slides and pools to enjoy. The RV park is within walking distance of the amusement park and has on-site laundry, volleyball, a fire ring, and a playground! So many different options for fun will turn a trip to Silverwood into a lasting memory.
Tucked away in the rolling green hills of Kentucky, Beech Bend has a waterpark, rides, shows, and a dragstrip with tons of scheduled races to get a taste of the Kentucky lifestyle. The RV sites are huge and a wooded Barren River surrounds it, allowing for fishing and general nature exploration. Starting Memorial Day weekend, the park sets off fireworks every Friday night – a perfect ending to a day at a theme park!
Knoebels– Elysburg, Pennsylvania
If thrill-seeking rides aren't your thing, you can tag along to this park at no extra cost. Knoebels has free park admission and free entertainment; you simply pay per ride or have the option to buy a day pass for unlimited coaster experiences. The campground is away from the noise of the other attractions and is an ideal place for an RV family of all ages.
This "Roller Coaster Capital of the World" contains more than 18 electrifying coasters only for the bravest thrill seekers. Cedar Point is constantly building new coasters, making it an annual destination option for an RV road trip. Its campground, Lighthouse Point, has a luxurious feel. Every RV site offers a full hook-up with water, sewer, electric, cable, as well as a personal picnic table. Opening in spring/summer 2018 are 25 new sites, allowing RVers to incorporate glamping into their vacations. The new "Ultimate RV" sites contain a private patio area, dining table with chairs, built-in charcoal grill, and a fire pit complete with oversized lounge furniture. Lighthouse Point is located right next to Lake Erie Beach for an added relaxation bonus.
Lake Compounce is the oldest continuously operated theme parks in the U.S., boasting a history of more than 170 years of operation! This park is aimed for kids' enjoyment and is famous for its water park. The RV area is big rig-accessible, pull-thru- friendly, and extremely spacious.
Interact with animals ranging from a green iguana to a two-toed sloth at this wildlife safari theme park. The park features both a walk-through safari and a drive-through safari, allowing guests different options to enjoy this unique experience. Hop on the Safari Queen boat to enjoy a guided tour across Lake Shanalee, or head over to the petting zoo to make friends with a sheep or goat. This place is an animal lover's dream! The 320-acre park is adjacent to a KOA campground featuring well-shaded sites. All campground guests also have access to a pool and a playground.
Bonus: Lion Country KOA, C008859, is an FMCA Commercial Member.
Disneyland– Anaheim, California
As the only theme park that Walt Disney himself had a hand in creating, Disneyland is famed for a reason. While there is no attached RV park, Anaheim RV Park is just a free shuttle ride away. The campground has pull-through and back-in parking options, plus a pool, a hot tub, and a BBQ pit station. But, best of all, FMCA members receive a 10% discount on daily rates!
Bonus: Anaheim RV Park, C007730, is an FMCA Commercial Member, offering FMCA members a discount. Members will be asked to show their FMCA membership ID card.
There's so many options for family fun when it comes to theme parks and RVing. What parks have you visited and camped on-site with your family?
Wondering if other campgrounds you visit offer a discount to FMCA members? Search our Campground Connections tool.