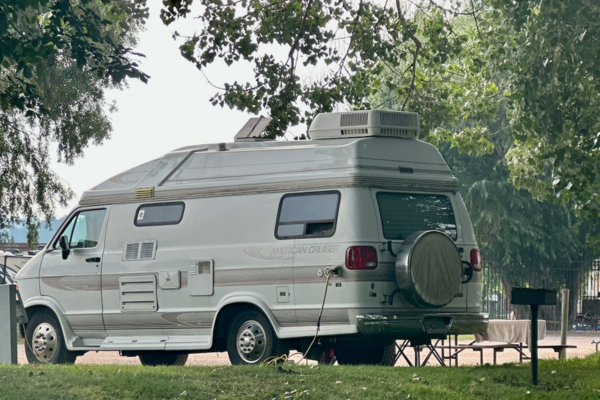 Practitioners of the travel van lifestyle are as varied as their vehicles. But their vehicles present a common quality not found in Class A motorhomes or towable RVs: the ability to traverse roads and paths and park in out-of-the-way places.
Travel vans can be the ultimate vehicle for many in the RV world. For some, they serve as an entry into the RV lifestyle. For others, they are a path to downsize from larger rigs. For others still, travel vans are the only choice for an RV life. 
We saw evidence of these notions about vans during our recent 5,000-mile trip from Georgia to Wyoming to Canada and back. In fact, we saw many Class B travel vans almost everywhere we went. They blend in wherever they are and can easily avoid attention if you're not looking for them.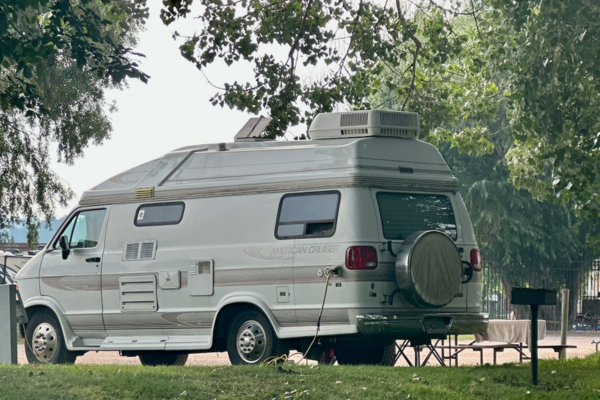 Solo Traveler Mary D. and Her Roadtrek 190
 "Can I get in on this conversation?" All in our group of Leisure Travel Van (LTV) owners turn around and say, "Sure." 
With this simple, short, direct question, a spry, lively Mary D. made herself known and joined our conversation about RV van life at the 60th anniversary FMCA convention in Gillette, Wyoming, in August 2023.
 "Is this your first rally?" we ask. "Never been to one before — I thought I'd sign up and see what this is all about," she says. We then ask, "Where's your rig?" Mary points to her older Roadtrek 190 Class B camper van in a row opposite our LTVs.
It turns out Mary has been an RVer since at least 1996. A Class B travel van with a pop-up roof was her previous rig. But she sold it and bought the Roadtrek 190 after the death of her husband, because she couldn't open the pop-up roof by herself. 
So, why did Mary pick the Roadtrek? She said she wanted a compact travel van built on a 2500 chassis with comfortable sleeping spots for one or two people, a small kitchenette perfect for on-the-go meals, and a compact bathroom. Key features such as a refrigerator, microwave, and stove make it a blessing for those who yearn for home comforts on their journey. Front seats that swivel and a removable dining table transform the interior space into a versatile dining or lounge area.
A Travel Van Minimalist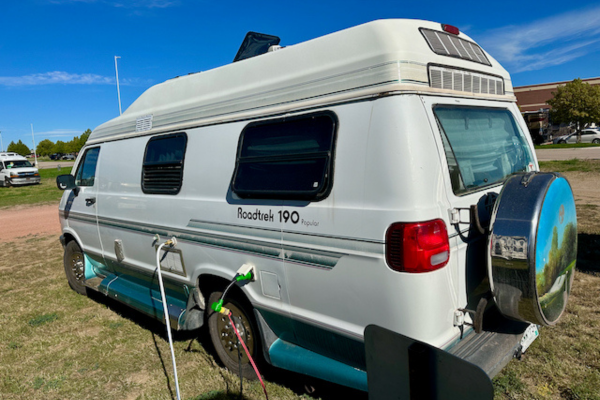 Mary is an RV minimalist. She'll take off in her Roadtrek to penetrate remote areas in the U.S. and Canada and traverse narrow, pothole-laden, muddy paths as far as she can go in her van. Then, she'll park her RV where it takes on the role of a base camp, grab her backpack, and hike through forests and valleys to find a campsite where no Class A, B, or C rig has gone before. She'll spend days on mountaintop overlooks or lush riverbanks to ponder. 
For Mary, an excursion into our natural world to embrace all around her is happiness, pure and simple. Only humankind can contemplate pure contemplation, according to Aristotle. If he were around today, he might cite Mary as a non-philosophical example in this respect.
A quick peek into Mary's van reveals some interesting notables. The mileage? 162,000. This fact poses no concern for her. She says that high mileage means nothing on an RV if the owner takes care of it.
There's plenty of house power in Mary's van, too — 836 watts. The previous owner put a Victron inverter in her RV to manage two 200-amp lithium batteries. Top this off with solar power on the roof, and she has more than enough power to boondock and power appliances. 
Mary's Roadtrek 190 is proof a small van size doesn't mean less comfort for occupants. Her Roadtrek stands as a beacon for those who believe in the seamless co-existence of comfort and adventure, akin to a call to the wild with a promise of home.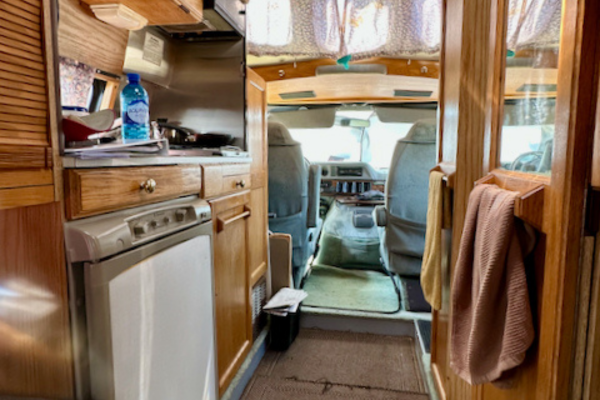 "This is my first excursion on my own," she says. "Up to this point, I went out with my husband or, after his passing, a friend. So, for this trip, I looked around for where I could boondock solo and found the Thunder Basin National Grasslands not far from here. That's where I stayed for the night before this rally."
Will Mary keep her Roadtrek or transition to another RV, we ask? "I have all I want or will ever need," she says.
Darrell's Story: From a Roadtrek to an LTV
The sparkle and sheen of a new 2023 LTV Wonder stood out at the Palmetto Cove campground in Cleveland, South Carolina, in late October 2023. The presence of this coach stood as a story begging to be told to those with an interest in the RV lifestyle.
We spoke with the owner of this new beauty, Darrell Van H., at the Caroliner LTVers rally. It turns out Darrell and his wife had been Roadtrekkers for years, and they had no need for or any interest in another RV. But a change in their circumstances caused them to look for a new motorhome.
Darrell cites three activities as central to the RV lifestyle he and his wife enjoy: golf, biking, and sightseeing. Bikes fit nicely on their Roadtrek. But their purchase of electric bikes changed their strategy: getting the e-bikes out of the weather and harm's way. They zeroed in on the LTV because the twin-bed models offer loads of storage, especially at the tail end of the coach, a fully enclosed area known as the garage in the LTV community. That's where their golf clubs and e-bikes stay in transit.
We asked Darrell about his trip-planning strategy. "It's simple," he says. "I Google my destination. If it's 2,200 miles, I plan 22 days to get there. This gives us lots of time to do the three things we like to do."
"So, where have you been with your new Wonder?" we ask Darrell. Serendipity struck. Darrell got his new coach and won a lottery spot to attend the hard-to-get-into annual LTV rally at Winkler, Manitoba, all in the same year. Darrell now serves on the LTV Navigators Council, a customer feedback group to Triple E Enterprises, the manufacturer of the LTV. These are notable accomplishments almost unheard of for a first-year LTV owner.
RV Lifestyles: Are You a Minimalist or a Glamper?
What's your RV lifestyle? Are you a minimalist like Mary with her Roadtrek 190, or have you transitioned to a meandering glamping travel style like Darrell with his shiny new LTV Wonder? Or do you glamp and beeline to destinations?
Let us know your thoughts in the comment space below! Also see our previous story on RV Van life here: https://fmcadventure.com/2023/07/17/experience-the-freedom-of-simplicity-the-joy-of-rv-van-life/
Karla and Tom Talleur are retired executives and now work as travel content creators. Their stories connect the past, present, and future to inspire others and span an array of topics including culture, history, law, public policy, space, technology security, travel, and the future. Media appearances include Food, Wine and Travel magazine, Hellenic News of America, Travel World International magazine, and an array of print, radio, and broadcast media specialty media. You can read more of their travel stories at RoverTreks.com