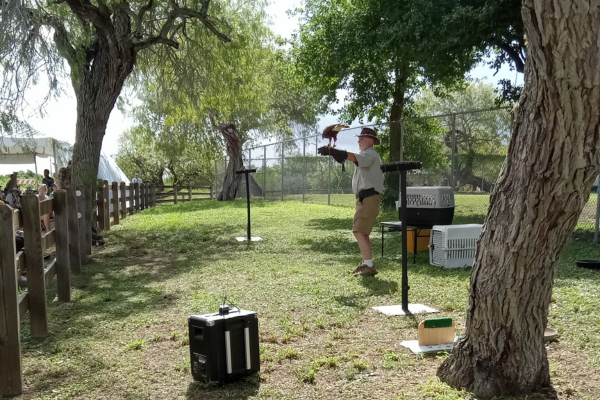 It was no surprise for my friends that my first major road trips with my new camper did not involve seeking mountains to hike, rivers to kayak, or places to sing around a campfire while stuffing my face with s'mores. My quest and number one reason for buying a camper is to seek birds.
Whether watching quietly on my backyard deck or stalking feverishly for miles in a South American rainforest, looking for birds is my favorite hobby, or perhaps a sport. Some even consider it an addiction. I started "watching" birds at an early age, and through the years I moved from a birdwatcher to a birder, which means I spend a lot of money on equipment, hotels, and bird guides traveling to exotic places just to see a special bird.
Each new bird I see is recorded on a life list, a record of all the bird species I have seen during my lifetime. Birders are very competitive, and when a rare bird is reported within a 300-mile radius of our homes, hopping into a car and heading out at midnight is common.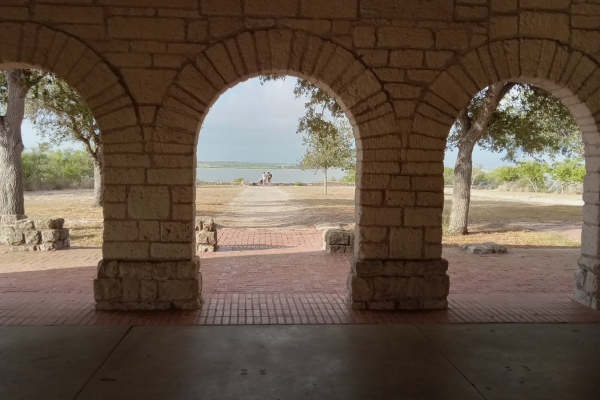 Traveling in an RV is very popular with birders. First, we save a lot of money sleeping in parks or boondocking versus hotel stays. Second, it is convenient to have our home away from home near us for quick and healthy meals. I eat mainly organic foods and keep my little camper stocked with dried or canned foods of my choice. Adding eggs, milk, or whatever is lying around in my kitchen refrigerator makes life on the road much more enjoyable — for me and my purse. Three days' worth of clean clothes are always in my camper, and in a snap I'm ready to go.
There is no better place to find cool birds than my home state of Texas. Second only to Alaska as the largest state, Texas has recorded over 630 avian species. The state stretches about 800 miles from north to south and is placed in the direct path of two major flyways for migrating birds that spend their summers in Canada and winter in Mexico. So, it is possible to find a lot of birds, even a few unusual birds, in Texas during fall and spring. They may be visiting for only a few days, feeding furiously before the next stopover spot on their amazing journey. 
Birding apps and a network of information shared between birders are used to spot where and when certain species arrive. In early October, I headed for Corpus Christi to the annual HawkWatch festival, where volunteers and spectators from all over the U.S. count birds of prey in the millions as they fly over this area.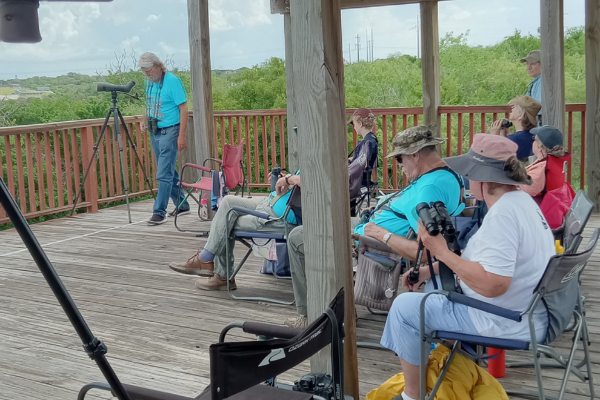 I, along with others from my area, stayed at the Lake Corpus Christi State Park, located in Mathis, Texas, within a few miles of the HawkWatch main viewing area and the city of Corpus Christi. Shady campsites and large day picnic areas surround a 21,000-acre placid lake, famous for fishing, swimming, and water-skiing.
The park is also a haven for birds, so I strolled along the hiking trails every day, all within walking distance of the campground. My favorite was the Longhorn Trail leading to the Kiskadee Trail, which ends at the 1935 Historic Castle built by the Civilian Conservation Corps. A side trail leads to the Bird's Nest Shelter with a bird blind to watch birds come to a small pond. It was hard to leave this pleasant park, but I could not miss the HawkWatch.
The HawkWatch held during the fall migration season, called the Annual Celebration Of Flight, is why Corpus Christi is considered the "birdiest" city by HawkWatch International organization. From August through October, birds of prey, songbirds, waterfowl, and shorebirds stop to feed on the nutritious habitat in the surrounding wildlife refuges on their way to Mexico.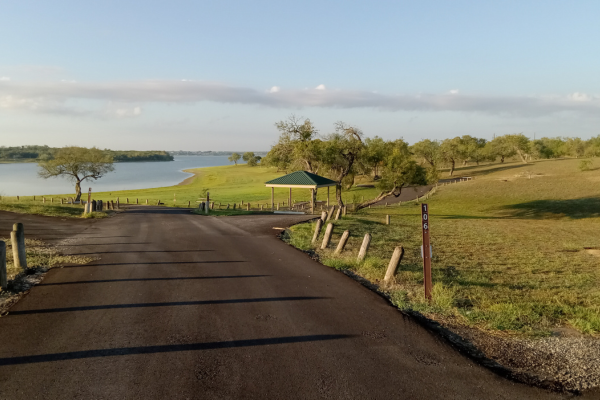 To handle the growing numbers of official bird counters, who range from local avian experts to state and federal wildlife personnel, a covered deck platform was built in Hazel Bazemore County Park. Their 2023 report announced an incredible kettle of 28,103 Mississippi kites on August 29 that kept rolling in for many days. Following were kestrels, coopers and sharp-shinned hawks, merlins, peregrine falcons, ospreys, and northern harriers. By the end of September, the main players were broad-winged hawks, breaking records on September 29 when 226,627 were counted on that one day. I watched birds; however, the bird counters were just as fascinating.
During the weekend festival there are booths, live bird shows, and programs. HawkWatch events are held in other places in the U.S. located along the migratory flyways. For more information about your area, click here.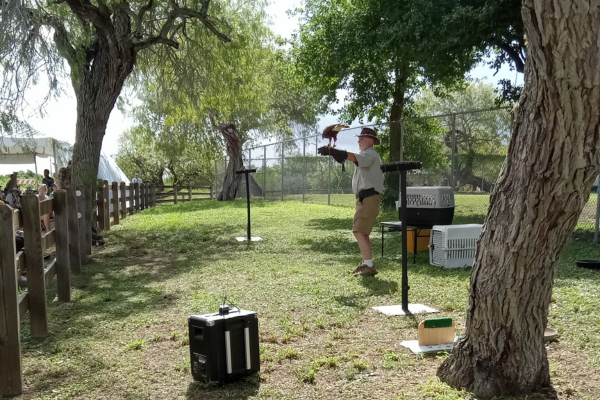 Ann is a freelance writer drawing attention to the natural beauty of our planet, amazing historic sites and eco-tourism.  A forever explorer, Ann has traveled worldwide since 1974 for either business or personal reasons. Raised in small West Texas towns, Ann has moved to other places around the world during her lifetime but returned to Texas often. Spending ten years in Houston during the 1980's, she earned an MBA in marketing from the University of St. Thomas in Houston. Ann fulfilled a rewarding 30-year career giving her best to non-profit organizations such as Preserve South Dakota, Easter Seals, Mercy Ships and the Lighthouse for the Blind. 
Soon after retirement, she found her best job ever, freelance writing.  Her specialty in marketing and public relations shaped her skills which led nicely into a writing business. Ann loves to tell her amazing stories of the places she saw and people she met along the way. As a member of SATW (Society of American Travel Writers), her suitcase is always packed ready to zoom to interesting places to do crazy things and tell her story – often taking her dog Tipper along for the ride.  She never misses an opportunity to hike a hill, watch a bird, dance with the locals, ride a motorcycle, photograph a sunset or kayak down a river. 
Most of her articles can be found with the following publications: Family RVing (FMCA membership magazine); TravelAwaits.com; Inspired 55+ (Canada), EastWestNews Service; Lifestyles Magazine, InMagazine, The Tyler Loop, Texas Living, The City Paper Bogota and Bird Watcher's Digest.  Articles are usually found in the travel, art, history or cultural sections. Ann posts her adventures on a Facebook group page titled Green Gypsy Travel.  Her website is under construction but in the meantime, she can be reached at [email protected].