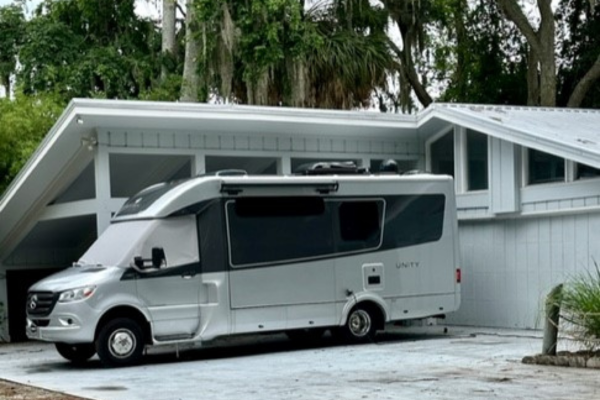 Travel is central to the human experience. For many RVers, it's an escape from the monotony of everyday life. An RV travel van offers the perfect compromise between space, comfort, and flexibility. They are easy to maneuver and park in spaces that may be inaccessible to larger RVs.
The notion "less is more" takes on a whole new meaning when it comes to RV van travel. For those who embrace the experience, traveling with less in a smaller RV can be downright liberating.
Are you new to the RV lifestyle or unsure what type or size of RV is right for you? If so, here's our five top reasons why the "less is more" lifestyle with an RV van might be right for you.
Five Top Reasons for RV Van Travel
1.  More Freedom: This can mean freedom from stuff and the weary mental preoccupation that can arise when dealing with things. The smaller size of a travel van will force you to focus on what you actually need versus what you want to take with you.
2. More Flexibility: RV vans offer an ease of maneuverability that's not possible with larger vehicles. Their compact size enables travelers to access and park at small campsites in remote locations off narrow roads that would be inaccessible to larger RVs while enjoying the comforts of home on wheels. With a smaller RV, you're free to embrace the spontaneity of travel opportunities on the fly as they present themselves to you and unlock a world of exploration and adventure.
3. More Fun: Traveling with less in a smaller footprint frees up your time so you can have fun. You'll be more likely to spend your days hiking, biking, kayaking or other water sports, or enjoy the great outdoors with others you meet on the road. With fewer distractions, you can fully immerse yourself in the adventure of travel free from all but essential tasks. And if you choose to hang around your van and read a book, you can embrace the experience free from worry about stuff.
4. More Sustainable Travel: Traveling with less in a smaller RV means you don't need as much energy to power your RV. You'll use less water and energy, produce less waste, and have a smaller carbon footprint. Your RV home runs on battery power. Lithium batteries are an efficient and sustainable energy source rechargeable for thousands of cycles with solar panels. The "less is more" approach creates a minimalist lifestyle where you're more likely to value your impact on the environment.
5. Lower Costs. Travel vans can be significantly cheaper to buy and run than other RVs, depending on the brand and features. They don't run massive truck engines in large frames or need special repair and service shops. Their small size lends well to boondocking since you can park them almost anywhere overnight, a practice that can save money for campgrounds or hotels.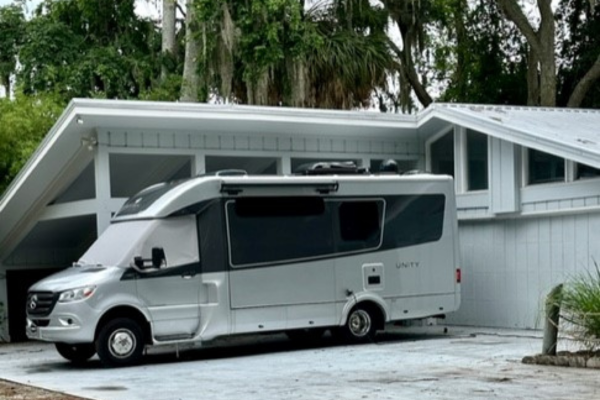 How To Pick Your RV Van
If you think a travel van might be right for you and are ready to buy, think "requirements analysis." Focus on what you need versus what you want. This approach will help you narrow down your list of travel van candidates.
How do you figure out what you need? For many of us, looking at and rejecting brands and designs helps. Consider what your RV travel style is or will be. Are you a bee-liner zipping from one place to another? Or do you enjoy a slow-paced meandering from one place to another? Are you comfortable boondocking in a 19′ van with four people and three large dogs (yes, we've seen that), or do you need space for just yourself?
Knowing the answer to these questions will help you focus on the right RV for you, and conversely, you will know what is not right for you.
RV versatility was important to our decision to buy a van. What do we mean by versatility? The size, capabilities, and features of the RV must be complements, not constraints, on travel.
Some of our wish list items were non-negotiable too. A full-size standup shower, no wet shower and toilet, a queen or larger bed, and comfortable driver and passenger seats for those days when we beeline from place to place are important to us.
Your decision to buy comes down to what you need versus what you want. If you have a large family or travel group and a need to haul much stuff, a travel van may not be the right RV for you.
Our Solution: The Leisure Travel Van (LTV)
An LTV Unity with a Murphy bed fulfills our travel needs around North America. This 25′ long, 10'7″ high and 8′ wide coach on a Mercedes Sprinter Chassis is a step up for us for space and comfort. Why?
Since 2014, and just before the pandemic, worldwide travel has been central to our lives, living out of one suitcase apiece with two small carry-on bags. We're travel content creators and need flexible, easy-to-use modes of travel for our work. Our LTV is a platform from which we can discover new and exciting travel stories for our readers at RoverTreks.com and other publications.
The versatile design and compact size of the LTV make it the perfect RV for solo travelers or couples who want to travel in style and comfort without sacrificing mobility.
The LTV addresses our "must-haves," as cited earlier, and it is a superior experience to living out of one suitcase. The LTV owner base is more akin to family than a group of disparate customers. An active, happy customer group on Facebook matters in owners' lives. Prompt, common-sense support by LTV is obvious and central to owner satisfaction. The manufacturer, Triple E Enterprises, of Winkler, Manitoba, Canada, really cares about their owner-customers. Who can ask for more than that?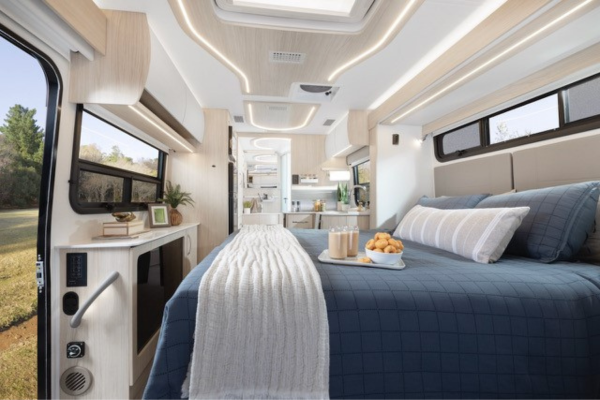 LTV's are built on either the Ford Transit or the Mercedes Sprinter chassis. Various floor plans ensure you can build a coach that fits your unique needs.
You can learn more about the LTV at leisurevans.com. We hope you find the RV of your dreams.
Karla and Tom Talleur are retired executives and now work as travel content creators. Their stories connect the past, present, and future to inspire others and span an array of topics including culture, history, law, public policy, space, technology security, travel, and the future. Media appearances include Food, Wine and Travel magazine, Hellenic News of America, Travel World International magazine, and an array of print, radio, and broadcast media specialty media. You can read more of their travel stories at RoverTreks.com