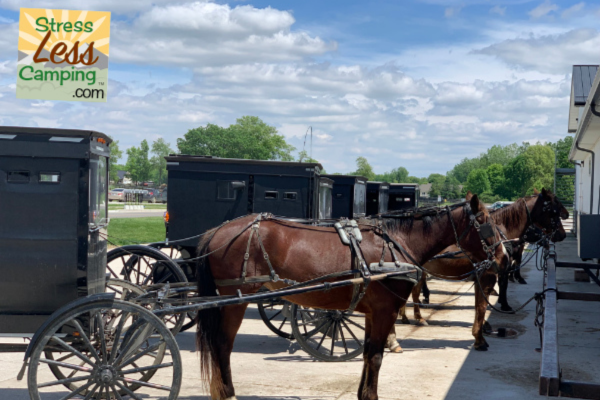 We have had the opportunity to visit Elkhart County, Indiana, a few times to pick up our RV, attend rallies, and tour RV manufacturing facilities. We find the area to be beautiful, peaceful, and friendly, and we always enjoy our visits. It's also close to Indiana Amish Country!
If you haven't been to an Amish community, you may have some ideas about what it's like. We spent some time in Shipshewana, Indiana, and the surrounding towns and were delighted by the different communities and the natural beauty of the area.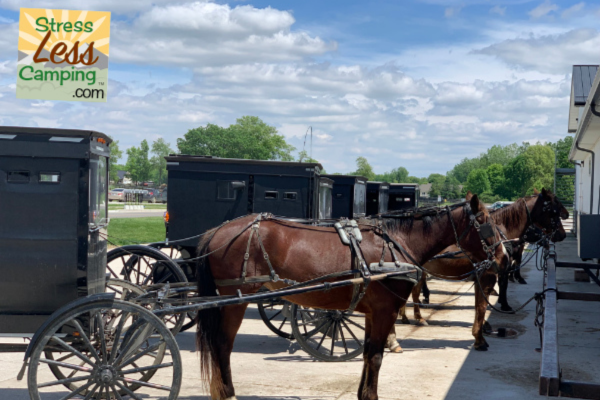 Why go to Shipshewana
We are big fans of the RV lifestyle, and the heart of the RV industry pretty much overlaps the area where Amish farms are common.
There is something magical about Amish country for a variety of reasons, not the least of which are the places to eat that have such wonderful food — especially pies, cakes, and donuts.
The Amish tend to lead lives that aren't focused on technology and social media. They work hard and live like our parents or grandparents might have in their youth, including participating in family-centered activities, farming, crafting, and meal preparation.
That translates into stores and shopping that support the Amish lifestyle in a variety of ways. Further, the goods and goodies you find in these stores tend to also be of very high quality and made in the community.
Where to stay
Shipshewana is our favorite place to base our visits. The town is home to the Shipshewana Flea Market, which is part of a larger RV campground property. And that happens to be where we tend to stay when we visit. The RV park is pretty central to all the stores, dining, and activities in Shipshewana. In fact, you'd likely do better on an e-bike than you would in a car, just because of the convenience of getting around.
There are actually several campgrounds in Shipshewana, as well as in the surrounding area. But as much as we like to explore new places, when we find a campground that suits all our needs, we prefer to save our exploring for other aspects of the visit. 
In the times that we've traveled to Shipshewana to pick up our travel trailers, we have also stayed at the Blue Gate Garden Inn in Shipshewana as well as Das Dutchmen Essenhaus Inn in Middlebury. At each of these beautiful hotel properties, a decent breakfast is included. They both also have an indoor swimming pool and hot tub.
Downtown Shipshewana
If you're a fan of immaculately kept quaint towns, this is a great example of that. There are a number of shops that sell locally crafted items as well as locally produced food. The Amish are very good at canning and preserves, and it's not a visit to an Amish town if you don't take at least one example of this type of goody home with you.
You can also purchase all sorts of Amish-made items, including indoor and outdoor furniture. In fact, we are hoping to return to Shipshewana to pick up some items for our own outdoor patio — they have some of the nicer things we've seen. And the prices are certainly fair. It's not a stereotype that the Amish are known for well-crafted wood products and furniture; it's a fact.
One of our favorite stores is Yoder's Hardware, which is every bit as big as any Home Depot and has consumed most of the strip mall where it's located. While they have all the usual stuff you'd expect to find in a hardware store, they also sell items that reflect the area. For example, I don't think I've ever seen so many hundreds of cookie cutters in my life. There are also quilting supplies and so much more.
Another unusual store is Puzzles Plus, which is located in a larger, three-story mall-type building called the Davis Mercantile. I love puzzles, and there was a bit of danger of filling our entire RV with puzzles. Restraint was issued, to the chagrin of the shopkeeper. But there are puzzles of all sorts and forms here.
Another thing you'll find plenty of are clothing stores. You can outfit yourself in just about any way imaginable, but let's just say you're more likely to get nicer and slightly traditional things here, rather than the latest trends.
Since farming is such a part of Amish culture, you bet that they also have great butchers locally. In fact, we really look forward to locally sourced beef, poultry, and pork at Yoder's Meat and Cheese Company during every visit. I don't know if they're related to the Yoder's Hardware folks, but the name is on a lot of things in the area.
Yoder's Meat & Cheese Company offers raw meats as well as sausages, cheeses, snacks, and more. We always know a trip to Shipshewana is going to be expensive only because we fill the freezer in our RV when we visit. In fact, we now have a portable cooler that can double as a freezer, so every visit is going to set us back a bit but will be worth it.
You may already be aware that most members of the Amish community commute by horse and buggy or bicycle. E-bikes are becoming more popular within certain segments of the population, and it doesn't hurt that the roads are often very friendly to those who ride. Because of the Amish buggies and the horses that pull them, you will want to watch for any equestrian-made speed bumps in the road, but they are few and far between.
What to eat
There is no shortage of delicious food in Amish country, particularly if you have a fondness for butter and sugar. Those ingredients seem to be very much in abundance here. The sweet treats you can find in the shops all over downtown Shipshewana would be enough to keep your local dentist in business for years to come. Even the peanut butter is sweetened!
You might as well get an early start and go to Rise'N Roll Bakery and Deli in Middlebury, Indiana. While they offer all sorts of goodies, the cinnamon caramel donuts are our favorite, and there's a reason they're referred to locally as Amish crack. You shouldn't miss out on these…and don't forget a bib for all that cinnamon powder on top.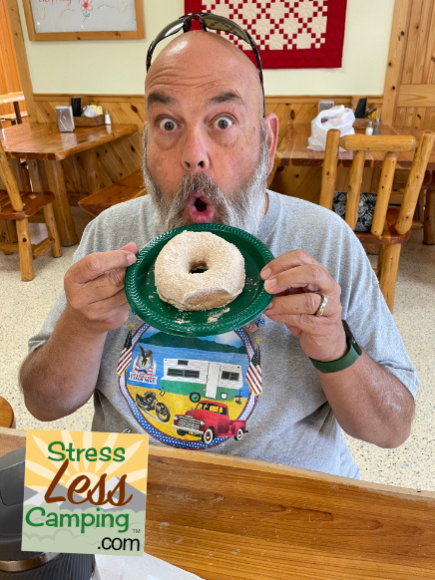 Cakes and pies are popular here, and one of our favorite places to visit is the Blue Gate Restaurant and Bakery. Amish buffet restaurants offer food along the lines of what my mom would make in a Crockpot. They serve is beef, chicken, and turkey that are the consistency of pulled pork, with lots of gravy. Lots and lots of gravy.
Something we've seen more than one customer do at a buffet is create a layer of mashed potatoes and then a layer of buttered noodles topped off with a layer of the meat of their choice and then capped off with gravy. You can eat like that all the time if you work your fingers to the bone every day on your own farm.
But what we would suggest is to hit the pie selection first, particularly at the Blue Gate buffet. You may not even get to the main course, although you won't want to let your mom know that you went straight for dessert. The pie selection in this buffet consists of entire slices of a dizzying array of pies, including Tony's personal favorite — peanut butter pie. And not just one kind of peanut butter pie. There's the regular sort or you can get it with a layer of chocolate as well.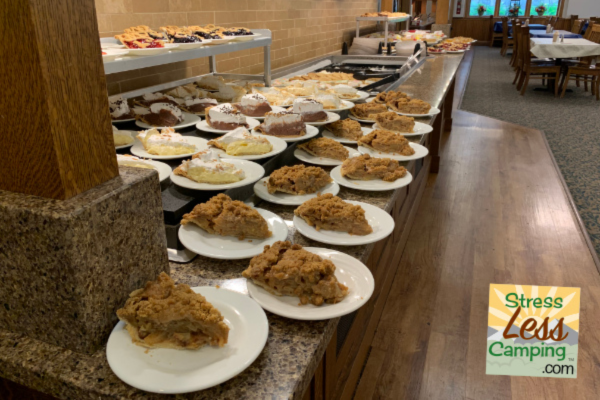 Another favorite buffet is Das Dutchman Essenhaus in Middlebury. They also have a separate dining room for ordering off the menu, but we prefer the buffet. The food selections aren't that different from the Blue Gate, and the desserts aren't entire pie slices, but the fried chicken is outstanding. Inside the restaurant building is a fair amount of shopping opportunity, which you will check out while you wait for a table. And there is always a wait because the place is so popular. There is also a bakery where you can buy a whole pie, if the slices at Blue Gate weren't enough. The property also has a shopping village and a very nice hotel, if you happen to be waiting to pick up your new RV.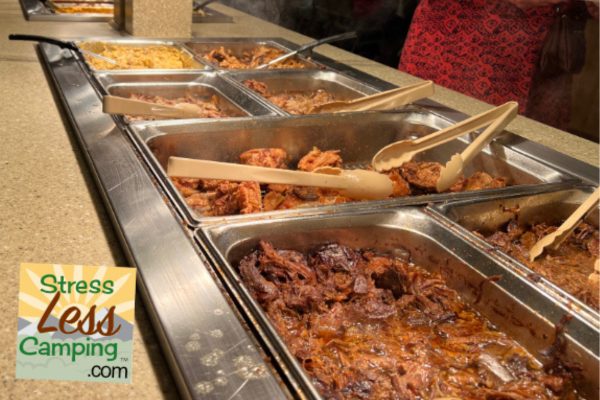 The Blue Gate
Several businesses in Shipshewana are named The Blue Gate. Started by Mel Riegsecker, the story goes that Mel saw an Amish fence painted all white, except the gate. Soon afterward, there was a wedding. Mel thought that the blue gate indicated a woman ready to become a bride. He later named his properties Blue Gate. He finally learned that the reason the gate was blue was because the painter had run out of white paint!
Fun tours and attractions
After a delicious meal or treat from the bakery, be sure to check out the Blue Gate Theater for a live play or musical event.
Perhaps the best part of visiting Shipshewana is some of the tours available. Our favorite one, thus far, has been the buggy tour of an Amish dairy farm. There are two reasons we enjoyed this — seeing how they practice farming and also the ride to and from the farm in an Amish buggy.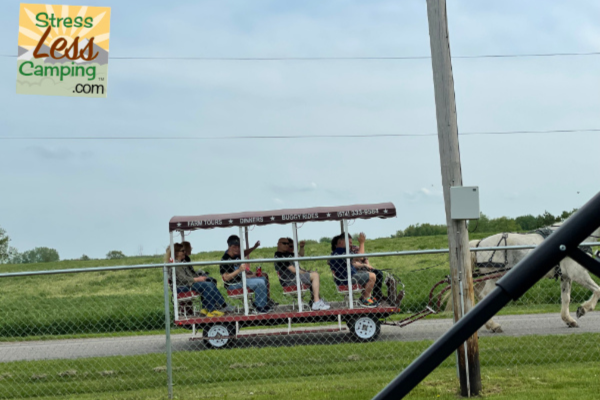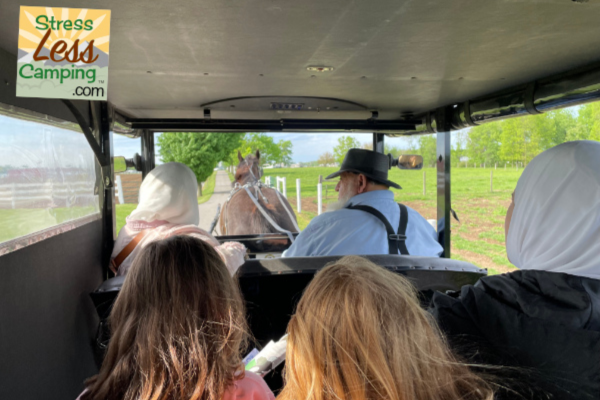 We saw the buggies ride by from our campsite, and I snapped a photo to save the phone number and give them a call. Buggy Lane Tours picks you up right in downtown Shipshewana and gives you a ride around town and to the dairy. You just sit back in the buggy as you slowly watch the very immaculate houses and farms go by.
At the Amish dairy farm, we got to try our own hand at milking cows and the opportunity to get a taste right from the source. The farm tour included a visit to various places in the barn and offered both historical and modern aspects of farming practices.
The dairy we visited uses relatively modern farming practices, and that's a distinction we learned from our hosts. The culture and adoption of technology aren't universal among all Amish communities. While this is an oversimplification, basically each bishop sets the ground rules for their communities. While this dairy used milking machines and a tractor, we saw another farm with the plow being towed by horses.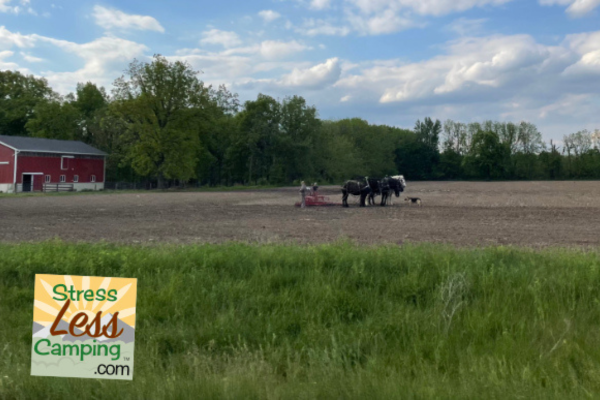 That's why you'll see some Amish riding in cars and others in horse-drawn buggies. Some communities allow the use of types of technologies so long as they're not dependent on being connected to the rest of the world. Therefore, there are Amish farms that are benchmarks for solar energy power, and those may be the same people you'll see riding around on e-bikes.
If you do choose to take this tour and are presented with the option of joining an Amish family for dinner, don't be a dope like us and skip this portion of the tour. We heard from a number of others who took the tour and raved about the experience. We regret our decision, though we plan to go back and have this experience.
For those who share our desire to learn more about the Amish and Mennonite cultures and ways, one of the places to do so would be the Menno-Hof museum. This frank look at these cultures and people in the area is another thing you'll absolutely want to do.
If you're like us and stay at the Shipshewana RV Park, it's an easy stroll over to the Shipshewana Flea Market, which is another fun experience (in season). Here you'll see hundreds of vendors showing off their crafting, canning, and collecting. There are rows and rows of all sorts of things you might normally expect to find in a large flea market, particularly in a farming community.
Lastly, if you are visiting Shipshewana, you'll be smack dab in the middle of RV country. We strongly suggest arranging for a tour or two of an RV manufacturing plant. The frenetic pace of these operations is something to see, and RVs are mostly hand-built in a big hurry.
Tony's dad worked in a manufacturing operation, so Tony got to tour that plant many times. He was surprised by how differently the RV industry operates from a highly automated operation.
You won't want to miss a visit to the RV and Manufactured Housing Hall of Fame located in Elkhart. This trip through the past of the RV world is very well presented, and there is plenty to see there.
We always find something new to experience and see when we are in Elkhart County, and it remains one of our favorite destinations.
Peggy and Tony Barthel are RV industry veterans who travel part-time in a Rockwood MiniLite 2205S travel trailer, looking for fun and unique destinations as well as tips, tricks, and discounts to turn the American RV adventure into StressLess Camping. You can catch them Thursday mornings on their podcast, or any time at www.stresslesscamping.com