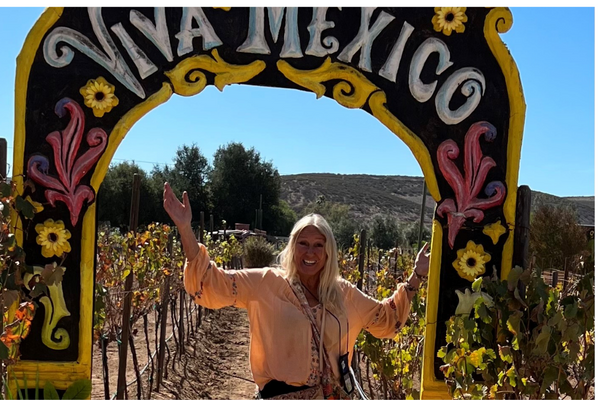 As a newcomer to RVing and RV ownership, I thought the best way to become acquainted with my RV and camping would be to join a caravan of experienced RVers. Prior to going on a caravan trip with Fantasy RV Tours, I started getting acquainted with my RV. It did not go as smoothly as I would have hoped. I had a couple of "mishaps," luckily with inanimate objects, one of which had the sturdiness to relocate my awning. That was my lesson on height awareness. There also was a lesson on length and width awareness, which was not as expensive as replacing my awning. I was somewhat relieved to know that having your awning ripped off by low-hanging branches was not that uncommon for some new RV drivers. At least that is what they told me through my tears. Undeterred, my desire to wander was not diminished.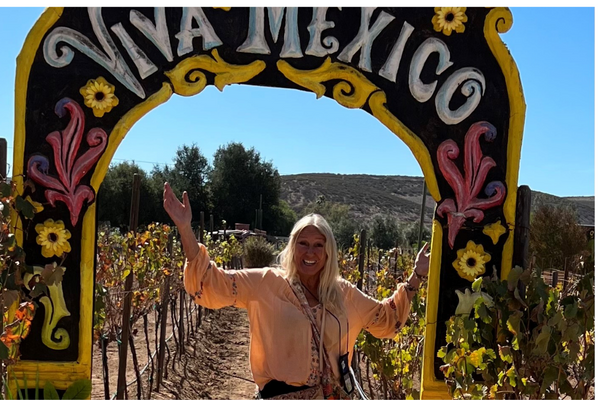 I am a solo female traveler, which is another reason I decided to travel with a caravan tour. I opted for a seven-day wine and dine tour of the wineries in Valle De Guadalupe, Baja Mexico, with Fantasy RV Tours. Living in Los Angeles and being familiar with both the Baja and the wineries, I thought this was a great idea for my first trip. What a great experience! Everything was completely handled by very experienced wagon master and tail gunner couples. Everything was included in the tour.
Crossing the border in Tecate was a breeze, as was our caravanning 60 miles to Clam Beach, a full-hookup oceanfront RV park. There were 33 of us and 18 RVs. My fellow travelers were from all over, mostly from the West. Some had been on the road for a few months before meeting up with the caravan. What a great group of fun-loving people. I can imagine that after being on the road for a while, it would be really nice to have everything taken care of for you. No driving or cooking of meals, maybe coffee in the morning before being chauffeured everywhere in a modern air-conditioned motor coach with a local tour guide. As I mentioned, everything was included: all reservations, food, and wine tastings. You just needed a change of clothes, or not.
A little about the tour. We were to meet at Portrero County Park, approximately 168 miles from my home in Los Angeles, by 3:00 p.m. on the date set for arrival. Tecate is on the California side near the Tecate, Mexico, border crossing. Yes, just like the beer of the same name. That evening we had an orientation for the border crossing and driving instructions. We were provided a packet full of information followed by introductions and a meal, with wine, of course. The next morning, we were to line up, and the wagon master put me and the other two solo female campers directly behind him. The border crossing was a breeze.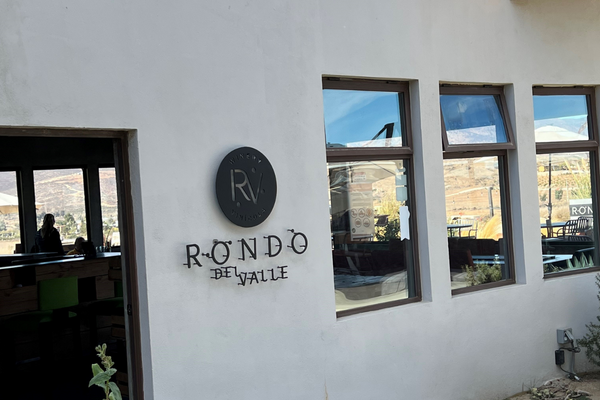 We knew what to expect and to have our registrations out and be prepared for a brief search of our RVs. Our wagon master went through first and pulled off so we could all line up to wait for the rest of the group. Many of the experienced caravanners had walkie-talkies for updates about the road or anything happening. I just stayed close to our wagon master—maybe a little too close for his comfort. Once everyone crossed the border and caught up, we got back in line and headed to Clam Beach, an oceanfront RV campground approximately 60 miles from the border. When we arrived, we were assigned full-hookup campsites. After getting settled, we boarded the motor coach for dinner at Splash, a beautiful oceanfront restaurant. Everything was covered as part of our tour fee, including margaritas or your choice of any other drinks. What a wonderful way to spend our first evening in Mexico.
The next few mornings we were picked up at 10:00 a.m. and chauffeured to Valle de Guadalupe and the Ruta de Vino—the Wine Route—for award-winning wine tastings and farm-to-table lunches. My favorite winery was Casa Frida, with the tastings in the Secret Garden. It was the most beautiful winery and had a gift shop where I purchased some jewelry and a leather purse. On our last day of wineries, we visited the Rhondo Vineyards, where we were presented with a bottle of wine of our choice, compliments of Fantasy RV Tours.
We did take a break one day from the wineries and went on a guided tour of Ensenada, where we shopped or got lunch on our own. We took a tour of the beautiful Hotel Riviera del Pacifico where they presented us with a margarita. Ensenada is a cruise ship destination. There are many shops and restaurants, including the oldest and most famous, Hussong's Cantina, established in 1892, where they say the margarita originated. After a full day of shopping and lunch, we all met back on the bus and headed back to Clam Beach for a shrimp bake and party.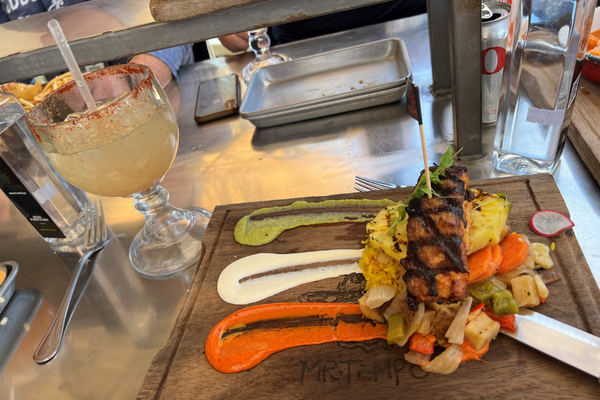 As our trip was coming to an end, on day six we enjoyed our farewell dinner at the amazing Finca Altozana, which is highly recognized for many gourmet awards. If they had Michelin stars in Mexico, I'm sure Finca would have had a few. It is set on a vineyard and offers farm-to-table fare. Wine, margaritas and tequila shots were flowing, and friendships had been formed over great food, wines, and seven days together.
The next morning, we gathered for a bagged continental breakfast and lots of well wishes for safe travels back home. Our caravan had police escorts through the small towns as we neared the border crossing in Tecate, so we didn't become separated. We were a sight to behold. It was like the circus had come to town.
What a wonderful experience for my first-ever RV caravan trip. The Fantasy RV Tours representatives were highly professional and expertly detailed the entire trip. Thank you, Fantasy RV Tours! I will definitely travel with Fantasy again. As a solo traveler, it exceeded my every expectation. ¡Viva México! 
Hello, I am Gail Jacobson Wilson: A recent motorhome owner; retired from entertainment law and mother of two grown children and maybe now wanderlust. I have always enjoyed travel, skiing, boating, hiking, biking, but never had the time to drive. Airports, straight to my destination, rental cars and hotels. Now I plan on enjoying the journey not just the destination. With the aid of a RV travel app, I am driving, by the seat of my pants, across the United States, Los Angeles to Maine, with a crooked route with stops along the way to visit family and friends with no set return
date. My travel companions are all rescues: my Great Pyrenees dog, a Maine Coon and a litter of four sibling rivalry Blue Russian felines. I was asked recently, what did you name your motorhome, I replied, I don't usually name my belongings, however, a name just occurred to me, JOY.