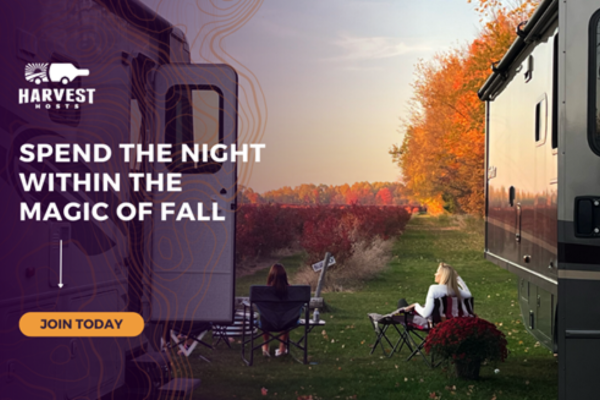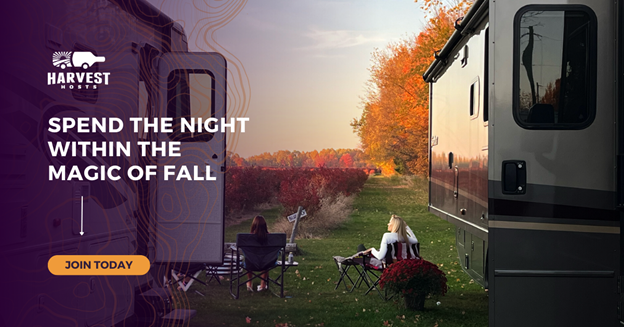 As the season begins to change, ushering in the crispness of autumn, many of us can't help but feel the call of the open road. If you're an RV enthusiast, you know there's no better way to embrace the fall season than embarking on a memorable road trip. And for those seeking unique overnight stays and unparalleled experiences, look no further than Harvest Hosts.
Harvest Hosts: Your Passport to Unforgettable Journeys
So, what exactly is Harvest Hosts? It's a vibrant network of overnight accommodations curated for RV travelers. Harvest Hosts is your passport to a world of new experiences, from picturesque wineries and farms to historical hidden gems. It's where your RV adventure becomes more than just a road trip; it's a journey filled with wonder and discovery.
As fall's vibrant colors paint the landscape, there's no better time to hit the road and explore the scenic beauty that nature has to offer. Harvest Hosts provides the perfect avenue to do just that. Picture yourself savoring a glass of wine while parked amidst lush vineyards or waking up to the tranquility of a farm bathed in the golden hues of autumn. With Harvest Hosts, you're not just passing through; you're immersing yourself in the essence of the season.
New App Updates for a Seamless Experience
We asked, and they listened. Harvest Hosts has just released a new version of their app. It's been redesigned with new features with you in mind. Here's a glimpse of what's new:
Saved Search Filters: No more tedious resetting of your preferences with each use. The app now retains your selected filters until you decide otherwise, which makes finding your ideal Host location effortless.
Display Favorites on the Map: Planning your route has never been this straightforward. The app allows you to effortlessly view your saved Host locations on a map, empowering you to chart your course and discover hidden gems along the way.
Real-Time Updates: Stay organized and never miss an opportunity to stay at your dream location again. The app provides convenient reminders for stay requests and insights into Hosts' booking windows.
Review Updates: Sharing your RVing experiences with fellow travelers is an integral part of the Harvest Hosts community. With the app's revamped review feature, writing reviews, uploading stay photos, and keeping track of completed reviews are now more user-friendly than ever.
A Fall Road Trip Like No Other
As you prepare to hit the road this fall, consider Harvest Hosts as your trusted companion. Immerse yourself in the beauty of the season and create lasting memories at unique, handpicked locations. From the moment you set out on your journey until you park your RV at one of these remarkable destinations, you'll be experiencing the very best that fall has to offer.
So, don't wait. Download the enhanced Harvest Hosts app today (Apple and Android versions available), and let your autumn adventure begin with confidence. Safe travels, and may your next road trip be filled with unforgettable moments and cherished memories.