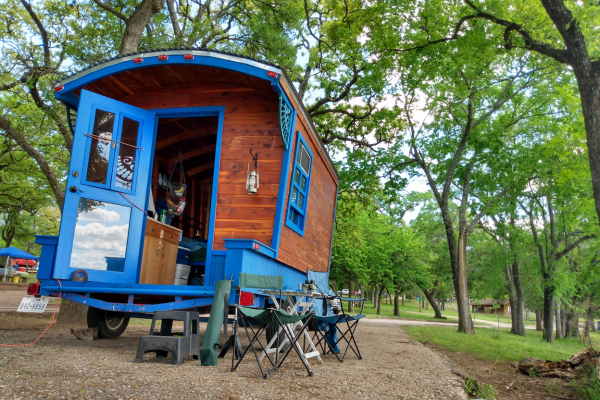 My love of the outdoors was cinched in 1986 on a white-knuckle white water rafting excursion on the Middle Fork of the Salmon River in Idaho. The wildness of the area, the sound of a million birds in the evenings and the beauty of the river instilled a passion for more. Soon, I joined various outdoor clubs, purchased a tent plus everything to go with it and hit the trails whenever possible.
One day camping a few years ago, my dog Tipper woke the whole park up trying to tear her way out of the tent to catch the furry racoon thief on our picnic table. I also had become aware that dogs are not allowed on trails in national parks, and soon would qualify for a National Park Lifetime Senior Pass. Was there a camper perfect for us? To safely leave a dog behind while exploring trails required hard sides and an AC.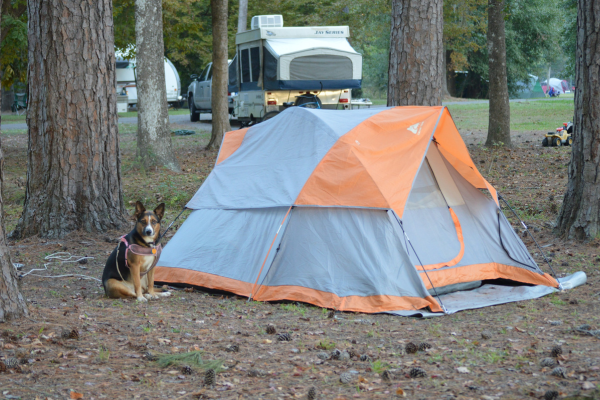 There were a few problems I ran into while doing my research on the perfect camper. My SUV's pulling capacity is less than 4,000 lbs and I couldn't afford both a new car and camper, I studied hundreds of small campers during the next two years. Annoyingly approaching people in store parking lots, campgrounds, and gas stations, I interrogated them on their camper.  My fellow outdoor friends were buying RVs of all sizes, and kindly gave me tours. The RV shows were fun, but I always walked away more confused and disappointed – each camper's interior was dark and full of plastic.  
Since I am an environmentalist and live an organic lifestyle, I try to eliminate plastic and harmful chemicals whenever possible. Most of my homes were historic, made of natural wood so I decided to build my own "green" camper to match my lifestyle and practice what I preached.  Researching tiny home designs, I drew blueprints for a vardo – a traditional horse-drawn wagon used by the Romani travelers in Great Britain. Marty, a good friend, and carpenter, got excited about the idea, planning to build more in the future after using mine as his prototype. Starting with an old but very well-built boat trailer, we chose cedar for the structure since it is lighter than other materials suitable.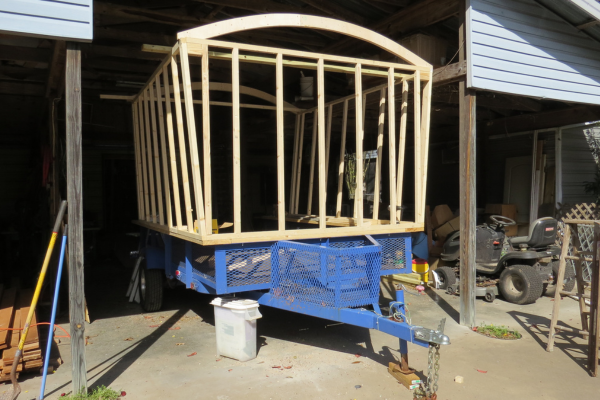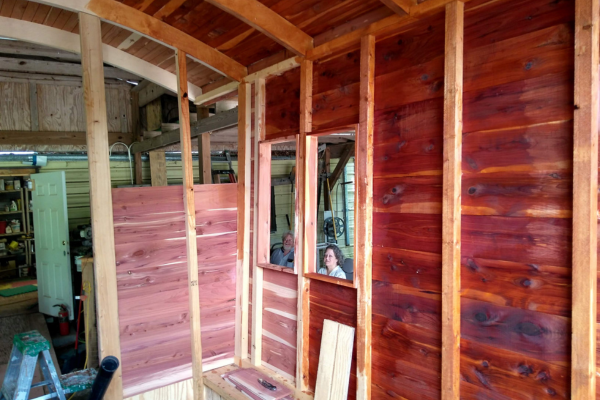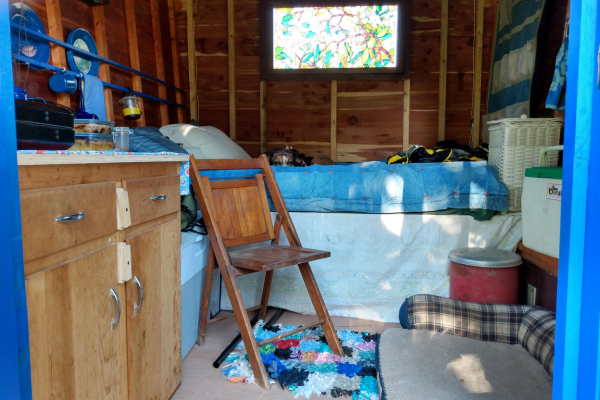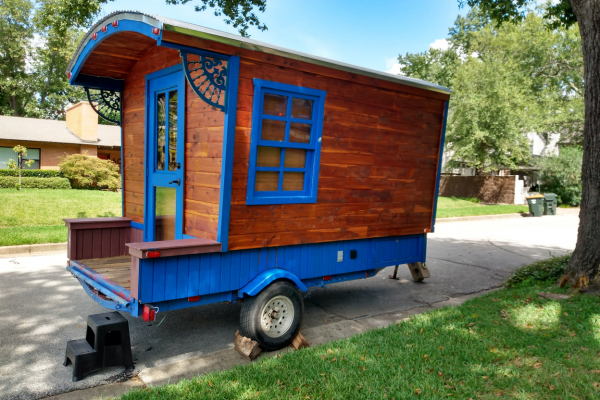 Wired for electricity with components to fit state and federal park campground electric outlets, the plumbing would be added, and the interior finished as my budget allowed. After two years of fitting camper construction in between his other jobs and saving money by doing all the staining and painting myself, my vardo was finally ready for the road in September of 2019.  Driving to get inspected for a license was my first glimpse of what was to come – people waved, honked, and followed me home.
Adding a cabinet, mattress, refrigerator, portable toilet, and current tent items, Tipper and I were ready.  Then the pandemic hit, and the journey around America was put on hold.  Not about to stay home, we instead visited Texas parks during the next two-years of shutdown. Not only was the vardo comfortable and cozy with a treehouse sensation, but also passed Tipper's test,  who soon claimed my bed in the camper instead of hers.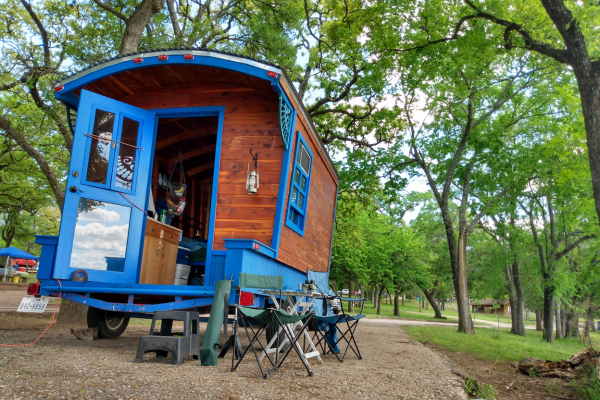 We had a blast. I bet a hundred people took selfies with my vardo, sometimes with us in it. When parked at stores, a group would soon gather around. While driving down a country highway one trip the passing lane was soon to end and the car behind would not pass even though I drive at 60 mph to conserve gas. Finally, the car slowly came around because the passenger was making a video!  My blog was yet to be, however with "our fans" posting on social media, we are probably famous and don't know it.
But not all was fun and games. The electrical system never worked half the time. When hitting a bump in the road, a knot in the cedar would pop out leaving holes perfect for insects to fly in freely. Built too tall by not calculating for the beautifully curved roof caused me to hold my breath at every overpass. Eventually, a big factor to retire the vardo was securing affordable insurance for a homemade camper.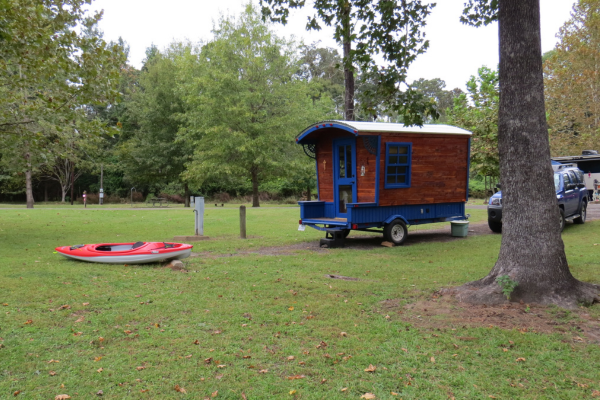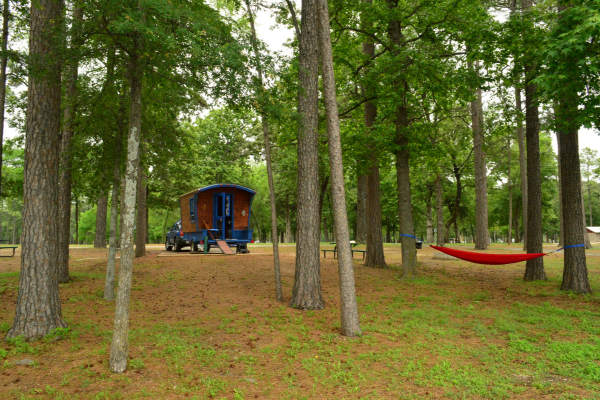 In January, instead of putting more money into the vardo, I purchased a Forest River Rockwood hard-sided popup. Tipper now has her own AC when deserted at campgrounds and raccoons are safe. Next week we start a month's journey exploring New Mexico.  Better late than never!
Follow Ann on her Green Gypsy Facebook group page. Her only blog is with FMCA Adventure, so stay tuned.  
Ann is a freelance writer drawing attention to the natural beauty of our planet, amazing historic sites and eco-tourism.  A forever explorer, Ann has traveled worldwide since 1974 for either business or personal reasons. Raised in small West Texas towns, Ann has moved to other places around the world during her lifetime but returned to Texas often. Spending ten years in Houston during the 1980's, she earned an MBA in marketing from the University of St. Thomas in Houston. Ann fulfilled a rewarding 30-year career giving her best to non-profit organizations such as Preserve South Dakota, Easter Seals, Mercy Ships and the Lighthouse for the Blind. 
Soon after retirement, she found her best job ever, freelance writing.  Her specialty in marketing and public relations shaped her skills which led nicely into a writing business. Ann loves to tell her amazing stories of the places she saw and people she met along the way. As a member of SATW (Society of American Travel Writers), her suitcase is always packed ready to zoom to interesting places to do crazy things and tell her story – often taking her dog Tipper along for the ride.  She never misses an opportunity to hike a hill, watch a bird, dance with the locals, ride a motorcycle, photograph a sunset or kayak down a river. 
Most of her articles can be found with the following publications: Family RVing (FMCA membership magazine); TravelAwaits.com; Inspired 55+ (Canada), EastWestNews Service; Lifestyles Magazine, InMagazine, The Tyler Loop, Texas Living, The City Paper Bogota and Bird Watcher's Digest.  Articles are usually found in the travel, art, history or cultural sections. Ann posts her adventures on a Facebook group page titled Green Gypsy Travel.  Her website is under construction but in the meantime, she can be reached at [email protected].