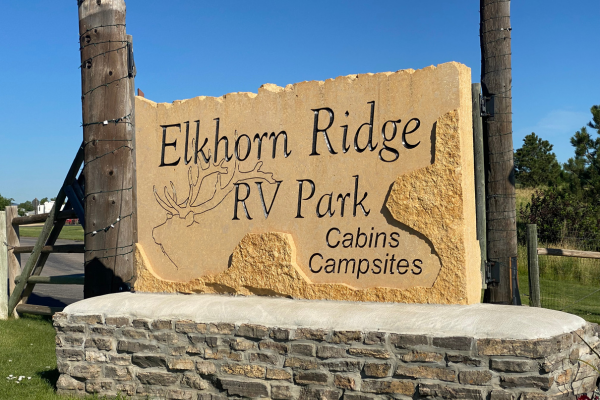 Today's post comes straight from Mark's campground folder on his computer. Anytime someone raves about a campground, he puts the information into his campground folder. Boy, did his folder deliver!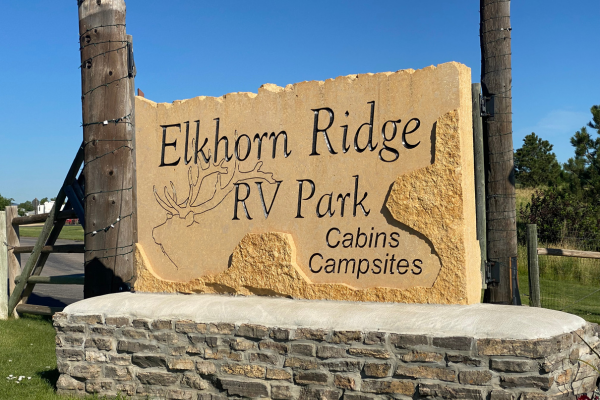 Elkhorn Ridge Resort is located just east of downtown Spearfish, South Dakota. It's a beautiful part of the state with green rolling hills and the Black Hills as a backdrop. The park is one of the prettiest we've stayed at.  The grounds are immaculate. Trees provide a nice amount of shade without impeding slideouts and satellite reception.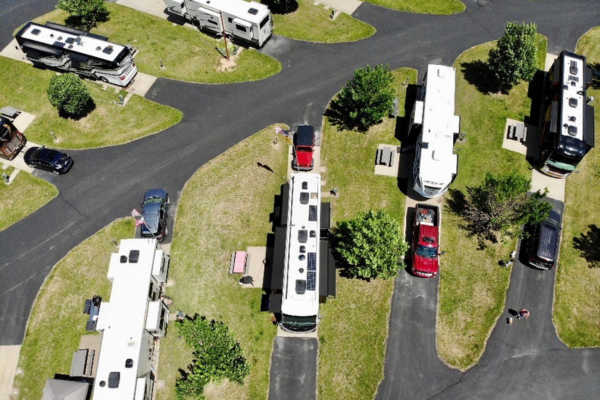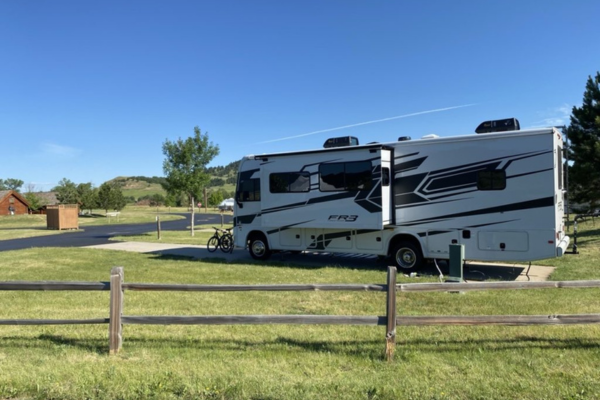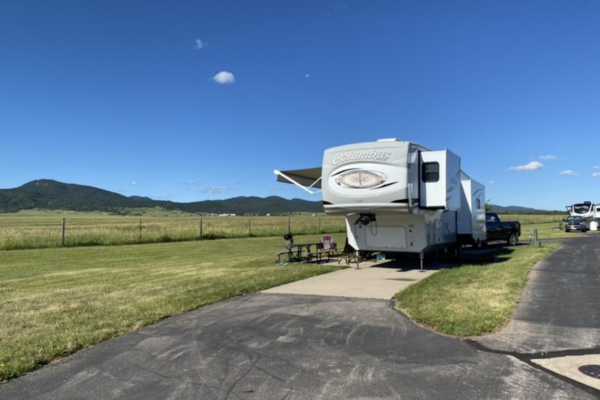 It's a nicely laid out park with 185 sites, including 110 pull-through sites, and set up to feel cozy. All sites are spacious, with a nice amount of room in between. There is no passing shampoo from your camper to your neighbor and no worries of your awning touching your neighbor's camper. Each site also has three dump spots. Yes, you read that correctly. No matter what you're camping in, the septic will not be an overly long reach. It's the first time we encountered this and now I wonder why every park doesn't do this.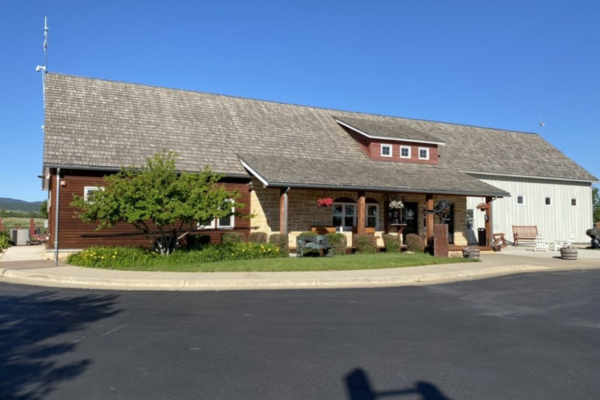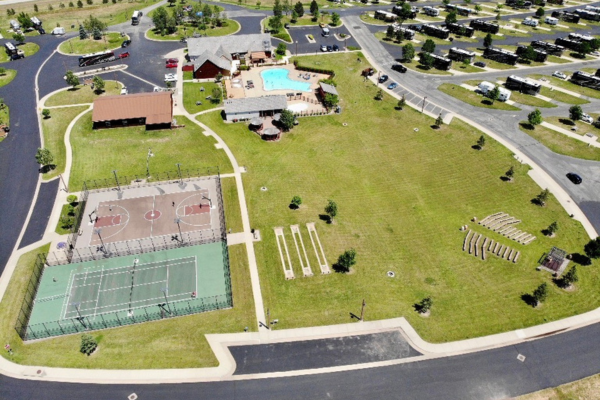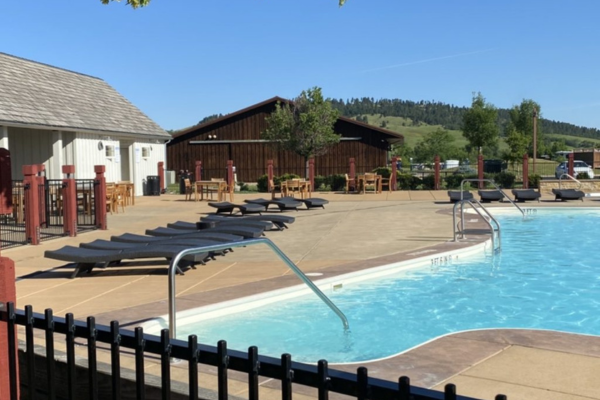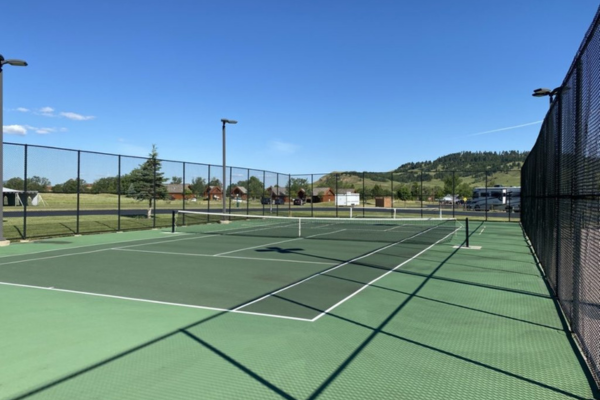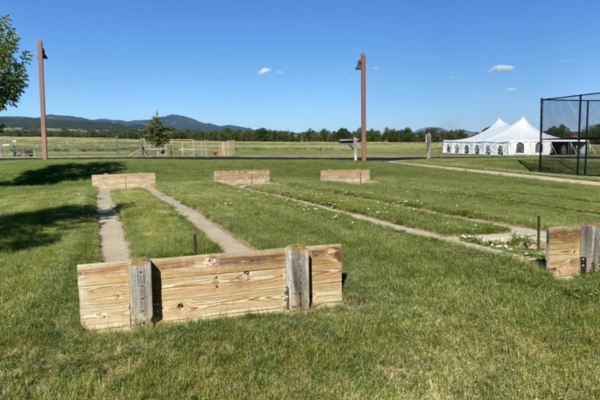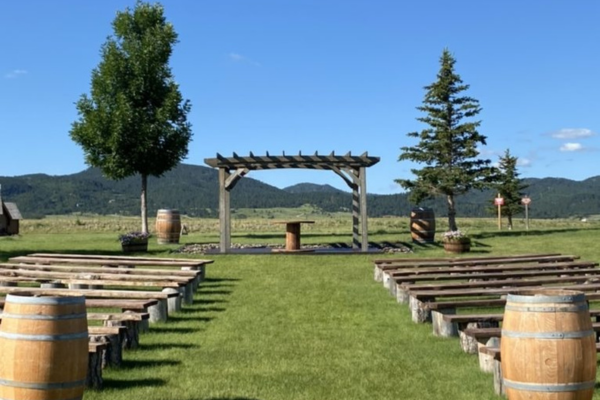 The office, pool, tennis courts, volleyball court, and horseshoe pits are at the center of the park and are the hub of activity. Group firepits are spread throughout the park and a great way to meet fellow campers every evening. There's a huge grass area for group activities, even a spot to get married! They have benches laid out and an arbor with a perfect Black Hills backdrop.  A large event tent that can be used for a wedding reception or a family reunion is set in another large grassy area.  If we lived closer, this would be THE place for our next family reunion.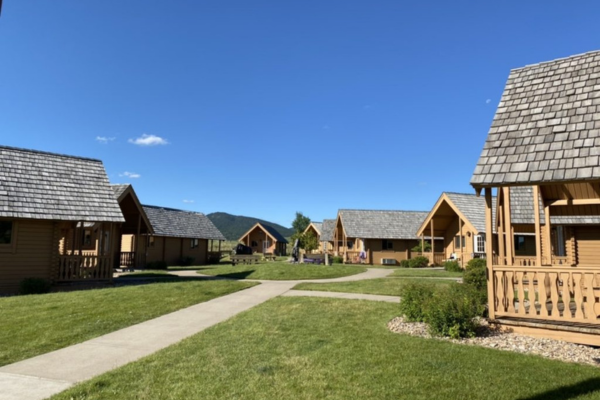 There are three areas that have cabins that are set up as a cul-de-sac, perfect for groups or family traveling together. The group that was staying in the cabins near the south showers were making me hungry smelling their breakfast when I walked by each morning of our stay.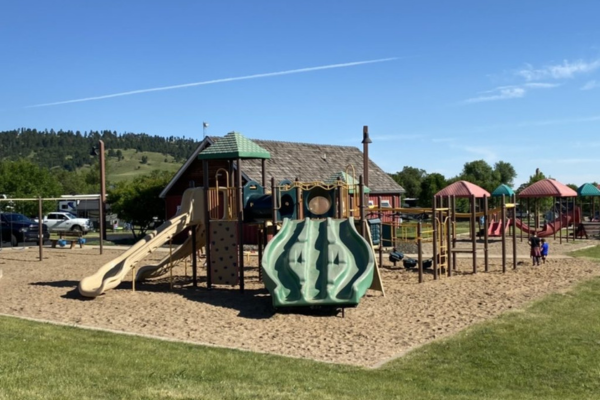 Speaking of my morning walk, one lap around the perimeter is 1.6 miles, and if you go in and out of every row, it'll total 3.7 miles. If you prefer a path instead of pavement, check out the loop around the back of the campground. That's a great way to start the day and smell lots of yummy breakfasts being made. And, the more calories you burn on a morning walk or run means you can enjoy a treat when out exploring the area.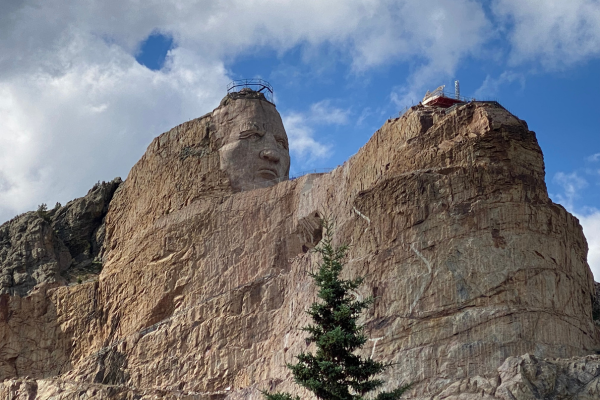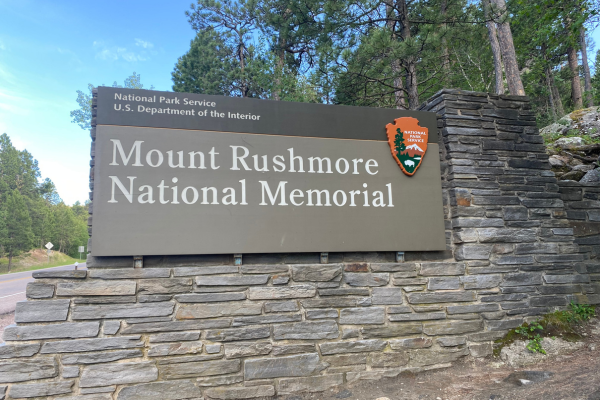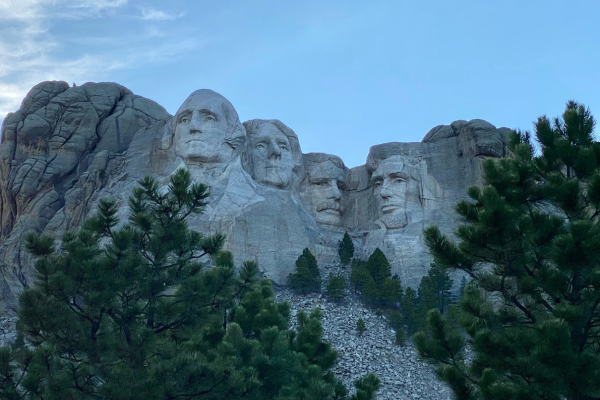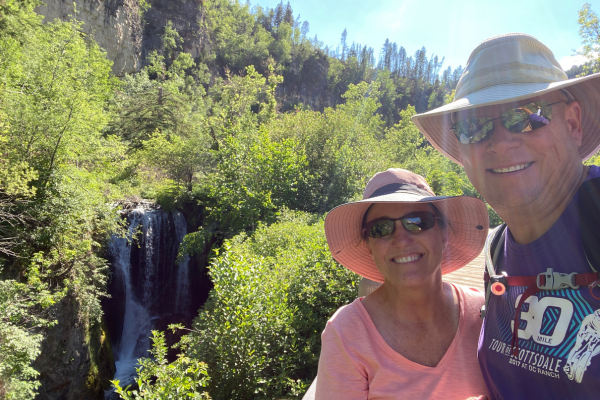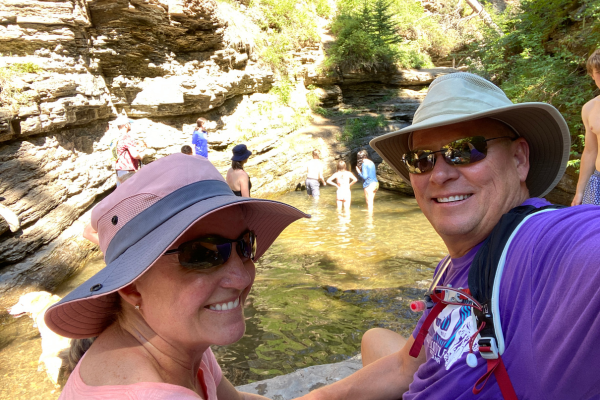 Elkhorn Ridge is a great home base.  We crammed a lot into our stay and still didn't get to everything on our list. One afternoon we visited Crazy Horse, had a wonderful dinner in Custer, and spent the evening with four presidents at Mount Rushmore. Another day was spent exploring, hiking, and checking out waterfalls along Spearfish Canyon. Devil's Hot Tub was a fun hike. Sturgis is a short drive, and we practically had the place to ourselves. The bartender at the Iron Horse Saloon kept us laughing with all of her bike week stories.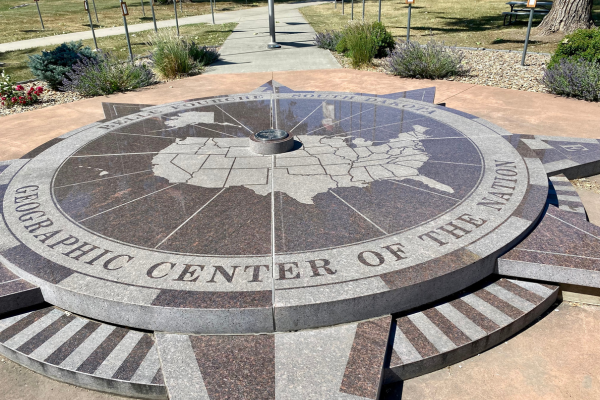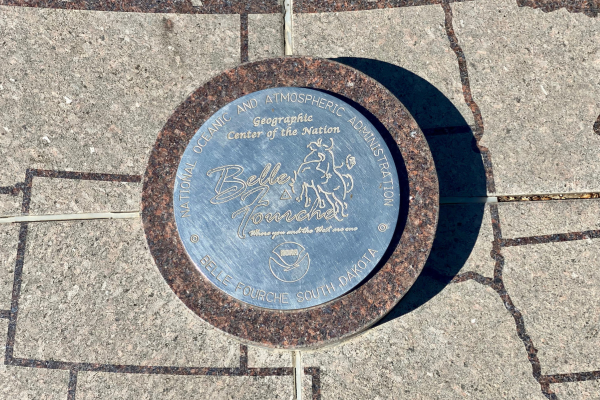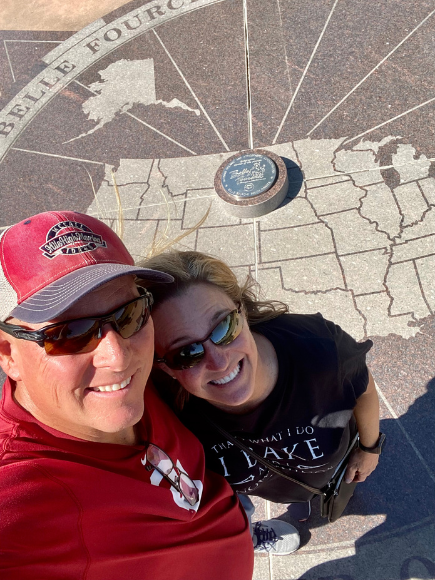 One fun find was the Belle Fouche, the new center of the United States. When Alaska and Hawaii became the 49th and 50th state, the center of the U.S. shifted away from Lebanon, Kansas, to Bell Fouche. This was something I had to see.  Off we went a whole 26 miles across South Dakota farmland.  It was rodeo night and the town was gearing up for a fun evening. They take pride in being the center of our country; the official spot is the centerpiece to a park and town museum. The first two-story house in South Dakota has been moved to the park, and it's a great piece of history. I felt so tall in the house. I don't know how Mark would have survived.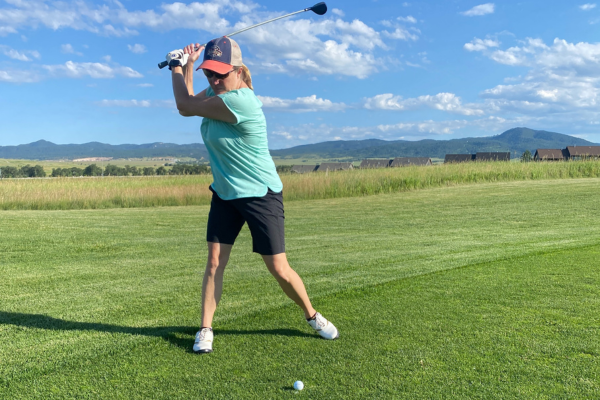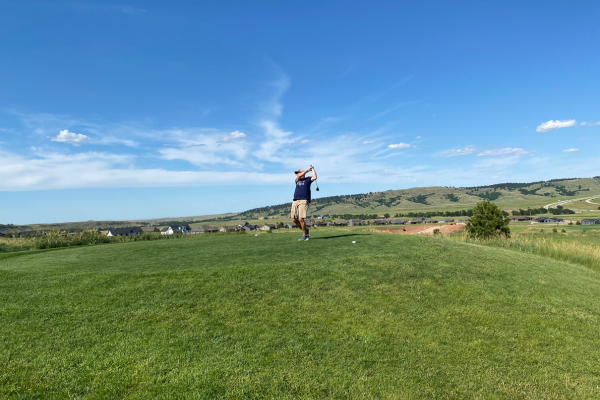 We like to play golf but don't always bring our clubs. I'm glad we did this trip. We often play nine holes on a Friday afternoon at home at the super-twilight rate. Twilight time is much later that far north. While in South Dakota, we ate dinner and then played. The course is part of the RV park on the other side of the highway. It's a beautiful course, challenging on some holes and wide-open straight shots on others.  I didn't completely suck this round either, even beating Mark on one hole.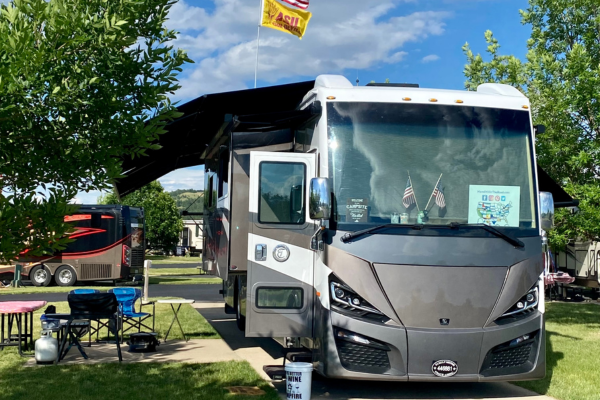 As we pulled out, I looked at Mark and he knew just what I was thinking. Yes, he said. We will camp here again. I'm going to hold him to it. See you there!
Meet the Family
I'm Maureen Milne, F446881.  Mark and I are becoming empty nest veterans and you know what, we enjoy it!  We are always on the lookout for the next adventure, our friends call us the X-Games family. We are avid hikers, cyclists and skiers (both snow and water).  Mark does triathlons and we run several races a year.  We've been RVing together since we were teenagers and we love traveling with our two grown sons.  I share our RV adventures, RV friendly recipes, wonderful campgrounds and more on my blog, M&M Hit The Road.  You can also find our fun on Facebook, Instagram, Twitter and YouTube.