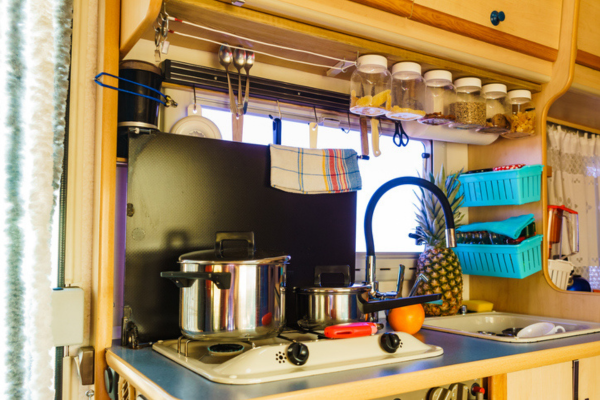 June ignites the spirit of adventure in the hearts of RV enthusiasts. Embracing the open road, to explore and discover, etching new memories under the stars, and reminiscing around a campfire. The key to endless thrilling adventures, barbecues, and marshmallow roasts begins with a well-organized kitchen. Start the season off right by staying organized, so that you can spend more time enjoying the lazy dog days of summer.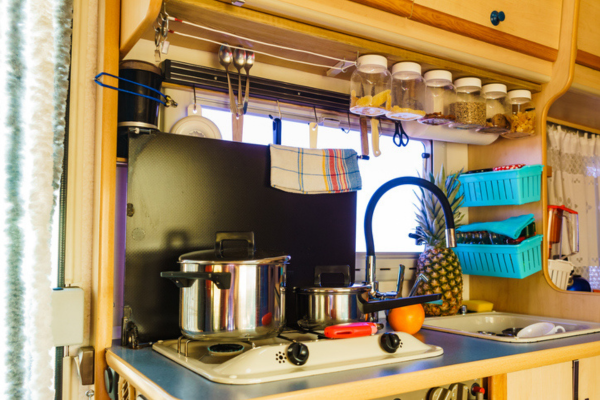 See What You Already Have
Before embarking on your summer adventures, take some time to evaluate what you packed away and have more than likely forgotten about over the winter. Take a moment to thoroughly empty the cupboards, cabinets, and drawers, and evaluate each item for its necessity while making a list of other items you may need. 
If you find yourself with odd bits and pieces, see how you can repurpose them for storage in the kitchen or other parts of the RV before donating them to a thrift store. And if you do take things to a secondhand store, don't just drop off your treasures; peek inside the store and you might just cross some of the items off your "need" list. Treasures are waiting. I found a brand-new Weber Q grill still in its box for less than $60.
Maximize Your Space
Streamline your vertical space by installing hanging rails, storage hooks, and baskets on walls, underneath cabinets, and on cabinet doors. These are great for kitchen utensils, pots and pans, and everyday items, including snacks.
Magnetic knife racks free up valuable drawer and counter space. Invest in stackable, collapsible silicone storage containers for dry and wet goods, as they take up less space when not in use. Utilizing vertical space effectively keeps your countertops clear and provides easy access to frequently used items.
Maximize cabinet and drawer space by using expandable shelf organizers, drawer dividers, and pull-out cabinet organizers. These tools separate and categorize your kitchen essentials and pantry items, preventing a jumbled mess during travel. Label shelves and drawers to make sure items go back in the same place, allowing you to spend less time looking for things.
Collapsible storage baskets or bins are perfect for bulkier items like cookware or small appliances. If you have the luxury of counter space and do not want to have to store appliances elsewhere while traveling, museum putty is a great solution. Museum putty is non-toxic and helps to keep things in place. Pull off a tiny amount from the block, apply to the base of an object, and lightly press the item to the counter. It comes off clean and works on most surfaces and walls. We use this on our kitchen appliances, office electronics, and plants. Nothing moves while we shake, rattle, and roll down the road.
Being Organized Can Make Cooking A Breeze!
If you are doing most of your cooking outside, how about a portable refrigerator small enough to fit in a basement compartment or the back of the car? The options are endless when it comes to size, and some are dual freezer-refrigerator. This is a great way to keep condiments, food, and beverages outside, which means fewer trips inside.
Twelve-volt refrigerators  range between $99 – $400, making this an affordable indulgence for summer fun. Along with the portable refrigerator, think about having a plastic tote-style bin, stackable bins with lids, or a drawer-style bin for outside dishes and utensils to facilitate outdoor cooking. DILIBRA makes clear 28-liter, collapsible, stackable storage bins with lids that open from the top or the side. Perfect for stacking but not having to unstack to get to items. Now that is genius!
If you prefer the outdoor chef scene, Camping World and Amazon have a plethora of functional, lightweight, foldable, easily storable outdoor cook stations that have everything including the kitchen sink in some cases. This could be the perfect accompaniment for the BBQ grill. You may never step foot inside the RV kitchen all summer.
Don't forget the refrigerator, whether inside or out. Organize with labeled bins for kids' snacks, dairy, luncheon meats, small jars, and packaged twist-tied thingies that are easily lost to the back of the fridge, slowly fermenting into another life form. Mark expiration dates with a permanent marker. Line vegetable drawers with waxed paper for easy clean-up. It's the small things that have the biggest impact.
Meal plan to save time and reduce ingredients for weekend or week-long trips. Purchase prechopped veggies and marinated meat, poultry, and seafood. Each week or trip, check what's low and make one grocery trip, or opt for convenient delivery to your RV door.  There are more adventures to be had with loved ones than wandering aimlessly down the grocery aisles wondering what to cook.
Embrace the thrill of summer adventures in a well-organized, functional kitchen. Give yourself a well-deserved pat on the back. With just one effortless day, you've successfully eliminated kitchen frustration and embraced functionality. Beam brightly and let the thrill of summer adventures commence.
Karen Langston is a full-time RVer and holistic orthomolecular nutritionist specializing in functional modalities to tame the belly storm. She loves hitting the road in search of Class A back roads, good food, and quirky adventures.