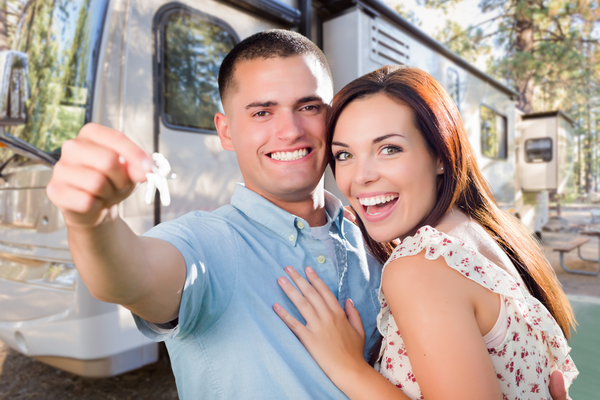 We know that buying or selling an RV is one of the biggest transactions many people will make. So, we have some guidance for you as you prepare to make a big-ticket purchase on a new or 'new-to-you' RV. If you are a first-time buyer, or seller, rest assured this article is for you. Browse through this ultimate guide to buying or selling an RV and gain confidence for the next chapter in your RVing journey.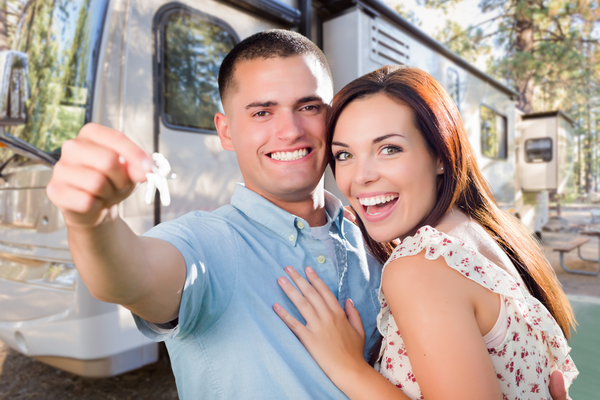 Common Concerns
Whether buying or selling, here are the common considerations.
Have Patience 
Realize that this is a big purchase and a personal one, so it will take some time. You should start the process earlier than you think. Don't wait until your scheduled vacation is 30 days away and then start looking for an RV, and don't expect the first person who looks at your RV to buy it.
Be Safe
It takes a little mindfulness to stay safe whenever you are making a big transaction. It is best to do your research beforehand, rather than fall victim to a scam. Use these links for more information on staying safe while buying and staying safe while selling your RV.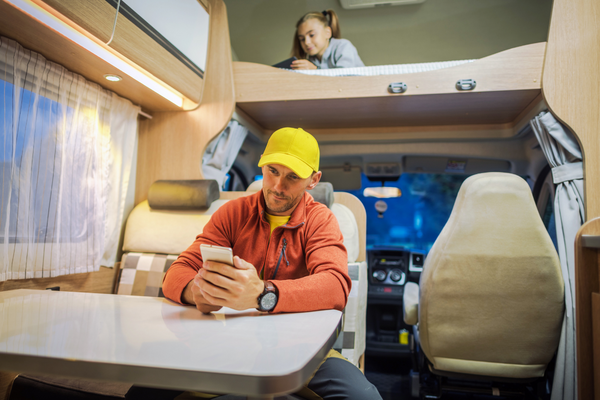 Buying 
As you begin your RV search, the key things to decide are budget, RV type, and features. Here are a few criteria to help get your search started the right way.
Know Your Budget
Firmly set the highest price you can comfortably spend on an RV, and how much you are willing to finance. Keep in mind you will need some money for insurance, licensing, and maintenance. Though it might be tempting to reach outside of the budget, it is best to create a budget before you start and stick to the budget you set. This will keep your excitement from turning to stress later because you are over-extended.
Know Your Needs
How you will use your RV will determine what class of RV you want (RVs are divided up into classes, so you need to figure out what 'class' or 'classes' will best fit your needs). Perhaps you would love a class A diesel pusher, but you are not going cross-country and you plan to stay at campgrounds (not boondocking), decide if it fits your use and needs.
Do Your Research
Once you know the type and style of RV you want, figure out features. Basics are number of beds, heating and cooling systems, and appliances and whether it has a other amenities you may desire. After you narrow down your selection criteria, you can look around at specific makes and models that fit your needs. Use popular websites to learn all you need to know about the RV you are in the market for. Pay particular attention to the average sales price, asking price is nice, but it is key to find out what RVs are selling for right now.
One other note to buyers, be willing to travel for the best deal – Don't limit yourself to your neighborhood. Check around the neighboring cities and even browse what's for sale within your region. To get a great deal, you might need to take a little road trip. If you plan on buying an RV that is a long distance from you, you can have a 3rd party inspect it for you, and it isn't an unfair request to ask the seller if he would meet half-way.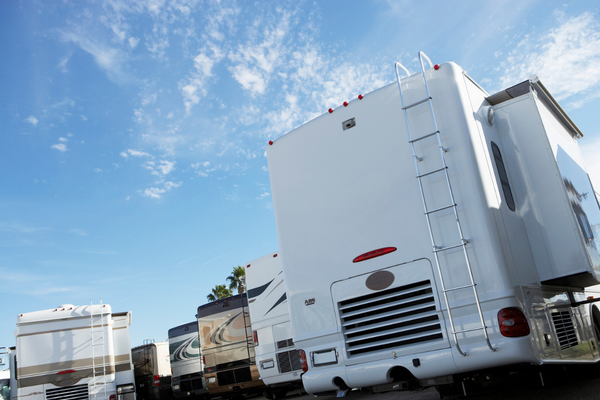 Selling
When selling an RV there are three main considerations up front to consider: asking price, exposure and follow through. For the sellers out there, here are our suggestions to make the best sale possible. 
Knowing what you have and what it is worth, is always the first step for sellers of any item. Price is key. You will lose potential buyers if you are too high, but also if you are too low. Don't accept lowball offers just to sell it quick.  Set your price based upon the market, not what you owe on the RV. As you do pricing research check the make, model, age, and layout of comparable RVs (the same model number may have different floor plans, with a wide range of prices). 
No one can buy it if no can find it. Get those ads written up and add lots of sharp photos and be sure to list on a variety of websites. When it comes to listings, the more the better. Placing your ad in multiple places will increase the exposure and help shorten the sale time. The days of parking the RV along the roadside is gone, and the internet has taken its place. Virtual has been the new way of selling for a while now, and while it is possible the perfect buyer could just happen to drive down your street and see the sign in the window, chances aren't really in your favor. Write up a full review of your rig, add some photos to draw attention to the ad and post away.
Be Sure to Follow Through 
One other note to sellers, be open minded. Don't get offended by low offers, each offer is a chance to connect and negotiate a win-win sale. If possible, engage everyone who shows interest, contacts lead to conversations, and conversations lead to a sale.
An RV transaction is a big investment and should be taken seriously, but with some clear priorities and patience, you can do it and you can do it safely. Let us know if this is helpful, and share your buying and selling tips in the comments below.

Kevin Tadlock is president of National Vehicle in Omaha, Nebraska. He is an avid outdoorsman and spends all the time he can with his wife and two daughters experiencing nature. He loves RVs and has spent the last 15 years helping buyers and sellers find each other without paying for a dealer or broker.
National Vehicle is an RV marketing firm in Omaha, Nebraska; for more information click here!