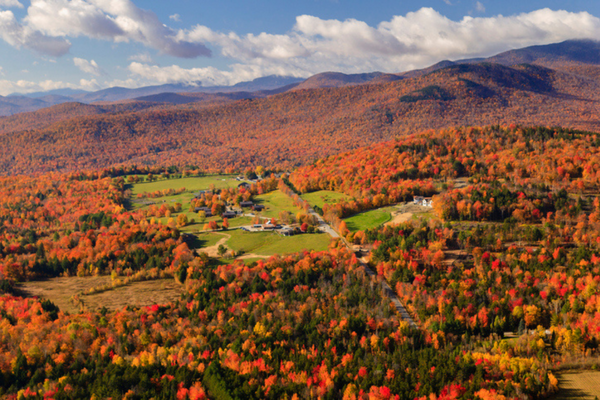 As the weather gets cooler and the leaves start to change, it's time to hit the road to explore the country's fall foliage. Autumn ushers in vibrant orange, red, and yellow hues that send visitors to scenic destinations for leaf peeping. If you want to experience these breathtaking vistas, RV Trader is sharing the top five destinations for fall foliage.
1. Stowe, Vermont
There's a reason Stowe is known as "Fall's Color Capital." The countryside and rolling hills transform from lush green to burst with orange and red colors. There are a number of ways to experience the fall foliage in Stowe, including a drive along the Mount Mansfield Auto Toll Road. This 4.5-mile roadway offers autumnal views of Lake Champlain and the Adirondack Mountains. (For safety reasons, vehicle restrictions exist on this road. No RVs, dually trucks, motorcycles, mopeds, scooters, or bicycles are permitted.) You can also venture along Vermont's Route 100 for more than 200 miles of stunning scenery.
The leaves in Stowe begin to change as soon as early September, especially in higher elevations of this New England village. You can view this legendary scenery through late October.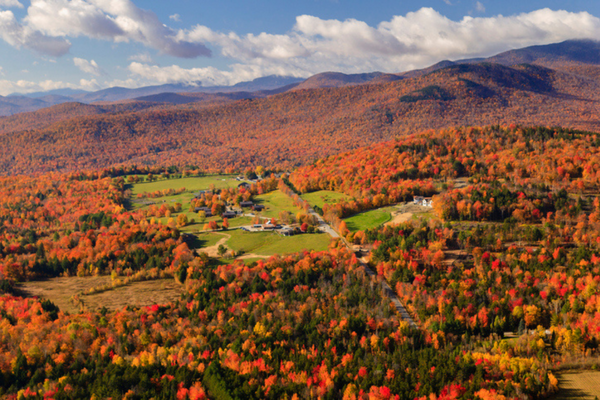 2. Blue Ridge Parkway
The Blue Ridge Parkway is one of America's most popular motorways. Spanning nearly 470 miles, from Virginia to North Carolina, the parkway offers a slow-paced, relaxing drive to take in the long-range vistas of the fall foliage. The best way to experience the fall scenery of the Blue Ridge Parkway is over several days, so you can truly sit back and enjoy the landscape.
At higher elevations, trees begin developing fall color as early as late September. However, most trees along the Blue Ridge Parkway typically change color during October. This color starts at the highest peaks, which reach 6,000 feet in elevation, and then spreads to the foothills of the parkway.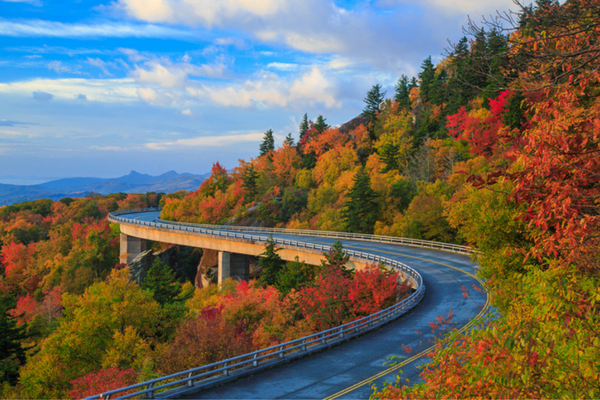 3. Bar Harbor, Maine
Bar Harbor, home of Acadia National Park, offers waterside views of New England's fall foliage. Known as the "Crown Jewel of the North Atlantic Coast," Acadia National Park is bursting with natural beauty along the coastline. Both the town of Bar Harbor and Acadia National Park have plenty of opportunities for leaf peeping, from the bay to the mountain summits. The leaves here typically start to change in September but are at their peak in mid-October.
Navigate the Bold Coast National Scenic Byway for 125 miles of coastal views, picturesque scenery, and charming New England towns. Or, take a break from your RV and stretch your legs by walking Acadia National Park's 45 miles of country carriage roads.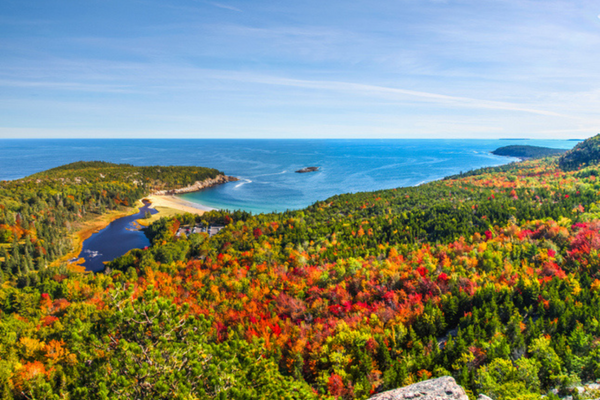 4. Lake of the Ozarks, Missouri
Lake of the Ozarks is best known as a summer destination, drawing visitors to all the lakefront activities and attractions. However, the area still attracts a crowd, even when the temperatures drop, for the fall foliage. Leaf-peeping opportunities abound along the 1,150 miles of shoreline, brimming with stretches of hardwood forests that turn red, yellow, and orange.
Lake of the Ozarks experiences peak fall color in mid- to late October. This is when the maple, ash, oak, and hickory trees are ablaze with color.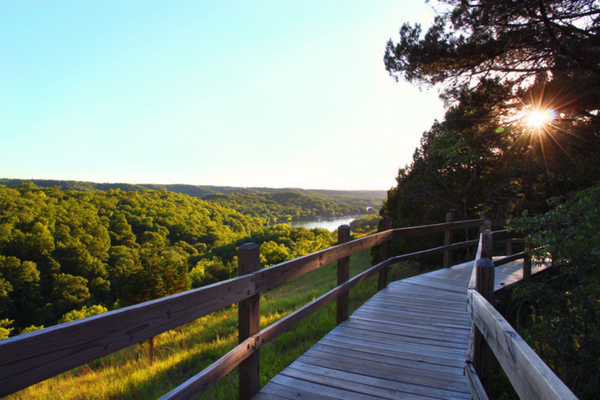 5. Aspen, Colorado
A popular ski resort town, Aspen is also a tourist destination in the fall for leaf-peeping visitors. The bright yellow aspen trees, the town's namesake, attract visitors from the Midwest to the West Coast. View these unique trees and golden forests on a hiking trail or from your RV on a scenic drive. Castle Creek Road offers panoramic views of the Highlands Mountains and Castle Creek that you can enjoy from the comfort of your camper, picturesque hike, or from your towable vehicle while on it's windier paths. 
Peak foliage season in Aspen is typically the third and fourth week of September, earlier than the East Coast destinations.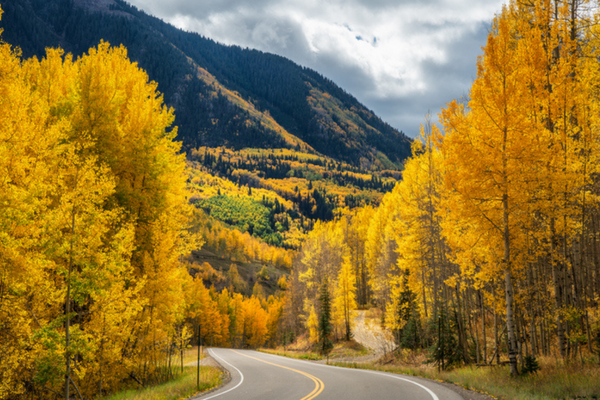 Final Thoughts
When leaf peeping, as when traveling at other times, RV owners should make sure the roads they plan to travel are safe for RVs. So break out your cozy sweater, pour a cup of hot apple cider, and start planning your autumn RV getaway to one of these fall foliage destinations! You won't just get to enjoy the fall scenery at your destination, but also from the wide windows of your RV as you're traveling. 

RVTrader.com is the industry-leading online marketplace for buying and selling new and used RVs, including Class A, B, and C vehicles, as well as campers and trailers. With over 220,000 recreational vehicle listings, RV Trader is a trusted resource for buyers and renters nationwide. And with over 4 million visitors every month, no marketplace is more trusted to generate inventory exposure for dealers and private sellers. RV Trader is a division of Trader Interactive and belongs to the well-known "Trader" family of brands.