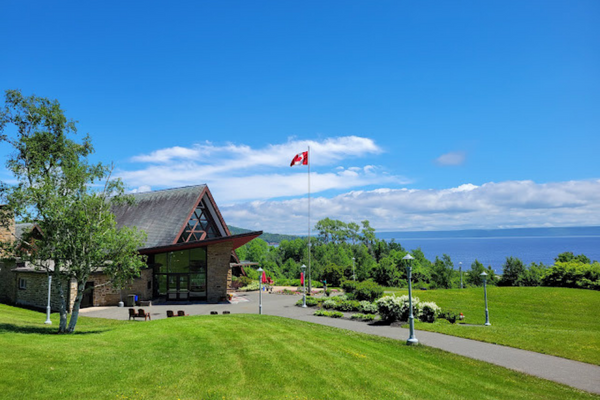 Almost totally surrounded by water, Nova Scotia is admired for its rugged coastline, daily displays of the world's highest tides, colorful harbors rich in maritime history, and the fact that it boasts more lighthouses than any other Canadian province (a total of 160). No wonder they call Nova Scotia Canada's Ocean Playground! Nova Scotia is one of the Canadian Maritime provinces (the others being New Brunswick and Prince Edward Island) located on the North Atlantic Coast. The province is rich in exquisite natural beauty and embraces its diverse cultural heritage.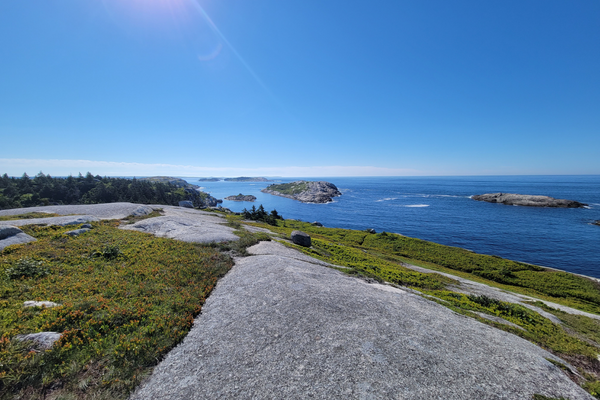 Our trip to Nova Scotia was part of a Fantasy RV 29-day Canadian Maritimes Tour called "Your Way," and we got to visit all three provinces. One advantage of traveling with a tour company is that they decide the destinations and make the campground reservations for you. And during the busy summer travel season, especially with so many RVs on the road, this was a big advantage and resulted in a relaxed and stressless trip. This blog post describes just a snippet of what we did in the Maritimes and what we did in Nova Scotia during our 29 days. We fell in love with Nova Scotia and definitely want to go back, revisiting some of the places we've been and exploring new areas.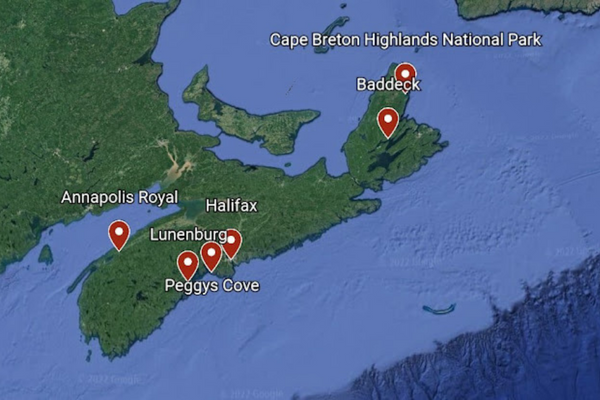 Halifax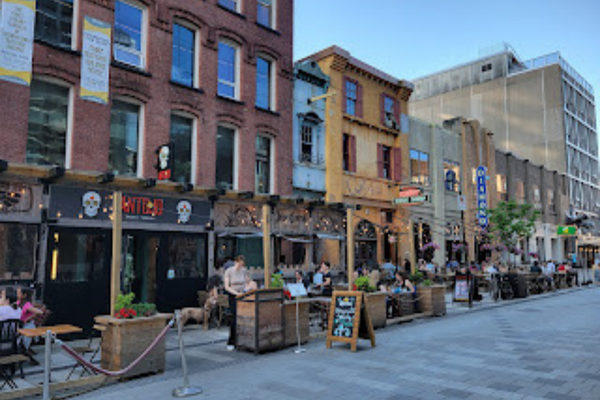 The capital of Nova Scotia is Halifax — a beautiful waterfront city overlooking one of the largest natural harbors in the world. This harbor has played an important role in military history, serving as the base of operations for the British during the American Revolution and as a major port for trans-Atlantic convoys carrying munitions and supplies to Western Europe during World War II. Downtown Halifax is vibrant and busy. Head to the Halifax Waterfront Boardwalk, one of the world's longest downtown boardwalks, measuring in at two miles, and filled with lots of little shops, boutiques, and restaurants. Also downtown are two of the city's popular museums – the Maritime Museum of the Atlantic and the Canadian Museum of Immigration at Pier 21.
One towering reminder of the city's military history is the hilltop fortress known as the Halifax Citadel. This National Historic Site takes you back in time to when Queen Victoria reigned and British troops marched through the parade grounds, tunnels, and ramparts. The Citadel was active for 200 years yet never saw battle. After falling into disrepair, the site was restored and now is a major tourist attraction featuring interactive exhibits, films, demonstrations, and performances. One of the most popular performances is "The Noon Gun." Every day since 1856, a 12-pounder muzzle-loading gun has been fired to signal midday and can be heard all over Halifax — to the surprise of tourists!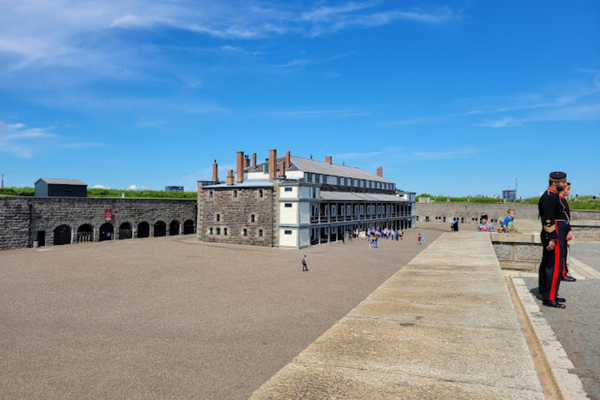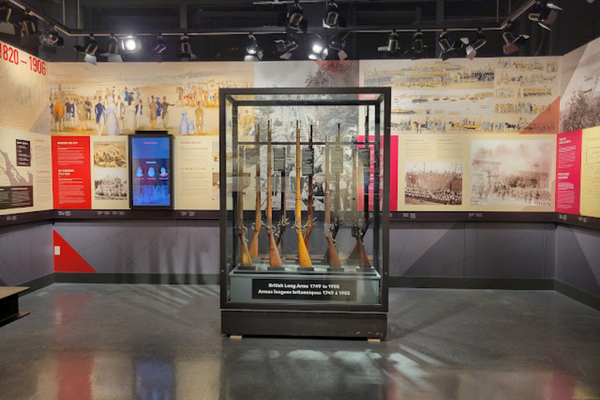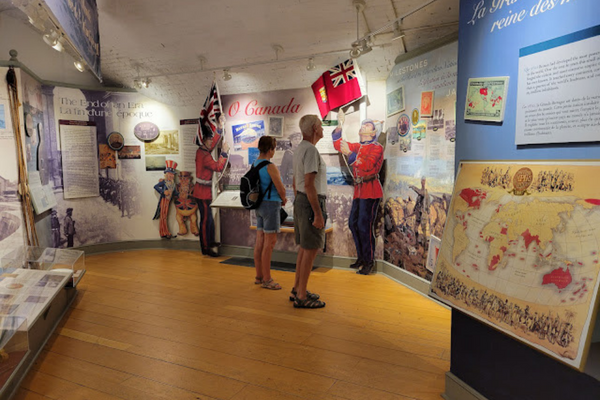 One of the provinces' most anticipated events is The Royal Nova Scotia International Tattoo — the largest indoor military Tattoo in the world. This performance is unique among other Tattoos in that it is more theatrical in nature, with a mixture of both military and civilian performers. After a two-year hiatus (due to COVID-19), the high energy celebration was back with vigor and is one of the summer's biggest events, filled with music, dance, military competitions, acrobatics, cycling, and more. This year, the Tattoo featured performers from all over Canada as well as Europe and Jordan. Seeing this was one of the nice surprises for us as part of this tour; we thoroughly enjoyed it from start to finish.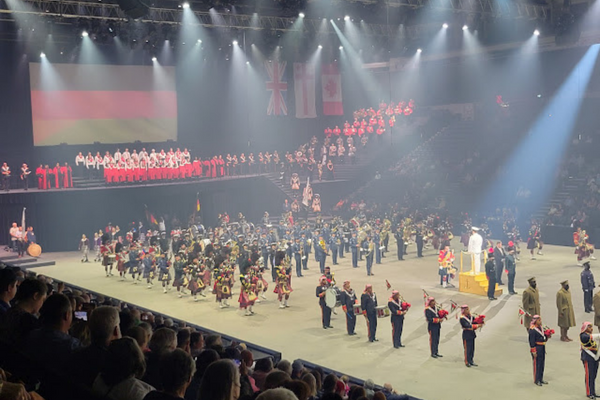 The connection of Halifax to the RMS Titanic is evident at Fairview Lawn Cemetery.  The cemetery is the final resting place for 121 victims who perished when the famed ocean liner hit an iceberg and sank into the frigid waters in 1912.  Within hours of the ship sinking, word reached Halifax, and cable ships (which had large cargo holds) were dispatched to recover bodies floating in the water. Halifax was considered an ideal location to receive the victims because of its connections to other cities by rail and sea, which facilitated the return of bodies to families who could afford it. Many of the grave sites at Fairview are those of unidentified or unclaimed dead marked simply by the date of recovery and number in which they were found.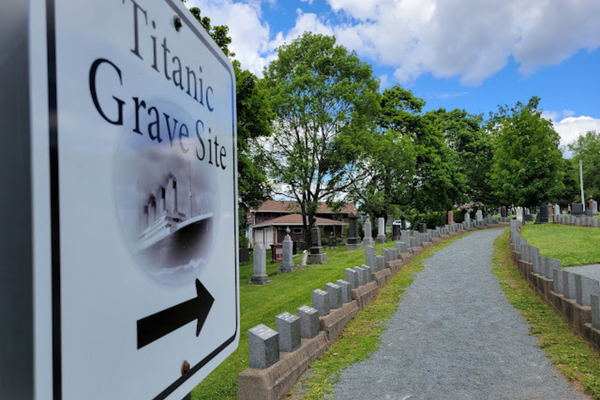 Peggy's Cove
A short drive from Halifax is one of the prettiest little harbors you will ever lay eyes on. Peggy's Cove is a quaint little (and we really do mean little) fishing village with arguably the most photographed lighthouse in Canada.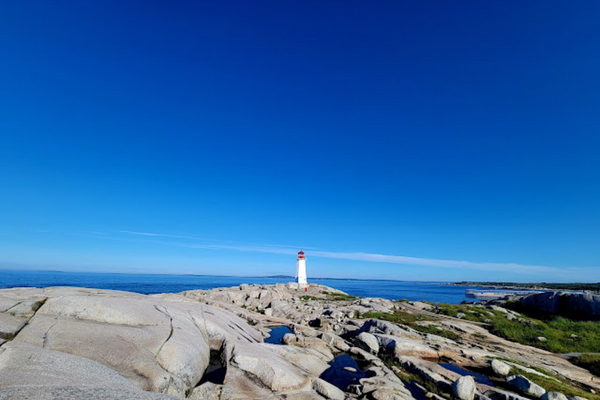 Clapboard houses are perched along a narrow inlet with colorful bobbing boats flanked by smooth wave-washed boulders overlooking the Atlantic Ocean. The unique environment has been designated a preservation area and attracts visitors far and wide. After you have filled your phones' memory with pictures of the lighthouse and selfies, you may want to stop for a bite to eat in one of the local restaurants or peruse the galleries and boutiques selling the handiwork of locals. We recommend arriving early in the morning to avoid the crowds and get to experience the town without hordes of tourists.
Near Peggy's Cove is the Swissair Flight 111 Memorial, which pays homage to the 229 victims who perished when their plane crashed into the Atlantic Ocean on September 2, 1998. A strange smell was reported in the cockpit, and smoke appeared and then disappeared. The pilots believed the smoke was from a malfunctioning air conditioning system and did not pose an immediate danger. They changed course to Halifax, which was roughly 50 miles away. Unbeknownst to the pilots, the smoke was generated from a rapidly spreading fire in the ceiling. The fire shorted out the plane's controls, causing it to plumet into the Atlantic Ocean just five miles offshore near Peggy's Cove. The subsequent investigation determined that faulty wires caused the plane's flammable insulation to catch fire.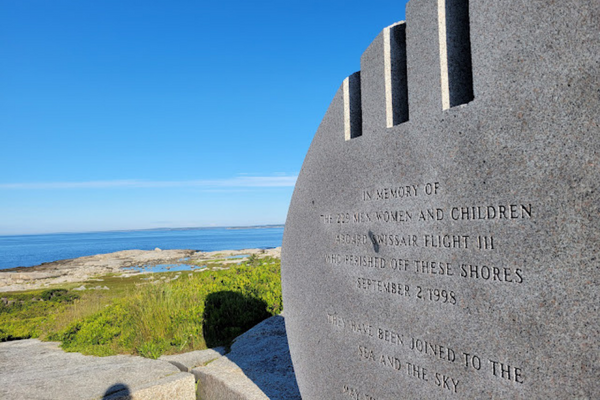 Lunenburg
A visit to Nova Scotia would not be complete without stopping in the postcard-perfect town of Lunenburg, known for its colorful buildings, rich history in ship building, and involvement in the fishing industry. Old Town Lunenburg is one of only two urban communities in North America designated as a UNESCO World Heritage site; the original layout and 70 percent of the colonial buildings from the 18th and 19th centuries still stand. The downtown streets are lined with art galleries, open-air restaurants, antique shops, and museums.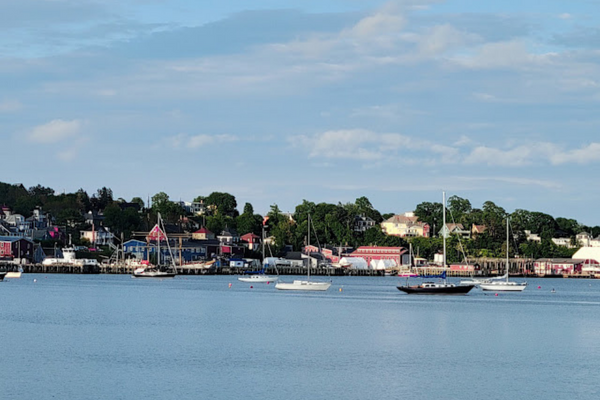 Despite Lunenburg's small size, there is a lot to do and see, and one of the most popular places to visit is the Fisheries Museum of the Atlantic. The museum is housed in a bright-red building on Lunenburg's waterfront and brings to life Lunenburg's deep connection to the sea and the importance that the fishing industry has played in its history. The museum houses many comprehensive exhibits, a multi-film theatre, and a large aquarium that holds species of fish commonly harvested off the coast of Nova Scotia and the Grand Banks in Newfoundland. It is definitely worth a visit. While the museum looks small on the outside, don't let that fool you, as the museum is quite large inside with lots of wonderful exhibits.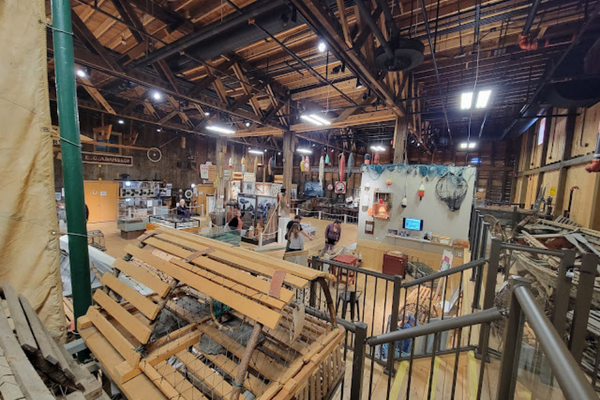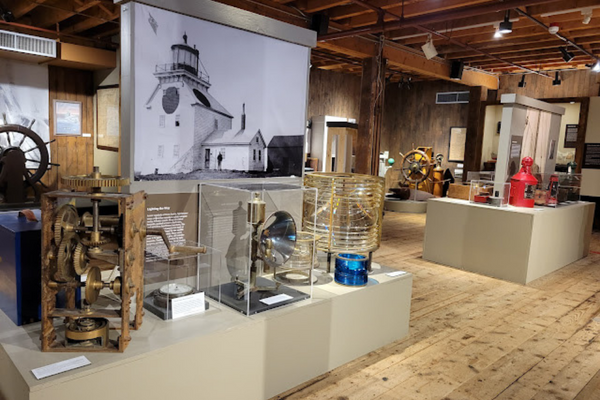 The best views of Lunenburg are from the water, and what better way to see them than on the schooner Bluenose II. The original Bluenose, built in 1921, was once the world's fastest racing schooner and retained her undefeated title for 17 years. The Bluenose is so iconic and a proud part of the country's identity that it graces one side of the Canadian dime. A replica of the schooner, Bluenose II, was later constructed in accordance with the original ship and now acts as Nova Scotia's sailing ambassador. It is open for viewing and sailing tours. (Insider tip: another beautiful view of Lunenburg is from Lightship Brewing Company across the harbor. The brewery has a large outside patio with a panoramic view, serves great beer and food, and is dog-friendly.)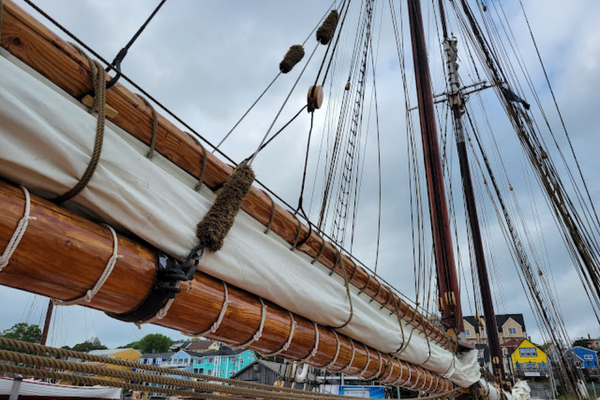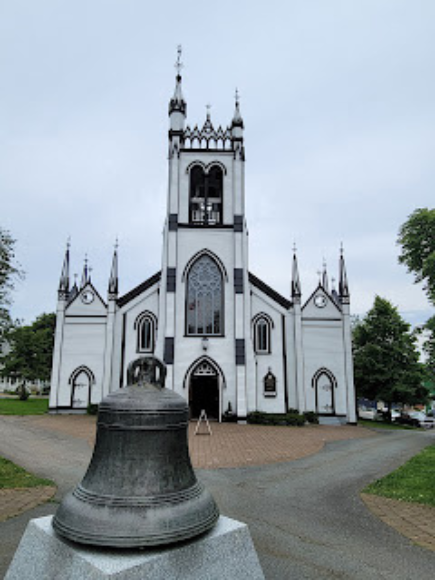 Walking around Lunenburg is an enjoyment and a good workout, as the town stretches steeply uphill from the waterfront. Wandering around town is a great way to admire the colorful wooden homes and buildings, as well as the magnificent 19th century churches. There are numerous guided walking tours, carriage rides, and haunted tours to choose from, or you can venture out on your own. If you need a break during your walk, step into the Ironworks Distillery, housed in a renovated marine blacksmith's shop dating back to 1893. Here, you can sample some craft spirits produced from local ingredients.
Annapolis Royal
On the north shore of Nova Scotia is the vibrant artsy town of Annapolis Royal, which has a long, rich history. In 1605 the area became home to some of North America's earliest European settlers and was the capital of Nova Scotia for almost 150 years, until the founding of Halifax in 1749. Annapolis Royal is the smallest incorporated town in Nova Scotia (population 530), yet boasts having one of Canada's largest National Historic Districts, with 135 registered heritage properties.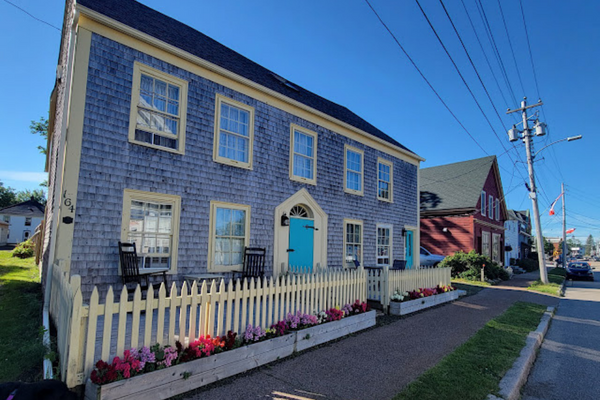 A prominent feature of downtown is Historic Fort Anne — Canada's first National Historic Site. Fort Anne is one of the most hotly contested pieces of land on the entire continent. The site was the traditional homeland of the Mi'kmaq, yet in recent centuries, a succession of Scottish, French, and English settlers clashed over this prize on the banks of Nova Scotia's Annapolis River. Fort Anne was the site of 13 attacks and changed hands seven times (eventually controlled by the British), more than any other place in North America. Today the fort has been lovingly restored. The Officers' Quarters holds an interesting museum, and the grounds are a wonderful place to stroll around and admire the interesting fortification.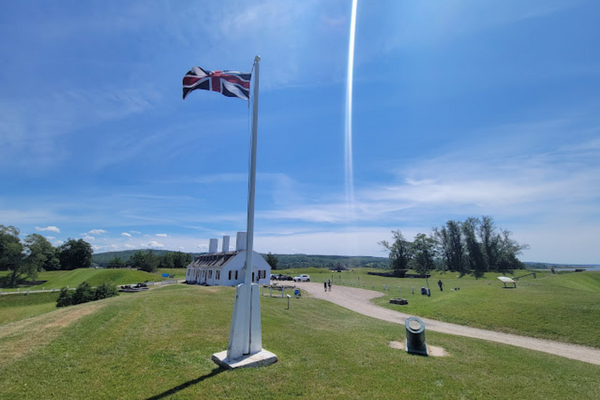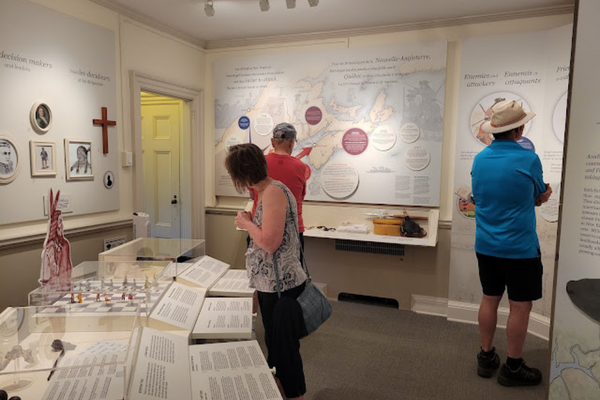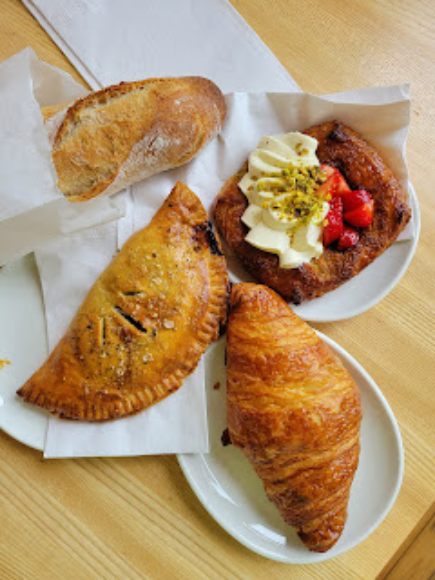 Downtown Annapolis Royal is a great place to spend an afternoon venturing through galleries and boutiques, strolling along the waterfront path, enjoying a pint at the local brewery, or grabbing a bite to eat.
Self-guided walking tours are available and highlight the city's historic buildings and beautiful architecture. For you night owls, you may want to book a candlelight graveyard tour. If you are looking for a bit of exercise, check out the 68-mile Harvest Moon Trailway, a multi-use trail that travels along the Annapolis River through fields, orchards, and picturesque towns. The Annapolis Royal Historic Gardens is a 17-acre site showcasing gardening designs, materials, and methods representing 400 years of Canadian history.  
Cape Breton Island
Nova Scotia is divided into two parts — the mainland and Cape Breton Island — separated by a causeway over the Strait of Canso. Our visit to Cape Breton Island was widely anticipated, and everyone we previously talked to about visiting the Maritimes said it was definitely on the "must see" list. We stayed in the tiny coastal town of Baddeck, which is a great launching point for visiting the popular sites on the island.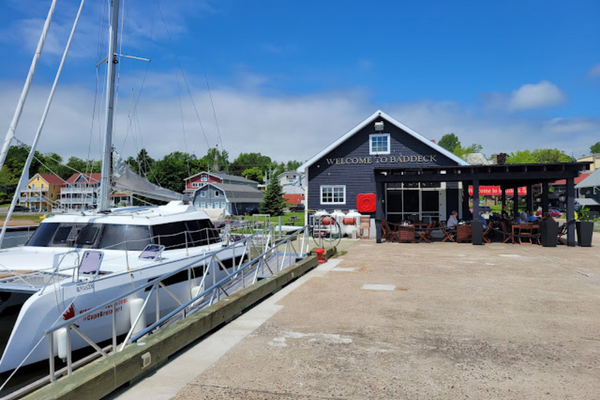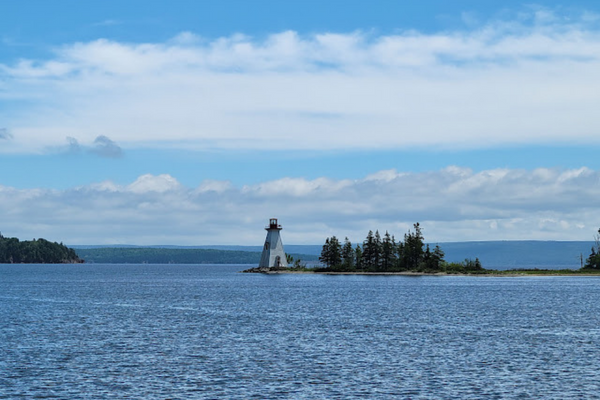 Baddeck is home to the Alexander Graham Bell National Historical Site — a museum devoted to celebrating his creative genius by exhibiting a wide array of his inventions and personal artifacts. Bell, born in Scotland, visited Nova Scotia with his wife and fell in love with the climate and landscape so much that they built a summer home in the area. Although he is best known for inventing the telephone and founding the Bell Telephone Company, Bell was a prolific inventor and was awarded 18 solo patents and 12 he shared with collaborators. His inventions included a metal jacket to assist in breathing, the audiometer to detect minor hearing problems, a device to locate icebergs, investigations on how to separate salt from seawater, and work on finding alternative fuels. Bell died at his home in Nova Scotia in 1922. Two days later all telephone service in the United States and Canada was suspended for a full minute at the precise moment when Bell was lowered into his grave.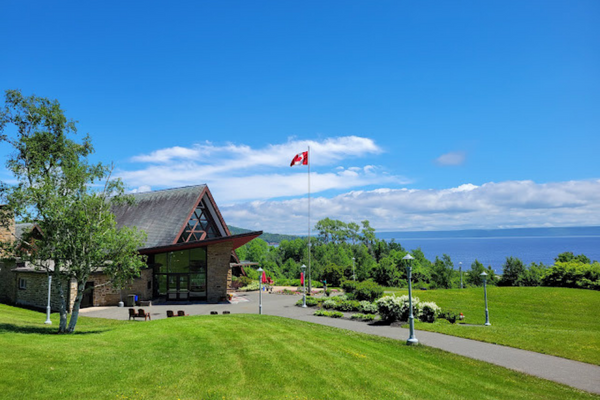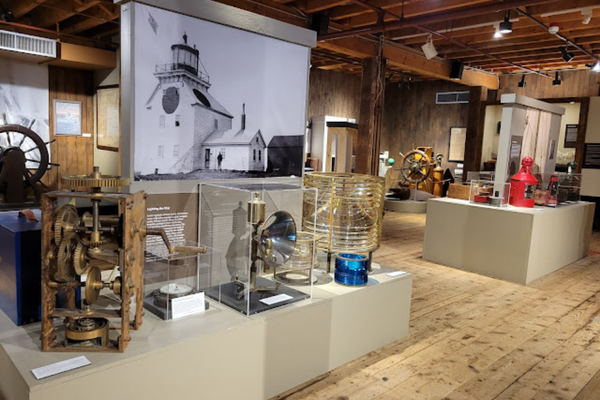 Some of the most dramatic coastal scenery is found in the northern part of Cape Breton Island along the world-famous Cabot Trail. The Cabot Trail weaves through 366 square miles of magnificent, dense-forested highlands, through rugged canyons, and along the coastline with sea-side views. No wonder this 185-mile road has been coined "one of the best road trips in the world!" It is definitely deserving of the accolade.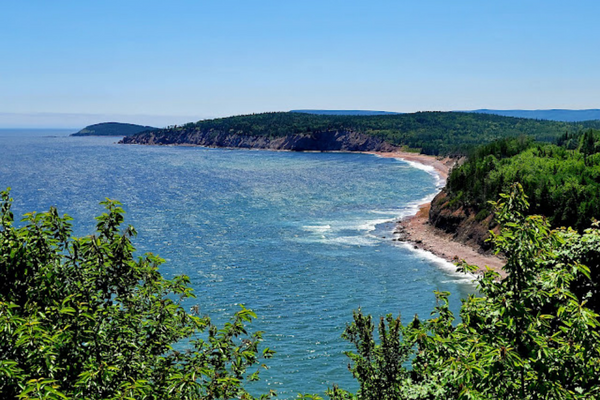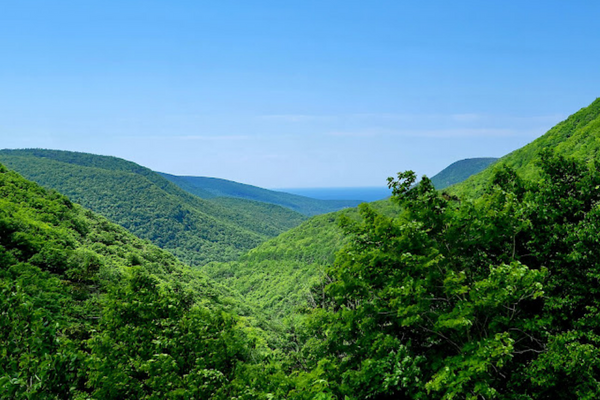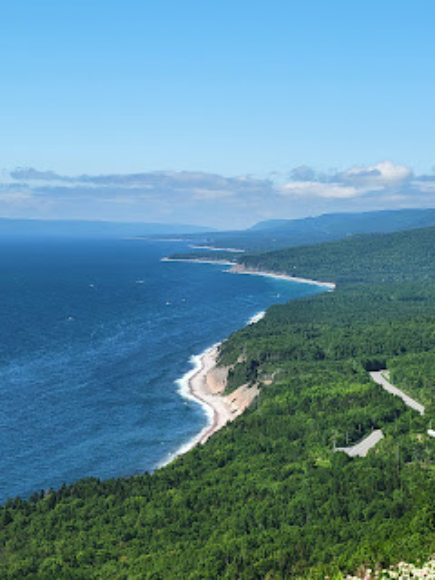 Approximately one-third of the Cabot Trail is located in Cape Breton Highlands National Park, which offers plenty of adventures. Make sure you take time to stop at the breathtaking scenic overlooks; take a hike through the forest; stroll along a relaxing beach; or play a round of golf at the Highlands Links, dubbed the "Mountains and Ocean" course.
Our Fantasy RV Tours adventure was one of the "Your Way" tour versions that Fantasy offers. These tours differ from more traditional ones in that you have fewer scheduled events and more time on your own to explore. Fantasy RV Tours still plans the destinations, makes campground reservations, and gives you driving directions and suggestions of activities, but you are largely on your own to explore and visit the tourist sites that interest you. Next time you are considering a new place to visit, grab your passport and check out the Canadian Maritime Provinces.
Nancy Walters and Dr. Betsy Dresser are the co-authors of RV-A-GOGO, a blog they started in 2011 to chronicle their travel adventures living full-time in an RV.  They retired from wildlife conservation careers and, after traveling the world, are now crisscrossing America seeking out everything there is to explore, from natural wonders and historic landmarks to quirky attractions and divey restaurants.  Their blog provides readers with information about travel destinations, "must-see" attractions, the RV lifestyle, recipes, campground reviews, and more.