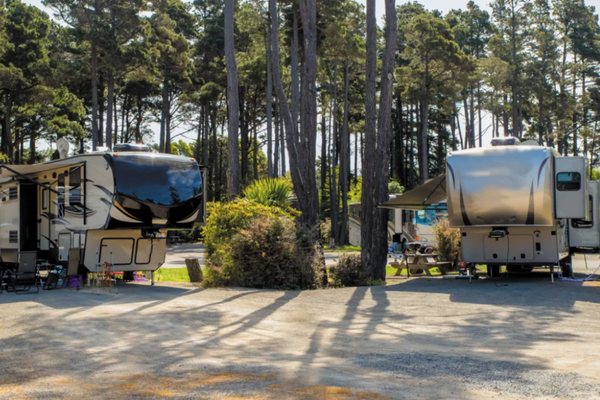 Respect should be foremost when we encounter others. It is a learned behavior, and something that is fundamental as we come and go in life, whether while traveling in our RV or just in our day-to-day interactions.
When it comes to campground etiquette, I look at it from two perspectives. I'm a full-time RVer. I am beholden to abide by the rules of each park we call home. Whether it's one night or a month, I'm the arriving customer. I'm also a work camper, so I deal with a wide variety of daily encounters with RV owners.
I implore those of you who are new to this lifestyle — as well as those who have been on this journey for some time — to think about the doctrine of respect, so you don't incite one of the pet peeves discussed by RVers in articles, surveys, and general conversation. There's a lot to learn, so I'll start at the beginning.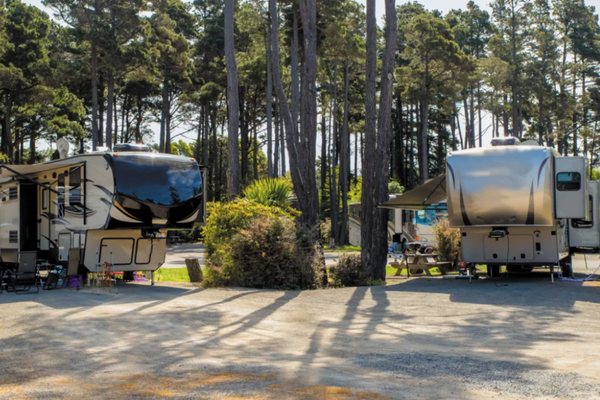 Know Before You Go
When calling to make a campground reservation, convey pertinent details regarding your home on wheels. Keep it short, sweet, and right to the point. You'll appreciate reciprocal professionalism when doing so. Here's what's necessary:
Full name (spell out if it's difficult or uncommon) and phone number
Size and type of RV (fifth-wheel; travel trailer; Type A, B, or C motorhome; etc.)
Note if you're towing a trailer (length including tongue hitch) or passenger vehicle
Arrival and departure dates (and if you're flexible)
Type of electric service (50-amp or 30-amp) or other hookups desired
Type of site desired (full pull-through versus back-in)
Number of adults and children traveling with you, as well as number of pets
Special needs or accommodations desired (CPAP medical issue, physical disability, etc.)
Do Your Research And Follow The Rules
Informed travelers do their homework. Upon arrival, the park's policies and amenities likely will be transmitted verbally and given in writing. It's also important to know where your parking spot is. Some RV owners check Google Maps beforehand to get an idea of what the park, its roads, and the site look like — it can't hurt!
Space is vital. For instance, it creates a problem if you do not convey that you're pulling a utility trailer behind your motorhome, or if you indicate that your fifth-wheel is 28 feet when it's actually 37 feet.
Respect Shared Space
For folks who are new to RVing or have just changed to a different vehicle, positioning your motorhome or trailer in a back-in site sometimes takes a little maneuvering. It helps to walk the site first so you can gauge proximity of the utility hookups. Also be sure to position your RV so the awnings or slideouts aren't in your neighbor's space. While there are no fences, there are imaginary lines that divide every site. If you arrive late in the day, be respectful in your hookup and while settling in.
There are times when staff members are asked to assist folks with parking their RV. I've witnessed electric pedestals and septic receivers being run over. For everyone's sanity, unless you're rushing off to claim your lottery winnings, take a deep breath, take your time parking the RV, and hook up systematically.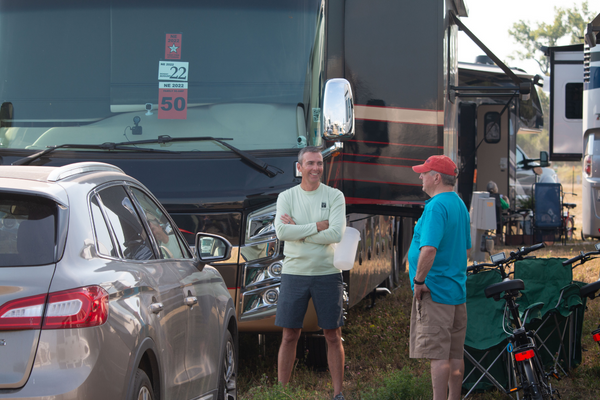 Don't Cut Through Other Sites
Respecting your neighbor is a basic courtesy. Remember those imaginary boundaries that apply to your site and to others in the campground. Don't use someone's site as a cut-through. That goes for adults as well as children. If there are a bunch of noisy kids and dogs running through someone's site, spilling drinks and getting the leash caught on a table, it doesn't go unnoticed.
Pet Courtesy
Many parks and campgrounds install dog parks where people can play with and exercise their four-legged friends. When your dog does its business in the dog park or elsewhere, make sure you clean up after it — especially if it's on someone else's site. Dogs can't exactly flush toilets, but it would make our lives much easier! Dog parks are an amenity and a privilege; it is not the campground's responsibility to clean up after your dog. That's on you.
It's also important to remember that not everyone is a dog-lover (including other dogs). This past July, I met a couple from Topeka, Kansas, visiting the Badlands who shared an encounter with an unruly pet. The husband was sitting on the steps of his fifth-wheel enjoying a late-afternoon beverage with his wife. Without warning, a dog darted underneath this traveler's fifth-wheel and bit his leg, tearing his jeans. Luckily, he was wearing a high, rigid foot brace, so there was no injury. The dog owner apologized, saying, "He's never done that before," while pulling back on the leash and offering to pay for the ripped jeans. These situations are completely avoidable by keeping dogs on a short leash. Most parks require dog owners to always have their pets on a 6-foot leash for everyone's safety.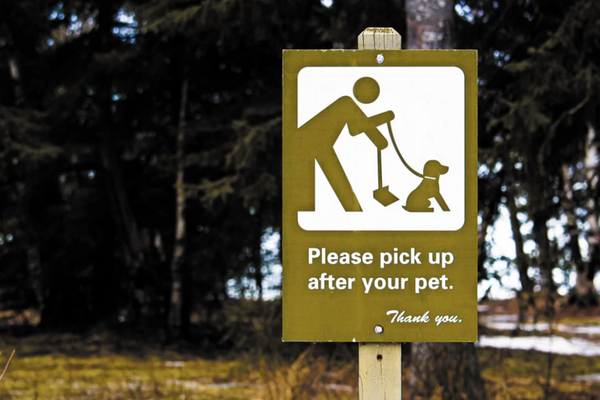 Quiet Time
Quiet hours are common at most campgrounds. Not adhering to this policy can easily get you evicted with prejudice — you might not be invited back! This means no loud music, television, radios, or cacophonous chatter after the witching hour. Imbibing alcohol can be part of celebratory events, but it can also be the instigator for raising the decibel level beyond normal conversation. If you're sitting around a fire pit, be sure the smoke doesn't infiltrate your neighbor's windows.
Dogs bark, but they don't need to bark incessantly (especially when tethered to or left inside one's RV or portable pen). Your neighbors might not enjoy hearing barking and howling throughout the night!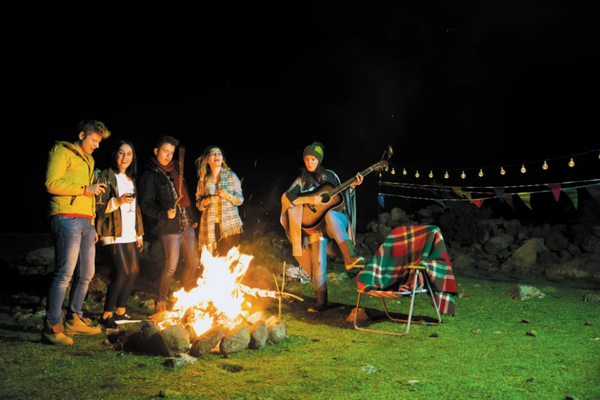 Lavatory And Laundry
Would you treat your own bathroom and laundry as some folks treat campground facilities? Accidentally leaving sundry items happens from time to time, but discarding wet undergarments and dirty diapers on the floor reflects a serious lack of respect and social grace.
Kids And Their Behavior
Kids need to play and have fun, but vandalism and mischievous behavior ruin it for everyone. I grew up with the adages "Children should be seen and not heard" and "One bad apple spoils the whole bushel." That doesn't mean complete silence, but rather managed noise and behavior with happy endings. For instance, swimming pools typically have basic rules: No running, no diving, and supervise young children. No one wants kids cannonballing those quietly reading by the pool.
Bring It In, Take It Out
For travelers who order supplies from online retailers, make sure to properly discard boxes and break them down. Tie your garbage bags so that leftovers and toiletries aren't strewn on the ground. At one campground we worked at, if you didn't appropriately lock the dumpsters, bears would rifle through the garbage. Similar courtesies apply to dining as well. Make sure to clean up picnic tables and properly dispose of food and trash. This allows the next campers to have a clean place to eat.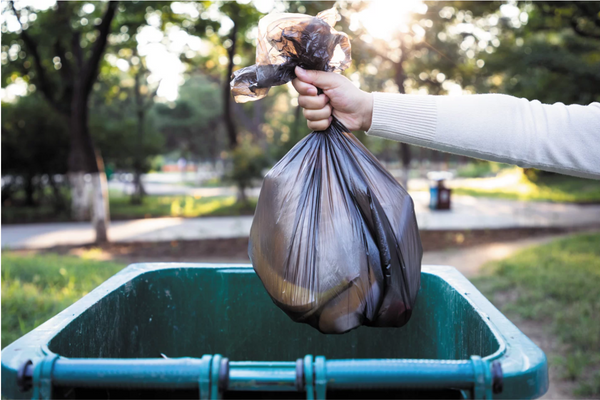 Hosts And Staff
Many work campers are volunteers and come from a wide variety of backgrounds. You'll find folks with doctorate degrees, trade school certifications, and more. RVers may not realize it, but these people usually have a wealth of knowledge they are willing to share. Need help? Have a question? Just ask!
If you don't hear back right away after calling a campground office, give it a little time — the staff is probably extremely busy and will call you back when they can.
In the end, the best way to empathize with others is to put yourself in their shoes. So, the next time you interact with a fellow camper or a staff member, just remember they're people, too, and deserve the same amount of respect as anyone else.
Kate Doherty has been writing for more than 30 years in technical trade, general media, and corporate communication. She has written more than 50 articles about RVing, from general interest to maintenance/repair, lifestyles, daily tips, and gizmos/gadgets. You can read more articles like this on her blogsite: endlessvoyages.com and at familyrvingmag.com. In her previous business, she and her spouse worked in and dealt with special projects within the military/government sector. Recently, she published Masquerade: A Logan Scott Novel under the pen name Bryan Alexander, an espionage thriller now available in eBook and paperback on Amazon, Barnes & Noble, and Apple iBooks.