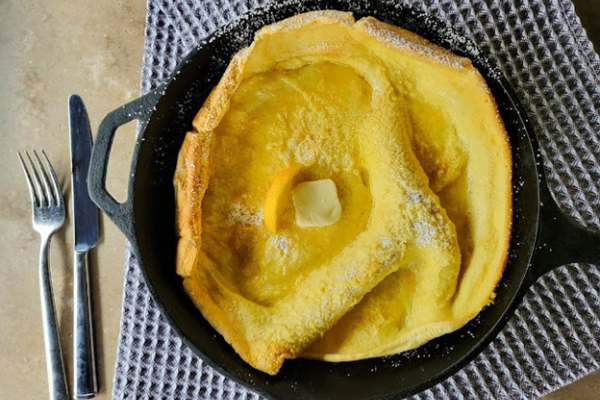 Looking for a breakfast dish that tastes as good as it looks and will wow your guests?  Then look no further than the Dutch baby – a decadent blend of a pancake, crepe, and popover.  The simple batter is poured into a piping-hot skillet with melted butter, and it puffs to golden brown.  When removed from the oven, the Dutch baby deflates, but don't be sad, because what you are left with is a dish with crispy raised edges and a center that has a rich eggy, custard-like texture and flavor.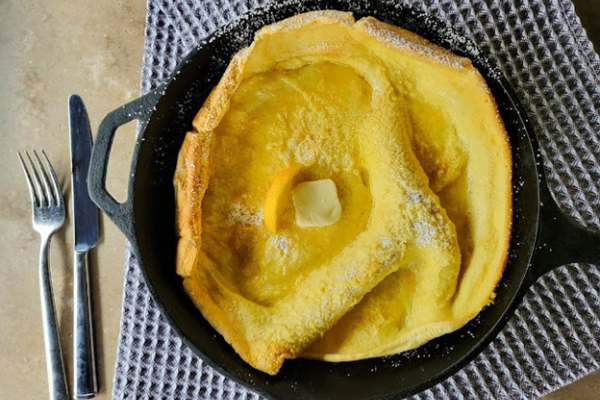 The Dutch baby originated in Germany and goes by many names – German pancake (or pfannkuchen), Bismarck, Dutch puff, or Hootenanny, but no matter what you call it, this puffy dish makes a delicious breakfast or brunch. So, what's with the strange name? It turns out the name "Dutch baby" originated in a family-run restaurant in Seattle called Manca's Cafe, owned by a gentleman named Victor Manca from about 1900 to the 1950s.  History has it that Mancas' daughter could not pronounce "Deutsch," the German word for German; out of her mouth came Dutch, and the name stuck. "Baby" refers to the fact that the restaurant served miniature versions of the pancake. 
A Dutch baby differs from regular pancakes in that they are cooked in the oven rather than fried in a skillet, and, unlike pancake batter, they do no use a leavening agent. Pancakes are also thicker and fluffier. Many people think a Dutch baby resembles Yorkshire pudding, as they both puff up in the oven and then deflate. The only difference is that a Dutch baby is cooked in one pan rather than portioned into individual servings like Yorkshire pudding or popovers. While a Dutch baby is almost always served as a sweet breakfast dish (traditionally topped with powdered sugar, fresh-squeezed lemon, and lots of butter), they may be savory, with a mixture of herbs, meats, and cheese. Or, try serving the Dutch baby for dessert with bananas sautéed to golden brown in butter and rum and topped with ice cream! The simple recipe leaves lots of room for creativity. 
Ingredients:
3 large eggs, at room temperature
¾ cup all-purpose flour
¾ cup whole milk, at room temperature
1 tablespoon sugar
1 teaspoon vanilla
1 pinch of salt
4 tablespoons unsalted butter
Lemon, butter, syrup, preserves, confectioners' sugar, or other toppings as desired
Directions:
Preheat oven to 425 degrees.
Add eggs, flour, milk, sugar, vanilla, and salt to a blender and combine for approximately 45 seconds until very smooth. Batter may also be mixed by hand.
Place the butter in a heavy 10-inch skillet and put it in the oven. As soon as the butter has melted (about two minutes), add the batter to the skillet and return it to the oven and bake for 20 – 25 minutes, until the pancake is puffed and golden. Do not open the oven during the cooking process!
When golden brown, remove from the oven and serve immediately with desired toppings.
Nancy Walters and Dr. Betsy Dresser are the co-authors of RV-A-GOGO, a blog they started in 2011 to chronicle their travel adventures living full-time in an RV.  They retired from wildlife conservation careers and, after traveling the world, are now crisscrossing America seeking out everything there is to explore, from natural wonders and historic landmarks to quirky attractions and divey restaurants.  Their blog provides readers with information about travel destinations, "must-see" attractions, the RV lifestyle, recipes, campground reviews, and more