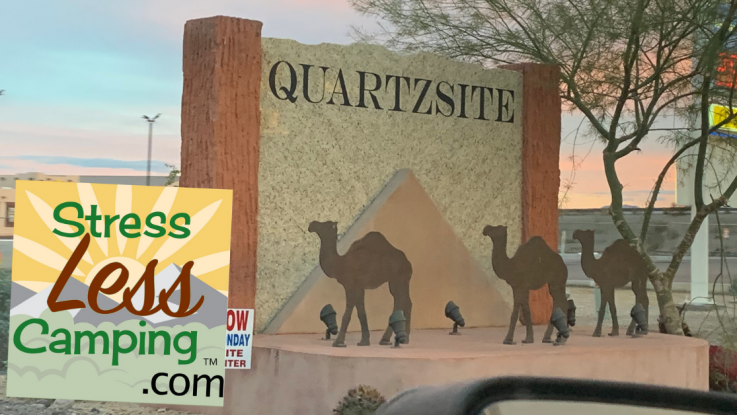 When the weather turns cold in many parts of the United States and Canada, the tiny, tiny blip on the map that is Quartzsite, Arizona, swells from a population of fewer than 4,000 to over a quarter-million people, most of whom are staying in RVs.
While there are several RV parks in town, the vast majority of these campers spend their time off-grid in the Arizona desert. It's funny how the trip into the town itself starts with white roofs for miles outside the tiny burg, dotting the desert as far as the eye can see.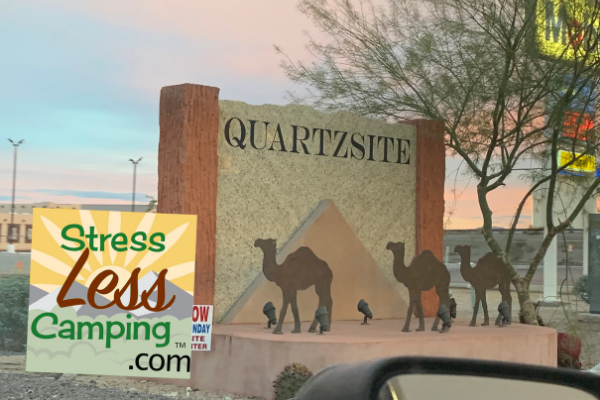 Camping
Plenty of campgrounds are available in the area, but don't expect luxury features here — the desert is a wide expanse of flatness, and that's what the campgrounds are, too. However, the prices are good. Campgrounds offer the advantages of full hookups, of course, and many provide other amenities, such as laundry and shower houses. But there are also some that only offer hookups, so find out before you go if other amenities are a priority to you.
Boondocking is free, and there are countless acres of desert to enjoy at no cost. The disadvantage, of course, is that you are limited to the resources that you have in your RV. You'll have to deal with your trash and all other wastes. Trash service is available at the dump in Quartzsite, and there are a few places to dump your tanks. We typically pick a day to go to The RV Pit Stop to fill and empty all the appropriate tanks.
Some public lands do offer dump stations, trash service, and even rest rooms. Because of the amenities, staying at these facilities isn't free, but they are a nice hybrid between completely being off the grid and having some critical services.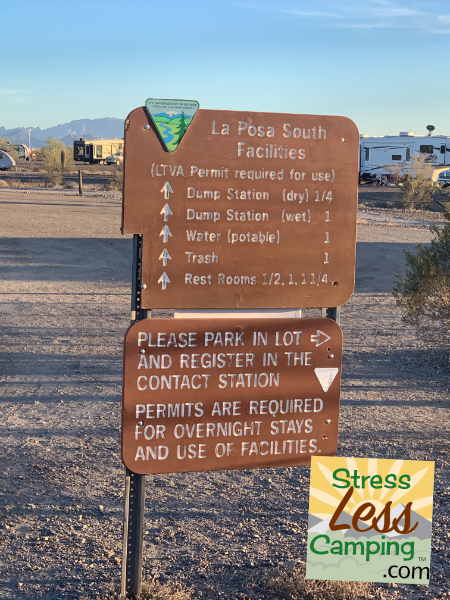 What's the appeal?
First of all, the weather is good. Even though the occasional rainstorm or cold snap may occur, the weather tends to be in the 50s-70s. This is significantly easier to tolerate than the freezing temperatures in the Midwest or in Canada, so you will meet a lot of former or part-time Midwesterners taking advantage of the mild climate.
And that's another reason to be here — the people are really, really friendly. Neighbors will invite you to their campfires, and you'll find lots of fun people having a really good time. And the only snow will be in newscasts.
Tyson Wells
From October to March, thousands of vendors converge on Quartzsite for a swap-meet atmosphere where they can show their wares, including rocks, gems, and minerals; jewelry; apparel; home décor; and more. The venue also attracts some neat artisans scattered around the various tents, along with people who sell antiques and other "stuff" that doesn't rust in the desert. We have seen hit-and-miss engines, Model A Ford wheels, a railroad speeder, bells, whistles, a million license plates, signs, hemp hats, drill bits, garden art, paintings, rugs… Seriously, there's almost nothing you can't find out here if you wander through all the vendor areas. If your life suffers from a lack of or any number of other "stuff," your dreams can come true here. Wear comfortable shoes; there are rows and rows of vendor tents to visit.
The highlight for us rock lovers is the QIA Quartzsite PowWow – Gem & Mineral Show in late January. The show overlaps with the Quartzsite Sports, Vacation and RV Show (see below) just enough for Peggy to enjoy both of her favorite geeky passions. For rockhounds, this is a great gathering, with an ocean of collectible stones and minerals. Visions of The Long, Long Trailer dance in Tony's head when Peggy finds a great rock booth.
There are also a lot of food vendors among the various tents. One of my own favorites was the hit-and-miss engine making ice cream — it was not inexpensive, but it sure was delicious!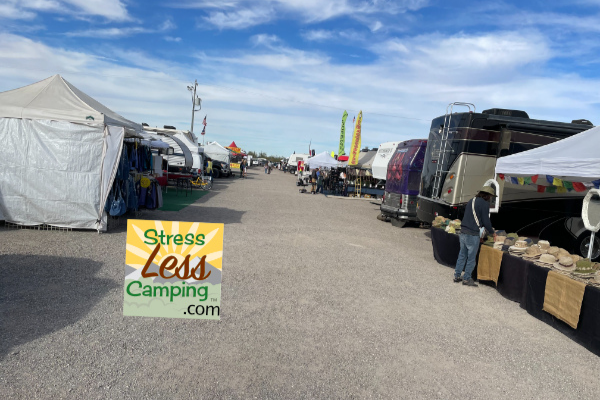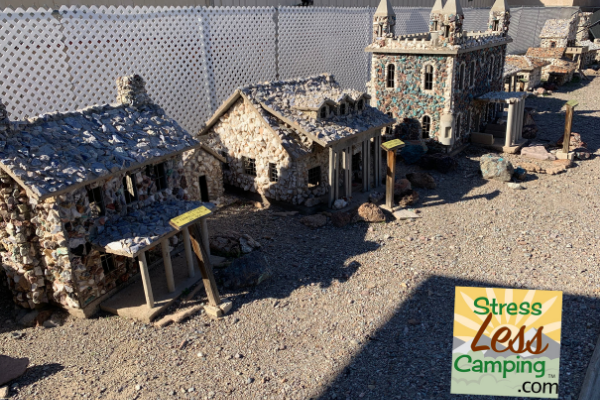 The Big Tent
The Quartzsite Sports, Vacation and RV Show is basically the largest gathering of RV owners in the United States. The cornerstone of this whole shindig is the Big Tent. The Big Tent is the centerpiece for RV-related items in the vast Tyson Wells marketplace. From generators to tire pressure monitors to backup cameras and replacement LED bulbs, you can almost build an RV with the supplies sold at the various vendors, both inside and around the big tent.
Furthermore, being such a big RV town at this time of year, all kinds of services are available for RVers, including RV repairs, upgrades, and more. We found things we hadn't seen before anywhere that we just had to have.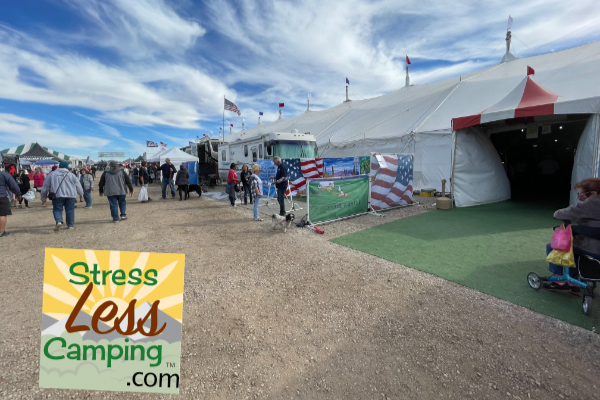 Around Town
The Quartzsite Museum, also known as the Tysons Well Stage Station Museum, provides an introduction to the pioneer and mining history of Quartzsite, including the mining equipment and the Assay Office from the Margarita Mine. Larger mining equipment is displayed in outside exhibits. The original adobe stage station was built 1866 by Charley Tyson.
Southwest of town, the stone cabins of artist Joseph Cone, who lived in Quartzsite from 1892 to 1971, offer a peek into the artist's life. The cabins are registered as a historical landmark on public land. Cone was a worker of ironwood and was well-known for being a nature lover. The building next to this cabin is his former workshop. Both of the buildings are thought to have been built in the late 1800s.
Northeast of town, along Plomosa Road near Bouse, one finds Bouse Fisherman, which is an ancient geoglyph — a large design on the ground typically formed by rocks, stones, stone fragments, live trees, gravel, or earth. This spear-wielding fisherman is said to have struck the earth and caused the flow of the Colorado River.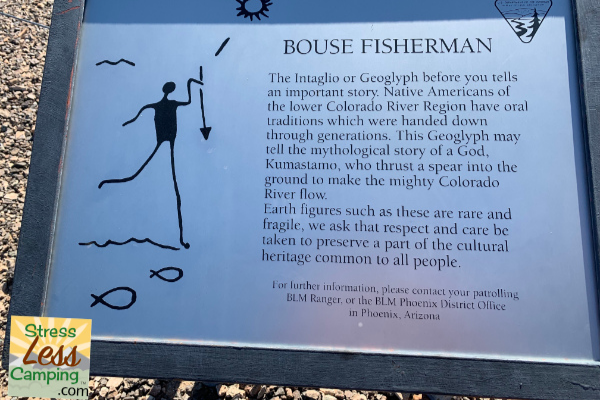 Of course, no Quartzsite visit is complete without a stop at the Quartzsite Cemetery to visit the monument to Hi Jolly and the U.S. Camel Corps. Wikipedia says: In 1935, Arizona Governor Benjamin Moeur dedicated a monument to Hadji Ali and the Camel Corps in the Quartzsite Cemetery. The monument, located at his gravesite, is a pyramid built from local stones and topped with a copper camel, and is listed on the National Register of Historic Places. The monument is the most visited location in Quartzsite.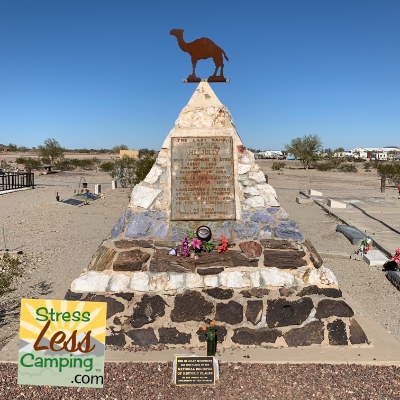 Don't let anyone tell you there's a shortage of places to buy food. Coyote Fresh Foods has an actual butcher, and the meat was great. Roadrunner Market has a deli. Both have a fair selection of fresh produce. Between the two stores we find just about everything we need without carrying a bunch of food from home. 
Fun, Fun, Fun
If you're looking for a good time, there are plenty of places to find it in and around Quartzsite. One of the places you'll want to hit is Beer Belly's bar, which is right near the Big Tent. Beer Belly's is locally known as "adult day care," and it's where Peggy leaves Tony when she wants to do some uninhibited rock shopping. We like to spend an afternoon there, to meet up with friends and enjoy live music and beer, along with lunch from the food truck on site. This favorite gathering spot is literally a big open space covered by market umbrellas. The atmosphere is great, and the people are fantastic.
There are also gatherings in the desert for a number of groups, and lots of people come in packs. Having some form of off-road vehicle such as a quad or ATV is definitely a plus. In the Quartzite area, those vehicles can drive on the roads and don't seem to be limited to just the trails.
One of the favorite gatherings is the Rubber Tramp Rendezvous hosted by van dweller Bob Wells of Cheap RV Living. This gathering has gotten bigger and bigger throughout the years and is definitely one of the super events surrounding the Quartzsite RV show.
Music is everywhere, and there is musical talent in the desert. We enjoyed bands at a local hall, Silly Al's Pizza, and Beer Belly's.
There are definitely restaurants in the town, but because of the swell in humans that descend on the community, they get packed, so plan to wait. And wait. But, again, I thought the food and service were good in all the places we tried.
For other ideas and recommendations, check out https://trip101.com/article/best-things-to-do-in-quartzsite-arizona.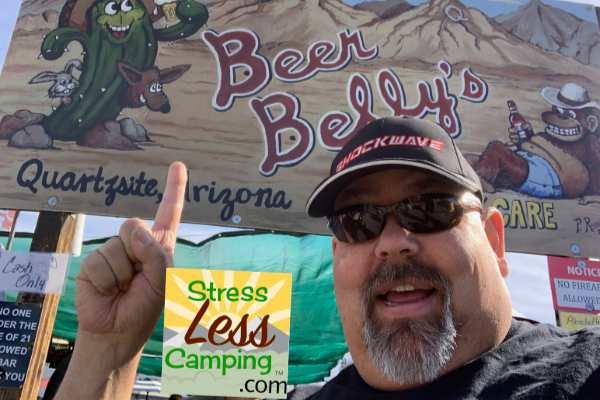 Connectivity Notes
When we first arrive in town, we are usually impressed with how well our cell provider is able to deliver internet service to us — quick and reliable. However, after the show starts that all changes. Even the vendors, many of whom use cellphone-based payment systems such as Square and PayPal, have trouble processing credit card transactions. Let's hear it for StarLink!
Want More Adventure?
The Kofa National Wildlife Refuge southeast of Quartzsite allows adventurers to get closer to the craggy peaks using narrow, rocky roads. The Refuge is the state's second-largest wildlife preserve and home to bighorn sheep, badgers, desert tortoises, and kit foxes. High-clearance vehicles are recommended for many roads in the Refuge. Take it slow and use caution when heading into washes and canyons, as you may encounter deep sand.
This Is Not For Everyone
Remember, you'll be in the desert. If you're looking for nightly entertainment, this may not be your place. While there is camaraderie of your fellow RVers and certainly bands and other activities, don't come here looking for nightlife. You're here because there's no snow and, out in the desert itself, no crowds. And the sunsets are spectacular.
The Quartzsite Sports, Vacation and RV show definitely is something to see and well worth the trip, to us. Some people have been attending annually for years and even decades. Others will visit once or twice and be done. We think one of the reasons many people are regulars here is the kindred spirits they find, or the solitude of a desert night, or the fact that they can wear short pants in January. That's certainly part of Tony's list.
Whatever your motivation, pay little heed to the dire warnings about this being a desert wasteland with no infrastructure and just start making plans to come. Find a group and join that for the fellowship. On the other hand, there's also a lot to be said for the desert night sky and the peace of the land.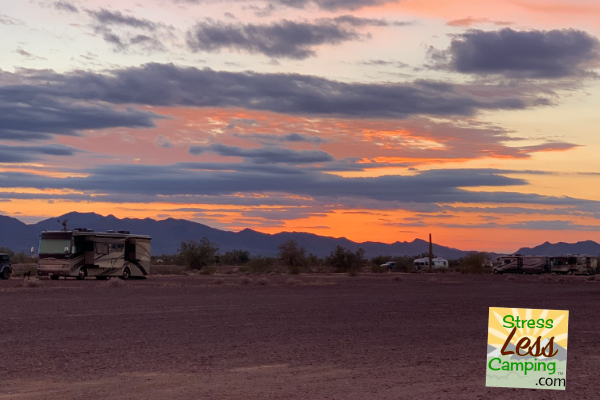 Tony and Peggy Barthel are RV industry veterans who travel part-time in a small travel trailer looking for fun and unique destinations as well as tips, tricks, and discounts to turn the RV adventure into StressLess Camping. You can catch them Thursday mornings on their podcast or any time at www.StressLessCamping.com