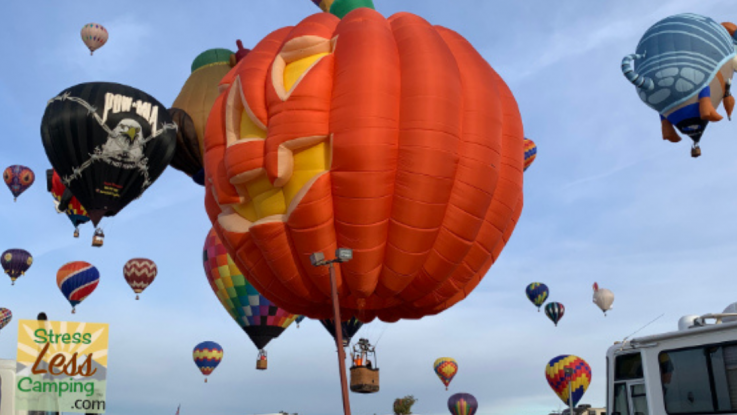 The Albuquerque International Balloon Fiesta is held every year and takes place over the course of nine days in October. The Balloon Fiesta always begins on the first Saturday of the month and goes through the week to the following Sunday.
What Is It?
The first Balloon Fiesta occurred in 1972, with 13 balloons launching from a mall parking lot in Albuquerque, New Mexico. Today, the event happens in the 365-acre Balloon Fiesta Park. Over 500 balloons participate, making this the largest ballooning event on Earth. They say it is also the most photographed event on Earth. Judging by the number of photos we took, we believe it!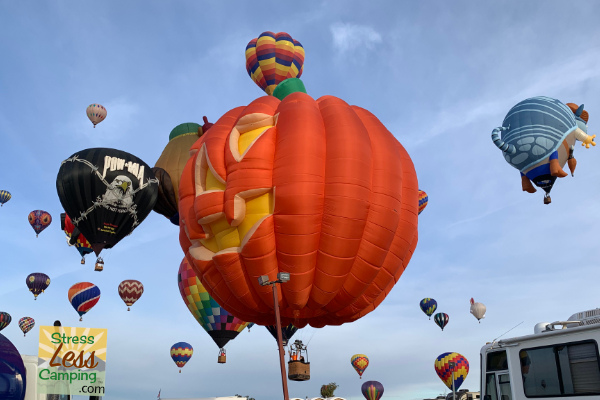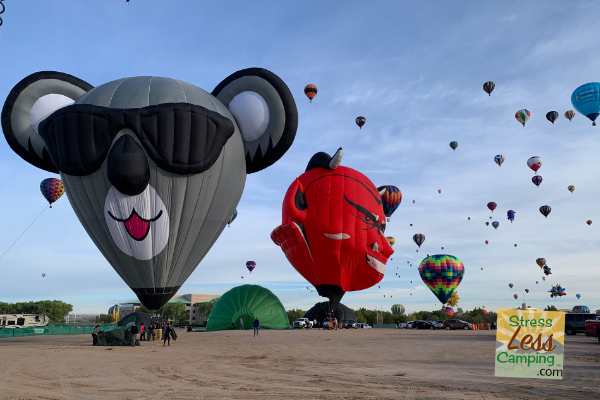 Why Albuquerque?
The low-lying river valley to the west of the Fiesta Park and the mountain ranges to the north and east create the "Albuquerque Box," in which gentle winds blow in a box pattern, sometimes leading balloons right back to where they started. This natural phenomenon makes Albuquerque home to some of the best ballooning in the world.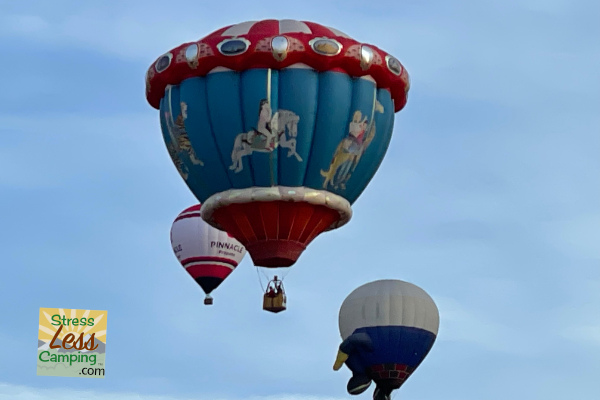 Why October?
Autumn in Albuquerque means chilly mornings and warm, mild afternoons. Wind is typically ideal for ballooning, not exceeding 10-12 miles per hour.
Fiesta 2021
We were invited to the 2021 Balloon Fiesta by Lippert Components and RVLife. We couldn't arrive until Tuesday, so we missed the first weekend, but we had plenty of time to enjoy the show! We also learned a lot of tips and we are much more prepared for next year's event!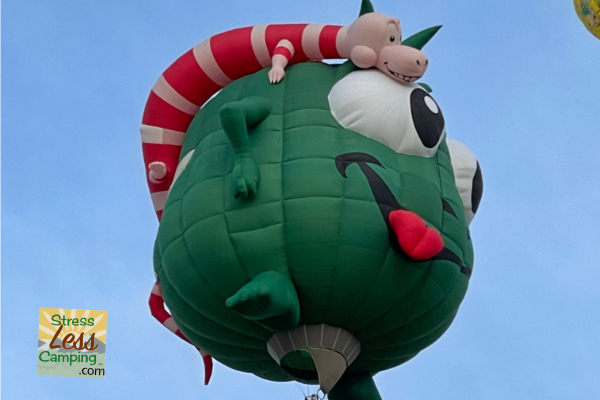 Stick Around
One of the main things we learned is to plan to stay for several days. For best results, be there for the entire event. Many days the wind is too strong for launching the balloons. They are very careful — for the safety of pilots, riders, ground crews, and everyone. Some evenings, it is too breezy even for the static display, and they only light up the fires rather than inflating the "envelopes," which is the part that holds the hot air. While this is still fun, it's not nearly as lovely as seeing all the envelopes aglow.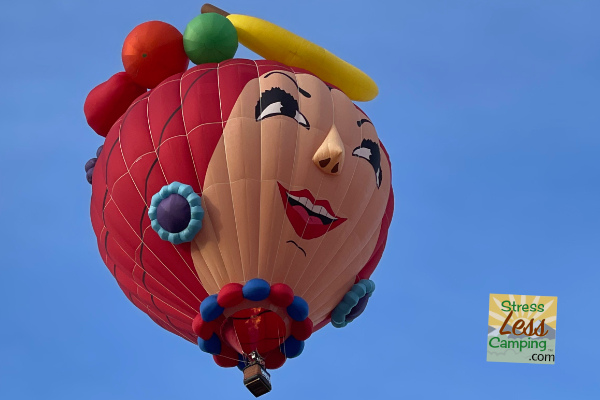 RV Parking
There are four RV "lots" with tent spaces ($35 per night) and RV spaces ranging from $40 (dry camping) to $250 per night (water and electric).
There is a water delivery service plus a honey wagon for $30 each. They only accept cash. We were able to use our water bags and electric drill water pump, as there are spigots for water, which are free to use.
We stayed in the south lot. Not only is this the least expensive, it also is a great location for watching the chase crews go to work as the balloons descend. RV sites do not include event admission (unless you are parked in the President's Compound).
Or you can reserve a Glamping Tent for $1,500 for three nights, which also includes event admission.
RV sites can be reserved in early January. Sites book quickly.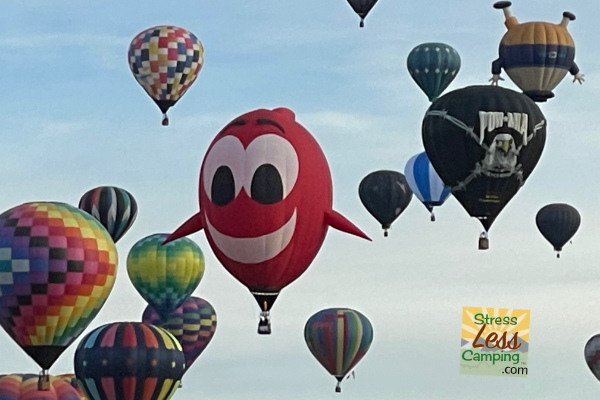 Electric bikes are really handy
Bring an electric bike if you have one to get from the RV parking (or your local campground or hotel or whatever) to the gate. It's a trek. There is bike parking near the gate and even a bike valet! Bikes are not allowed inside the event, but getting to the bike parking makes a big difference in the amount of walking to be done.
Traffic
Don't try to drive to town or back to the RV area between 6:00 a.m. and 10:00 a.m. or between 4:00 p.m. and 9:00 p.m. There is so much traffic trying to get into the event. Some roads get closed, or traffic in only one direction is allowed. We always seemed to be wanting to go the opposite direction of the rest of the city.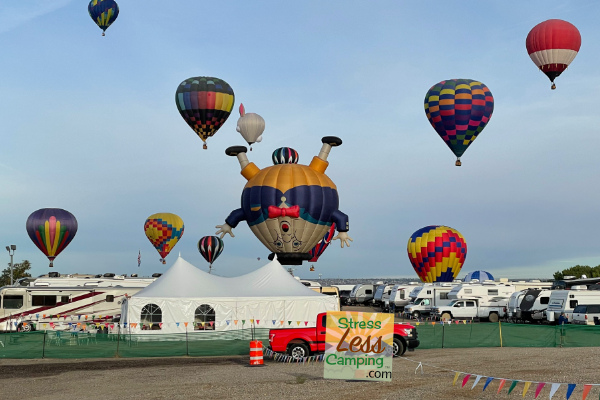 A Day in the Park
Dawn Patrol at 6:00 daily. This predawn launch allows pilots to assess the morning's wind situation. Watch the balloons get initial inflation and testing.
Mass Ascension happens every morning around 7:00. This is when the balloons launch into the sky. We didn't understand what a remarkable sight it is, and nobody could describe it to me. And I don't think I can adequately describe it. You just have to see it to understand.
Oh, and although it's called "Mass" Ascension, it really is not every balloon at exactly the same time. They continue to take off for about an hour each day.
Midweek Mass Ascensions included Flight of the Nations, a multinational flight in which pilots of participating countries carry their nations' flags.
No ballooning occurs between 10:00 a.m. (when all are ascended) and 5:00 p.m. or 6:00 p.m. (when balloons are inflated for the evening glow). Attractions such as chainsaw carving, skydiving, pin trading, remote-control balloons, and a car show keep people entertained on various days. Some days feature the balloons hovering low in the sky, competing in contests of skill.
While you are in the park, you can also shop at the booths featuring artisans, concessions, and official merchandise.
At 6:00 on most evenings, the participants inflate and remain on the grounds. Fans can take a closer look, and experience up-close the beauty of the glow of the burners igniting and lighting up the envelopes. On glow nights, there are also spectacular fireworks displays.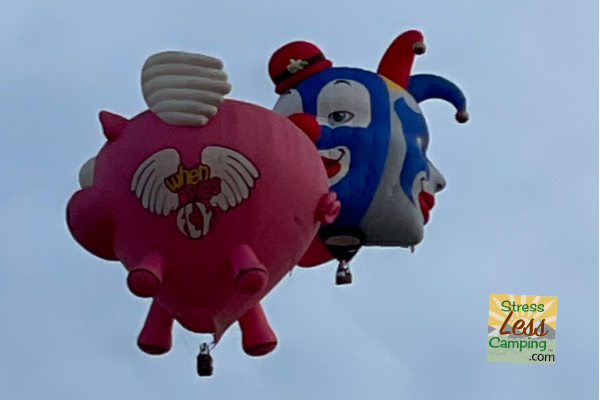 Special Shapes
On Thursday and Friday, the special-shape balloons make their debuts. We didn't know exactly what to expect, but when Tony walked out of the camper and exclaimed, "There's a cow!," Peggy popped out, and WOW what a cow it was! It was at least four times larger than the "regular" balloons. It was a magnificent sight!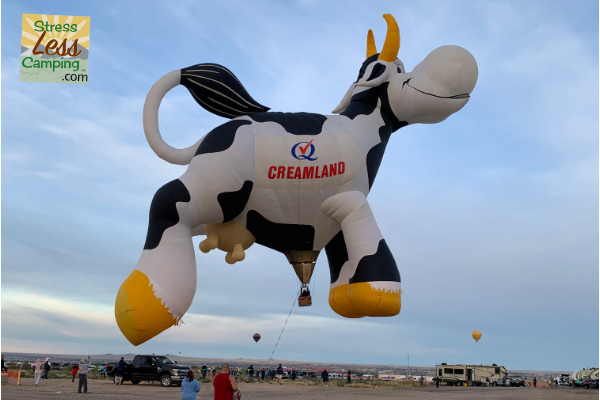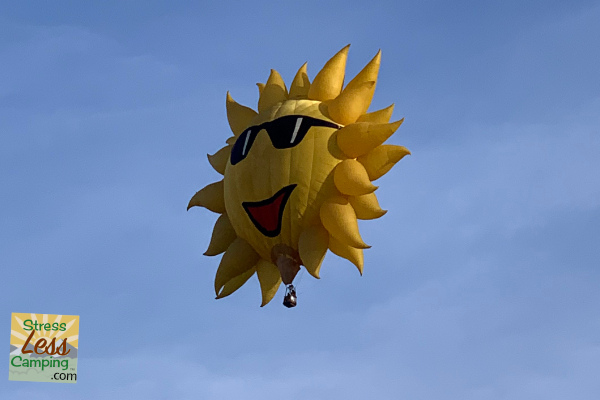 Chase Crews
The pilot isn't the only one who is needed for a successful flight. A ground crew is also imperative to ensure a safe landing.
Be part of the Team
The Balloon Fiesta runs more smoothly with over 1,000 volunteers, and they are always happy to have more assistants. You could help with fundraising, customer service, shuttles, and even as a crew member. They also have work-camping opportunities, to help in the RV lots.
Plan to attend in 2022!
The dates for 2022 are October 1 through 9. This will be the 50th anniversary, so it's very likely to be extra crowded. Session tickets go on sale in April. Buy tickets ahead of time, online. It saves money.
On the other hand, buying too soon increases the danger of the event being throttled or not happening on the morning or evening that you plan to go. This is why we recommend staying for at least several days.
One of the days we were there, the Facebook page announced at 7:34 that all the parking lots were full. And that day the balloons didn't even ascend, because there was too much wind. So, plan accordingly. There is park-and-ride and shuttle service, so you can avoid driving for hours and being in traffic, just to be turned away at the parking lot. However, every day it's possible the balloons will not ascend. Oh, and parking is $20 per session. Not per day; there are morning and evening sessions each day.
We didn't see any day that the event tickets sold out; however, parking lots did fill up and people were mad that they drove all the way into town and couldn't get parking. This is another good reason to stay in an RV — you'll always have a spot even if you have to walk or bike to the gates.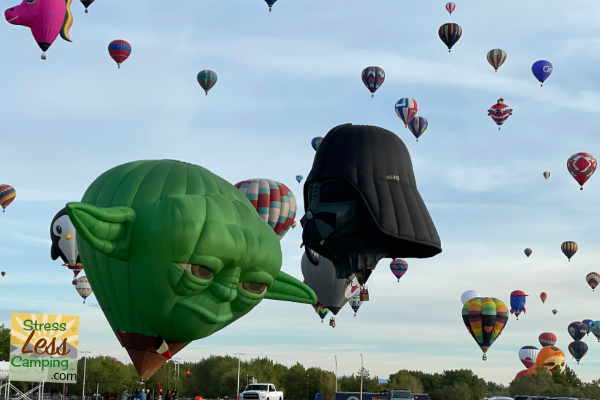 Wanna fly?
Our friends Jason (RV Miles) and Matt (Matt's RV Reviews) were invited to soar in a balloon. Check out Matt's YouTube video!
Would you like to ride up, up, and away in a balloon? Peggy would love the chance. Tony is not so excited by the idea.
Want more?
All the details can be found at balloonfiesta.com
Tony and Peggy Barthel are RV industry veterans who travel part-time in a small travel trailer looking for fun and unique destinations as well as tips, tricks, and discounts to turn the RV adventure into StressLess Camping. You can catch them Thursday mornings on their podcast or any time at www.StressLessCamping.com