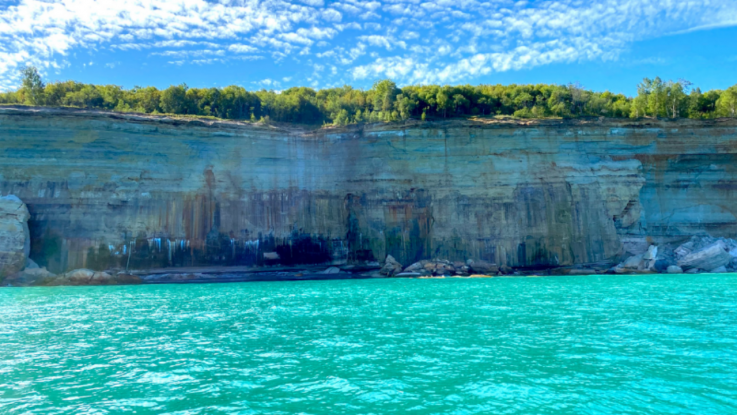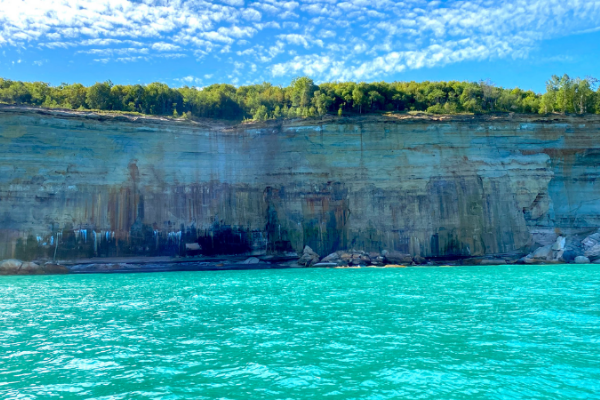 Planning on visiting Michigan's Upper Peninsula (a.k.a. The UP)? Then you must work in a day to visit Pictured Rocks National Lakeshore. Why? Imagine sandstone cliffs 200 feet high with streaks of unique color and texture, arches that stick out into the lake so far you can drive a boat under them, waterfalls, sandy beaches, and crystal-clear emerald waters. All this and more can be found at this remote stretch of Michigan shoreline.
History of Pictured Rocks National Lakeshore
This section of shoreline was the United States' first national lakeshore and was designated as such by Congress in 1966. Prior to that time, the area was revered by local American Indians, explored by pioneers, and harvested for timber.
While little is known about American Indian settlements in the Pictured Rocks area, it is widely understood that this part of Michigan was once inhabited by the Ojibwe tribe, and discoveries point to the seasonal use of the lakeshore by these early people. It is believed that the tribe visited the lakeshore during spring and summer for fishing but did not settle permanently in the area due to the harsh winter climate.
However, in the late 1800s to early 1900s, the area was used by many in the logging industry to harvest timber. That ended around 1910, at which point a large portion of the land around Pictured Rocks came under state government control because of unpaid property taxes owed by the logging companies. Through cooperation with the federal government, the area around Munising was protected from further development, and Pictured Rocks National Lakeshore was officially recognized in1966.
Location of Pictured Rocks National Lakeshore
As mentioned previously, Pictured Rocks gets its name from the 15 miles of shoreline northeast of Munising, Michigan. Munising is in the northern portion of Michigan's UP, just north of the Hiawatha National Forest, and can be accessed by Michigan state highways 28 and 94. Highway 28 is the main thoroughfare in the northern UP, and Munising is one of several towns along this route.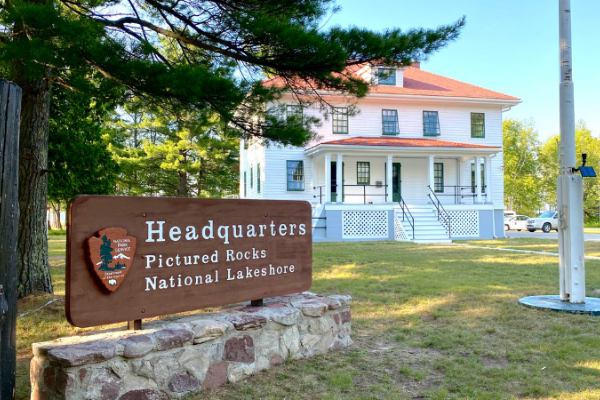 There's not a major metropolitan area located in the UP, so for perspective, Munising is approximately 2.5 hours northwest of Mackinaw City, Michigan, and roughly 3 hours northeast of Green Bay, Wisconsin.
Road access to the lakeshore is limited to a handful of paved park roads (Sand Point Road, Miners Castle Road, and Twelvemile Beach Road), of which Miners Castle Road is the most popular. It leads to one of the park's most recognized structures…Miners Castle (hence the name).
But, for the hikers out there, North Country Trail spans the length of the shoreline and offers amazing views along the way (more on this trail below).
Geography of Pictured Rocks
Pictured Rocks consists of 42 miles Lake Superior shoreline, but it's the 15 miles northeast of Munising that give the area its name. The cliffs in this area are composed of a particular variety of sandstone (the Munising Formation). As groundwater seeps out of the cliff face, it evaporates, leaving behind mineral deposits that form the streaks of color that the lakeshore is famous for.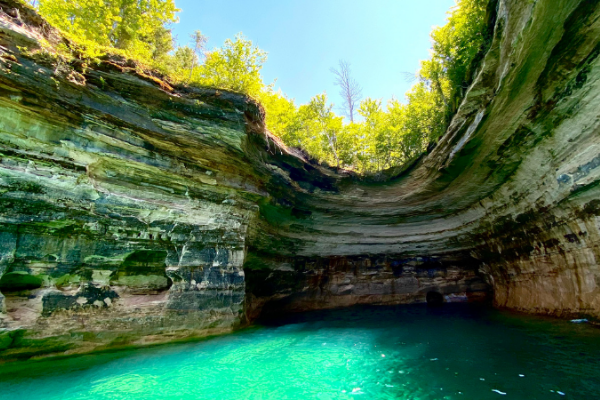 You will notice a variety of colors in this area, but the most common are red (from iron), black and white (manganese), pink and green (copper), and yellow and brown (limonite).
Points Of Interest In Pictured Rocks
Honestly, the entire 15 miles of lakeshore northeast of Munising could be considered one huge point of interest. As noted, this area is responsible for the Pictured Rocks name, and the many cliffs and sandstone structures in this area are breathtakingly beautiful. Of particular interest are several of the sandstone features that have become iconic landmarks of the park over the years.
Miner's Castle
As one of the most well-known cliffs at Pictured Rocks, Miners Castle is a popular sightseeing destination. In addition, it's the only cliff area along the lakeshore that is accessible by car. The NPS lists directions as "located about 5 miles east of Munising on Alger County Road H-58, then 6 miles north on Miners Castle Road (H11)." Historically, Miners Castle has been a sandstone bluff with two turret-shaped sandstone peaks at its top. A landslide in 2006 removed one of the turrets permanently.
Chapel Rock
As one of the most iconic and easily recognizable features at Pictured Rocks, Chapel Rock is a must-see. It can be accessed by land via the North Country Trail, but like many other features in this area, its real beauty is appreciated most by viewing it by boat from Lake Superior.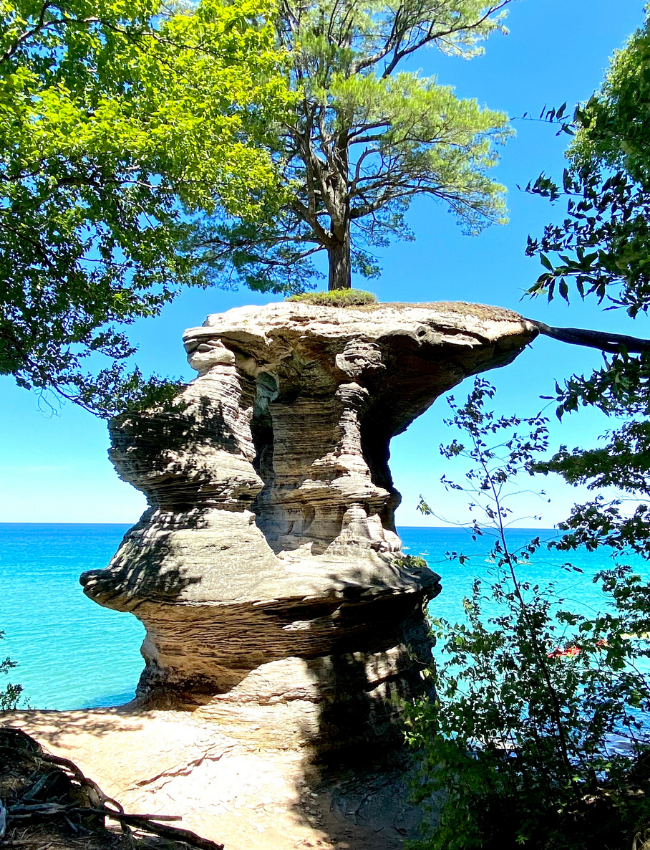 The picturesque lone white pine on top of the rock is estimated to be approximately 250 years old.
Lover's Leap (a.k.a. Petite Portal Arch)
Lover's Leap is a breathtaking sandstone arch that juts out into Lake Superior. Legend has it that an ancient American Indian couple demonstrated their love for each other by jumping together from this arch…but I wouldn't suggest trying it for yourself!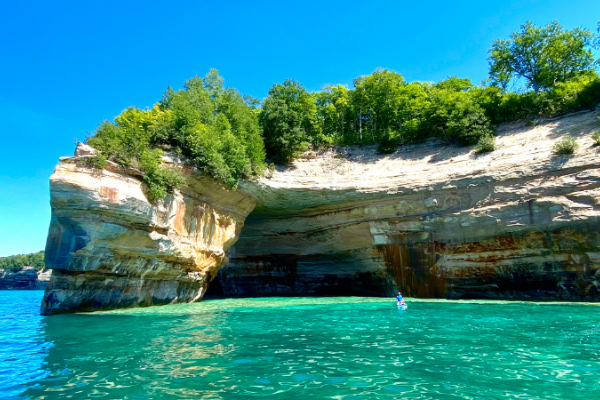 While the water under and around the arch is a picturesque turquoise blue color, it's also quite shallow. In most conditions, it is just deep enough to take a kayak or pontoon directly under the arch.
Miners Beach
Adjacent to Miners Chapel, Miners Beach is an approximately 1 mile stretch of sand on the shoreline of Lake Superior. This slice of heaven is a perfect place to stretch out, relax, and enjoy the sound of waves as they lap onto the sand.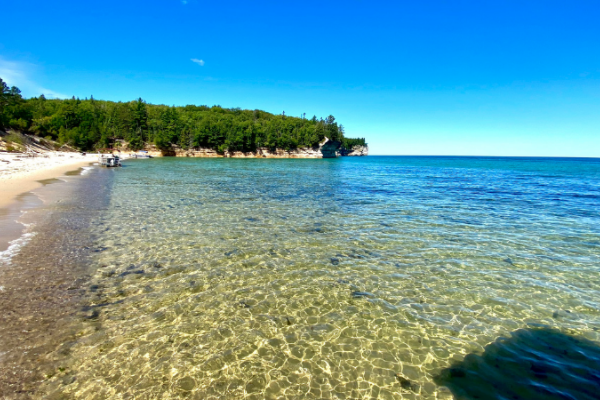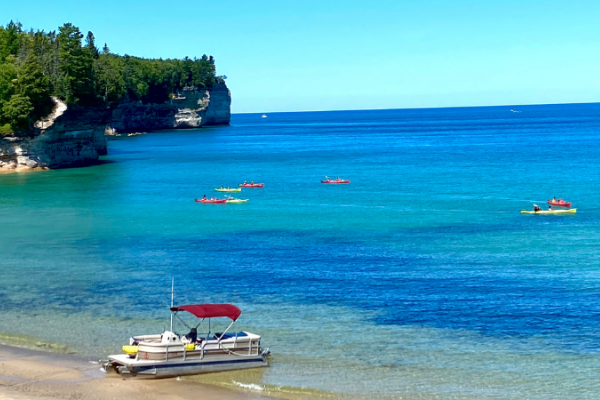 The bluff directly behind the beach can be accessed via log ladders, and a short hike down North Country Trail takes you to the back side of Miners Chapel.
How to Explore Pictured Rocks National Lakeshore
Hiking
Pictured Rocks National Seashore features over 100 miles of trails. The longest of them is the North Country Trail, which stretches approximately 42 miles from end to end throughout the park. Much of this trail runs right along the bluff and offers great views of the Pictured Rocks cliffs. In addition, several spur trails branch off of this main thoroughfare to explore some of the park's more popular destinations, such as Miners Castle and Chapel Rock.
Boating
By far the most picturesque and preferred method to view the cliffs and the sandstone rock formations is by boat. Several tour companies that operate out of Munising provide cliff tours, shipwreck tours, and even guided kayaking tours along the lakeshore. We chose to rent a pontoon boat for the day to explore the area, and we were all so glad we did. We rented from Seaberg Pontoon Rentals in Munising and had a fantastic time.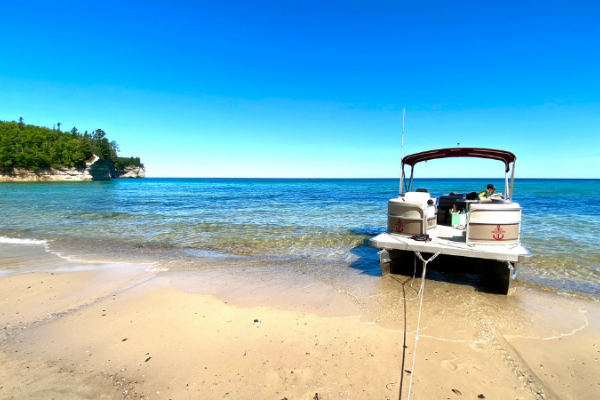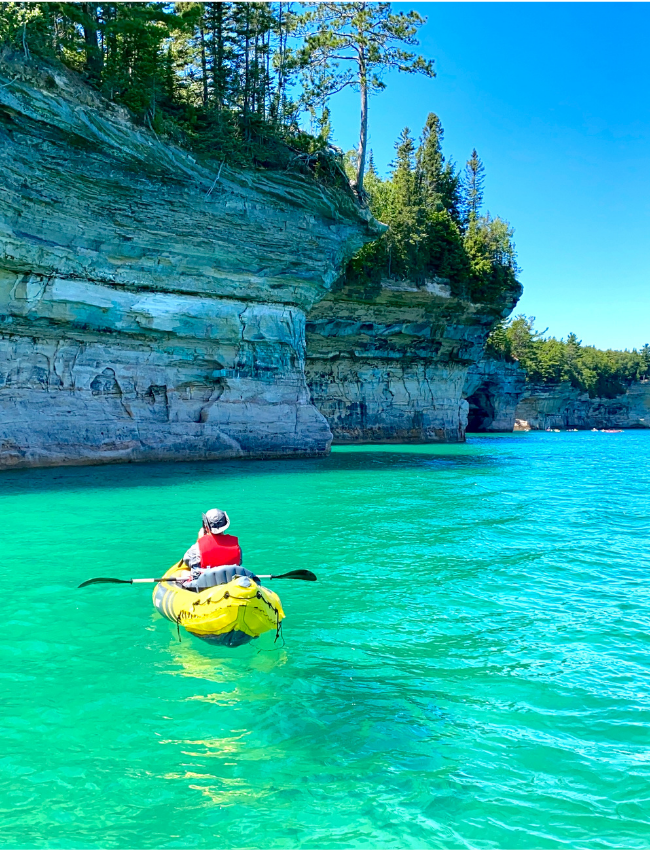 Having our own boat allowed us to view the cliffs on our schedule, which provided time to relax at Miners Beach, float under Lover's Leap, and launch our own kayak to explore several of the caves and cliff edges. The folks at Seaberg Pontoon were great, and we would highly recommend using them if this type of adventure interests you.
Should you choose to captain your own boat, we suggest making time to stop and visit the shipwreck of the Bermuda, a 150-foot wooden schooner that rests on the bottom of the lake just across from Munising Bay. The cold, clear waters of Lake Superior have kept her in remarkably good condition, and you can see her today at the bottom of Murray Bay on Grand Island in only 25 feet of water. Feel free to jump in, swim about, and explore the wreck. Just be prepared for the cold…Weston described it as "bone chilling"!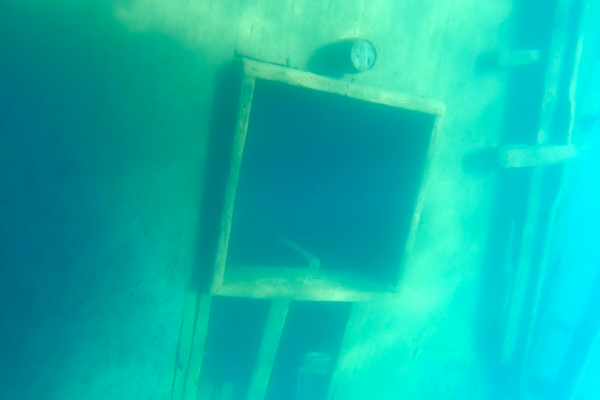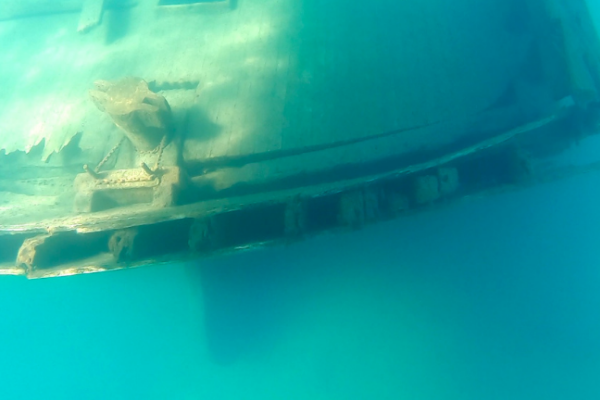 Where To Stay At Pictured Rocks National Lakeshore
Camping
Pictured Rocks National Seashore does offer a variety of camping opportunities in the park itself. Drive-in camping is available at three primitive campsites: Little Beaver Lake (8 sites), Hurricane River (21 sites), and Twelvemile Beach (36 sites). None of these sites offer hookups of any kind (no water, electric, or sewer); however, drinking water is available in the campgrounds from public faucets, and a picnic table, fire ring, and tent pad can be found at each site. Reservations are required at all campgrounds and can be obtained online from the NPS.
Back-country camping is also available at Pictured Rocks (mostly along the North Country Trail) at 14 back-country campgrounds, each of which contains multiple campsites. A permit is required to make use of the back-country campsites and can be obtained online from the NPS up to 14 days prior to your desired night of camping.
We chose to camp in the city of Munising at the Munising Tourist Park Campground and had a great time.
Other Activities
The Pictured Rocks area contains many other activities that are waiting to be enjoyed. Everything from glass-bottom-boat shipwreck tours to hiking and camping on Grand Island are available and just waiting on you.
We would love to hear your thoughts and help you have S'more Time Together with those you love! Discover more of our Michigan adventures by following along with us on  Instagram or at S'more Time Together blog.
Hi, we're Kim and Matt, and together we make up S'more Time Together. We are a normal American family just like you…working a full-time job, balancing family life, and dreaming of traveling to places we've never seen. We try to make the most of our time off by traveling as a family and savoring all the precious moments that come our way.
We invite you to come along on our journeys as we share unique destinations, campground reviews, and adventures you can enjoy as a family.  You can find us on the web at our S'more Time Together blog, on Instagram and Pinterest (YouTube coming soon!). Join the community and follow along as we encourage you to make s'more time together with the ones you love!