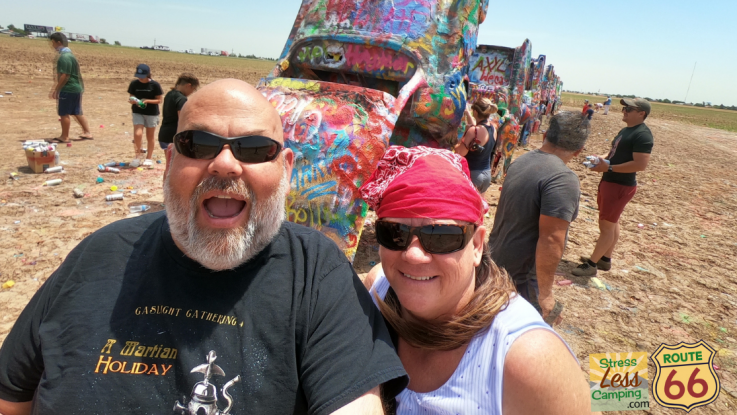 In June 2021, we made the great American road trip and followed Route 66, the historic "Mother Road," or "America's Main Street." By any name, it's almost more of an icon than anything else. We finally got the chance to follow it from the California end all the way to Chicago. Our vision was to drive as much of the historic portion of the road as possible and see how much is left and what condition some of the historic and kitschy bits of it are in. Except, well, a lot of it is just gone. Progress and all.
Route 66 app
One of the resources we used is an app called Route 66 Ultimate Guide. It's a free resource that describes historic and modern Route 66 attractions. Learn more about the app from our talk with the creator, Scott McCoy.
California 
The Santa Monica Pier is where Route 66 ends (or starts, for us). There's a sign on the pier that designates the western end of this historic route, but a travel trailer can't get onto the pier, so we rely on an internet picture.
In the Los Angeles area, there is essentially nothing left, nor even any hints of what was once Route 66. But further inland there are more signs of the bygone era. Several businesses have adopted signage or names that reflect the heritage of the road they're on.
There are a few businesses that still survive to this day, including the Magic Lamp Inn, a fancy eatery in Rancho Cucamonga with the most intricate tile roof. Imagine how much that thing must weigh?
Kingman, Arizona
The Powerhouse Visitor Center in Kingman is home to Route 66 Association of Arizona and also has a gift shop.
Inside this large museum, which was the source of power for the area and provided juice to help build the Hoover Dam, is an expansive collection of Route 66 memorabilia. There are well-done displays and historic artifacts.
Across the street is Railroad Park, where a steam engine sits in retirement along with a caboose.
As we came across landmarks such as Giganticus Headicus, we realized we were just scratching the surface of Route 66 in Arizona. Our Route 66 Passport showed pages of attractions, and we only saw a few of those.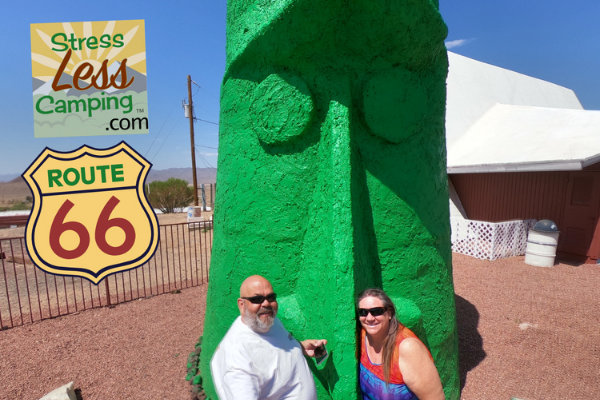 Keepers of the Wild
One stop we'd been looking forward to was Keepers of the Wild, a roadside attraction that houses an incredible assortment of exotic animals, including lions and tigers and bears. Oh, my. There are also monkeys, camels, tortoises, birds of all sorts, and more. The animals are very well cared for on 147 acres with a staff of people who look after and feed them well. The afternoon tour includes big cat feeding. Being just a few feet from the animals and separated only by two chain-link fences is also pretty incredible.
Keepers of the Wild is also a Harvest Hosts location, so we got to spend night in the parking lot.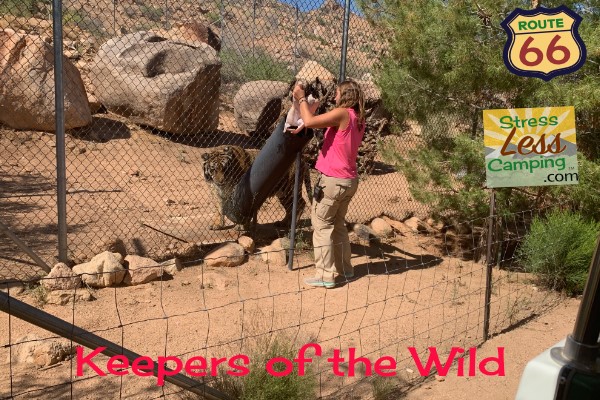 Movie Inspiration 
Many businesses in Seligman, Arizona, inspired the movie Cars with the help of Angel Delgadillo, who is known as the "guardian angel" of Route 66. Angel ran a barbershop and gift shop in town, and in 1987 he led a group that founded the Historic Route 66 Association of Arizona.
Winslow, Arizona
We found "Standing on a Corner Park" in Winslow and took a break for some lunch and standing on all the corners for photos.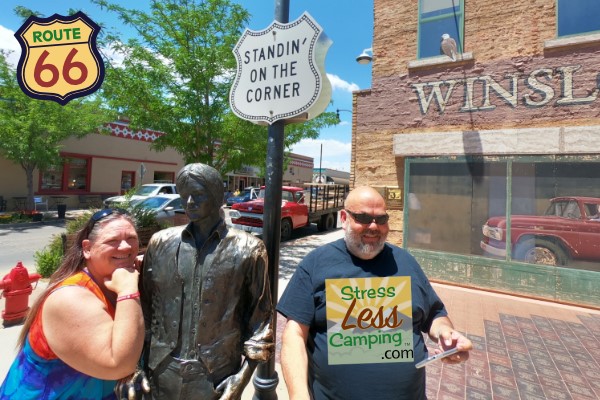 Holbrook, Arizona 
We pulled through the Wigwam Motel in Holbrook. This quirky motor court was the inspiration for the Cozy Cone Motel in the movie Cars. We have stayed in the Wigwam in San Bernardino, and we would be remiss if we didn't pay our respects here.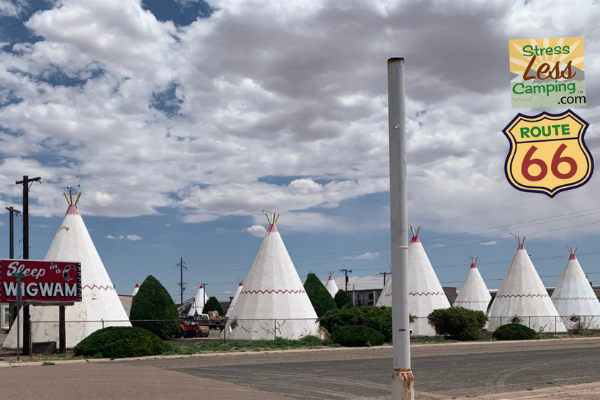 Grants, New Mexico 
After a photo opportunity at the Continental Divide, we made our way to Lavaland RV Park in Grants. The entrance to Lavaland is also the parking lot of Elkins Brewing Company. After we settled into our site, we wandered over for a pint of Red and a pizza.
Lavaland is a small campground, and it is actively being upgraded. Trees provide shade but are not overgrown. Check-in was super easy at a kiosk. The Wi-Fi was pretty good!
Before we left Grants, we decided to check out the Route 66 Shield Drive-Thru, which with the camper isn't exactly a drive-thru. We regretted not going at night with just the truck, as learned that it lights up with neon after dark.
Enchanted in Albuquerque 
Approaching Albuquerque, we stopped to visit the Enchanted Trails RV Park & Trading Post. We spent nearly an hour here, touring some of the vintage RVs that they maintain with vintage themes. Listen to Vickie tell us about the park and Albuquerque in this podcast episode.
Abandoned and Forgotten
We wanted to stay on the "old route" – which is pretty much the frontage road – but confusing signage led to a wrong turn that put us in a predicament. This is, sadly, the fate of much of old Route 66; it has just been abandoned for the newer, wider, faster interstate. After some fancy foot – er – tire work by Tony, we got ourselves turned around and decided to get on the highway for a while.
Tucumcari, New Mexico
We watched a thunderstorm ahead of us but only got a few drops of rain. The clouds in New Mexico always seem to look so big and puffy. Blaze-in-Saddles RV and Horse Park is a great place that provides horse pastures. We wouldn't hesitate to visit again. Oh, and if you're a fan of the movie with a similar name, you, too, can waste a great deal of time exchanging movie quotes with the owner.
Amarillo, Texas
No drive through Amarillo would be complete without a stop at the Cadillac Ranch. Of course, we've heard about it forever, but we had not known about the paint. There is an inch or more of spray paint on every surface of the vintage Cadillacs that are buried nose-deep into the desert.
Those paint fumes gave us a hankerin' for steak, so we stopped for lunch at The Big Texan. There, brave diners can order a 72-ounce steak meal. If they eat the entire meal in under an hour (and keep it down), it's free. Otherwise, it's $72!
Not to be outdone by the Cadillacs, on the east end of Amarillo is Slug Bug Ranch, which has three old VW bugs that are also covered in spray paint. It's not quite as thick as the paint on those Caddys, though.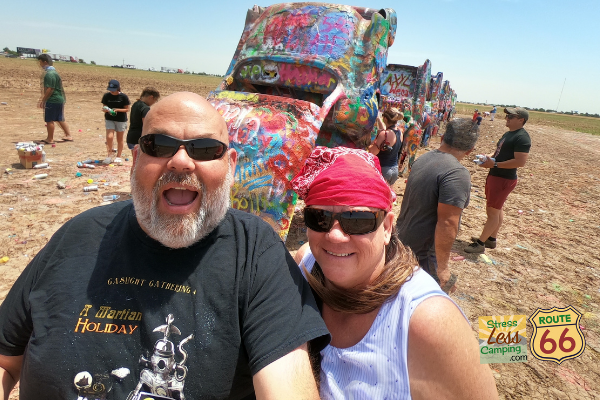 Shamrock, Texas
We spent quite a while admiring the Conoco Tower Station.
Clinton, Oklahoma 
In Clinton, we stopped at the Route 66 Cafe. We had chicken fried steak sandwiches with steaks so big we could each only finish half! They highly recommended the Oklahoma Route 66 Museum. We took their advice and were happy we did. The museum is really well done.
Oklahoma City is Mighty Pretty
So says songwriter Bobby Troup, and we agree. Our friend Eric took us for a beer at Twisted Spike Brewing Company. We bought a couple six-packs for the road. Then we visited the National Memorial Museum, which commemorates the lives lost in the 1995 federal building bombing and is very moving.
We had permission to boondock at the Oklahoma Railway Museum. In the morning, Eric gave us a tour of the Railway Museum. The museum houses some really unique train cars depicting Oklahoma's railroading history. We made plans with Eric that next time we visit we will get to ride in a speeder!
Pop Stop
We stopped in Arcadia, Oklahoma, to fill up the gas tank and be amazed by the supply of pop at Pop's Soda Ranch. We filled a six-pack carrier with a variety of pops for the road.
Buck!
In Tulsa, Oklahoma, we made a stop we'd been looking forward to for days! Buck Atom's Cosmic Curios is home to Buck Atom, a muffler man made just for his job overseeing Mary Beth's souvenir shop.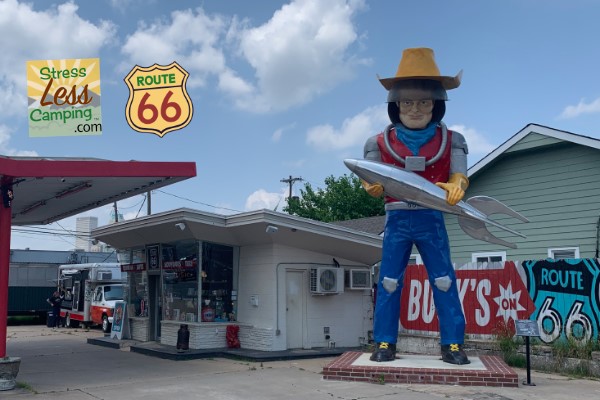 A Whale of a Tale
In Catoosa, we pulled off to see the Blue Whale. We've been wanting to see this curiosity for quite some time. Apparently at one time it was a sort of swim platform; there were slides and a diving board. However, there are now signs warning people not to swim in the pond.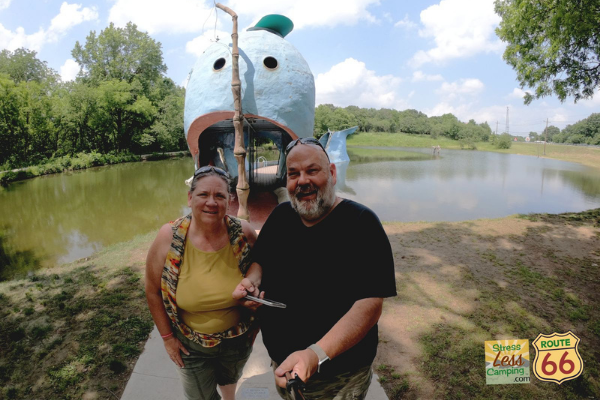 Monkey Island
We stayed at the Monkey Island RV Resort in Afton, Oklahoma, for a few days while hanging out with Peggy's family, who stayed at a time share on the island. Tony took a day trip to Darryl Starbird's National Rod & Custom Car Hall of Fame Museum.
Miami, Oklahoma
We had heard about The Coleman Theatre in Miami, Oklahoma, and looked forward to that being our first stop of the day on the way out of the states. We were married in a 1920s theatre, with Wurlitzer accompaniment, so we were particularly eager to see another.
Unfortunately, we read the website wrong, and it was a day that the theatre is not open. Whaa whaa whaa…
Oh, the Places You Can Go in Missouri!
Driving north, we were amused by the town names. We drove through Nevada, Horton, and Peculiar.
Boots Court Motel
In Carthage, Missouri, we stopped to gawk at the Boots Court Motel. The building was designed in Streamline Moderne architecture in 1939. And its glory has not faded. With smooth stucco and black glass, it is a glorious throwback to one of our favorite eras.
Getting our Fudge Packed
We had several readers and listeners advise us to stop at the Uranus Fudge Factory in St. Robert, Missouri. Well, how could we pass up such an opportunity? The employees are apparently required to have a 12-year-old's sense of humor – Uranus jokes abound. Tony even helped them add to their repertoire.
Really, though, the fudge is delicious.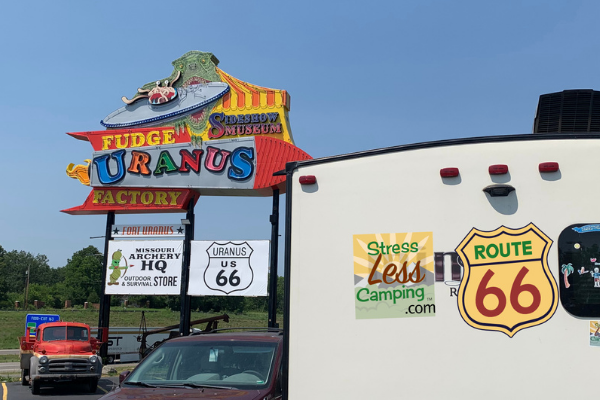 The SECOND-Largest Rocking Chair
We stopped in Cuba, Missouri, to take some photos with the second-largest rocker. For a long time, it was the largest, as verified by Guinness, but then the town of Casey, Illinois, outbuilt them with a bigger chair. I don't think that was very nice.
The service at Danny's Gas Hole was super terrific. The young lady came out of the store into the heat to offer to take photos of us with the chair. Inside, we found a great selection of sodas – plus they make about 30 flavors of popcorn, and we tried several.
Meramec State Park Campground
The campgrounds at Meramec State Park in Missouri are really nice. The sites have electricity, which is something we don't have in California State Park campgrounds.
Meramec Caverns
Meramec Caverns is known as the Jesse James hideout. As the story goes, Jesse and his brother Frank were running from the law and entered the cave. Everyone thought they were trapped, but the boys heard water running, so they jumped into the underground river and rode it out of the caverns to freedom.
The caverns themselves are massive and absolutely stunning. The river runs through the entire tour, which includes the rarest and the largest cave formations in the world.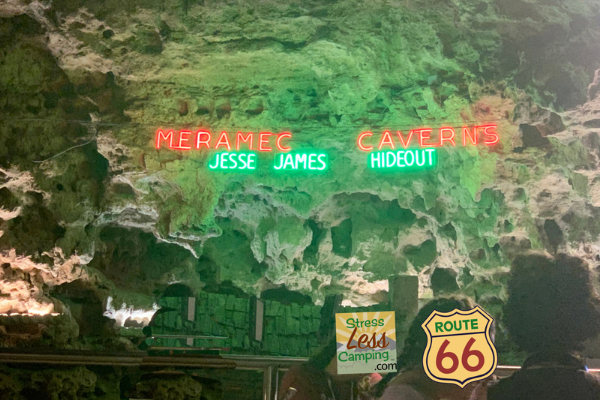 St. Louis, Missouri
St. Louis is known for toasted ravioli and Provel cheese on pizza. We stopped at an Imo's Pizza and ordered both. Quite a few of our friends apparently really do NOT like Provel cheese. Our Wandering Family warned us to run away quickly! Unfortunately, we had already ordered. Provel cheese is not something we would seek out again, but we are glad we had the experience.
In 2017, Ted Drewes Frozen Custard won the "Ice Cream of the Year" award, even though frozen custard isn't actually ice cream. The Route 66 location has been selling frozen custard for over 80 years. They also sell Christmas trees grown on their own tree farms.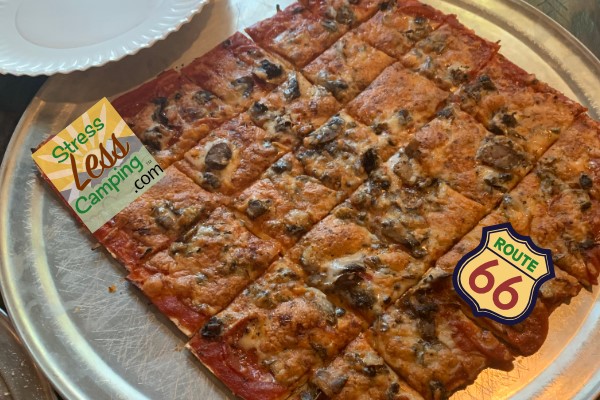 Springfield, Illinois
Springfield is the hometown of Abraham Lincoln. We toured the visitor center and the street with Lincoln's family home. Just south of Springfield is a Corvair museum that we just had to check out.
Atlanta, Illinois
Atlanta is a kitschy little town that's home to a muffler man called the Hot Dog Man.
Gardner, Illinois
In Gardner, we stopped at a little park setting to see the two-cell jail, which served as a drunk tank from 1906 until the 1950s. We also checked out the Riviera Roadhouse Streetcar Diner. This adorable little building started as a horse-drawn streetcar in the late 1800s.
Wilmington, Illinois
Wilmington is home to the Gemini Giant, a muffler man dressed in a space suit and holding a rocket at the Launching Pad Restaurant. Naturally, we got selfies and decided it was a good time for ice cream!
Camp Sullivan
We camped for a couple nights about 20 miles south of Chicago. This small campground is one of the Forest Preserves of Cook County's five campgrounds in the Chicago area.
Just after we settled in the first night, we got alerts on our phones of a tornado warning and that we should take cover. We joined the other campers and sheltered in the bathhouse for about an hour. The next day we saw downed trees and power lines in the hard-hit area.
Chicago, Illinois
We enjoyed spending time in the atrium at Navy Pier. They have dancing water fountains that fascinated us as well as the kids who were there.
Chicago pizza is different, in just about every way possible, from St. Louis pizza. The pizza we got at Giordano's Pizza was more like a pie, with the crust enclosing the bottom and sides of the several inches of layers of toppings, cheese (not Provel), and sauce. So much sauce! It was so fantastic! Because it's so thick, it takes nearly an hour to prepare, but it is so worth the wait!
If you remember the television show "Married… with Children" you may recognize this fountain, which was featured in the opening credits along with Frank Sinatra singing "Love and Marriage." This is one of the largest fountains in the world and is located in Grant Park, which also boasts the beginning of Route 66.
There are actually several signs in the vicinity of the "beginning" of the route. They are all within about a block of each other. Apparently, this was done to spread out the traffic of people wanting to stand at "the beginning."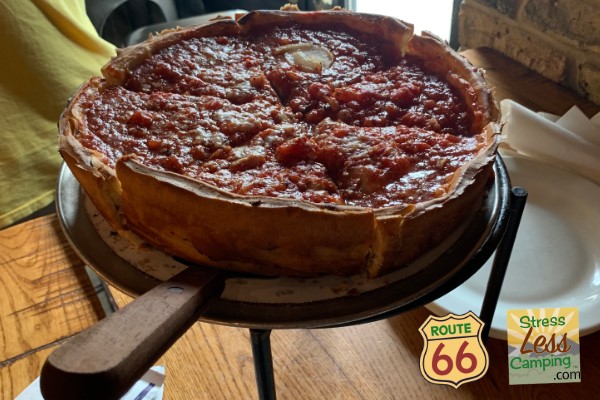 Thoughts and Lessons
Whether we were slowly creeping along in traffic, or making time on a modern freeway, we took the time to appreciate progress. There we sat comfortably in the truck listening to podcasts and enjoying a cool air-conditioning system, all while hauling a house around behind us in the form of a travel trailer.
Think about the heyday of this historic road before cars had air conditioners or comfortable seats, and a hot day likely meant an engine overheating situation. There were no podcasts nor much else to entertain the passengers, unless they could get the radio to tune in to a local station.
We could bemoan the fact that much of our history has been replaced by shiny new buildings and businesses, but by the same token, we'll take our modern pickup any day. Progress is inevitable. Still, we certainly appreciate the style of the past as well.
We also learned a lesson about distance traveling. We planned way too many miles and activities for each day. The list of attractions we needed to return to see grew daily. We will keep this in mind for the next road trip.
So, as we write this, we're back on the Mother Road for an even more in-depth experience.
Tony and Peggy Barthel are RV industry veterans who travel part-time in a small travel trailer looking for fun and unique destinations as well as tips, tricks, and discounts to turn the RV adventure into StressLess Camping. You can catch them Thursday mornings on their podcast or any time at www.StressLessCamping.com