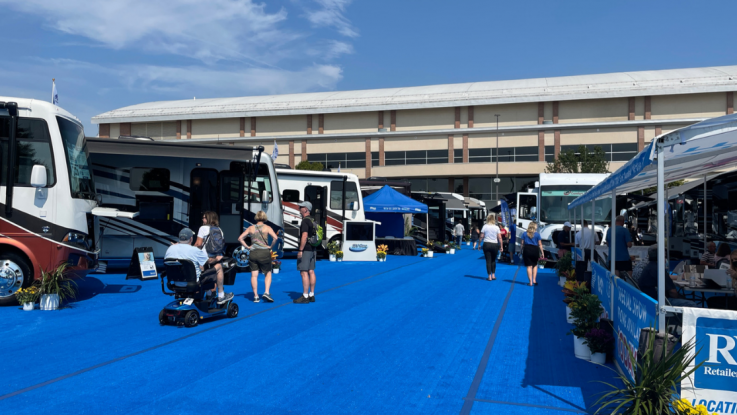 If you are like me, you love to check out the newest RVs on the market and shop for the latest RV gadgets. There isn't anything like attending an RV supershow with thousands of other people. With the increase in RV popularity and the season of RV supershows upon us, it's the perfect time to talk about tips for attending an RV show.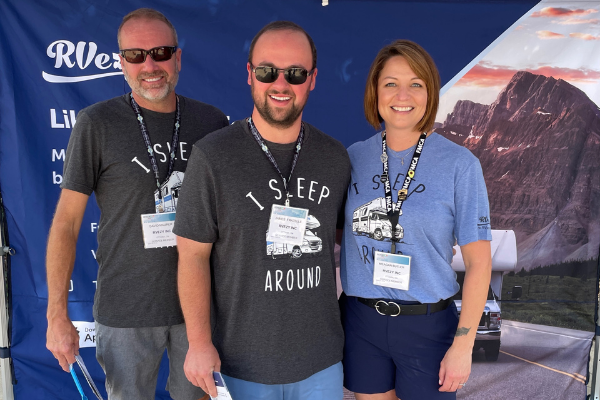 RV shows are more popular than ever
This year, I was lucky enough to attend America's Largest RV Show in Hershey, Pennsylvania, often referred to as the Hershey RV Show. The event is open to the public for five days, and Pennsylvania Recreation Vehicle and Camping Association reported that this year, 61,320 people attended the show (PRVCA). It's no surprise that the numbers smashed records, and 2021 was the second-largest show on record. RVing is popular, and the industry is showing no signs of slowing down.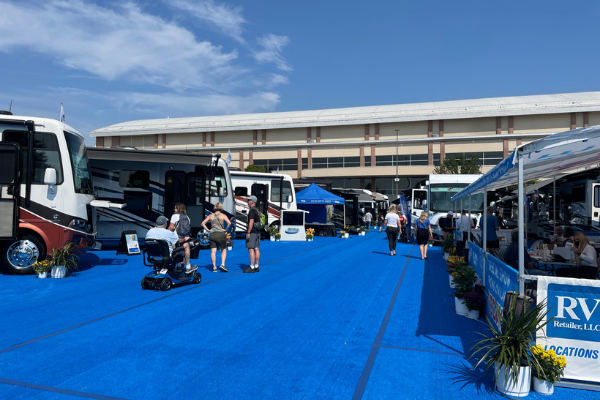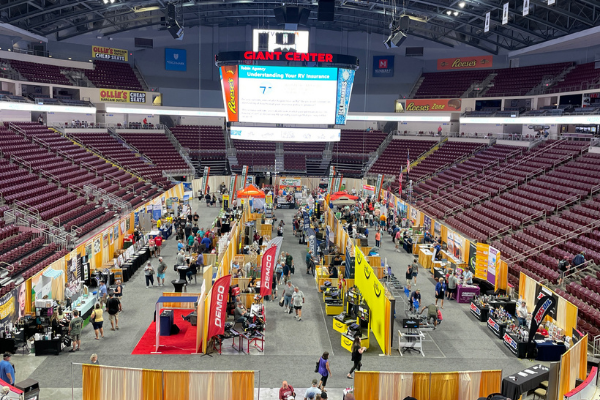 Short supply means a greater demand
More and more people are showing interest in the RV lifestyle. Unfortunately, part shortages and factory shutdowns have made it hard for manufacturers and dealers to keep RVs in stock. As a result, people are buying models sight unseen and waiting upwards of a year to take delivery.
RV shows, especially the supershows, might be the only opportunity people have to see their dream rig in person since availability across the country is limited. If you plan to negotiate a deal on a new RV, get to the show early, because most of the show rigs will have sold within the first few days.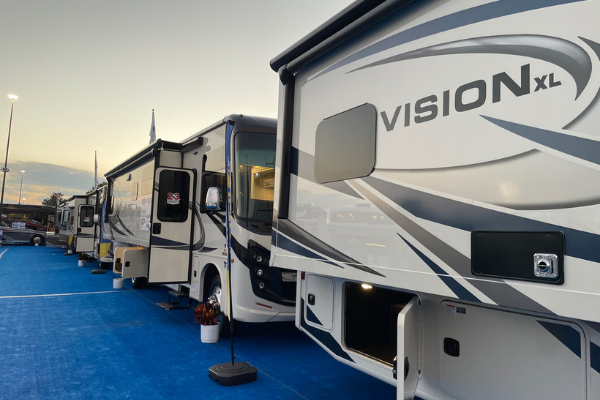 Purchase your tickets in advance
Everyone loves a discount! Save yourself money and time spent standing in long lines by purchasing your tickets in advance. Most RV shows offer early-bird pricing, and when you combine early-bird prices with a military or a senior discount, you'll most likely save enough to pay for ice cream or a root beer float the day of the show!
Several RV shows have moved to online ticket sales in the past year to reduce contact and help expedite long lines. This year, people who attended the Hershey RV Show had to purchase their tickets online in advance and couldn't buy tickets at the show.
Avoid the crowds
If you want to avoid long lines and crowds of people, plan to go to the show later in the day, when most people are tired and ready to go home. RVs are easier to tour when there aren't people waiting to get inside, and if you want to talk with a dealer or manufacturer, you'll likely have a better chance in the evening. At the Hershey RV Show, the crowds started to thin after 3:00 p.m. Not only was the weather more pleasant in the evening, everything from getting food to buying gadgets was faster.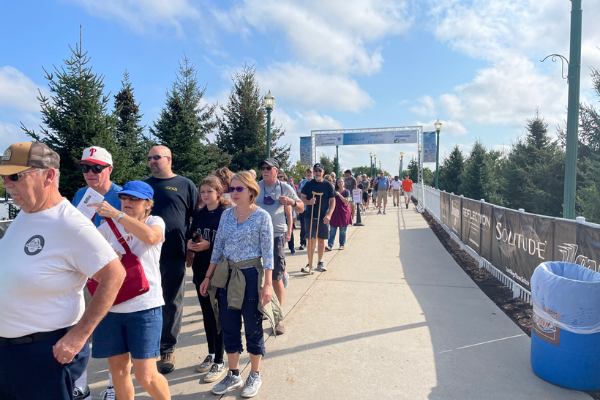 Parking
Before heading to the show, scope out the parking lots, RV parking areas, and shuttle stops. Most shows have accessible parking, but be aware that those spaces fill up fast, so it's a good idea to have an alternative plan if you can't find a spot up close. Also, don't forget to bring cash with you. Parking fees often cost upwards of $20 per day, and parking attendants only accept cash.
Attend seminars
RV shows are the perfect place to attend seminars, because the bigger shows attract industry experts from every corner of the RV world. If you're lucky, you might get to see your favorite YouTuber speak or learn how to turn your factory rig into something fabulous. Most RV shows publish a schedule of seminars on their event website and event guide.
Tip: RV show seminars fill up quickly. Get to the seminar room early to secure a spot!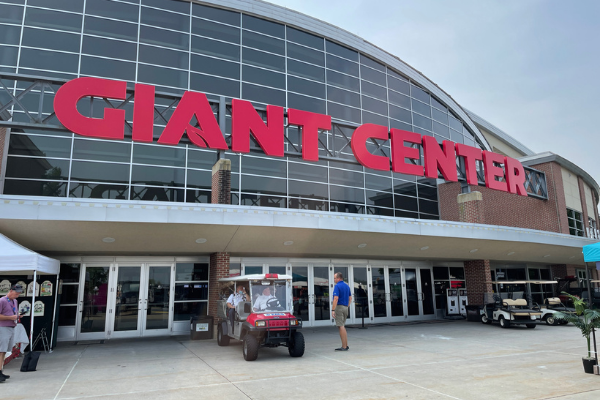 Wheelchair and scooter rentals
Did you know that most big RV shows have wheelchair and scooter rentals on-site? If you think you'll want some assistance getting around the show, don't wait until you're worn out to find a scooter or wheelchair rental. You can avoid long lines or the possibility of sold-out rentals by reserving your rental online before you get to the show.
Make a game plan
Large RV shows are exciting, but they can be a bit overwhelming. It's easy to get distracted and forget what you came to see or buy. Whether you go to an RV show to walk through the biggest Class A motorhomes, sit inside a tiny teardrop, or stock up on your favorite tank cleaner, it's a good idea to come up with a game plan before you head into the sea of RVs. Most RV shows make their event guides available electronically. Read through the guide online before you go to the show and make a note of where you want to go and what you want to see. Whether you use a small notebook or take notes on your phone, write down the areas you don't want to miss. Then, when you get distracted, all you'll have to do is refer to your notes!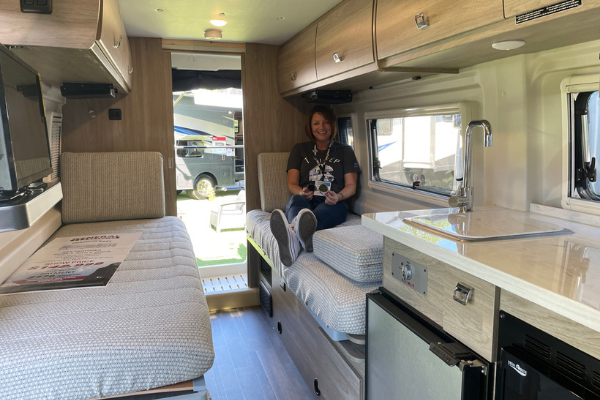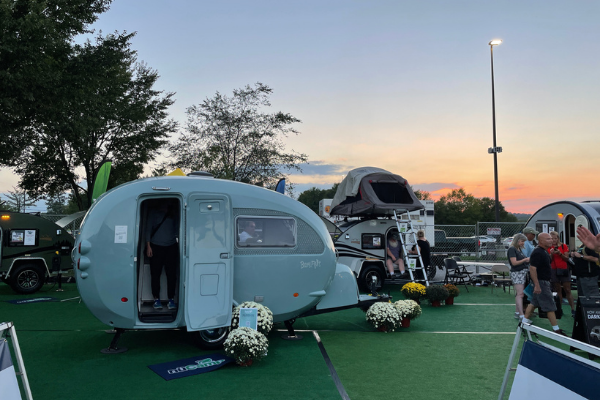 Read the rules
A few days before the show, visit the event's website and familiarize yourself with the show's policies and procedures. Then, if you still have questions, reach out to a staff member and ask for help. The more you know about the show beforehand, the better prepared you'll be on the day of the event.
Watch the weather and prepare for fun
The best way to enjoy yourself at an RV show is to make sure you're comfortable and dressed for the weather. Take along a raincoat if the forecast calls for rain, or bring a tube of sunscreen and a hat if the weather is warm. No matter the season, wear good shoes made for walking and don't forget a refillable water bottle.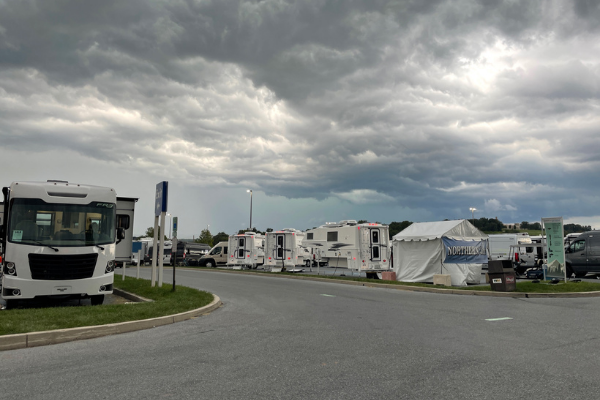 A few of the upcoming RV shows
Sand-Water-RV Expo: November 19-20, 2021
Florida RV SuperShow: January 19-23, 2022
Tacoma Fall RV Show: January 20-23, 2022
Quartzsite Sports, Vacation & RV Show: January 22-30, 2022
Calgary RV Expo & Sale: January 27-30, 2022
Meagan Butler is an RV enthusiast and an advocate for solo female RVing. She and her husband RV together, but when Pat can't hit the road, Meg travels alone with her two Cavalier King Charles Spaniels, Teddy and Pippa. When Meg isn't creating RV content for RVezy, she's sharing her love of RVing on her travel blog, Her Fine Mess.