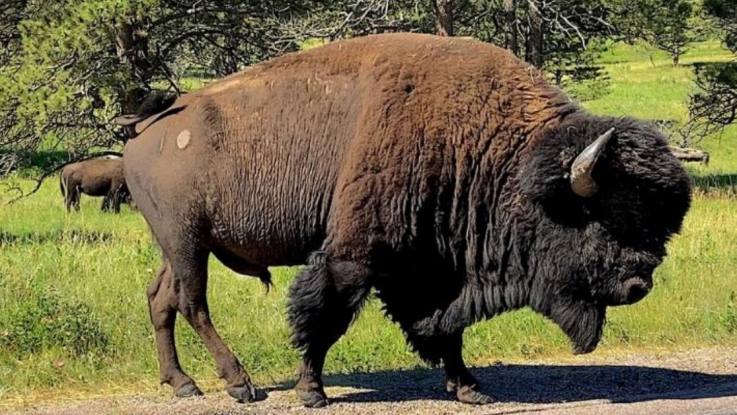 Over 2 million people from around the world visit Custer State Park every year, and it's easy to see why. With its combination of rolling hills, stunning granite peaks, and abundant wildlife, Custer is a uniquely beautiful location. The park itself can be seen and enjoyed in two to three days, but we suggest a longer stay in order to enjoy the area around the park and all it has to offer.  If you are planning a trip to South Dakota, or want to be inspired to start planning one, read on to find out all you need to know about this beautiful and unique destination.
History Of Custer State Park
Custer State Park was born in 1919. Governor Peter Norbeck had long admired the beauty of the Black Hills of South Dakota, and once elected governor of the state, he set out to permanently preserve the area. Once the park was created, Norbeck himself helped to plan the layout of roads and scenic vistas throughout the park. The twisty turns and narrow granite tunnels of the Needles Highway and Iron Mountain Road are designed to offer breathtaking views while blending with the scenery they traverse.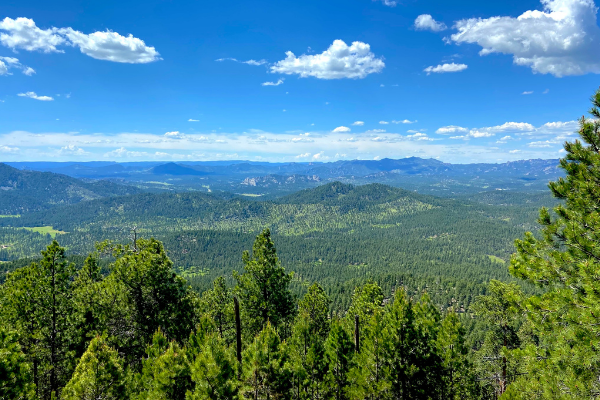 When asked about the routes he had planned throughout the park, Norbeck famously said "You're not supposed to drive here at 60 miles per hour; to do the scenery justice you should drive at no more than 20. To do it full justice you should just get out and walk it."
During the summer of 1927, President Calvin Coolidge spent three months visiting the Black Hills and Custer State Park in particular. He and Mrs. Coolidge stayed primarily at the State Game Lodge during this time, earning it the nickname the "Summer White House."
The Civilian Conservation Corps was responsible for many of the projects we currently enjoy in the park. From 1933 to 1941 they built the dams, bridges, and buildings that make up Stockade Lake, Center Lake, Wildlife Station Visitor Center, the Mount Coolidge Lookout Tower, and most notably the Peter Norbeck Visitor Center.
Location Of Custer State Park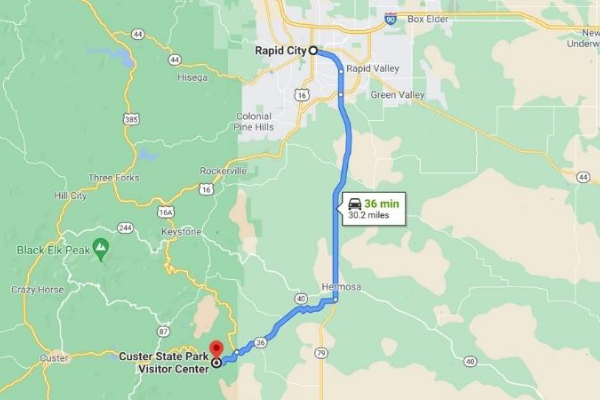 Located in the southwest corner of South Dakota, Custer State Park is a 30-minute drive from Rapid City, South Dakota, making it a very popular tourist destination (over 2 million people visit Custer each year). The drive south from Rapid City on Highway 79 is an easy and pleasant one, offering impressive views of the Black Hills through the passenger's window. Turning right onto Highway 36 takes you to the main entrance to the park via the two-lane highway. Once you enter the park gates, the highway name changes to Highway 16A, which can be a little confusing. Turning right onto Highway 16A takes you north on Iron Mountain Road to Mount Rushmore National Monument, while continuing straight on Highway 16A takes you west, on the park's main throughfare. Two of the park's lodges (State Game Lodge and Legion Lake Lodge) and three of its campgrounds (Game Lodge Campground, Grace Coolidge Campground, and Legion Lake Campground) are located along this route. Turning south just past Legion Lake, one encounters Highway 87, which takes you to the Blue Bell Lodge and campground (our personal favorite) and Custer's famed Wildlife Loop Road.
The area immediately surrounding the park is a tourist's playground, with scenic drives, national monuments (Mount Rushmore), and private exhibits such as the Crazy Horse Monument. The town of Custer is located just outside the west entrance to the park and is convenient for restocking on fuel and groceries, or for grabbing a bite to eat.
Geography Of Custer State Park
Granite spires, stunning mountain views, and rolling grasslands all combine in this very special and scenic location. Located in Black Hills National Forest, Custer State Park encompasses approximately 71,000 acres of land. The change in topography in this area is one part of what makes Custer so unique. Toward the south of the park there are rolling grasslands that provide a home for over 1,500 bison, as well as antelope, elk, and prairie dogs. Toward the north part of the park, the elevation increases dramatically, and tall granite spires appear to shoot out of the ground dozens of feet into the air. The sheer sides and steep drops from the spires create a magnificent landscape.
Woven throughout this landscape are several streams and lakes that further add to the beauty and ambience of the area. Taken together, Custer State Park offers a unique landscape that creates a stunning palette of colors, shapes, and textures that many consider to be unparalleled in its scenic beauty.
Wildlife In Custer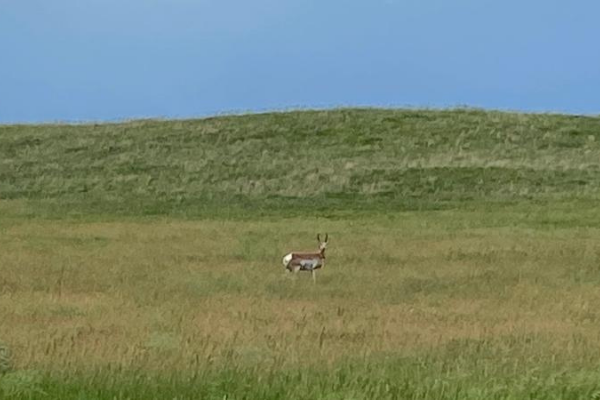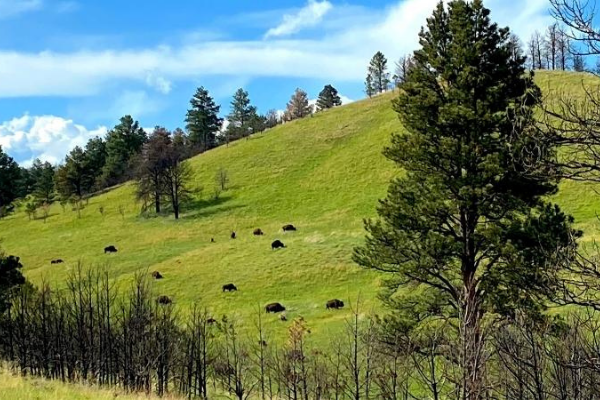 Wildlife in Custer is abundant and includes bison, deer, antelope, elk, bighorn sheep, turkeys, coyotes, burros, and prairie dogs. While wildlife can be viewed throughout the park, the Wildlife Loop Road in the southern region of the park is known to have an abundance of animals that can be seen without even leaving your car. During our recent visit, we noticed bison, deer, antelope, prairie dogs, and Custer's begging burros during our drive along the road.
The begging burros (as they are known) have inhabited the grasslands of Custer for nearly a century. Originally, these donkeys were used as pack animals to shuttle visitors between Sylvan Lake Lodge and Black Elk Peak (the highest peak east of the Rockies). When their services were no longer needed, these animals were released into the wild to roam freely in the park. The begging burros are extremely friendly and easily approachable. In fact, they've even been known to poke their heads into the windows of passing cars that stop long enough on the side of the road. Although park officials don't recommend it, visitors enjoy feeding the burros, who are eager to except almost any handout that is offered.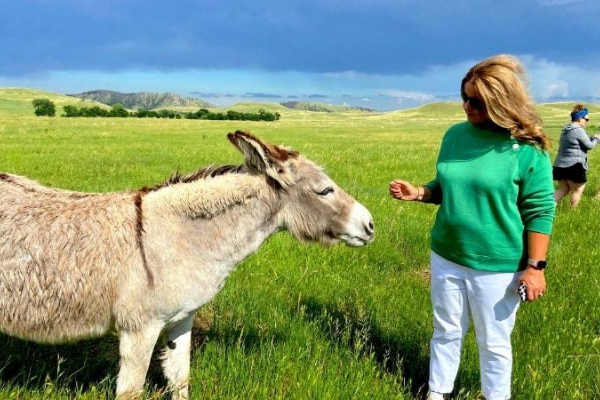 But, the big wildlife draw in Custer is their herd of over 1,500 wild bison. The herd roams freely in the grasslands in the southern part of the park and has thrived in this area. Visitors on the Wildlife Loop Road are almost guaranteed to see bison during their drive. And it's not uncommon to be caught in a "buffalo jam." This unique experience occurs when the bison herd stops on the roadway or crosses the roadway in the park. Don't be surprised to find a car or truck surrounded by bison, almost like a metal island in a sea of brown hides and horns. While not tame, the bison are also not easily intimidated by people or automobiles. In fact, during our recent visit, we were fortunate enough to be "caught" in a buffalo jam and watched as these massive animals passed just inches from the side of the truck. This is truly a unique experience that would be hard to duplicate anywhere in the world outside of Custer State Park.
How To Explore Custer State Park
Scenic Drives
 To be honest, almost every road in Custer can be considered a scenic drive! But, there are three that stand out more than others:
 Needles Highway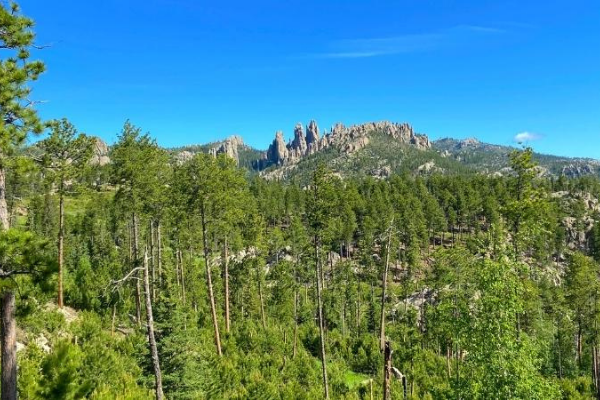 The Needles Highway (also known as Highway 87) is a beautiful drive that runs from Highway 16A in the park up to the northwest corner of Custer, where Sylvan Lake is located. This 14-mile road is part of the Peter Norbeck Scenic Byway and was once thought to be impossible to build by many engineers. However, through hard work and dedication, it was completed in 1922. This spectacular drive twists and turns its way through forests of pine and spruce, across sunny meadows, and up rugged mountains.
The highway's name is derived from the rugged granite spires (tall granite towers) that rise majestically into the air. The road terminates at Sylvan Lake after passing through Needles Eye Tunnel, a one-lane tunnel carved into a mountain of granite that measures only 8'4" wide by 11'3" tall. With the many twists, turns, and narrow tunnels, this highway is definitely not RV-friendly, so leave the rig at the campsite while enjoying this drive. Expect a 45-minute drive one-way from end to end.
Iron Mountain Road
Iron Mountain Road is the portion of Highway 16A that travels north after one enters the park from the east on Highway 36. This 17-mile stretch of highway is yet another example of determination and ingenuity. The road was specifically designed with 314 curves, 14 switchbacks, and three one-lane tunnels to force visitors to go slow in the hopes that they would truly enjoy and take in the scenery during their drive.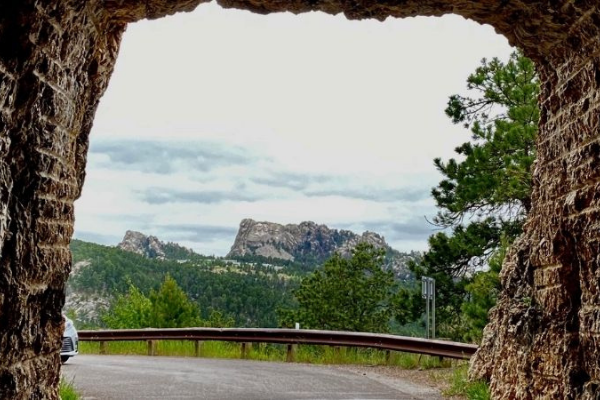 The southern portion of the road begins in Custer then leaves the park after a few miles and ends at Mount Rushmore National Monument. Along the way, visitors are treated to the scenic beauty of the Black Hills, including many overlooks and beautiful pine forests, and you'll cross over wooden "pigtail" bridges (bridges that loop over their own road as they climb) on your journey toward Mount Rushmore. As you near the end, be on the lookout for Doane Robinson Tunnel. This tunnel carved through the mountain is 13' 2" wide and 12' 2" tall and was designed to perfectly frame Mount Rushmore while you're heading north. It is quite an impressive site. This beautiful drive is not an RV-friendly stretch of highway, so once again you'll want to leave your rig parked while exploring this road. Expect a 60-minute drive one way along this route.
Wildlife Loop Road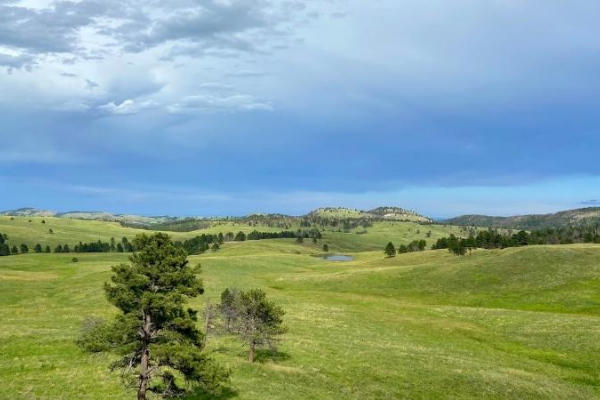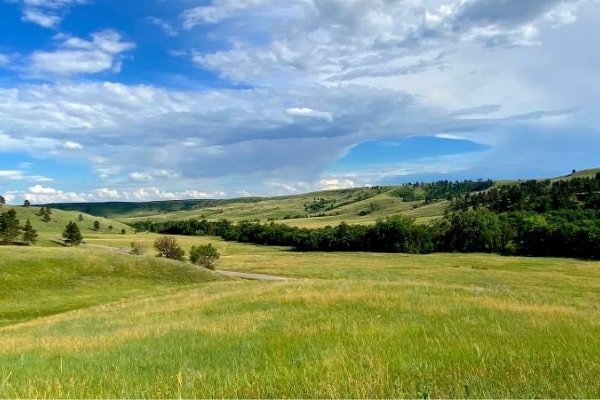 As we mentioned before, this 18-mile scenic loop travels through the south end of the park and winds through open grassy meadows and hills dotted with pine and crosses clear flowing streams. Depending on the day, you can see antelope, deer, coyotes, prairie dogs, and the begging burros on your drive. But, perhaps the most well-known feature of the drive is Custer's bison herd. At over 1,500 animals strong, this herd roams the grasslands in the park's southern end and can almost always be seen from the road. We have seen and experienced cars completely surrounded by bison, and it makes for an extremely unique experience. Depending on "buffalo jams," and whether you stop to feed the burros, we recommend planning around 1 hour to 1 1/2 hours for this drive.
Hiking
The park offers many hiking opportunities that allow visitors to get off the beaten path and explore the park in an up close and personal way. In addition to the designed and marked trails, off-trail hiking also is encouraged in Custer, and visitors are allowed to hike wherever they would like. Depending on the area of the park in which you hike, the trails differ greatly in their topography and geography.  A complete listing of Custer State Park trails with descriptions and topographical maps can be found here.
Camping In Custer
Custer features 10 campgrounds, each with a unique feel, throughout the park.
Blue Bell Campground
Center Lake Campground
French Creek Horse Camp
French Creek Natural Area
Game Lodge Campground
Grace Coolidge Campground
Legion Lake Campground
Stockade North Campground
Stockade South Campground
Sylvan Lake Campground
Most campgrounds here offer electric sites, with water available at various locations throughout the campground. The lone dump station in the park is located at Game Lodge Campground. 
Blue Bell Campground is our favorite in the park. It's located in the southern portion, close to the Wildlife Loop Road, and seems to be carved into a pine forest. The Blue Bell stables are close by, offering trail rides by horseback, and the Blue Bell Lodge (within walking distance) is a nice escape to grab lunch or dinner. Check out our full in-depth review of Blue Bell Campground here and find out why we love it so much.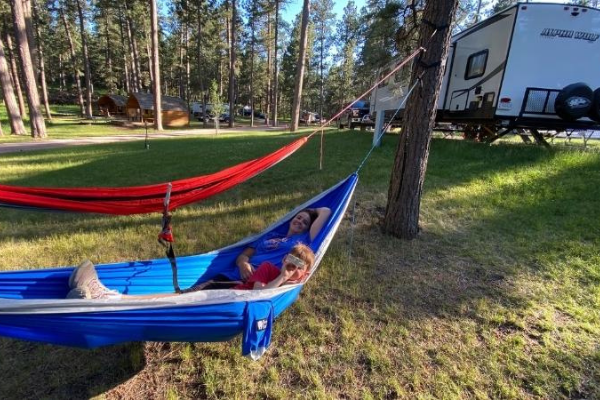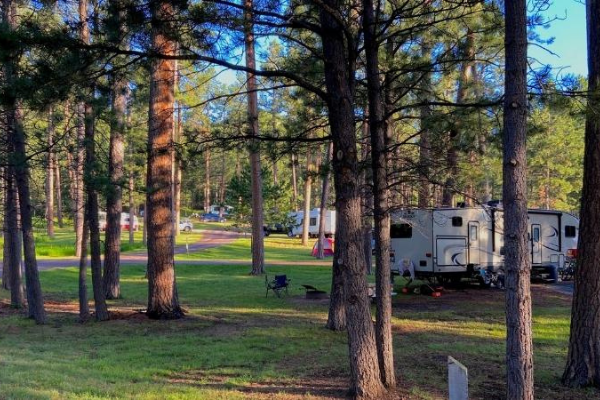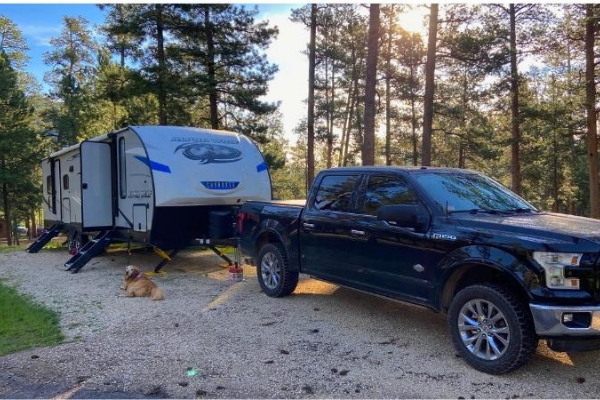 Other Activities
Sylvan Lake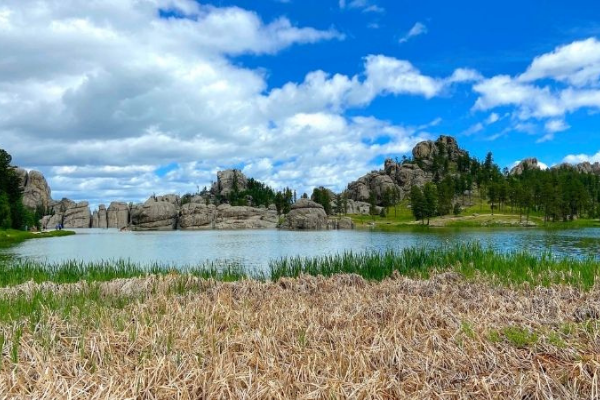 Sylvan Lake is a beautiful body of water located in the northwest corner of Custer State Park. It can be accessed via the Needles Highway if you're in the park, or by Highway 87 from the north. The Sylvan Lake area offers many activities to visitors…you can rent canoes or kayaks and get out on the lake, or try your hand at fishing for the trout, panfish and bass found in its waters.
The loop trail that goes around the lake is 1.1 miles in length, mostly flat, and comprised of packed gravel, making it a relatively easy hike for most individuals. The views from the trail can be stunning as it traverses the shoreline, and there are several large boulders along the way that kids and adults alike will enjoy scrambling to the top of in order to enjoy the breathtaking views from that vantage point. There is even a small swimming beach at the lake for those that are interested in cooling off on a hot summer day.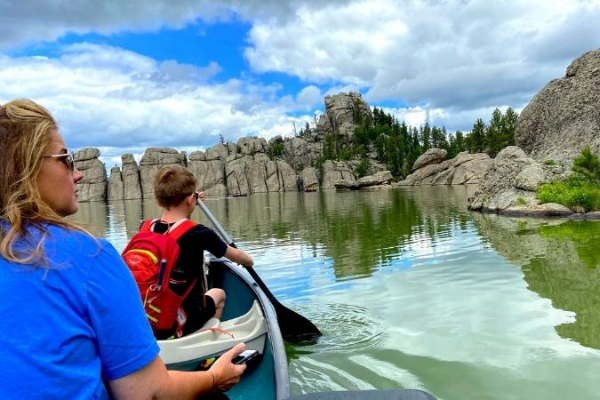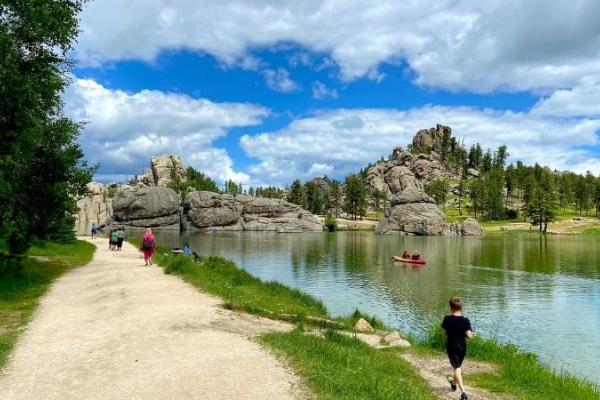 The nearby Sylvan Lake Lodge offers visitors a chance to grab lunch in the restaurant or stock up on drinks, snacks, and souvenirs while they are there. Due to the many activities and its scenic beauty, Sylvan Lake is quite popular, and parking can be somewhat limited. So, we suggest arriving at the lake early in the day when crowds are somewhat minimized.
Custer State Park is home to a number of other activities as well. The streams in Custer are teaming with trout waiting to be caught. The trails and roads in Custer are perfect for biking and walking. Eagles and other birds fill the skies and are waiting to be seen by all those who are interested. And the lakes in the park are waiting for you to take a cool refreshing dip.
Truly Custer is a magnificent destination unlike any other we have experienced!
Hi, we're Kim and Matt, and together we make up S'more Time Together. We are a normal American family just like you…working a full-time job, balancing family life, and dreaming of traveling to places we've never seen. We try to make the most of our time off by traveling as a family and savoring all the precious moments that come our way.
We invite you to come along on our journeys as we share unique destinations, campground reviews, and adventures you can enjoy as a family.  You can find us on the web at our S'more Time Together blog, on Instagram and Pinterest (YouTube coming soon!). Join the community and follow along as we encourage you to make s'more time together with the ones you love!