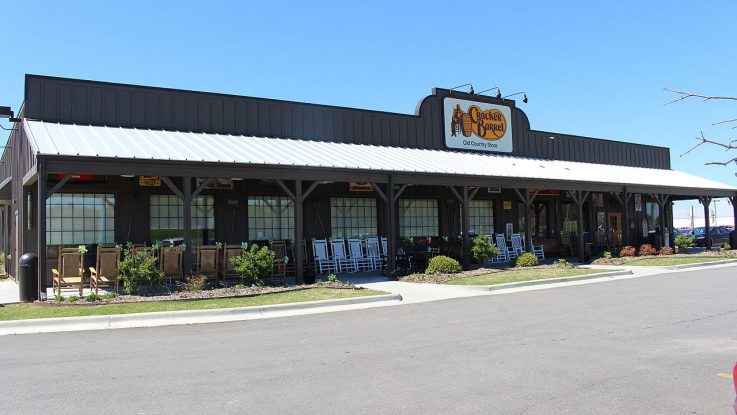 Chances are if you're an RVer (or any traveler) you've eaten at a Cracker Barrel.  If you haven't, you're missing out! The restaurants are famous for their delicious home-cooked food and country farmhouse atmosphere. But are they RV-friendly? Do the restaurants permit overnight RV parking? 
Is Cracker Barrel RV Parking a Thing?
Per their website, most locations can accommodate motor coach or RV parking. You can search locations to see if they are RV or bus accessible. (The FMCA Road Atlas & Travel Guide also highlights Cracker Barrel locations.)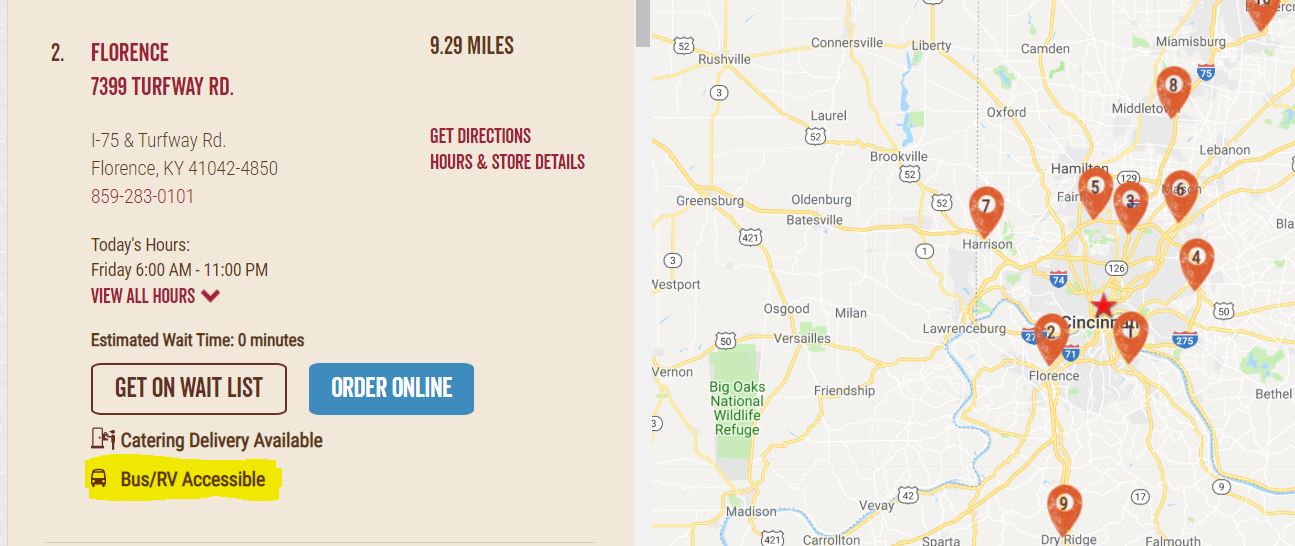 Of course, you must check with each individual location for details and rules. Prior to arrival or upon arrival, ask to speak with the store manager to learn the location's policies.
Not every Cracker Barrel allows overnight RV parking. You always should get permission before staying overnight.
If staff has granted you permission to stay overnight, it's important to ask these questions: 
Is it okay if I run a generator?
Can I extend my awning and slide-outs?
Can I put down my leveling jacks?
What To Expect
Cracker Barrel generally designates an area of its parking lot for RV and bus parking so that it does not interfere with general customer parking. The spots are around 40-foot long and do not have any hookups, so plan to dry camp.
You can expect the restaurant to be busy during mealtimes, especially during the weekends. Most locations open at 6 a.m. and close at 10 or 11 p.m. It is not recommended to arrive after hours unless you have received permission already from the store manager.
Cracker Barrel Overnight RV Parking Tips 
Make sure it is allowed.
While most Cracker Barrels allow overnight parking, there are some that do not. You can either call the restaurant ahead of time or go inside and ask when you arrive.  Make sure you ask to speak to a manager and see if it is okay, even if you've heard from fellow RVers, websites, or apps that it is allowed. Ask first-hand for yourself.
Be respectful of your surroundings.
Remember that you are staying in a business' parking lot, not a campground. That means keeping your noise to a minimum and not disturbing other customers' experience or disrupting employees from their normal business. Do not set up lawn chairs and grill your dinner in front of your RV.
Show your appreciation toward the restaurant.
Make sure to be polite and thank staff for letting you stay overnight. In the morning before you hit the road, fill up on breakfast or at least buy something from the location's gift shop. It is a good gesture to show you are thankful for the service they provided you.
Only stay for one night.
Don't get greedy and take advantage of Cracker Barrel's generosity. Stay for only one night before you continue on with your RV adventure. There might even be other travelers who will need your parking space the next night, so don't hang out all day.
Leave the parking lot in better shape than when you arrived.
Clean up after your pets and pick up any trash you may create. Even if the trash isn't yours, help the staff keep their parking lots looking nice. Deposit all trash in the nearest dumpster.
Stay safe at all times.
If you feel like the area is not safe or makes you feel uneasy at all, do not stay there! There are plenty of other options for free overnight RV parking (Walmart, anyone?), so don't risk it. Expect there to be no security on site from the time the employees leave at the end of the night until the morning crew comes in the next day. You are parking at your own risk.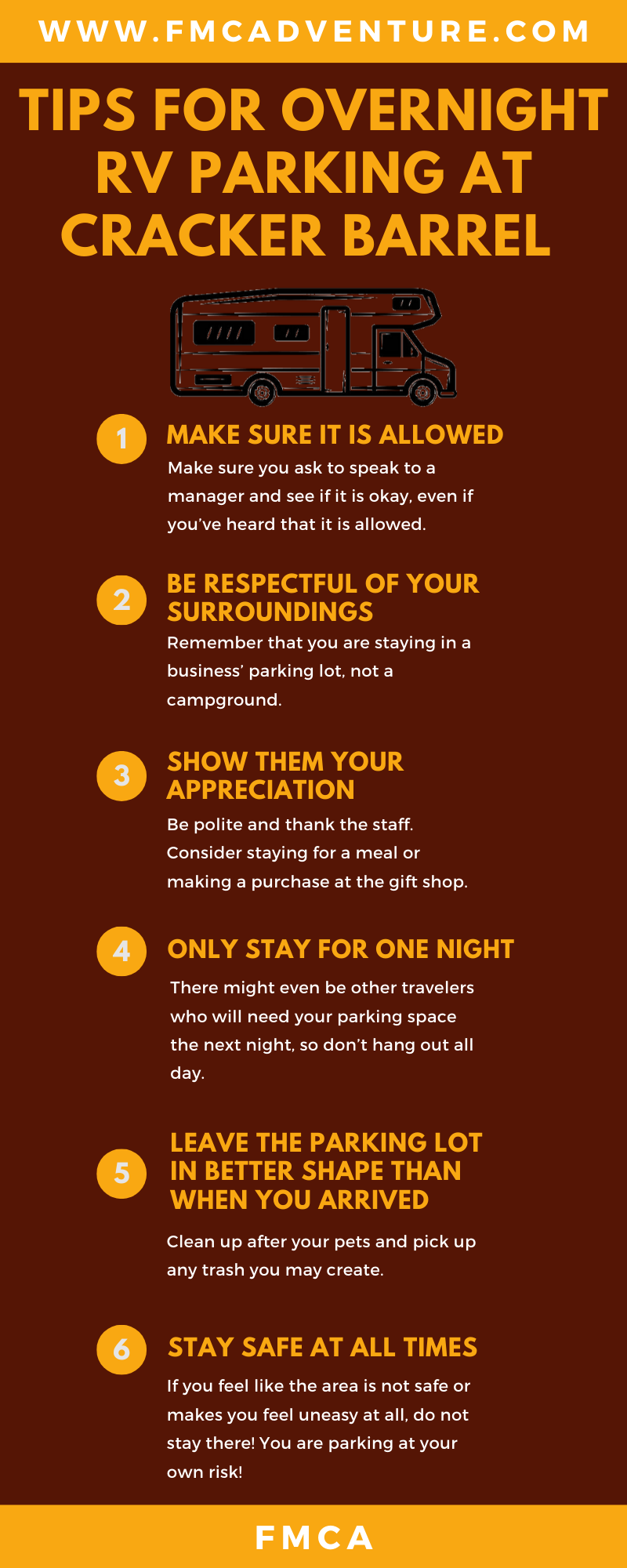 Have you parked your RV overnight at Cracker Barrel? What was your experience? Comment below.