RV Organization is very important to my existence in the RV lifestyle.  When you are living in such a small space, with limited storage, one is forced to rethink what is necessary to have with you for your journey.  
Paring down to only essentials would be so much easier if it were just me that needed to be accounted for.  However, when you add my husband and three boys to the mix, RV organization can get a bit trickier.  In the past, when my boys were younger, it was common for things to kind of disappear from the RV, while I was cleaning.  I am not saying that I had anything to do with these disappearances, but let's just say I wasn't sad either.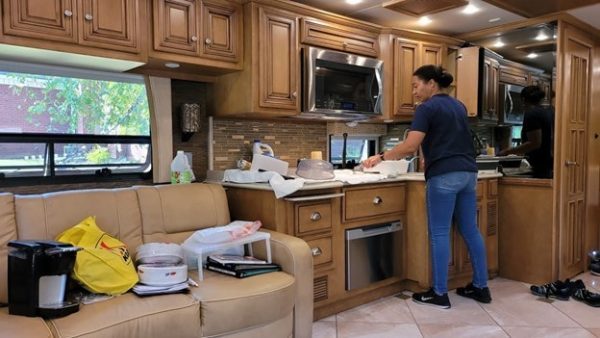 I must have a somewhat organized living space to maintain my sanity.  Sanity is a very important commodity when you have three vivacious young boys, but I digress.  
Lately, I have become a fan of the minimalist movement.  However, it seems that my family does not share my enthusiasm for minimizing the items that they own. In fact, they swing to the other side of the pendulum.  It feels like they are wanting to bring more and more items into the RV.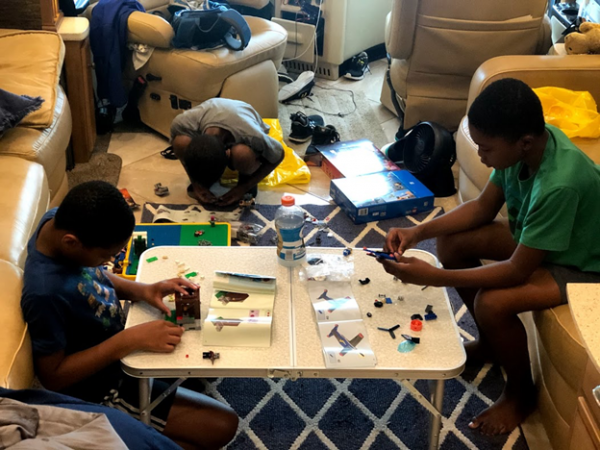 This has forced me to get more intentional with storage places in our RV.  Like most RVers, I have found that although the RV manufacturer may have intended for the closet in the bedroom to hold your hanging clothes, this may not be the best usage of that space when organizing for your family.  Ultimately, no matter how many bloggers and YouTubers I follow to get ideas about RV organization, it basically hinges on what I think will work best for my family.  And so it will be for you, too.  I will attempt to share with you some of my RV storage ideas, and I hope that it helps you to rethink some of your storage spaces in your tiny home on wheels.
Organizing Gadgets Galore
When we began RVing, I wanted to fit all the kitchen gadgets from home into our tiny space.  My excuse was that if they expected me to cook the same way I did at home, then I needed to have all of my kitchen items that I used at home to make those meals.  So, I hauled my blender, mixer, crockpot, coffee pot, ice cream maker, etc.…  You see where this is going.  Every overhead storage compartment over the couch had pots, pans, and kitchen gadgets loaded in.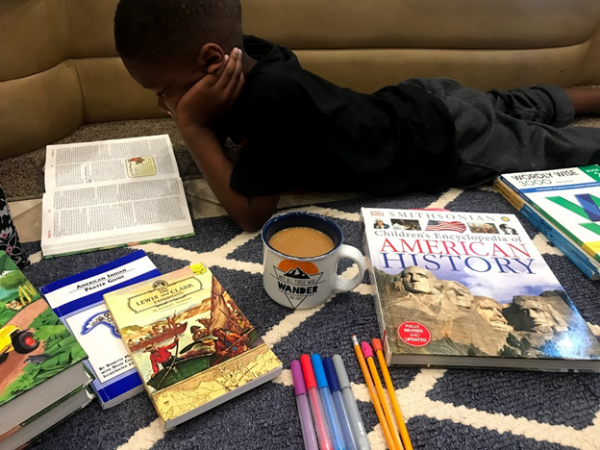 However, as the kids got older, I needed to make room for homeschool books and materials during these trips.  This meant that I had to phase out a lot of my kitchen gadgets.  I have learned I did not really need a lot of that stuff.  The funny thing is I have enjoyed the downsizing! I must admit that I have also begun to apply this to how I approach the items in my sticks-and-bricks home.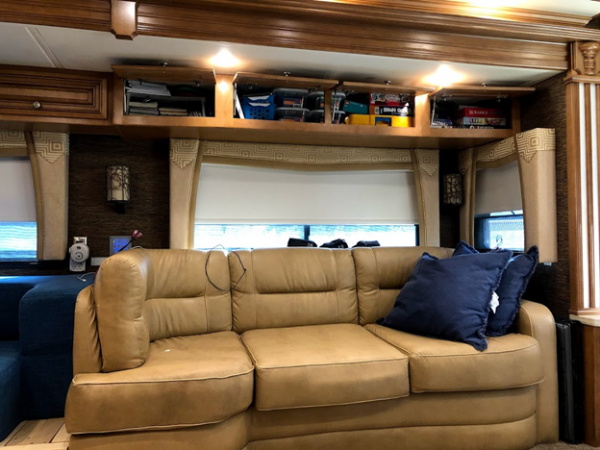 Today I have repurposed all of that prime storage space to store our reading materials, family games, and homeschool items.
What You Want, Baby I Got It!
In the past, we have tried to make sure that we go to the grocery store before leaving home and pick up our favorite snack and meal options.  We would then attempt to add in most of the foods that we would need for our long trips, to reduce the grocery stops and avoid being in situations where we couldn't get our favorite brands.  (Yes, that also means we have a freezer in the underneath storage bay of our RV.)   As you can imagine, that led to a very cluttered kitchen pantry and fridge.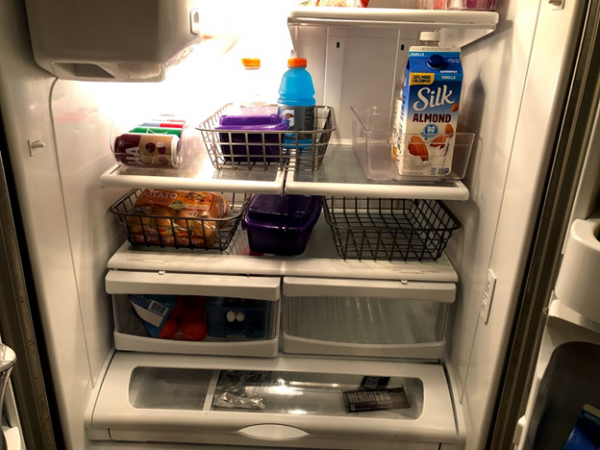 Don't get me wrong; we still make sure to grab the most important items that we just can't live without, like my vegan alfredo sauce from Whole Foods.  However, for the most part now we shop for the week, just like at home.  This gives me the ability to organize our fridge using baskets from the Dollar Store and clear refrigerator storage bins from Camping World.  It not only looks better, but it also prevents little accidents that occur when you open the fridge after a travel day.  We all have had this happen.  You are so hungry and anxious to grab something from the fridge that you forget to slowly open that door and things that have shifted during travel tumble out onto the floor.  Now you have to spend the next ten minutes or so cleaning up the mess.
Clothes, Clothes…Everywhere!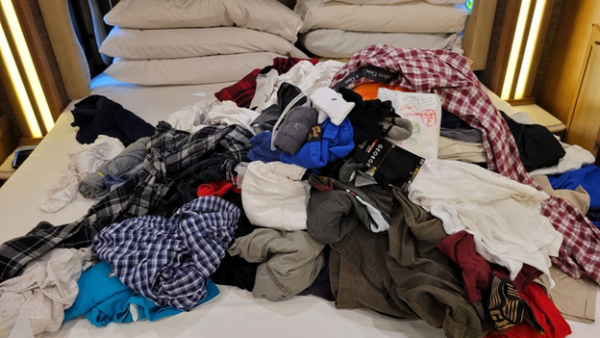 I think the biggest obstacle has been trying to find a good spot for everyone's clothes and an easy method for my boys to responsibly keep everything neat.  Traveling and living in a motorhome limits our storage options for clothing.  I have always been a bit jealous of families that travel in travel trailers and fifth wheels. They are able to give their kiddos the option of having a separate living space.  The kids having their own bedroom enables their clothing to also have a designated space apart from the parents' space.  Don't get me wrong; there are pros and cons to each RV on the market, and I am happy with our motorhome.  
Once again, the Dollar Store has come in to save the day when it comes to RV organization!  Finding a variety of bins is clutch when you are looking for money-saving ways to transform the storage in your tiny space.  These hanging organizers from Target fit perfectly with my Dollar Store storage bins.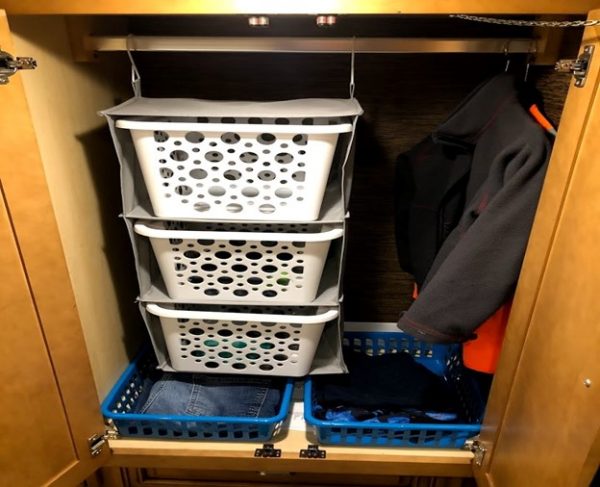 I had to pare my boys' clothes down.  I only allow them to bring the number of shirts, pants, shorts, etc. that can fit in a basket.  They are responsible for separating their clothes into the appropriate basket and putting them away when the laundry is done.  This has been working great, and I am finally hands off of the sorting and folding of their clothes.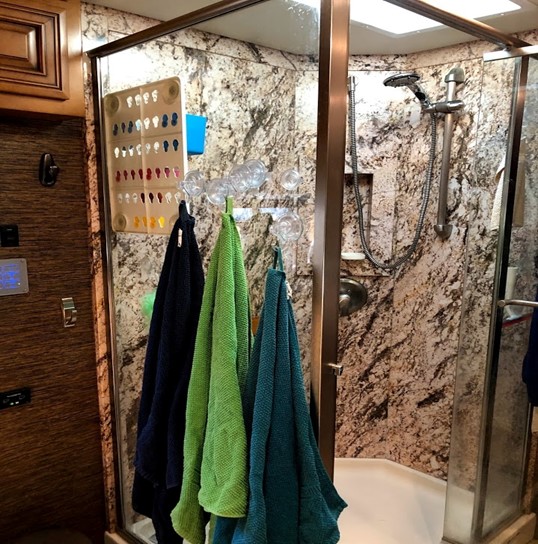 By no means have I included all of the storage solutions that we use to stay organized in our RV: however, I hope that something that I have shared has influenced you to rethink some of the RV organization and storage ideas in your rig.  Of course, this is a fluid situation. I am sure that there will be loads of changes as our family gets older and interests/hobbies change.  
Good luck and Happy Trails!
Meet the Family – Tia Sims, Mom of SoulfulRVFamily 

Soulful RV describes themselves as not the typical RVers. Keith (a former NFL player) and Tia, F452083, are an African American, semi-retired couple with a large family. They share both the practical and fun sides of RVing on SoulfulRVFamily.com and social media, as well as being guest bloggers on FMCAdventure.