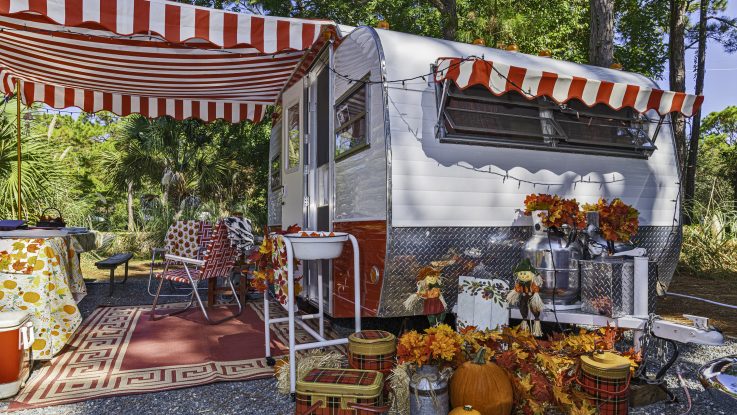 Halloween camping is the perfect way to celebrate a popular holiday from your RV. The fall weather is ideal for campfires, cool evenings, and colorful leaves. It's a holiday that encompasses basically an entire month since it takes place on the 31st. Once the calendar flips to October, you have a free pass to get as festive and spooky as you want at the campground and nobody will judge you. With that free pass comes the ability to decorate your campsite, RV, tow vehicle, and even wear your favorite costume! We're here to help you ensure your campsite looks spooky, festive, and ― most important ― fun!
Halloween Camping Themes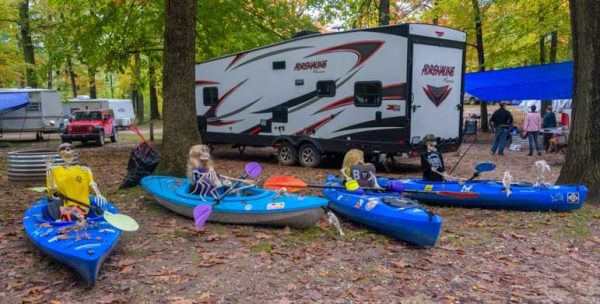 When it comes to campsite decorating, you'll want to pick a theme so that your site is not all over the place in terms of decorations. Here are some theme ideas to get your ideas flowing, but feel free to create your own and share them in the comments!
Festive – Think of all of the traditional Halloween monsters and motifs ―Pumpkins, witches, scarecrows, orange/purple lights.
Camping – This is a fun opportunity to put a Halloween twist on all your existing campsite décor, or create some new fun and spooky camping-themed decorations.
Spooky – Beware! This type of campsite decoration might lead to kids being too afraid to walk up and get candy. The more skeletons, cobwebs, monsters, and gore, the better!
Movie – Do you have a favorite Halloween movie? Maybe you just CAN'T stop buying Charlie Brown and the Great Pumpkin memorabilia and you want to show it off. Perhaps you are a huge Dracula fan and you want to re-create what you think his campsite would look like.
Trick-or Treat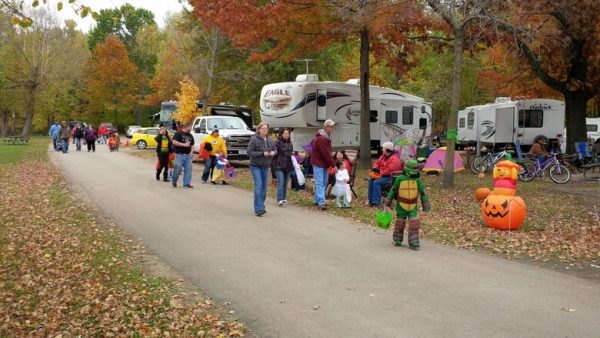 Since 2020 is a unique year, trick-or-treat most likely will look different at any participating campground. You'll probably need to come up with a socially distant method to get the candy to the kids. Make sure to keep in mind that little children will be walking in the area surrounding where the candy is located, so consider setting up away from campfires, grills, ropes, or stakes.
One way to avoid close contact is to create trick-or-treat goody bags with candy, stickers, or other Halloween goodies in them. You can prep a bunch of them early in October using plastic baggies. That way, if you plan to camp at multiple campgrounds or for more than one week at a time, you can hand them out if kids come by on multiple nights.
One way to make sure the entire family is satisfied when they leave your campsite is to have some treats for adults and pets as well. We're not suggesting you provide cocktails for the parents and tennis balls for the pets (although you'll certainly make some friends that way!), but something as simple as a dog/cat treat and a bag of chips will ensure they leave thinking you're a good campground neighbor.
Light it Up and Plug it In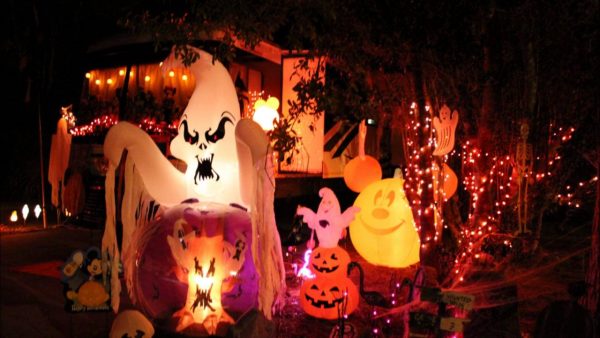 When it comes to light-up lawn decorations, we think Halloween is the new Christmas. There are plenty of LED lights and glow-in-the-dark decorations at Walmart or Halloween Express that are affordable and very cool. A fog machine or motion-sensor decoration will show everyone that you mean business. If you have some extra room in your storage areas for these types of things, your camp neighbors will appreciate the effort ― just make sure to turn the lights off by the campground's designated quiet time or earlier. 
Location, Location, Location
There are lots of campgrounds that host festivities throughout the month of October, but Disney's Fort Wilderness might take the cake. Check out the video above for a golf cart tour of the campground that shows you how seriously some campers take their decorations. With 2020 canceling so many plans, though, it is important to do your research before booking a campsite. Just because a campground has held festivities in the past does not necessarily mean they will this year.
If you are looking to find some additional Halloween adventures in the areas surrounding your campground, check out our blog Best Halloween RV Trips to Take for some inspiration.
What are your Halloween camping plans this year?