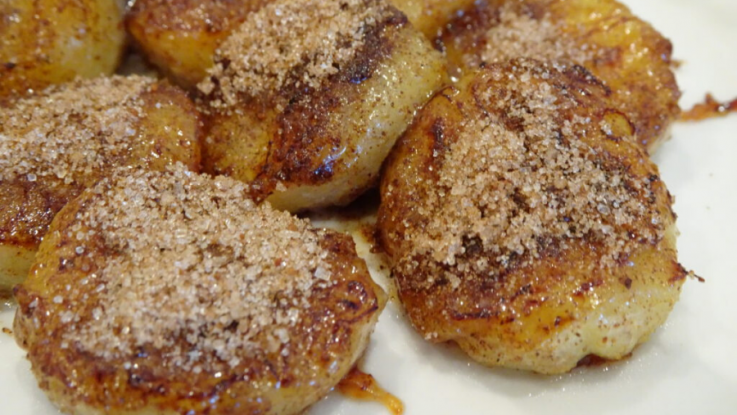 The Background Story
Your local grocery store may be looking a little bare right now which can make satisfying your sweet tooth a challenge. Have no fear! With just a few items from your pantry and bananas, you can calm that sweet tooth in less than five minutes.
This wonderful little dish saved my sanity during the prep for my cancer treatment. I had thyroid cancer. (I can't tell you how much I love saying "had.")
The treatment for thyroid cancer is different from other cancers. It seems so simple but is so darn complex at the same time. In a nutshell, you begin by depleting your body of iodine on a low-iodine diet for two weeks. Then you take a radioactive iodine pill which will zap any remaining thyroid cells in your body. The last part is a whole-body scan to make sure the radioactive iodine did its job. I got to do this process twice. All good news though and I've officially been in remission since November, 2016.
For the low iodine prep, I was given a sheet of paper stating what I could and could not have. Basically, I could have all fruits and almost all vegetables (no spinach or kale). Most nuts, small amounts of dark chocolate, egg whites and up to six ounces of lean, no salt added poultry was okay. The banned list was long, so very long. No commercially baked goods, no dairy, no red meat, no cured meat and on and on. It was only for two weeks, so I knew I could do it.
When I say I love sweets, I mean it. Small amounts of dark chocolate were not going to cut it.
I saw this recipe while cruising Pinterest, glass of wine in hand. The timing couldn't have been better. I was closing in on day one of the low iodine diet and was a bit nervous that I'd do it correctly. The stakes were high and a successful prep was key to a successful treatment. Yeehaw! All ingredients were safe. I couldn't get the skillet on the stove fast enough, I had to try this right now.
The recipe calls for nonstick oil spray, which in our kitchen is Pam. I was leery of using it during my low-iodine diet (LID) so we used a little olive oil instead. Post treatment I had a big scoop of ice cream in a bowl topped with these little pieces of heaven. It was delicious with a capital D!
My Process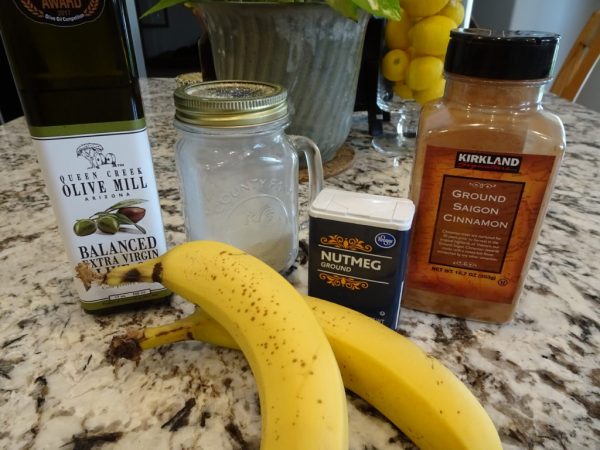 This recipe is super fast. For me it was better to have all the parts prepped before turning on the stove.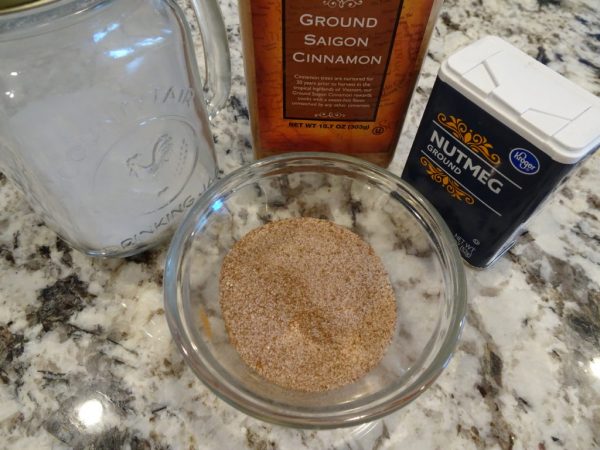 Combine cinnamon, nutmeg and sugar in a small bowl and cut the bananas. The first time I cut them too thin, cutting them about 1/3 of an inch worked better the second time.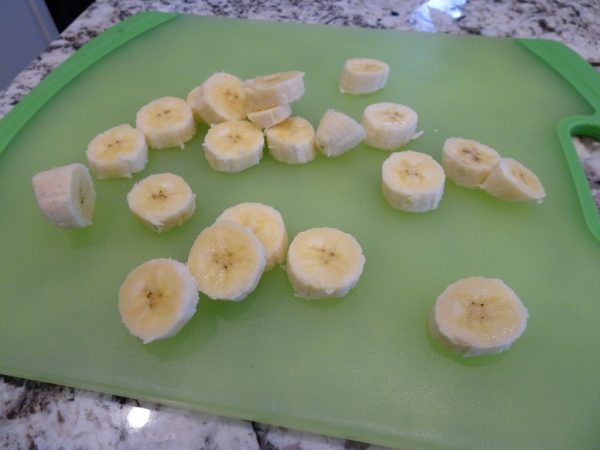 Either spray the nonstick oil in the pan or heat a teaspoon or two of olive oil in the pan. When the pan is ready, place the banana slices in and sprinkle half of the sugar mixture on all the bananas.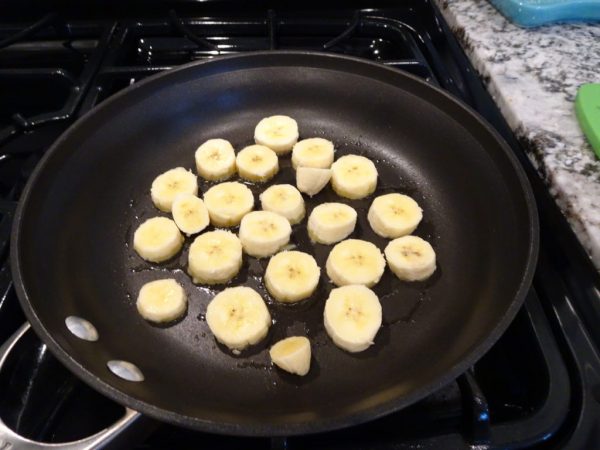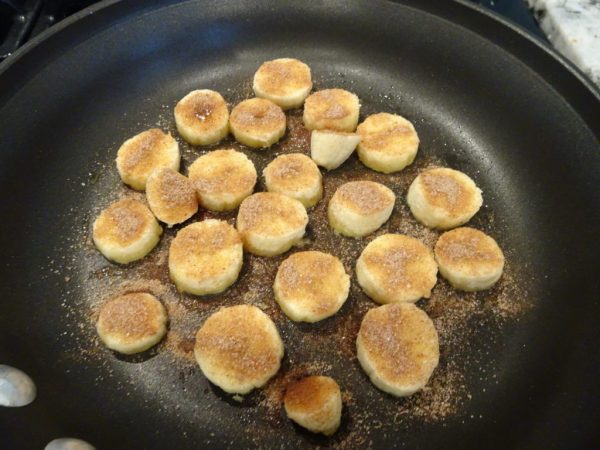 Fry for two minutes and turn the banana slices over.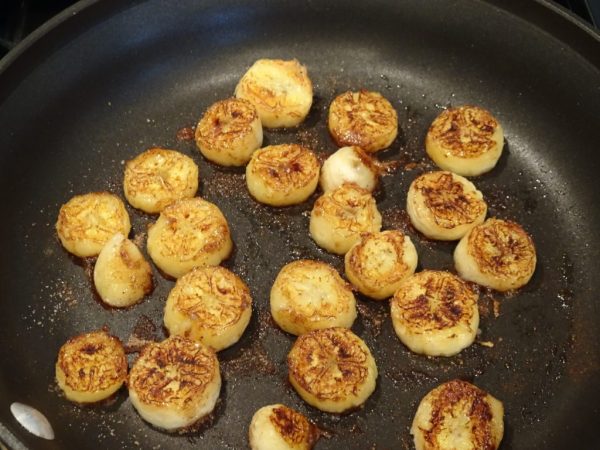 Sprinkle the rest of the sugar mixture on the slices and fry for two more minutes. I love how the sugars in the bananas mix with the sugar mixture and make this awesome sticky, syrupy sauce.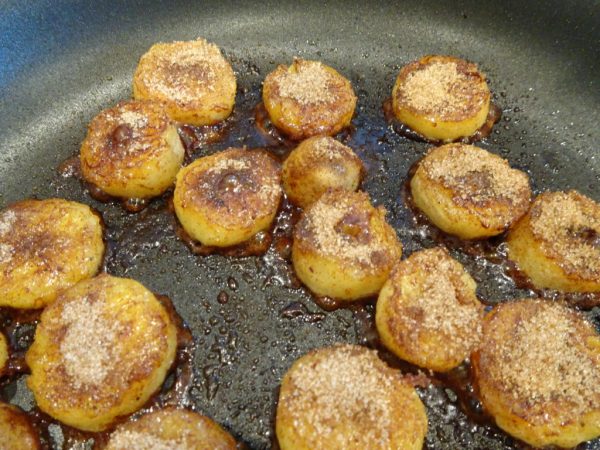 Carefully remove from pan and enjoy.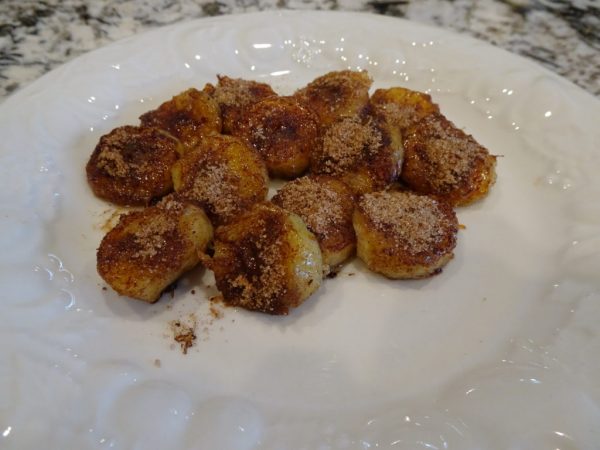 It hit the spot perfectly on my restrictive prep diet. It's something we still eat today.
Cinnamon Fried Bananas Recipe Credit: Dizzy Busy & Hungry
The Recipe
· 2 bananas Slightly Overripe
· 2 tablespoons sugar
· 1 teaspoon cinnamon
· 1/4 teaspoon nutmeg
1. Slice the bananas into rounds, approximately 1/3 inch thick.
2. Combine the sugar, cinnamon, and nutmeg in a small bowl, set aside.
3. Heat a large lightly sprayed large skillet with nonstick spray.
4. Add the banana rounds and sprinkle 1/2 of the cinnamon mixture on top.
5. Cook for about 2-3 minutes.
6. Flip bananas, sprinkle with the remaining cinnamon mixture
7. Cook for 2-3 more minutes until the bananas are soft and warmed through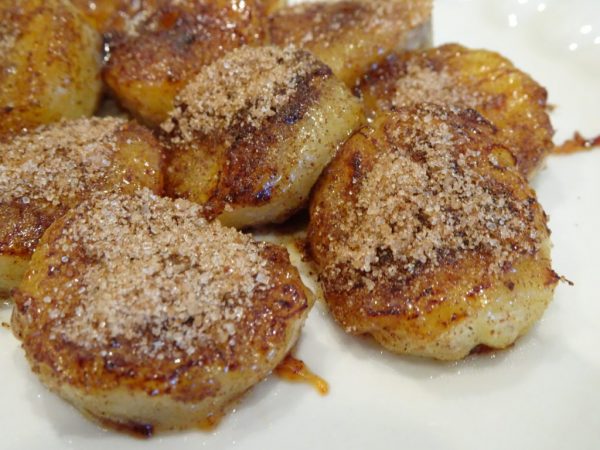 Did you try this recipe at home? What did you think? Leave a comment and let us know.
Meet the Family
I'm Maureen Milne, F446881 . I'm a mom of two (now grown-up!) boys, ages 26 and 24. My husband, Mark, and I have been married 30 years. We are an adventurous family; our friends call us "X-Games."  We are avid hikers, cyclists, and skiers (both snow and water). Mark does triathlons and we run in 4-5 races a year. We've been RVing together since we were teenagers in 1984. I share our RVing adventures on my blog, M&M Hit The Road. I also post stories and pictures on Facebook and Instagram.