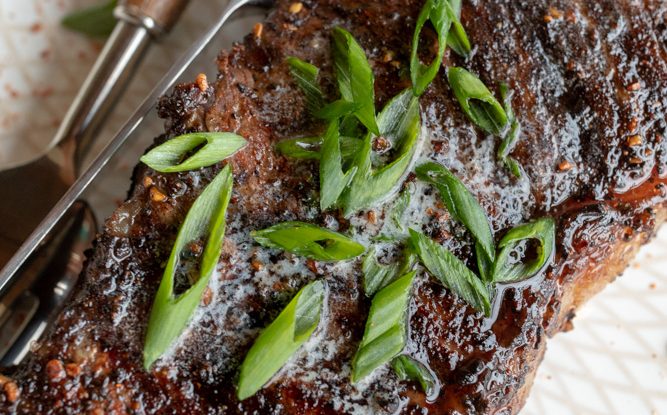 Who says that food has to be simple when you're camping? That is a myth — these Columbian Coffee Grilled Steaks will have you feeling like a 5-star chef without leaving your campsite. Your dinner guests will think so, too!
Read on for this easy recipe from Kate Dunbar of The Campground Gourmet, and get grillin'!
Columbian Coffee Grilled Steak Ingredients
Serves 4
4 New York strip steaks
1/4 cup olive oil
4 tablespoons soy sauce
2 tablespoons Worcestershire sauce
2 tablespoons brown sugar
2 tablespoons whole grain mustard
2 garlic cloves, minced
1/4 teaspoon red chili flake
2 teaspoons Columbian Supremo coffee, espresso ground
1/2 teaspoon sea salt
1/2 teaspoon ground black pepper
Preparation
In a medium size-measuring cup, add all the ingredients except the steaks. Whisk ingredients until combined. Next, place steaks in a large zip top plastic bag, and pour the marinade into the bag. Seal and place in the fridge for at least 4 hours or overnight.
Begin to prep your grill. Light one chimney full of charcoal. When all the charcoal is lit and covered with gray ash, pour out and spread the coals evenly over the center of the grate. Place top grill carefully over the hot coals; preheat for 5-7 minutes. Once hot, using a pair of tongs, brush the grill with a paper towel dipped in grape seed oil.
Remove steaks from marinade, pat dry, place on a sheet pan, and allow to come to room temp for 20-30 minutes while the charcoal is heating.
When your grill is ready, cook steaks for 4 minutes a side for medium-rare. If you like medium-cooked steaks, cook for 5 minutes per side.
Lastly, remove steaks and place on a platter or cutting board. Rest for 6 minutes and serve.
---
Steak not your deal? Try this salmon recipe instead.
Did you try to make these Columbian Coffee Grilled Steaks? How did it go? Tell us below in the comments. 
Meet the Chef

Kate Dunbar has always had a passion for food. Growing up in a farming family, she truly took the statement "love your farmer" to heart. She is the author of The Campground Gourmet, Simple Delicious Recipes for Dining in the Great Outdoors. Kate's mission is to show how delicious and simple outdoor cooking can be. Spending time at the campground started with her grandparents and now continues with her family as they travel all over the United States in search of food, fun, and the joy of the open road. Check out her website www.thecampgroundgourmet.com for more camping recipes!