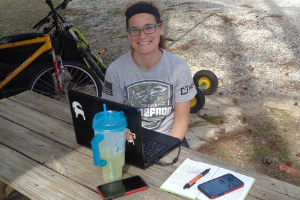 RVing has become very popular in recent years. Some might even say insanely popular. Heck, even the latest Toy Story movie is set in an RV. So it's no surprise that a lot of new RVers are younger and still in the workforce. I'm one of them working in an RV.
I've been living and working from my RV for almost three years now. And while I could have written a post with some Instagram-worthy photos of RV work spaces, I didn't. Instead, this is an article sharing a real taste of what it's like to work inside an RV.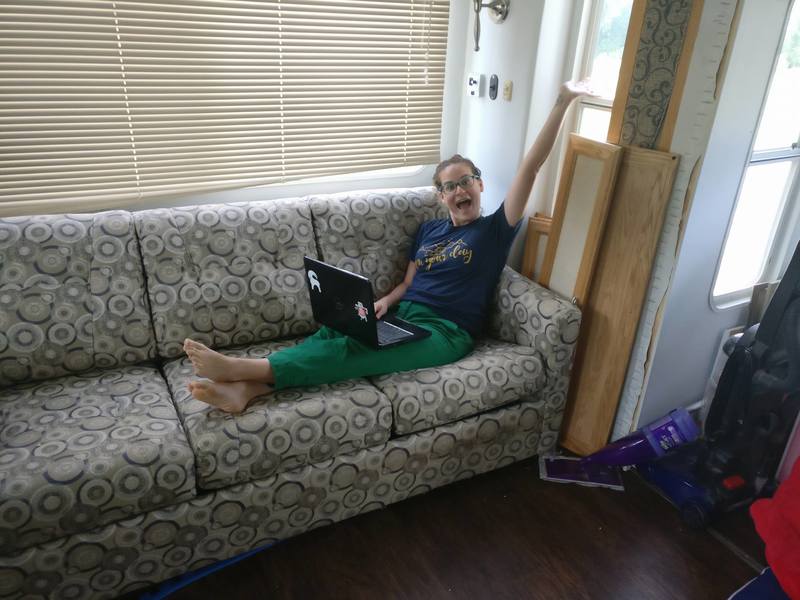 I've used a kid's arcade as my office.
Here's the biggest thing about working from the road: You need to be resourceful. If something goes wrong, you don't panic. You can't. You just solve the problem by any means necessary.
Here's an example…
Last summer, we had a power outage at a campground. My husband couldn't get our generator to start and my cell service was acting wonky at our campsite. With only about 20 minutes until a client call, I quickly dashed to the campground's main office. They said there was still electricity and internet working in the kid's arcade of the park.
I hightailed it over there, set up shop, and said a quick prayer that no kids would come in with a sock full of quarters.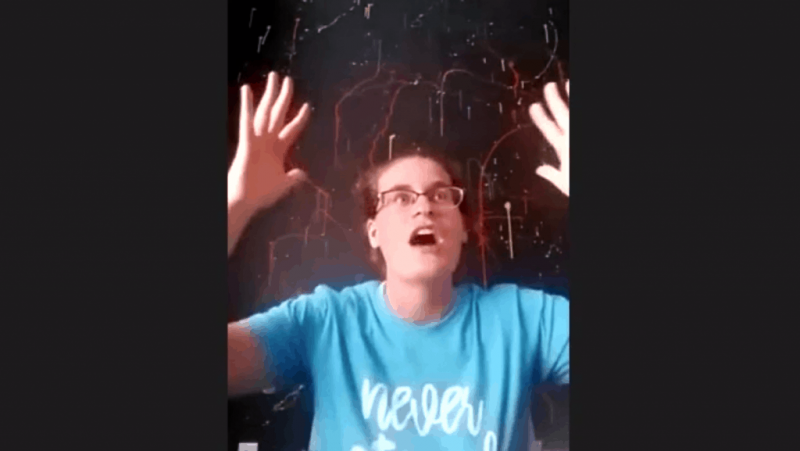 It was one of the strangest places I've ever worked. But, hey. I got it done and everyone was happy. That's what working from the road is all about.
I've stayed up really late and gotten up very early.
To tell you a little more about myself, I have a four-year-old. One of my biggest reasons for RVing is to spend as much time as possible together, so working odd times helps me do that. In an attempt to reserve most of my daytime for exploring and family adventures, I have to stay up late or wake up early.
In fact, this might seem restrictive to some full-time RVers who don't have to work or to those that only RV for vacation. For my family living in an RV, it seems to bring the greatest work-life balance. A general rule is that I don't want to be working between 11 a.m. to 4 p.m. local-time, wherever we may be. This usually gives my family plenty of time to enjoy an outing, go for a hike, or have fun together enjoying the campground amenities.
After three years of working from my RV, sometimes I just need a change of scenery. (Imagine that. A full-timer saying she needs a change of scenery. Ha!)
Now, when you live in a relatively small Class C with a preschooler, this can be very hard to do. The dinette isn't exactly private. And the preschooler isn't exactly a pro at boundaries yet.
I've used free WiFi from the "real" world.
There are times when I've just got to buckle down and get some work done. This is when I scope out the closest place with free WiFi and spend the day elsewhere. I go crazy for free WiFi! These are some of my favorite places to work outside of the RV:
Panera Bread

McDonald's

The local library

YMCA

Wendy's
You'll notice I did not mention campground community centers.
While I have used these facilities before, they are not my favorite. After about six months of traveling, I realized something: If you walk into one of those places with a laptop, at least three people are bound to come up to ask what you're doing. Or how to connect to the WiFi. Or if you're interested in hearing about their latest black tank nightmare.
Now don't get me wrong.  I'm never one to turn down a good RV horror story, but when I'm working, it can be hard or awkward to try to end the conversation. (And, as an extrovert, I normally want to keep talking, too!) Now, I just avoid these places for work and stick to places off-property where strangers are less friendly.
Working in an RV, it sometimes takes some effort to remember time zones.
Please tell me I'm not the only one who has flubbed up and been late for a call or deadline because of time zones! My computer is always in Central Time because, on top of my running my own business, I have a part-time job that operates in this zone.
This helps me always know the correct time for that company while I'm working. I work in customer support, so this is essential because I must be able to tell people correct times during live phone calls. However, it can cause me to make dinner early (or late) depending on where I am.
I've been too cheap for too long.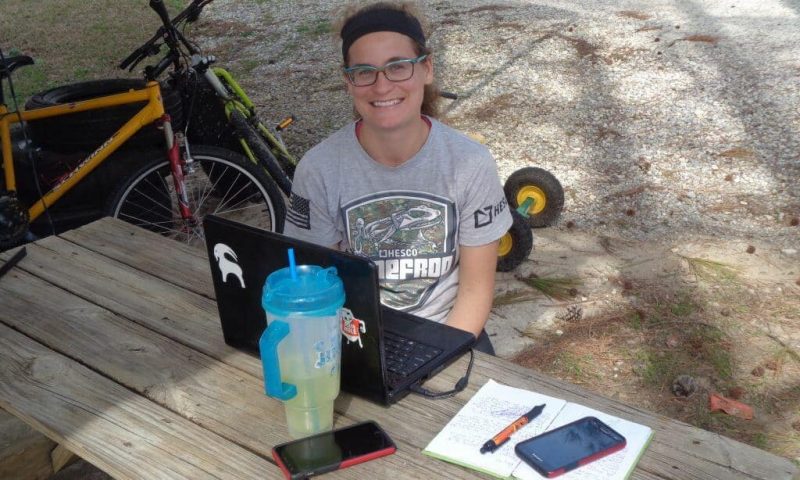 This is no joke. Working outside or at the dinette stinks after a while.
Looking back on my three years of travel, I know I've spent money on things I didn't need… things like RV resorts that cost $70+ per night. While I would sometimes splurge on things like that, I was too cheap to spend money on things that would actually improve my work environment. You know, like an actual desk. With a chair. Or a nice mouse.
This was of course a big mistake. I now know after three years of working from the road that a comfortable work environment is a must for anyone trying to be productive.
Are you working from an RV? I'd love to hear your stories (good and bad). Comment below and let me know how you make it work from your RV.
Author of Tales From the Black Tank, Liz Wilcox is an Army wife turned RV entrepreneur. When she's not out exploring the U.S. with her family, you can find her telling jokes and swapping campfire stories. She is a firm believer in the power of the campfire. At the end of 2017, she gave up personal space in return for personal freedom, hitting the road in a 2007 Jayco Greyhawk. As a full-time RVer, she has a passion for creating community among campers of all kinds through humor and storytelling. You can learn more and become part of her community at The Virtual Campground.