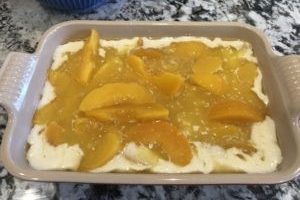 FMCA's 99th International Convention & RV Expo is upon us, and we are really excited to be a part of it. And do you know what else I'm excited about? Peaches. 
I love peaches, and Georgia bills itself as the "Peach Capital of the U.S."  Peach pie, peach cobbler, peach ice cream — I bet there's even a peach martini! But, alas, their peach season is long after we leave for home. What's a peach loving, RV traveling girl to do? Improvise!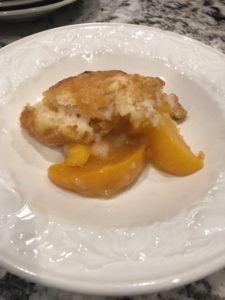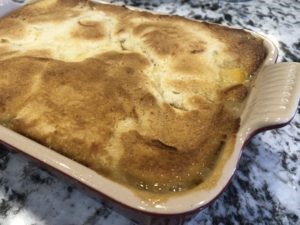 The Backstory
In the summer between 6th and 7th grade, my elementary school offered cooking classes, kind of like pre-home economics. It was one full week where we learned kitchen basics and made food every 12-year-old loved.  I still have the recipes and make some of them to this day.  Besides the brownies, the peach cobbler is the one I use the most.  For whatever reason, I hadn't made it for a while. I've had peaches on the brain for weeks, so I dug out the recipe, made a few tweaks, and threw it together. I am happy to report that the tweaking was a huge success and I'm sharing it today.
What's the big tweak that takes this from good to out of this world?  More peaches!  My 12-year-old self liked one big can of peaches in heavy syrup, but my adult self wasn't wild about the extra sweetness and the batter-to-peach ratio.  I wanted more peaches!
It's a pretty basic recipe — it would almost have to be for most 6th graders.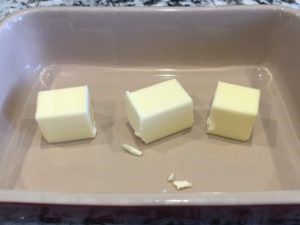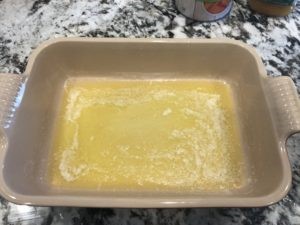 Step-By-Step
Begin by melting a stick of butter in your baking dish.  The original recipe calls for a 9×9 pan, but I have a slightly larger rectangle baking dish that I love using for cobblers. I remember Mrs. Cloud telling us to put the pan in the oven while the oven heats to temperature so the butter would melt — genius.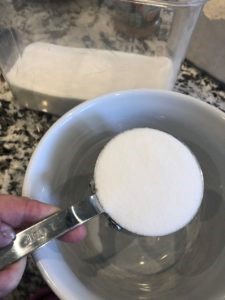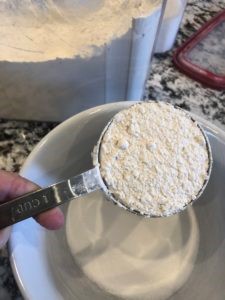 While your butter is melting, measure out your dry ingredients and stir with a fork to combine.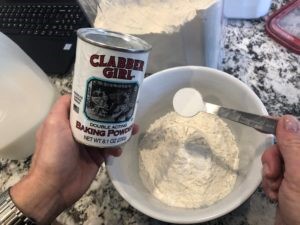 Add milk and stir until well combined.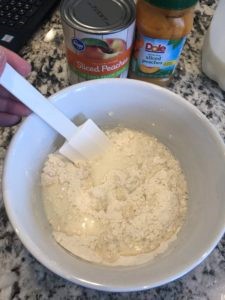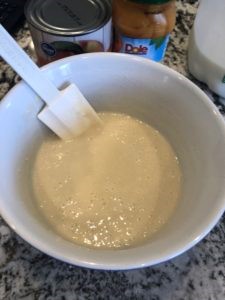 When the butter is melted, remove the pan from oven and carefully pour the batter over the butter but don't stir.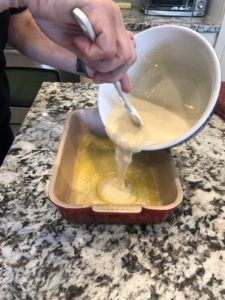 Add the peaches, including the juice, and don't stir.  I remember all my peaches tumbling out of the can way too fast, resulting in a giant glob of them smack in the middle of my dish.  I thought it was ruined, especially after sneaking peeks at all the beautiful dishes of my friends.  For a while, I used a fork, but I have much more control using my hands.  (I always wash my hands before I make anything, and I also wash again right before this step.  There will be no food-borne illness coming from my kitchen.)
I used two different brands of peaches out of convenience only. There was a Dole jar already in the pantry. I knew I wanted more peaches but wasn't sure about more juice as well.  There was a concern it might be too soupy, so I drained the juice from the Dole jar.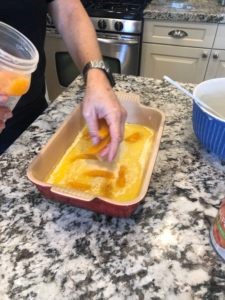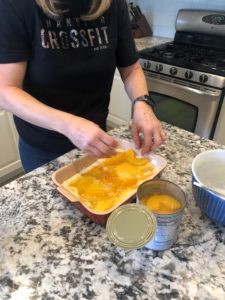 Bake for 35 minutes or until the top is a pretty, golden brown.  With my oven, it is right about 38 minutes.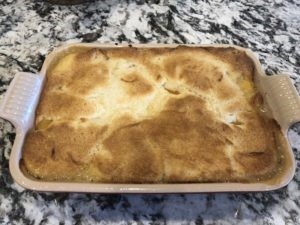 Serve warm with a generous scoop of vanilla ice cream.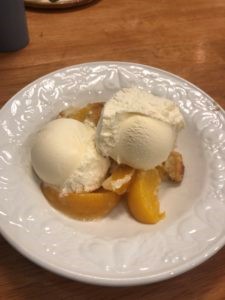 I plan on visiting the famous Lane Southern Orchard while we are in Perry.  Tops on my list to purchase is a peach cookbook, especially one that has a cobbler recipe with freshly picked peaches.
Here is the complete recipe:
Peach Cobbler
1/2 cup unsalted butter
1 cup flour
1 cup sugar
2 teaspoons baking powder
Pinch of salt
1 cup milk (not skim)
15 oz. can sliced peaches in juice, undrained
15 oz. can sliced peaches, drained
Vanilla ice cream
1. Melt butter in a baking dish while the oven is preheating to 350 degrees.
2. Measure and pour dry ingredients into a medium-sized bowl, stir with a fork to combine.  Add milk and stir completely.  Pour batter over butter, do not stir.  Add sliced peaches and juice, do not stir.
3. Bake at 350 for 35 minutes or until top is a nice golden brown.
4. Serve warm with vanilla ice cream.  Save any leftovers in a sealed container for breakfast in the morning. 
Hey, it's packed with fruit so it's healthy, right?! Comment below with your favorite peach dessert.
Meet the Family
I'm Maureen Milne, F446881 . I'm a mom of two (now grown-up!) boys, ages 26 and 24. My husband, Mark, and I have been married 30 years. We are an adventurous family; our friends call us "X-Games."  We are avid hikers, cyclists, and skiers (both snow and water). Mark does triathlons and we run in 4-5 races a year.  We've been RVing together since we were teenagers in 1984.  I'm a three-year thyroid cancer survivor, which has given me a new perspective on life.  I share our RVing adventures on my blog, M&M Hit The Road. I also post stories and pictures on Facebook and Instagram.