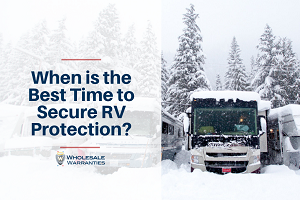 Protecting your travel budget is an important part of the RV life, but it can come with a learning curve. There are a lot of warranties available, and even something as simple as when to buy can feel overwhelming. Whether your RV is brand new, used, or very, very well-loved, keep reading to determine the best time to secure coverage for your home-on-wheels.
We'll pause here for a brief recap: What is an RV extended warranty anyway?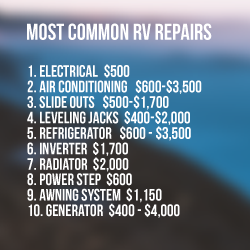 All About Warranties
RV extended warranties are actually extended service contracts. These policies will step in to pay for the repair costs of most major mechanical failures your RV might face. This can range from your refrigerator to your diesel engine and just about everything in between. RVers can lock in an extended period of coverage for these bills, allowing them to travel with peace of mind that their budget is safe from unexpected repair costs.
RV warranties will not cover damages normally covered under your comp and collision insurance, such as accidents or weather. Likewise, they will specifically exclude non-mechanical components like fabric, windows, flooring, and maintenance items like oil changes.
Now that we know what extended RV warranties will do, we'll jump back in on when to buy them!
Let's Start with the Newbies
Your shiny new rig likely came with at least one year of manufacturer warranty, so you don't even need to think about extended coverage yet, right? Not quite.
While overlapping warranty coverage may seem counter-intuitive, there are a few things you should consider before making a decision on an extended policy:
#1 Expected Risk

Warranty companies consider the risk of a vehicle coming out of (or already out of) manufacturer warranty as very high. This will result in exponentially higher pricing for coverage if you buy an extended warranty on an RV without a manufacturer warranty. Depending on the policy you are looking to purchase, this may change what levels of coverage are available to you.
#2 Term Options

When your rig is brand new, extended RV warranty companies allow you to lock in excellent pricing for longer terms. This is will result in your least expensive overall cost for the same great coverage! Without manufacturer warranty, the term available to you will be reduced and your cost-per-year will rise.
#3 RV Inspection Requirements

When a vehicle is out of factory warranty, a full mechanical inspection is required before an extended warranty can be placed. This could result in increased cost, as well as the time involved in completing your mechanical inspection.
#4 Increased Cost for Equal Coverage

Waiting until manufacturer warranty expires will almost always take you into a new calendar year. This results in a price increase based on model year alone.
So while your manufacturer coverage will overlap with your extended RV warranty, many travelers choose to lock in coverage early. This will result in big savings in the long run. However, you are able to purchase a warranty at any time during your manufacturer policy. We always encourage each traveler to make the decision that best suits their budget, travel style, and desired level of risk.
Used RV Warranties
Now let's discuss used RVs. How used is "too used"? The answer might surprise you!
Model Year
While every provider is different, most RV warranty policies will offer coverage for vehicles up to 15 model years old — with some companies, like Wholesale Warranties, going back as far as 20 model years!
Even if your RV is well-traveled, it may still qualify for some level of coverage. It is important to note that regardless of when your RV originally went into service, the RV industry as a whole considers all RVs one model year older on January 1 of each new year. This yearly change has a big impact on extended warranty coverage for used RV owners and should be something you take into consideration when deciding on a warranty purchase. Vehicles that may still qualify in the current year can lose eligibility altogether when the new year hits. Moreover, pricing will increase for all used units at this time, as the risk of major failures increases with the vehicle age.
Motorhomes: RV Mileage
If you're a motorhome owner, another factor to keep in mind is the mileage on your unit. As you travel and put lots of miles — and memories! — on your rig, the RV protection eligibility and rates are constantly changing. Certain programs come with caps with almost all engine coverage stopping at 100k miles on the odometer and coach coverage ending at 125k miles.
If you are getting close to one of these caps, it's a good idea to get a quote for coverage and review your options while they're still available.
---
When to buy an RV warranty and who to purchase it from is an individual choice. Every RV traveler deserves to know their options. A little education now can go a long way toward making an informed decision about locking in coverage and protecting your life on the road.
Article provided by Wholesale Warranties, FMCA Commercial Member #C012133