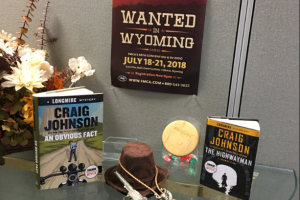 Take a peek behind the scenes with FMCA's Events Team! FMCA hosts two large RV conventions each year. On average, 3,000 RVs are in attendance at these events. Whether this is your first convention or your 21st convention, we are extremely excited for this event and want to share a behind-the-scenes look at how these events come together.
Do you enjoy reading? Or are you a fan of Western movies or shows?
FMCA has been working around the clock to make sure you have the best time at our 98th International Convention, including planning a convention-first: the inaugural meeting of FMCA's Super-Sized Book Club!
Craig Johnson
At this event, you'll have the opportunity to meet Craig Johnson, a New York Times best-selling author. Johnson's Western series about Sheriff Walt Longmire inspired the TV series "Longmire." You can watch this series on Netflix or A&E. Two of his more well-known novels are The Highwayman and An Obvious Fact. Johnson has accomplished much in his career and has earned many awards for his books.
FMCA is inviting attendees to read The Highwayman this summer. Johnson, a Wyoming resident, will lead a discussion about the book on Saturday, July 21. He will guide FMCA readers through his book and discuss various topics from his writing. Members will be able to ask Johnson questions about his books and his life as a writer in Wyoming.
We are excited to welcome Craig Johnson to our Wanted in Wyoming convention.
If you are interested in attending the book club, please RSVP.
The Super-Sized Book Club is just one of many events that will take place at FMCA's summer convention. Attendees can tour the RV expo or sit in on educational seminars about RVing topics like maintenance, trip planning and more. There's crafts, games, and fun for all! And a special kids program is planned FMCA's youngest travelers to explore nearby landmarks.
There's so much you can learn in Gillette and so many fellow RVers to meet. Make plans to attend FMCA's 98th International Convention July 18 through 21, 2018. See you there!
Are you a fan of Craig Johnson's books? Comment below.