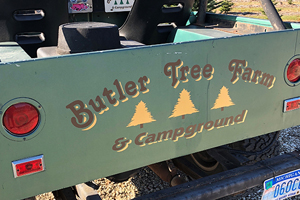 I have written in the past about how important Thanksgiving is to me.  It's been a busy fall for us with many trips, and this year is no different.
To me, Thanksgiving is the one time of the year when I can hang loose and just take in the season with my family. Over the years during our family Thanksgiving get-togethers, we've always given thanks for our many blessings. Sondra and I have transitioned from planning and hosting these events to simply showing up and enjoying what happens.
Thanksgiving Weekend
On the Friday after Thanksgiving, the girls usually go shopping, while the boys hang out, watch TV, and start getting Christmas ornaments and lights ready to put up. Saturday is always devoted to watching Notre Dame or Alabama college football games. This year BOTH of my teams lost . . . what a bummer!
Sunday afternoon after church, our family goes on a journey to a tree farm to select, cut, carry, bundle, load, and deliver the family Christmas tree. This year was no exception. Sondra and I were really fortunate this year, because both of our children and all of our grandchildren were able to be together and join us for the "tree hunt."
Finding the Perfect Tree
This year for the first time, we journeyed to the Butler Tree Farm and Campground in Dowagiac, Michigan. As it turns out, this tree farm and campground are located in a very desolate area in the southwestern part of the state. I talked with the owner, Brenda Butler, and she filled me in on their operation.
Brenda told me that she loves Christmas and all of the "magic" it brings to children. She and her husband, Sam, have developed their campground and tree farm into a place for families. In addition to finding the perfect Christmas tree, families can visit the petting zoo, see Santa Claus, warm up in the cafe/store to the smell of a wood-burning stove, and taste-test and purchase homemade jams, salsa, cookies . . . and, of course, hot chocolate and hot cider.
I asked Brenda about the campground part of the business, and she told me that more and more of their time has been devoted to building up the tree operation, and to the establishment of the family center for fall and Christmas. They still have primitive camping for those who want to enjoy the quiet and beauty of this remote, rural place, and they have a few log cabins available to rent for a day, week, or month.
After picking out the Christmas trees, everyone was hungry and cold, so we found a little place in a nearby small town to gather for dinner.
Everyone had a great time during the weekend, and Sondra and I especially enjoyed being able to be with our family as they wrote another chapter in their journeys through life.
I would love to hear about your favorite traditions at this time of year. Please share your comments.