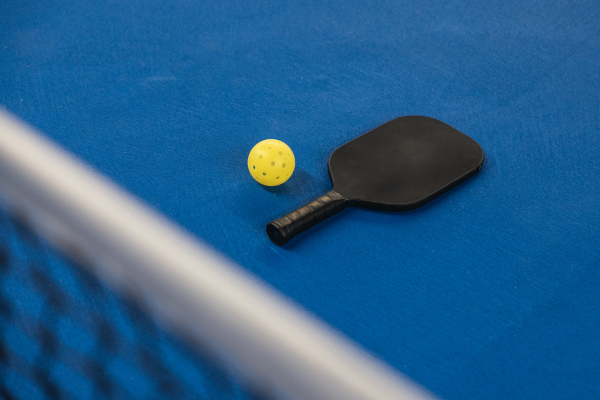 Our journey as pickleball players began innocently enough in February 2014 in Logan Utah, just a few months after we married. My wife, Deborah, suggested we Google "pickleball" and find out if anyone was playing it in town. Of course, I replied, "What is pickleball?" After we found a local church that hosted play, I soon learned that it is fun, exciting, exhilarating, and addictive!
Deb was immediately hooked and spent hours watching videos on YouTube of the top players, getting instruction, and attending clinics, while I played for fun, exercise, and the sociality it offered.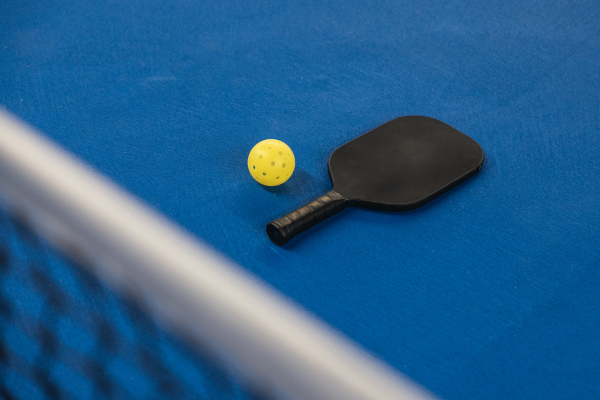 How to Find Places to Play Pickleball 
Via a simple Google search, I found a story at www.go.campendium.com that highlights 45 campgrounds with pickleball courts, including some that offer loaner paddles, trainers, clubs, and even tournaments. They are listed by region. At www.mortonsonthemove.com there is a listing of the 10 best RV campgrounds with pickleball. They also have a story titled What Is Pickleball? What Every RVer Should Know, which gives some great tips on what you need to know to play.
But what if you are staying at a campground that does not have its own courts?
The easiest site to maneuver is www.places2play.org, provided by USA Pickleball, the governing body of the sport. Simply type the city and state in the search bar, and the courts in your area should appear. Note that there may not be any nearby. The listings will tell you whether the courts are indoors or outdoors and the usual times that play takes place. Also, there should be a contact person listed, along with their phone and email address.
Numerous phone apps exist as well, among them PicklePlay, Pickleball Buddy, Pickleball FYI, PickleConnect, Pickleball Shots, and Pickleball Finder.
Once You Find a Place, What to Do?
After you pinpoint a location, I have found that it is helpful to reach out to the contact to tell them you are interested in playing. Here is the information that they will normally want to know:
When would you like to play?
How long have you played or what is your level of play… Beginner? More advanced?
Do you have a rating or are you self-rated?
Do you need to borrow a paddle or balls?
You will want to know about the protocol for play at the courts, so ask them the following:
Is there a "system" at the courts, such as putting your paddle in the rack?
Are there designated courts for different levels of play?
Are there established times for different levels of play?
Can a court be reserved by a group, or is it all open play?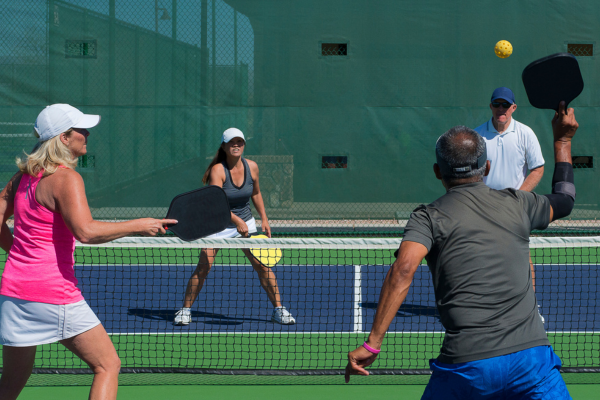 Once You Get to the Courts, What to Do?
Be sure to wear appropriate and comfortable clothing for playing a sport that will require you to move around on the court, such as tennis shoes and shorts. If playing outside, be mindful of the weather, especially the sun, and protect yourself accordingly.
When you arrive at the courts, observe the players to determine their level of expertise. This will help you determine who you should play with, based upon your own skills.
Find out where the players who are waiting to play are gathered, introduce yourself, and ask about the procedure for getting into a game.
As instructed, put your paddles in line to play in the appropriate place. This will be dictated by whether courts are designated according to skill level. The players there should be helpful in directing you to the appropriate place.
If you are new to the game, be sure to tell them that and ask if anyone would be willing to help teach you to play. Most players are very helpful and welcoming in the pickleball world.
If nobody is waiting to play and a court is open, you and your partner can begin stretching and warming up there, and you can practice until you are ready to join in a game with others.
There are many videos online that show you stretches and warm-up drills. Google Pickleball 101 for some great tutorials.
Be sure to have fun, stay hydrated, and work on your pickleball skills!
About the authors. Bill and Deborah Campbell Knopp have been playing pickleball since 2014, when they first learned the game in Logan Utah, and have now played the sport in 49 states!
Deb was a professional ski instructor and all-around athlete and has since become a certified pickleball referee, instructor, and competitive tournament player. Bill played collegiate baseball and competitive softball and enjoyed golf and other recreational sports; he now prefers pickleball. During the winter, they live at Happy Trails Resort in Surprise, Arizona, and play pickleball six days a week.
During the summer, they travel in their Class C Fleetwood Jamboree across the United States, attending pickleball tournaments as both players and vendors promoting their Jolt Therapy tool, ProDrive paddles, Pickleball Paul children's books, and other pickleball items. Over the years, they have become close friends with numerous pickleball pros and hall of fame members and are students of the game.
While on the road, look for their RV with the chalkboard on the back and give them a honk and a wave when passing by.