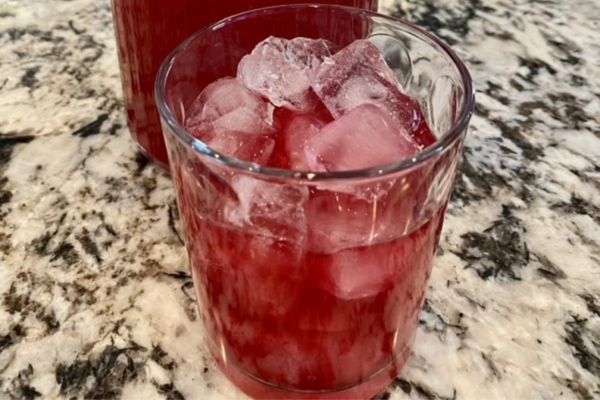 We came across a wonderful drink over the weekend!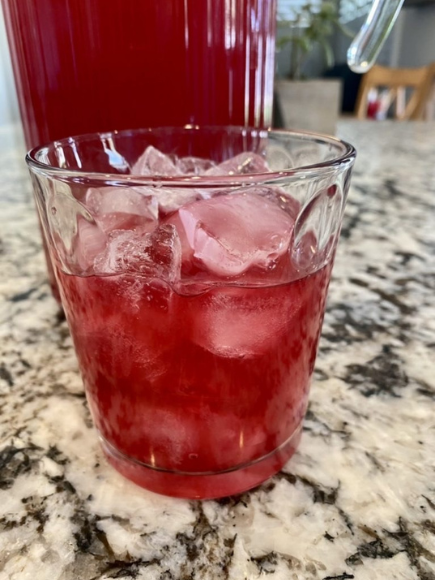 Our spring has been glorious so far, with nice cool temps and not a 100-degree day in sight.  We know that's going to change in the coming weeks, but I will take every cool day I can. Aside from my morning iced tea, I drink lots and lots of water.  My hydration is great, a necessity living in the desert.  Some days I crave something with flavor!
I was perusing Pinterest looking for a homemade limeade recipe since our lime tree will be bursting with fruit soon.  Instead, I found a blueberry lemonade recipe.  Mark was fully onboard. Luckily, we only needed lemons. I like that we can use fresh or frozen blueberries.  Blueberries are my go-to breakfast, so I always have some on hand.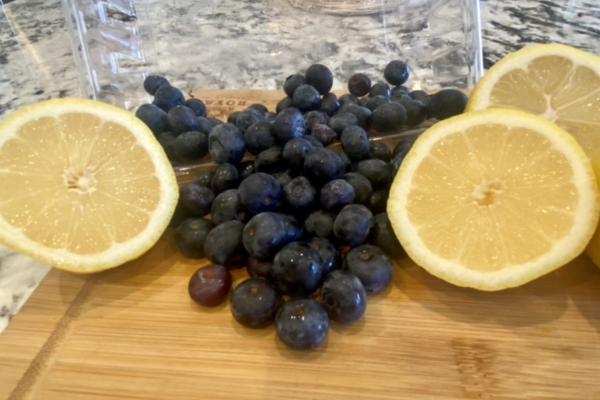 This Lemon Blueberry Cooler is quick and easy to make, coming together in less than 10 minutes.
It's refreshing and not overly sweet, using only ½ cup of sugar, which I like. And, it tastes really good with a little vodka.
We have frozen lime juice from the tree to make it next time.  I think this would be very good using raspberries or blackberries or even strawberries.
Ready, let's get going!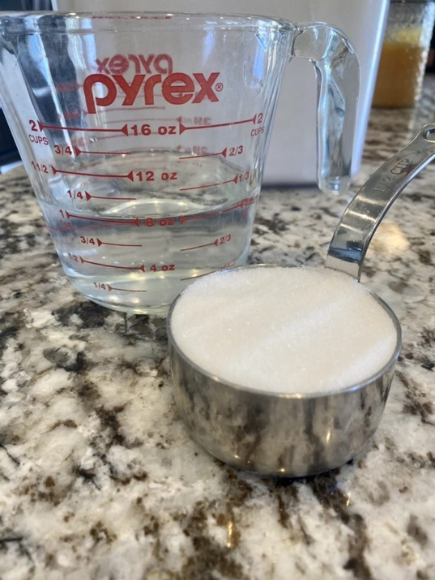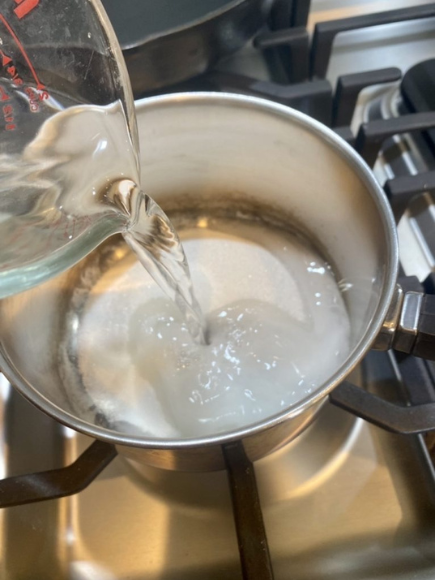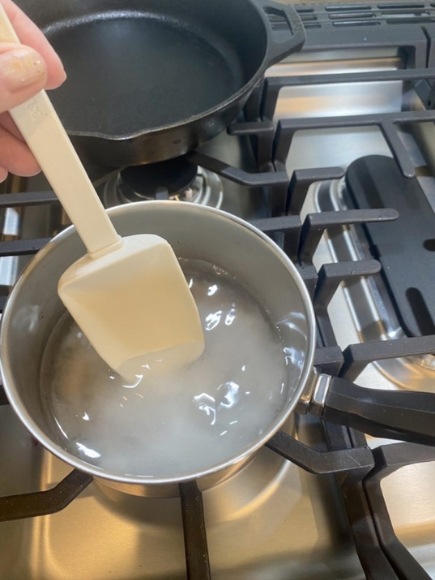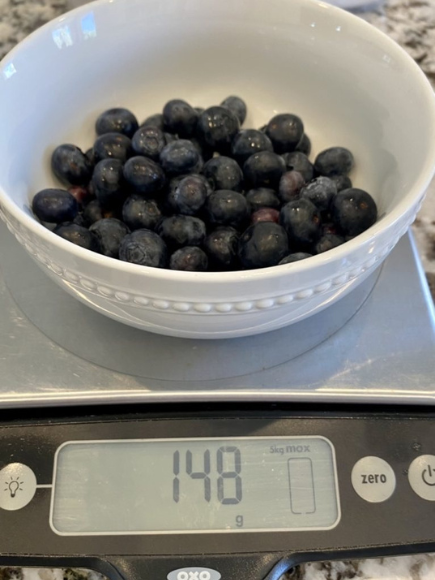 Using a small saucepan, dissolve the sugar in one cup of water and then add the blueberries.  I measured them using my food scale, and one cup of blueberries equals 148 grams (or 5.22 ounces).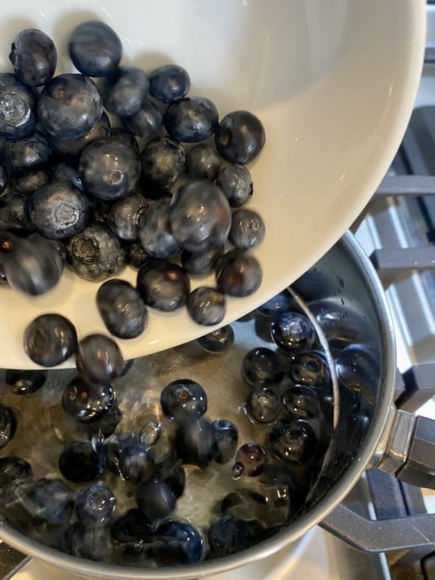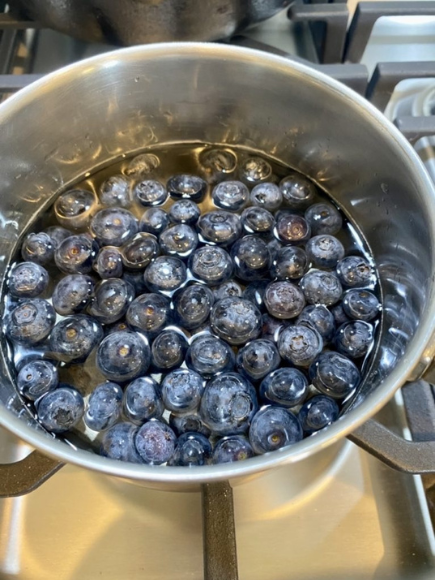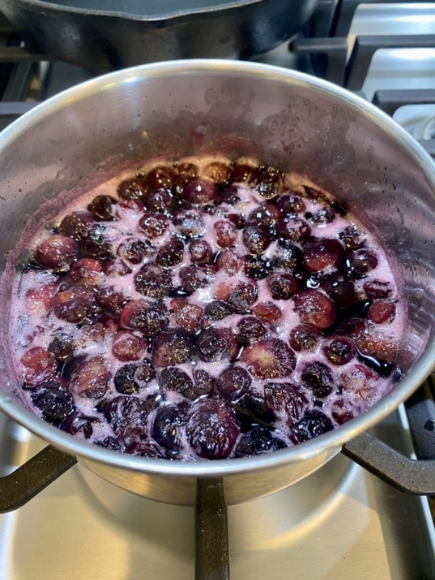 Bring it to a boil and simmer for five minutes. I love the color change of the berries!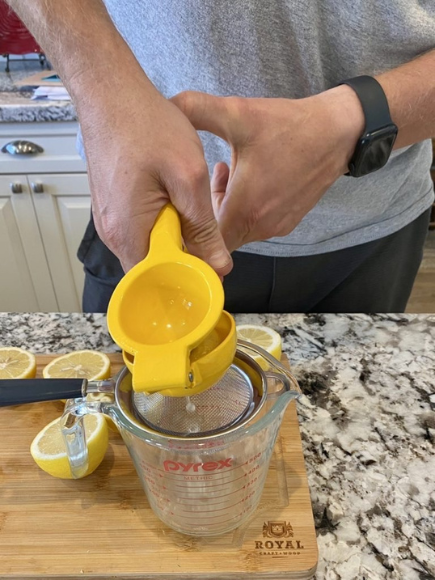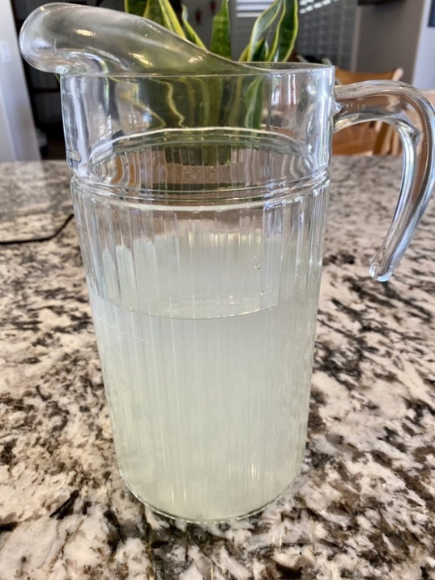 While that's simmering, pour five cups of water in a pretty pitcher or a giant measuring pitcher.  I use our trusty old Tupperware Mix-n-Stor pitcher.  Juice four good-sized lemons to get ¾ cup of juice.  Pour it into the water and stir.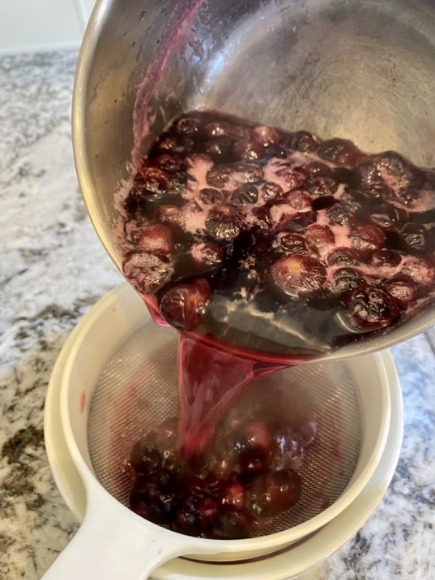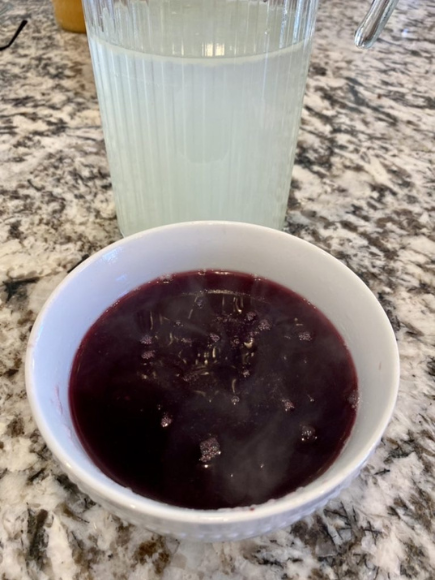 When the berries are ready, pour it all over a fine mesh sieve into a bowl or small pitcher.  Isn't it pretty?  I love the brightness.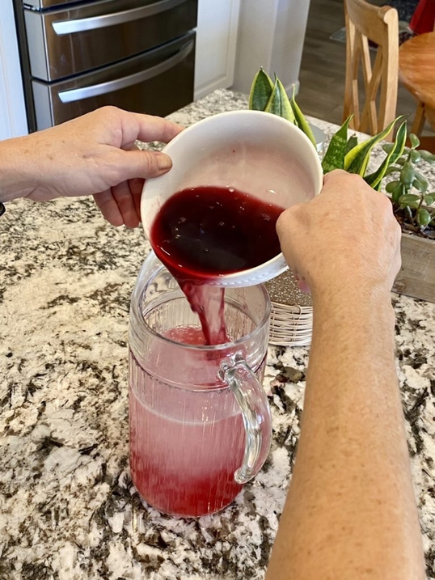 Pour it into the water/lemon juice pitcher, give it a stir, and you're ready to drink!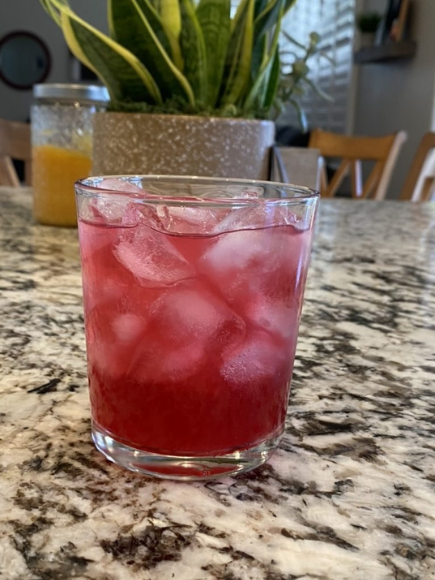 It's delicious over ice.  So delicious we made two batches in three days!
To make the adult version, fill your glass with ice.  Add a shot of vodka and fill the rest of the glass with the Lemon Blueberry Cooler.
We don't travel with a sieve or juicer in the RV. Have no fear: I have a plan!  Make the blueberry sauce and squeeze your lemons at home and freeze them.  When you're at the campsite and ready to make this, thaw your frozen juice and add it to 5 cups of water.  Your camping friends will think you've worked really hard while you sit back and enjoy a glass.
Lemon Blueberry Cooler
1 cup blueberries (fresh or frozen)
½ cup sugar
6 cups water
Four good-sized lemons to make ¾ cup fresh-squeezed lemon juice
Dissolve sugar into 1 cup water in a small saucepan.  Add blueberries.  Bring to a boil and simmer five minutes.
Pour 5 cups water into a large pitcher.
Juice four lemons to get ¾-cup juice; add to the water and stir.
When blueberries are ready, pour the mixture over a fine mesh sieve into a bowl or small pitcher.  Stir with lemon/water mixture and enjoy!
Meet the Family
I'm Maureen Milne, F446881.  Mark and I are becoming empty nest veterans and you know what, we enjoy it!  We are always on the lookout for the next adventure, our friends call us the X-Games family. We are avid hikers, cyclists and skiers (both snow and water).  Mark does triathlons and we run several races a year.  We've been RVing together since we were teenagers and we love traveling with our two grown sons.  I share our RV adventures, RV friendly recipes, wonderful campgrounds and more on my blog, M&M Hit The Road.  You can also find our fun on Facebook, Instagram, Twitter and YouTube.