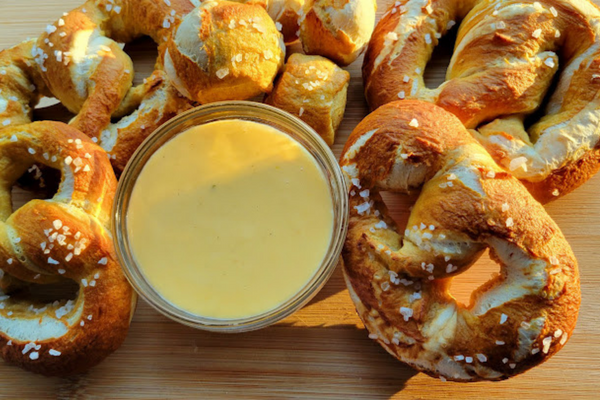 Chewy soft pretzels are a perfect game day snack or party appetizer.  This recipe brings the distinctive taste and pillowy texture of pretzels that you would expect from a street vendor or a bakery.  Don't be intimidated by the thought of making pretzels, they really are easy to make and freeze well so you can make them ahead of time and then enjoy any time.  While most recipes use lye to get the unmistakable taste, this version uses the common ingredients of baking soda and water to achieve that flavor profile.  For the pretzel purists, feel free to shape them into the distinctive wrapped shape they are known for or simply cut them into bite size pieces for a great party appetizer.  These pretzels are delicious served plain or with mustard, but for a really a scrumptious combination, add a side of melty cheese dip.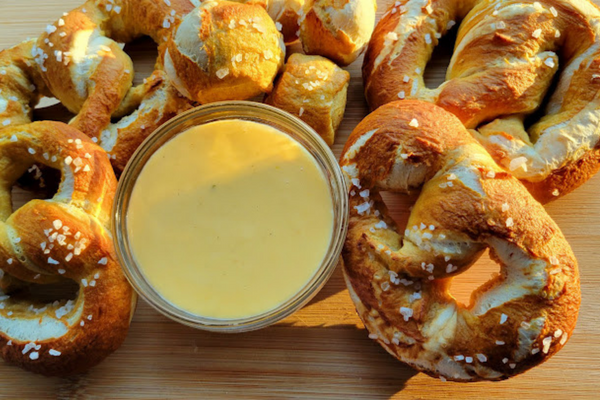 Dough
1 cup warm water
2 teaspoon brown sugar
2 ¼ teaspoons instant yeast
1 teaspoon salt
2 ½ cups all-purpose flour
Baking Soda Water Bath
9 cups boiling water
½ cup baking soda
Topping
Coarse salt
2 tablespoons melted butter
Directions
1. In a large bowl, combine the water, sugar, yeast, salt, and flour.  (Using instant yeast means there is no need to let yeast bloom in warm water.)
2. Mix thoroughly until a dough forms into a ball.  Knead dough for 8-10 minutes until smooth.  (If using a stand mixer, use the dough hook attachment and mix on medium speed until the dough is smooth and pulls away from the side of the bowl, about 4 to 5 minutes.)
3. Place the dough in a lightly greased bowl, cover with plastic wrap, and place in a warm place until the dough has doubled in size, about 45 minutes to 1 hour.
4. While the dough is resting, prepare the water bath in a large pot by combining the boiling water and baking soda.  Stir until the baking soda is dissolved and set aside.
5. Preheat your oven to 400°F.  Prepare a baking sheet by lining it with parchment paper or spraying it with vegetable oil spray. 
6.Transfer the dough to a lightly greased work surface, and divide it into six equal pieces.
7. If making pretzels, roll the dough into 12″ to 15″-long ropes.  Make a U shape with the bottom of the U facing you.  Criss-cross the rope twice and fold it back over itself to make a pretzel shape, and secure the ends of the pretzels by pressing the ends into the bottom of the U shape so it sticks together. (See photos below). If making bites, roll out the dough into a rope of desired thickness and cut into pieces.
8. Place the pretzels (a couple at a time) into the cooled baking soda/water solution for one minute, flipping them mid-way. 
9. Transfer pretzels to the prepared baking sheet and sprinkle with salt.
10. Bake the pretzels for 12 to 15 minutes, until golden brown. Remove them from   the oven, and brush with immediately melted butter.
11. Place on a rack to cool. If you're not going to eat them immediately, place in an airtight container in which they will keep for a couple of days or freeze them.  To reheat frozen pretzels place them in a warm oven for five minutes until warm all the way through.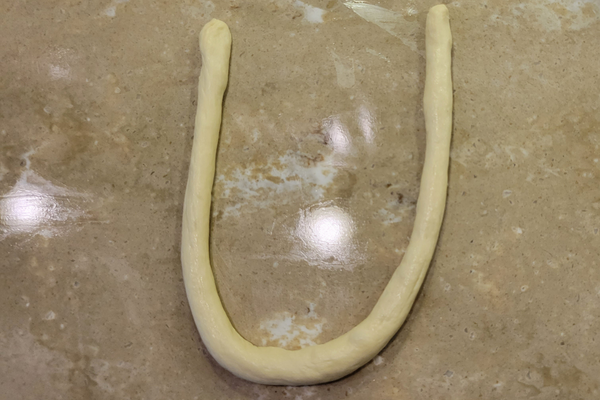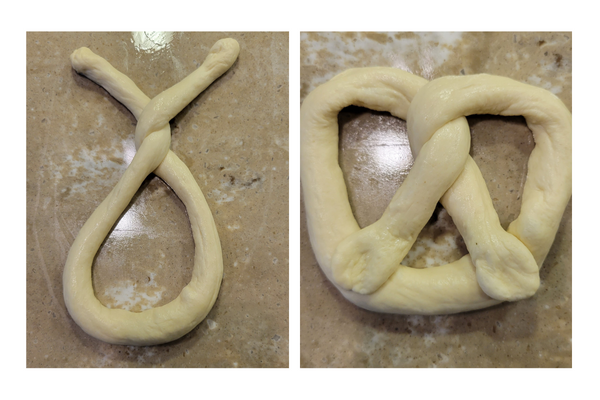 Cheddar Cheese Sauce
2 tablespoons unsalted butter
2 tablespoons all-purpose flour
1 cup whole milk
¼ teaspoon garlic powder
¼ teaspoon onion powder
½ teaspoon kosher salt
Dash hot sauce
Dash Worcestershire sauce
1 cup shredded sharp cheddar cheese
Directions
1. Heat a medium-sized saucepan over low heat and melt the butter. 
2. Once the butter is melted, add the flour and whisk constantly for 2-3 minutes. 
3. Add milk and whisk approximately 3 minutes until thickened and no lumps appear. 
4. Add garlic powder, onion powder, salt, hot sauce, Worcestershire sauce and whisk to combine and cook for 30 seconds. 
5. Remove from heat and let cool for a minute.  Add cheese and stir until melted. Enjoy!
Nancy Walters and Dr. Betsy Dresser are the co-authors of RV-A-GOGO, a blog they started in 2011 to chronicle their travel adventures living full-time in an RV.  They retired from wildlife conservation careers and, after traveling the world, are now crisscrossing America seeking out everything there is to explore, from natural wonders and historic landmarks to quirky attractions and divey restaurants.  Their blog provides readers with information about travel destinations, "must-see" attractions, the RV lifestyle, recipes, campground reviews, and more.