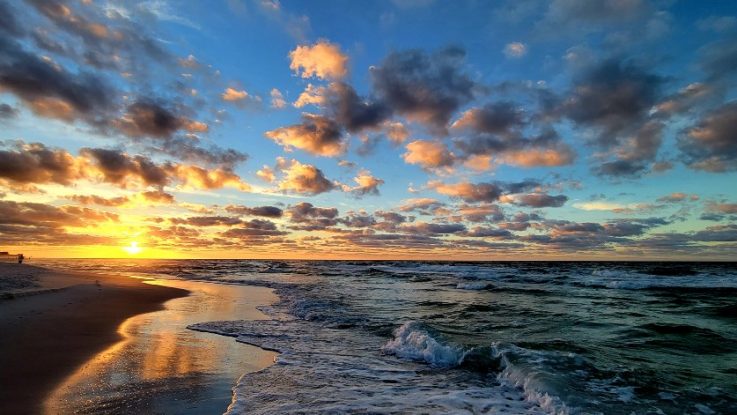 Seaside, Florida is a charming little coastal town in the Florida panhandle known for its sugar white sand, emerald water, mom-and-pop stores, and laid-back beach vibe.  Most Snowbirds only give the panhandle a passing glance on their way south in search of warmer winter weather.  But the panhandle is as far south as we go since we have come to appreciate the milder weather with daily highs hovering in the 60's and lows in the  40's.  These cooler temperatures also mean that the panhandle is less crowded than more popular Snowbird roosting areas in Southern Florida.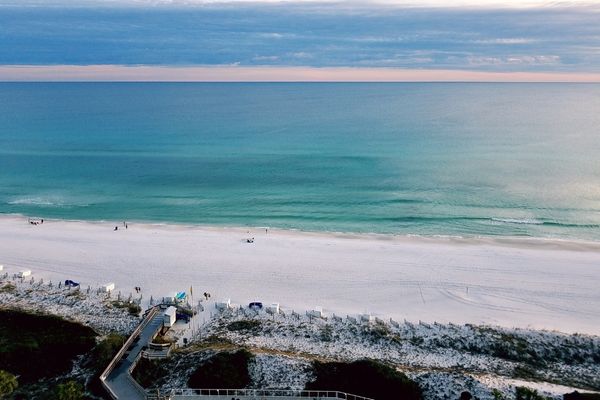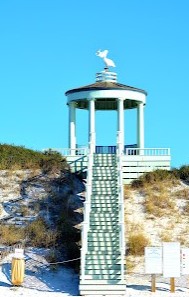 Seaside is located along a beautiful stretch of the coast midway between Destin and Panama City but has a totally different personality than those bustling hotspots.  The town is acclaimed world-wide as one of the iconic examples of New Urbanism where a defined town center with shopping and dining are well within walkable distance to homes, cottages and offices.  In the 1980s, developer Robert Davis had a vision for a pleasant, harmonious beachside town, and made it happen on a quiet stretch of road called County HWY 30A.  There's also a town center which is the focal point for businesses and restaurants.  Green spaces and parks are prominent throughout the town as well as house fronts with inviting porches line these areas where walking paths encourage mingling with passersby instead of watching zooming cars.  Less than 300 homes make up this town (many of them available as vacation rentals with kitschy beach-themed names) and all have a colorful picket fence and charm.  The town's streets end in distinctive beach pavilions providing access to the beautiful Gulf of Mexico and white sugar sand beaches. 
Downtown Seaside is full of energy and the town square is where it's at!  Many of the town's activities revolve around this large green space with an outdoor amphitheater where movies are shown under the stars, music is played as the sun sets, kids kick soccer balls with friends, and the farmer's market tempts your palate.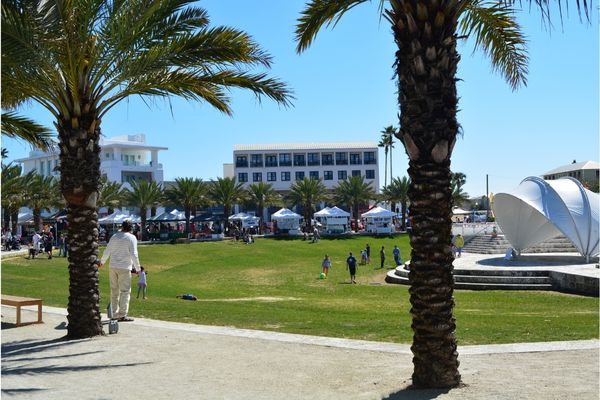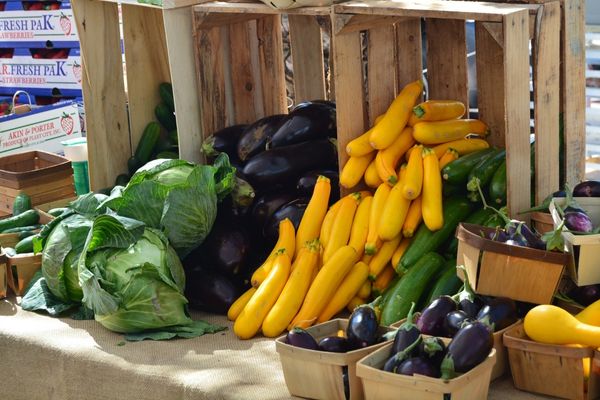 A prominent feature in downtown Seaside is the Airstream Food Court where Silver Bullets serve up a myriad of food groups sure to please everyone's palate in your party.  This strip plays centerpiece to hungry people in search of gourmet hot dogs at Wild Bill's Beach Dogs, Hawaiian shaved ice at Frosty Bites, and those looking for a creative take on the grilled cheese at the Meltdown on 30A.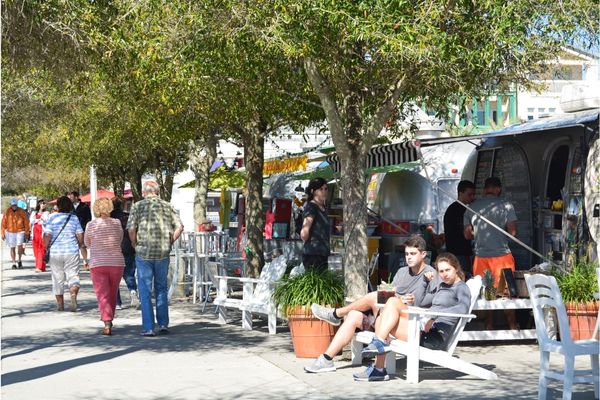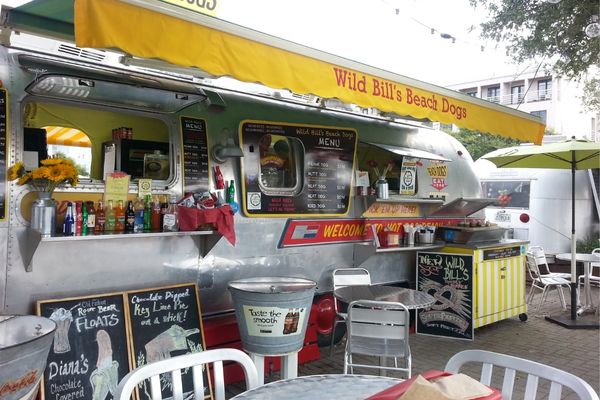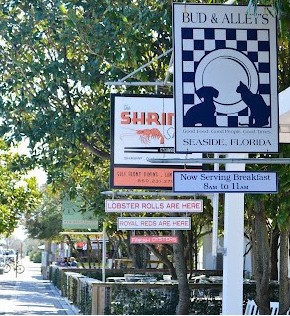 But don't think those are your only dining options.! For those looking for something a little more upscale with white table clothes and a stunning view, check out Bud and Alley's – a long time establishment named after a dog and cat which serve as the town's mascots, and the best place to watch the sunset from their rooftop bar.  If casual is what you want, you are in luck; Bud & Alley's Pizza Bar serves a Neapolitan style pie while the Shrimp Shack fulfills your seafood craving.  One place that is a must visit for us is Pickles Beachside Grill, an open-air diner set in the middle of town for great people watching and good food, including fried pickle spears.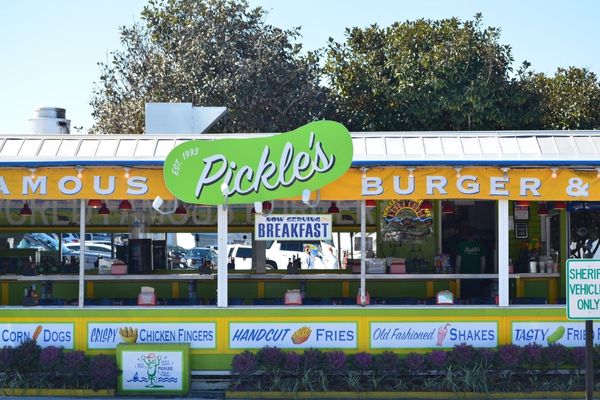 Early risers will find Amavida coffee that will satisfy their fix for joe while Great Southern will fill their bellies with their ever-popular Grits a Ya Ya. Modica Market is the town grocery store and definitely a favorite. Take a grocery store, shrink it down and stack food and other assorted items floor to ceiling and you have Modica Market. Gourmet snacks, fresh produce, cheeses, wines, prepared dishes, fresh baked goods, sundries, and all the staples are represented here.
There is plenty of shopping to do in Seaside too!  For bookworms and music junkies, pop into Sundog Books & Central Square Records where you may find you spend more time inside than you think.  This independently owned joint caters to all, whether you are looking for the latest bestseller or a steamy romance novel to entertain your hours spent on the beach.  Step into the Seaside Style store for a t-shirt bearing the name of what may have become your new favorite beach town.  Per-spi-cas-ity is an open-air shopping area that lures you in with their bright and trendy women's wear and jewelry.  The Art of Simple brings together home goods, kitchen gadgets, kitschy decorations, smelly soaps, and cutesy napkins.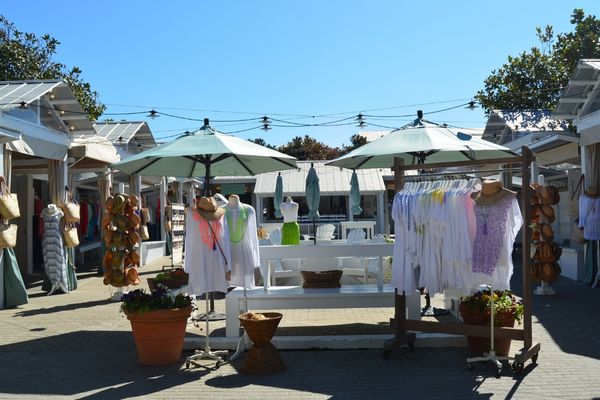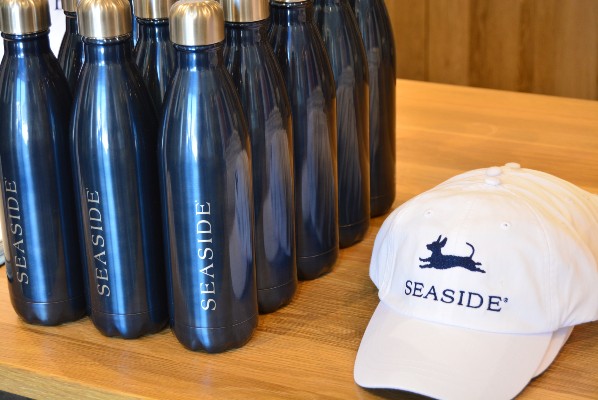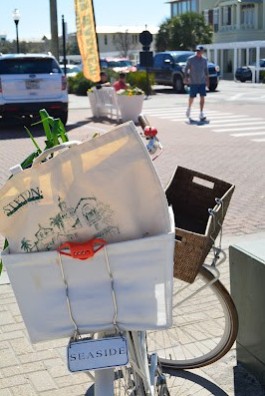 Seaside remains true to its roots.  Architects and developers should be proud that their New Urbanism vision and movement has remained as they envisioned.  There are still no high rises (covenants restrict building height to no more than three stories), no chain restaurants, and it has maintained a clean and simple environment that draws people for those reasons.
While Seaside is a totally walkable town, there are more options for stretching your legs and enjoying a nice walk in the woods.  The Longleaf Greenway Trail is a 27-mile hiking and biking trail that winds through the piney forests, prairie wetlands, and sand dunes.  Just a short distance away is Grayton Beach State Park which has miles and miles of great hiking trails which also connect with the neighboring Point Washington State Forest.  And the Timpoochee Trail is a mostly flat, paved path great for walking and biking that winds through Seaside and past picturesque coastal dune lakes.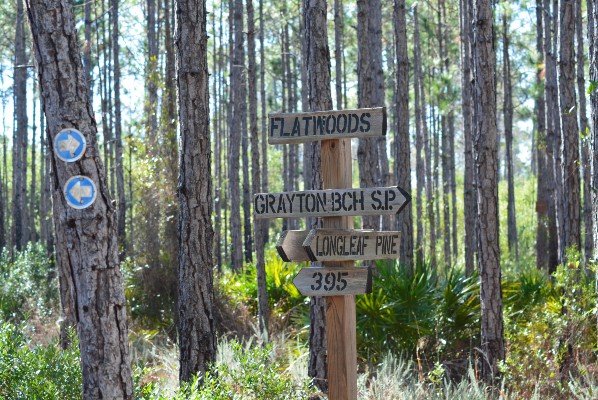 The best option for camping is the nearby Grayton Beach State Park which is within walking/biking distance.  The campground is relatively small, so make sure you book early as this is a popular campground.  About ten miles away is Topsail Hill Preserve State Park which is another beautiful state park with camping for tents and RV's and even one and two-bedroom cabins for rent.  Within about 15-20 minutes away are two private campgrounds – Camp Gulf and 30A Luxury RV Resort.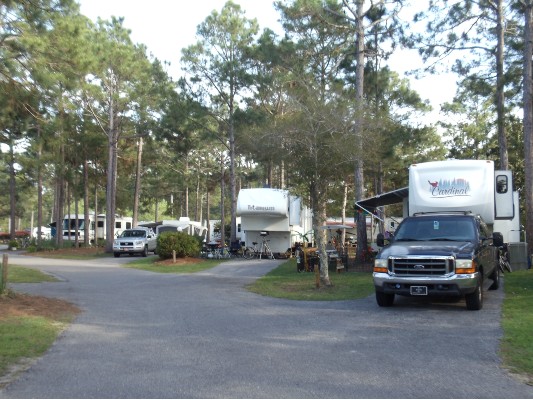 Even on red flag days with dark clouds, Seaside is a pretty, happy place to be. We've been visiting Seaside for over twenty years and it still remains on our list of places we love to visit.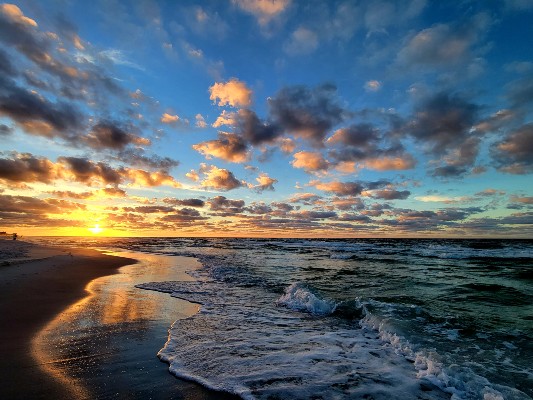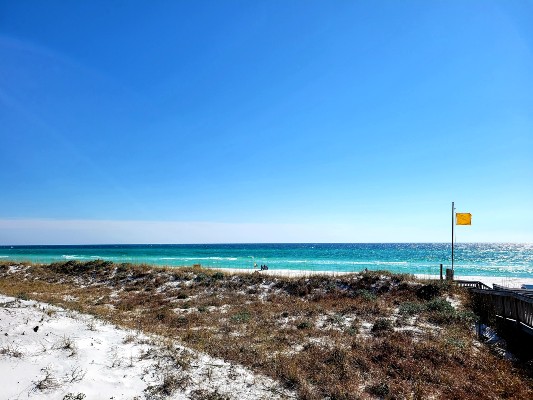 Nancy Walters and Dr. Betsy Dresser are the co-authors of RV-A-GOGO, a blog they started in 2011 to chronicle their travel adventures living full-time in an RV.  They retired from wildlife conservation careers and, after traveling the world, are now crisscrossing America seeking out everything there is to explore, from natural wonders and historic landmarks to quirky attractions and divey restaurants.  Their blog provides readers with information about travel destinations, "must-see" attractions, the RV lifestyle, recipes, campground reviews, and more.