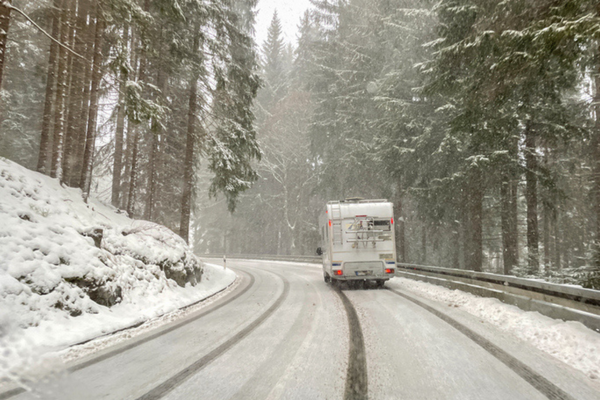 Avid RV campers will take any opportunity to hit the road and enjoy some time in the great outdoors. Just because the weather cools down, doesn't mean your camping getaways have to end. RV camping in fall and winter can be just as fun as the in-season months, but you should take a few extra precautions before you go. Leading motorhome marketplace RV Trader is sharing five tips for RV camping in the off season.
1. See What's Opening
Some attractions, activities, and campgrounds may close or change their hours in the off season. As you're planning your autumn or winter camping trip, make sure the places you want to go will be open while you're there. This also includes hiking trails and other outdoor activities that may suspend use once the temperatures drop. The last thing you want to do is to drive all the way to your destination and realize something is closed for the season.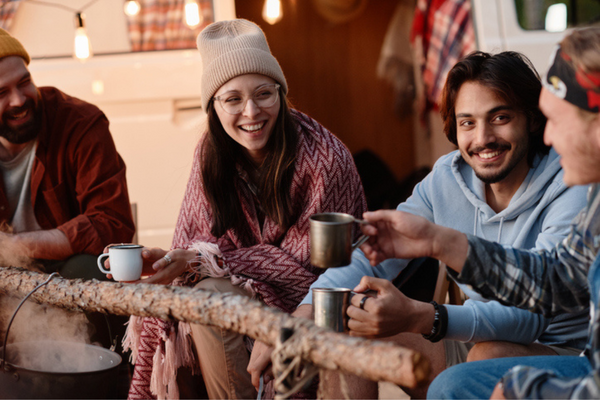 2.Check the Weather Before You Go
Weather can change quickly in the fall and winter, so you'll want to frequently check the forecast before your RV trip. Keep an eye on the conditions in the area you're departing from, your camping destination, and the roadways in between. Knowing the weather forecast in advance will help you prepare your RV and pack accordingly for the expected temperatures.
3. Make Sure Your RV is Cold-Weather Ready
You're probably used to maintaining your RV for the spring and summer months, but cold weather RVing requires a few more items to add to your checklist. Here are a few maintenance practices to perform before you leave on your off-season camping trip:
Examine the door and window seals to prevent cold air from getting in.
Add antifreeze to your holding tanks to keep the valves from freezing.
Batteries are more likely to freeze or die in cold temperatures, so make sure they're charged before you hit the road.
Check your engine's coolant level to keep your rig running smoothly.
You'll also want to inspect your RV's furnace to make sure it's working properly. You can clean the furnace with compressed air and a soft brush to remove any dust, dirt, or debris. You'll also want to check the furnace vents for any obstructions that could prevent air from flowing through your camper. In addition to keeping you and your family warm inside your RV, the furnace can also prevent your internal plumbing from freezing.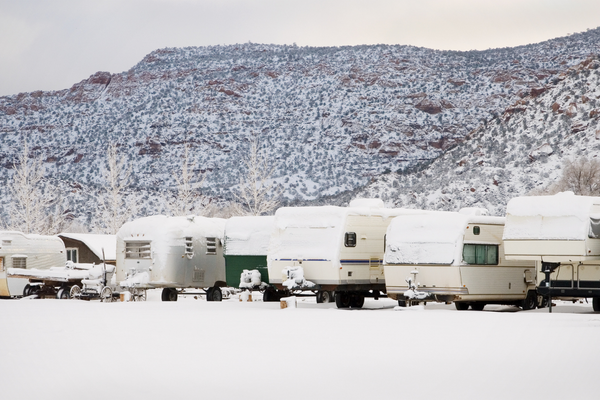 4. Keep an Eye Out for Black Ice
If you're traveling in winter, when temperatures drop below freezing, keep an eye out for black ice on the roads. Black ice typically forms in shaded areas and appears darker than the rest of the roadway. If you happen to drive on slippery black ice, try not to steer or brake. Instead, keep your RV moving in a straight line while making slow and smooth steering corrections.
If you're towing a fifth wheel or another type of camping trailer, make sure the trailer's brakes are turned down low enough so the wheels can still rotate as you bring your tow vehicle to a stop.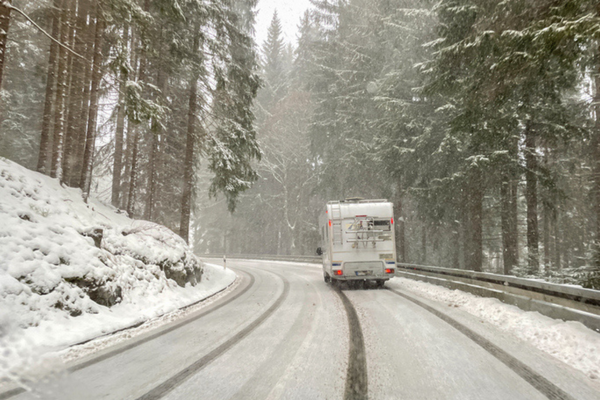 5. Be Flexible with Your Plans
Since the weather can change quickly, it's always best to be flexible with your plans when RV camping in the off season. You may be set for a hike one day and wake up to find the trail covered in too much snow. If this happens, don't let it ruin your getaway. Instead, be ready to adjust to something new. Camping in an RV allows you to bring the comforts of home anywhere. If the weather does change your plans, choose an indoor activity, such as a movie night, board games, or crafts, to do instead.
When cooler weather rolls around, it might not be time to winterize your RV just yet. Off-season RV camping can be the perfect escape during the holidays or for a weekend getaway. Squeeze in one more RV trip before the year ends by following these off-season camping tips.

RVTrader.com is the industry-leading online marketplace for buying and selling new and used RVs, including Class A, B, and C vehicles, as well as campers and trailers. With over 200,000 recreational vehicle listings, RV Trader is a trusted resource for buyers and renters nationwide. And with 7 million site visits every month, no marketplace is more trusted to generate inventory exposure for dealers and private sellers. RV Trader is a division of Trader Interactive and belongs to the well-known "Trader" family of brands.