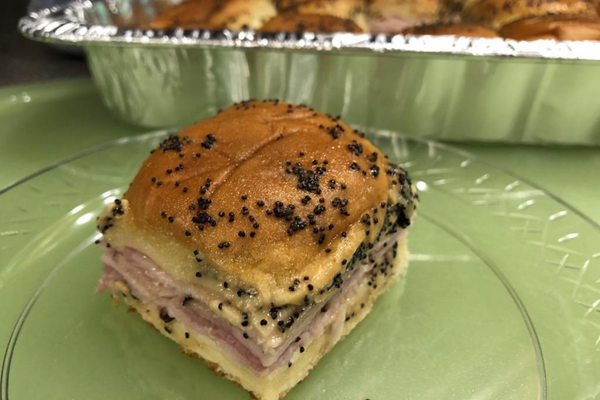 Wow these are good.  And easy.  And RV friendly.
I've made these a few times but the latest batch was by far the best.  I changed one little thing and hit it out of the park, foil.
Our annual Thanksgiving turkey in the dirt is really an eat fest all weekend.  We follow the big turkey dinner on Thursday with food events on Friday and Saturday.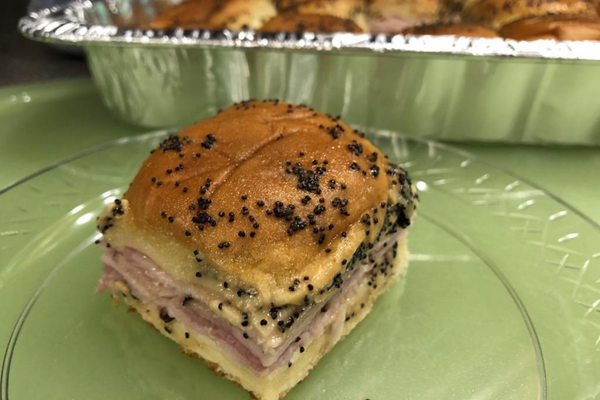 Friday night we pull out the leftovers and each RV contributes an appetizer.  There are no guidelines on the appetizer, and it runs the gamut from simple chips and salsa to bacon wrapped jalapenos or grilled shrimp.  Some years it's a gourmet competition to see who can "out-app" the rest.  Saturday night is cook your own meat and share a side.
For me, it's a time to try out new recipes since I have a captive audience.  Some have been epic fails while others have been big hits.  These ham and cheese sliders fall squarely in the HIT category.  I don't know if it's the actual slider or the fact that the bread is the ever-popular King's Hawaiian Roll.
This is a two-part recipe.  Put it together in the morning, stash it in the refrigerator for several hours then bake it when ready. This is perfect for parties or potlucks because you do all the work ahead of time and can enjoy yourself instead of toiling in the kitchen.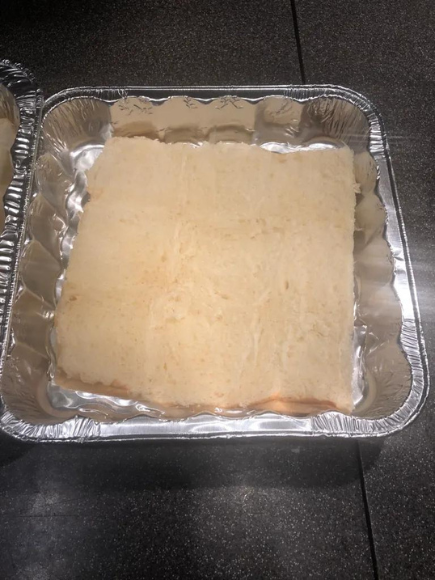 Start by slicing the rolls in half horizontally and place in bottoms in a pan.  When I make these in the RV, I use a foil pan.  One package of the rolls plus one row of rolls fit in the oblong foil pan and nine rolls fit in the square foil pan.  Good thing I have two ovens in my RV!  When I make them at home, both packages fit perfectly in my large rimmed cookie sheet.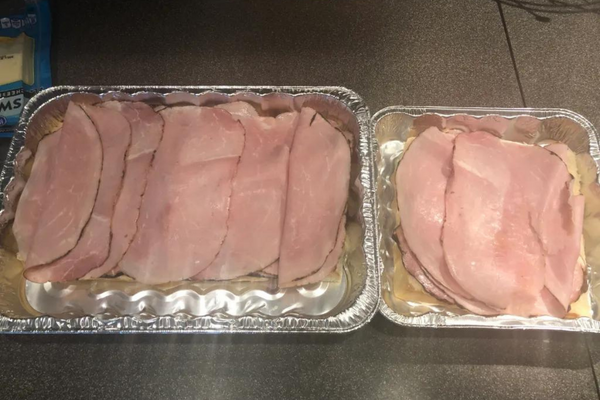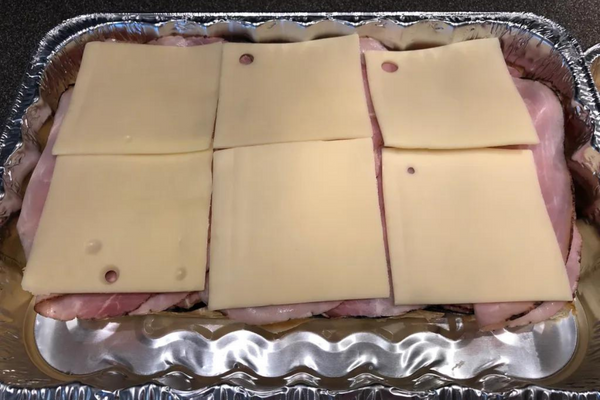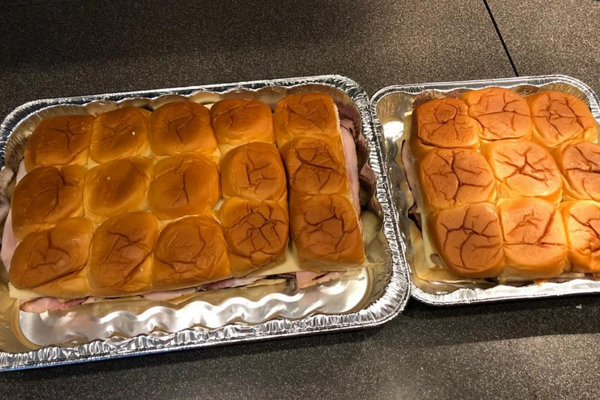 Pile on the sliced ham followed by slices of Swiss cheese, then put the tops on.  They look good already, right?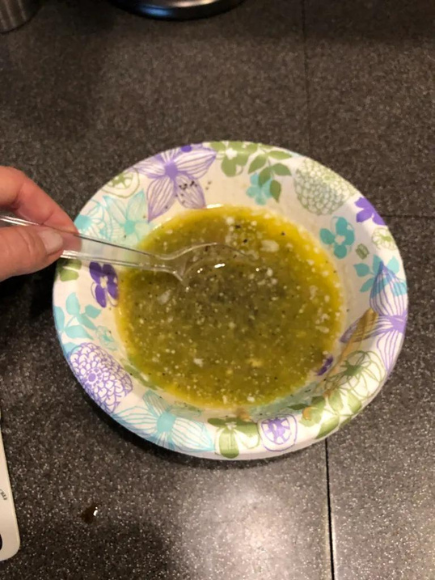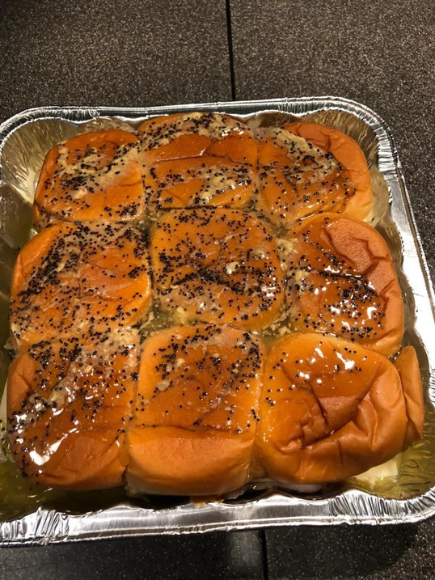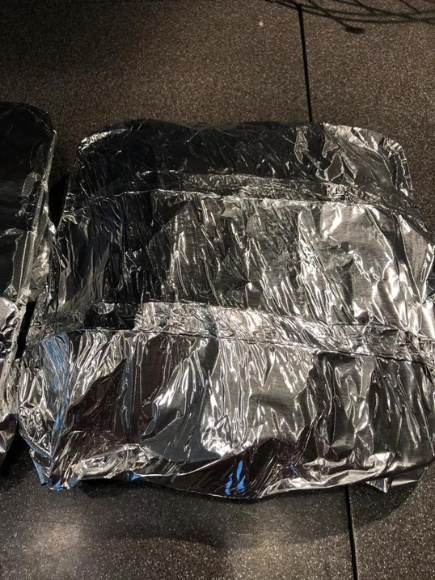 Next, stir together melted butter, poppy seeds, mustard, onion powder and Worcestershire sauce.  Yes, I had to look at the bottle to spell that correctly.  Pour this all over the sliders, cover and pop in the refrigerator.  The goal is for the butter to harden, so leave it in there for several hours or overnight.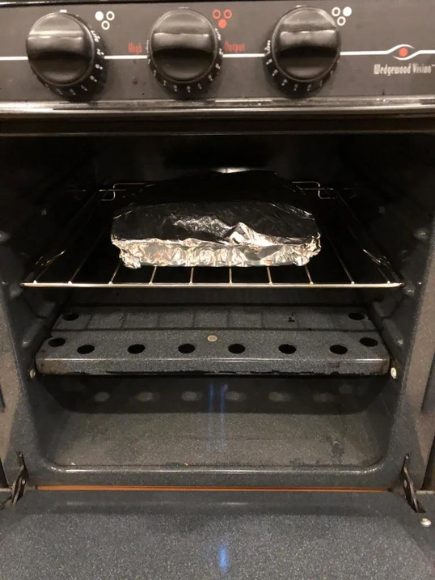 Heat the oven to 350 degrees and bake covered for 30 minutes, then remove the foil and bake for two more minutes.  Carefully cut the sliders while still in the pan before serving.  I have a sturdy spatula that I use in the RV so I don't slice through the foil pan.  I press down in between each roll until the roll is cut all the way through. You can be fancy and put them on a platter but that's just one more dish to wash while camping so I serve them from the foil pan.  As always, they disappeared in a flash.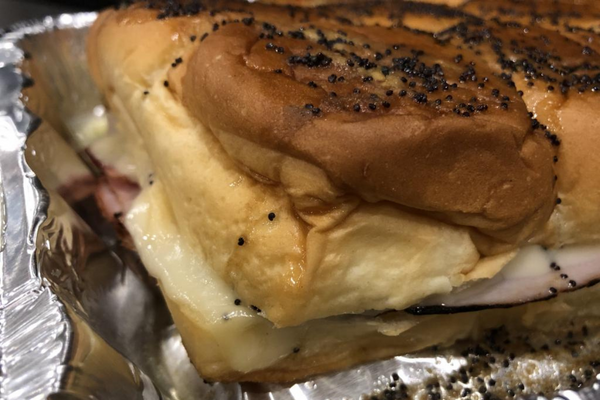 Ham & Cheese Sliders
Two packages King's Hawaiian Rolls
One pound (or more) sliced ham
12 slices Swiss cheese
1/2 cup melted butter
1.5 teaspoons Worcestershire sauce
1.5 teaspoons brown or Dijon mustard
1 teaspoon onion powder
1 Tablespoon poppy seeds
Slice the rolls in half horizontally and place bottoms in a pan.  Top with sliced ham and cheese and put the tops back on.  Stir the rest of the ingredients together in a bowl and drizzle over the bread.  Cover and refrigerate for several hours or overnight until butter is hard.
Heat oven to 350.  Bake, covered, for 30 minutes or until cheese melts.  Uncover and bake for two more minutes.
Serve immediately.  Refrigerate any leftovers.
Meet the Family
I'm Maureen Milne, F446881.  Mark and I are becoming empty nest veterans and you know what, we enjoy it!  We are always on the lookout for the next adventure, our friends call us the X-Games family. We are avid hikers, cyclists and skiers (both snow and water).  Mark does triathlons and we run several races a year.  We've been RVing together since we were teenagers and we love traveling with our two grown sons.  I share our RV adventures, RV friendly recipes, wonderful campgrounds and more on my blog, M&M Hit The Road.  You can also find our fun on Facebook, Instagram, Twitter and YouTube.