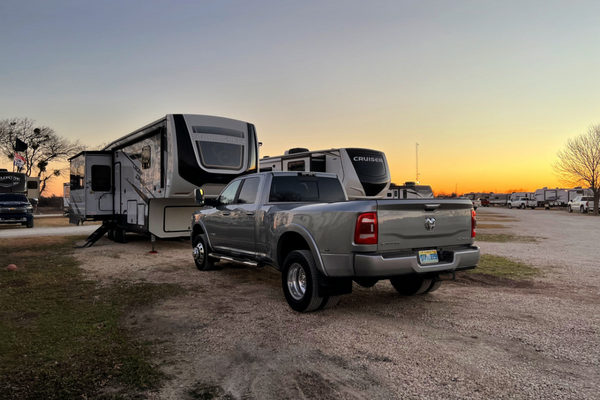 My husband and I set out on an RV adventure, thinking we would do a different state each month. We left Florida in August and headed for Georgia and Tennessee. We went to Mississippi and Arkansas, and then we landed in Texas in December. I honestly could have RVed for years in Texas and still not seen it all or enough; hence the reason we stayed four months and had to make ourselves leave to see more of the country. The last three RV parks we visited in Texas made quite an impression. They were in lesser-known areas and offered so much to see and do that I had to share them with you.
Traders Village RV Park
We found a tremendous monthly RV rate at Traders Village RV Park in Grand Prairie, though we didn't really know where it was located. We chose it because we needed to be close to the Dallas/Fort Worth International Airport for a quick trip, and this one fit the bill. Surprise — Grand Prairie is 12 miles from Dallas, 6 miles to Arlington, 19 miles from Fort Worth, and it is within 20 minutes of probably six other great places to visit. You surely won't be bored in this location.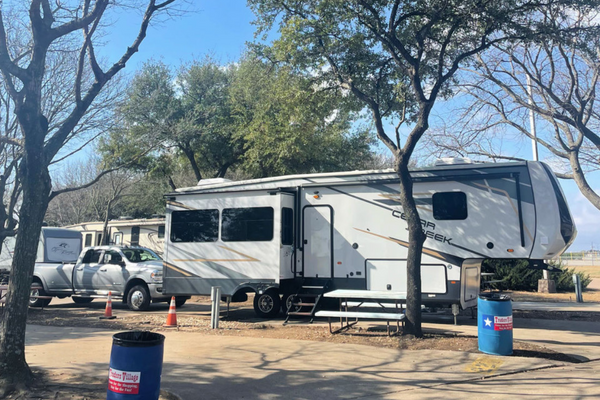 Traders Village RV Park is adjacent to the huge, amazing, and — insert lots more adjectives here — Traders Village weekend Flea Market. This isn't just any flea market, but the biggest in the country, with over 3,000 vendors. The famous outdoor flea market offers shopping (think toys, clothing, Western wear, jewelry, and even AKC-registered dogs and puppies), special events, amusement-style rides, and tasty food vendors. It is nothing short of astounding; you just go through the RV park and into the market.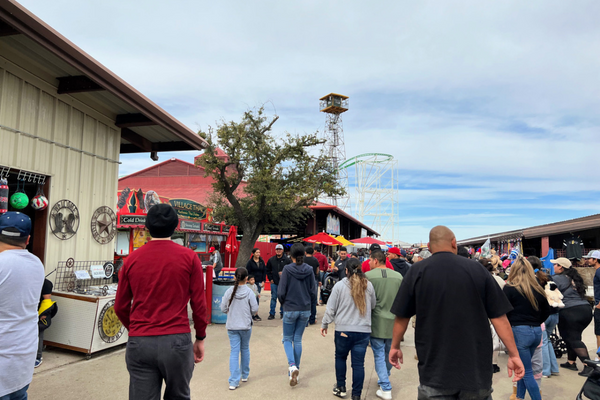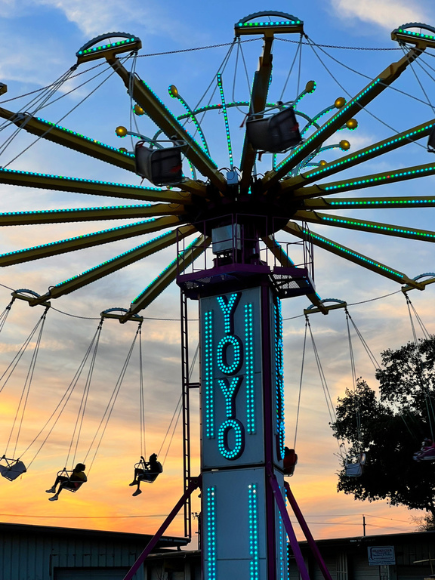 Back to the RV park, the vibe is friendly; it has full hookups on level concrete pads, excellent Wi-Fi, and a swimming pool. We loved the daily trash pickup in front of our camping spots and the proximity to so many fantastic Texas attractions. We are keeping this one on our list for future travels through Texas.
Besides the prominent Dallas and Fort Worth attractions, two things we enjoyed were shopping trips to Grand Prairie Premium Outlets and checking out Asia Times Square.
At the outlets, you'll have 90+ stores to shop through, with stores like Bloomingdale's, Lacoste, Lindt chocolates, and Tommy Bahama. 
Asia Times Square is a unique address on West Pioneer Parkway and is a treasure trove of Asian restaurants, shops, and a grocery store. If you are hungry, I recommend trying a Korean hot dog (half sausage, half mozzarella) from Two Hands Seoul Fresh Corn Dogs. Vegan options are available, too. It is incredibly delicious!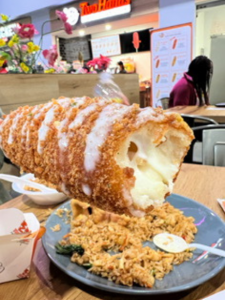 Lake Waco Marina & RV Park 
Waco is a town that has risen from the ashes since the Branch Davidian days. If you haven't been to Waco in years (or ever), you may want to put this one on your radar. Chip and Joanna Gaines of the "Fixer Upper" TV series led the way in paving this awesome town into a true tourist destination. We stayed at the pet-friendly Lake Waco Marina & RV Park, 90 minutes from our Grand Prairie RV Park. It was a bit strange; there was no attendant or anything at the gate. We were given a space number that was occupied, and we couldn't reach anyone by phone on how to handle it, so we just parked in the neighboring spot and "called it a day."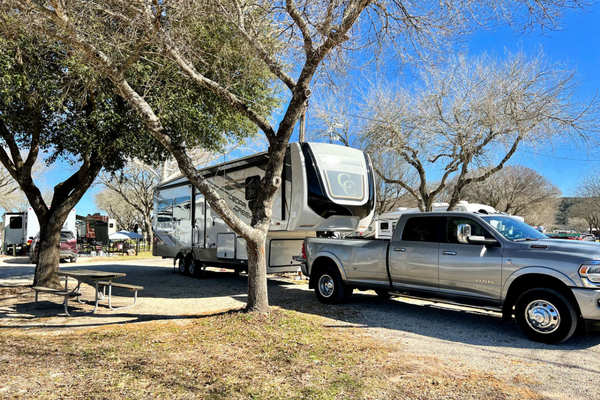 Lake Waco Marina & RV Park sits on the banks of Lake Waco, a big marina with dozens of houseboats. They offer reasonably priced rates (around $45 per night), and we had the most amazing sunsets. I would stay here again for the scenery and proximity to the water, and I liked that the RV park was tucked away in a remote spot.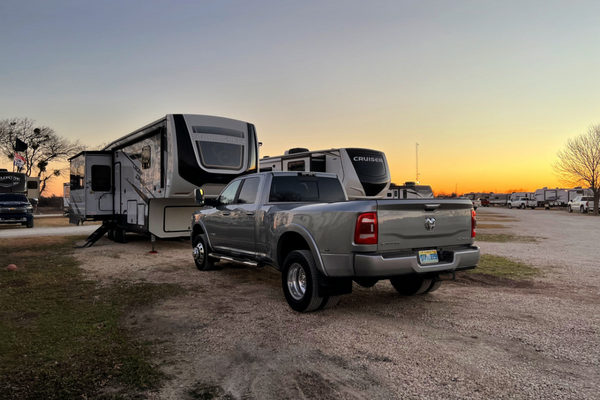 We were about twenty minutes from downtown Waco, where we spent the day at the Magnolia Silos and shops, founded by the Gainses, with breakfast at Magnolia Table. Reservations are required, but if you arrive when they open, you may score a table like we did. Other points of interest around Waco include the Dr. Pepper Museum; Waco Mammoth National Monument; and the Waco Suspension Bridge, built using cables and steelwork from John Roebling and Sons, the company that later built the Brooklyn Bridge.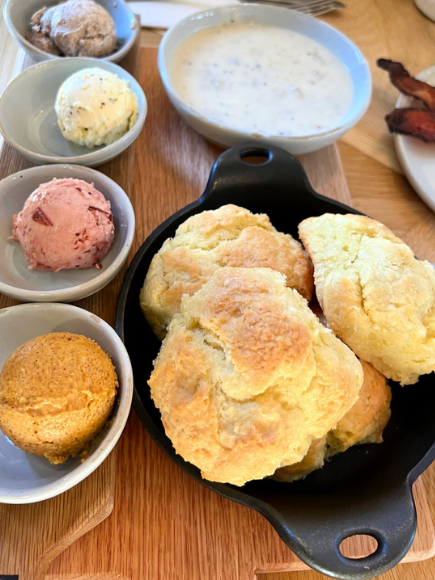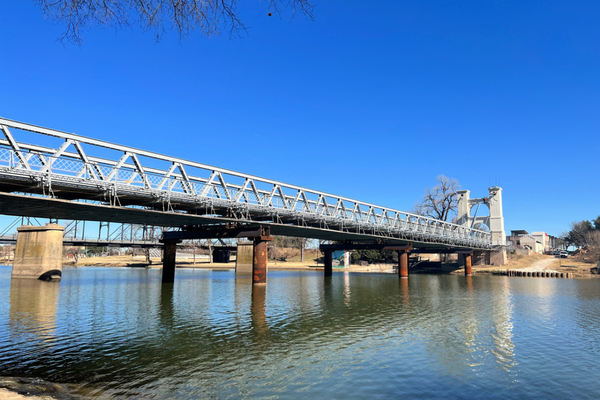 A unique thing to sink your teeth into during your Waco visit is a "designer" fruitcake (or other baked goods) from Collin Street Bakery, a 125-plus-years-old Texas-based business. I can't get out without a whole box of cookies, which freeze well, too. 
Great Escapes RV Resorts North Texas
A third park worth mentioning is Great Escapes RV Resorts North Texas in Perrin. When we RVed there, it was right before their busy spring season, and we almost had the whole park to ourselves. The park, which has new owners, offers dozen of RV spots and the most darling cabins. The RV park's grounds are spacious, and there are many amenities (a giant splash park, three pools, mini-golf, and a jumping pillow, to name a few). Golf cart rentals are available, too. 
If you aren't familiar with Perrin, which we were not, it was where we headed after Waco, a little over two hours away. It's pretty rural in this area, but there are many things to do at the RV park, and the setting is divine, so that's not a bad thing. 
Twenty minutes away is the town of Mineral Wells. I needed story content, so we drove over one day. It turns out Mineral Wells was such a shocker and one of the coolest places I've seen in ages. This small town is on the verge of greatness, with upscale shopping; boutique hotels; a brewery; fantastic murals; and historical mineral water, Crazy Water, that has been bringing in tourists for 100 years.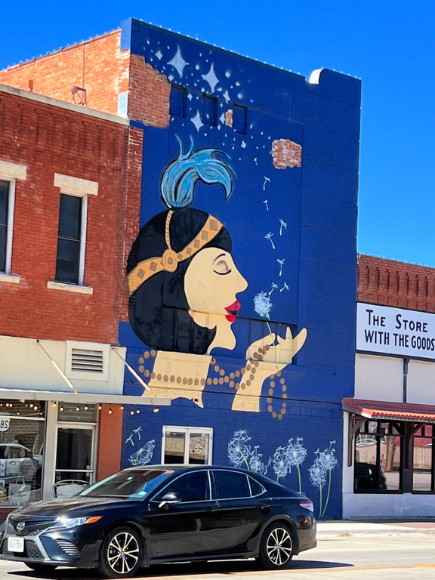 One thing you have to consider doing in Mineral Wells is having a spa treatment or soaking in the mineral waters at the Crazy Water Spa. It was a game changer, and I'm still talking about it months later. 
I hope these suggestions will give you some new ideas for more epic Texas RVing.
Hi! I'm Melody Pittman, a freelancer, influencer, and co-owner of Wherever I May Roam Blog (Facebook) (Instagram) and Wherever I May Roll. Originally from Charleston, West Virginia, I moved to Vero Beach, Florida, 10 years ago and have loved every minute of it. I own the two blogs with my daughter, Taylor, and we also host an annual travel conference (Southern Travelers Explore) and small retreat.
I branched off of "Wherever I May Roam" to "Wherever I May Roll" now that I'm on an 18 -to-24-month extended RV trip with my husband of nearly 30 years, Eddie, and our 11-year-old King Charles Cavalier, who is deaf. We are seeing a different state each month and sharing our adventures as brand-new RVers (elementary level here) on our YouTube and Instagram channel of the same name. You can also follow our adventures at #whereverimayroll or on our YouTube or Instagram channels.  
Aside from RV life, I am an expert cruiser, love small towns, history, buying and eating local, and unique adventures. I'm blessed with two beautiful daughters — Taylor and Peyton, also my best friends; a fantastic son-in-law; and an inquisitive almost 3-year-old angel granddaughter, Scarlett, who will be joining in on my adventures very soon.