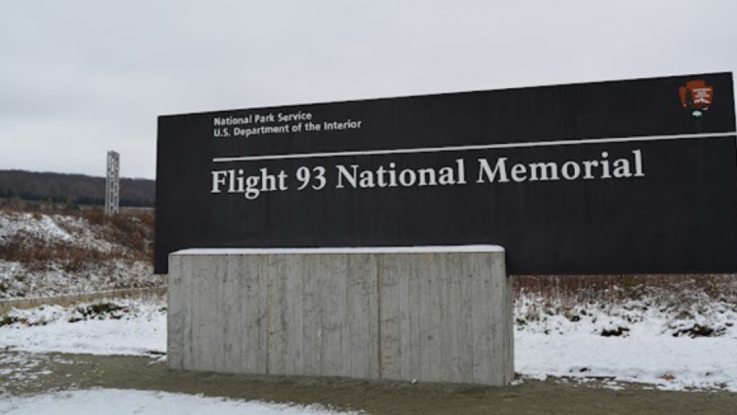 Last fall our travels took us through Pennsylvania on our way from Maine to Michigan.  We decided to stop at a beautiful state park campground near Bedford, which is a quaint little Pennsylvania town sheltered between green forests, rolling pastures, and the Allegheny Mountains. 
The main reason for stopping in this area was to visit the Flight 93 National Memorial. The Flight 93 National Memorial is a 2,200-acre national park that commemorates the heroic actions of the 40 passengers and crew who prevented a terrorist attack on our nation's capital in 2001.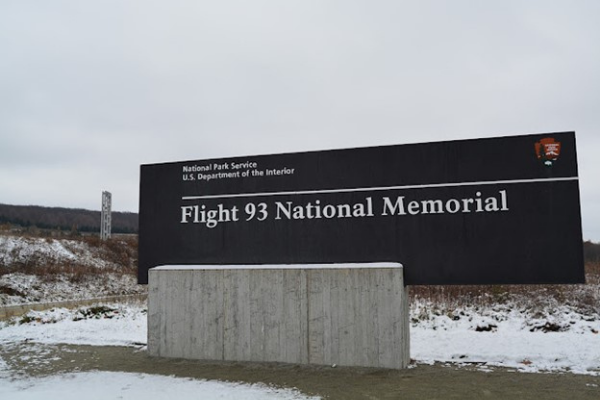 On September 11th, United Airlines Flight 93 departed Newark, New Jersey, at 8:42 a.m. enroute to San Francisco, California. The plane was full of fuel and low on passengers – conditions that were ideal for the terrorists that would hijack the plane. At 9:28 a.m. hijackers stormed the cockpit, and the captain (or first officer) declares "Mayday" amid the sounds of a physical struggle in the cockpit. At 9:35, a flight attendant called United Airlines officials using an Airfone and informed them the plane was hijacked. The passengers and crew were aware that other hijacked planes had crashed into the Twin Towers and feared their fate was similar. They called loved ones and said their goodbyes or left painful recorded messages. After short deliberation, the crew and passengers agreed to overtake the terrorists as their only hope for survival and to prevent other deaths. At 9:55 am, the Airfone operator overhears someone say, "Are you guys ready? Okay! Let's roll!" The hijackers pitch the nose up and down and rock side to side and move the plane violently to try and disrupt the assault from the banded Americans. The harrowing attempt to thwart the hijacking failed, and at 10:03 a.m. the plane crashed into the Pennsylvania countryside inverted and at 563 mph.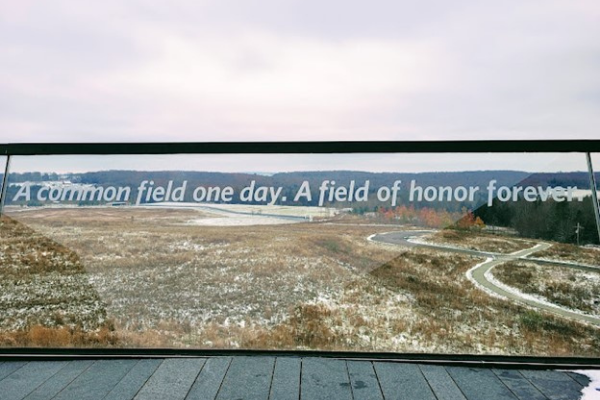 The Flight 93 National Memorial is an amazing tribute with utmost symbolism, dignity, and respect for the passengers and crew who lost their lives that day in Pennsylvania. A long gray sidewalk that is aligned with the flight path guides you from the parking lot and past the visitor center to a viewpoint. There, your eyes gaze out over barren land (a former reclaimed strip mine) and out to the Memorial Plaza and Sacred Ground where the plane crashed. The visitors center houses a timeline of events that unfolded on 9/11 through videos, interactive displays, mementos, audio recordings, artifacts, and informational graphics. Among the most powerful are a series of heart-wrenching recordings left by passengers and crew on answering machines for loved ones that are relayed through audio wands.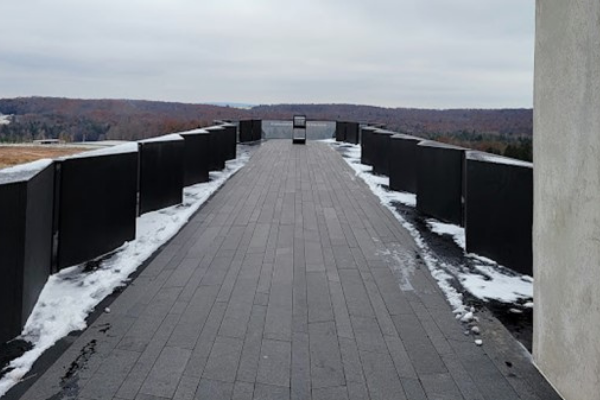 The Memorial Plaza borders the northern boundary to the crash site, and as you walk down the plaza, your eyes lock onto a striking wall of white polished marble stones — the Wall of Names. Each of the 40 simple stones stands erect and bears the name of one of the Americans who perished.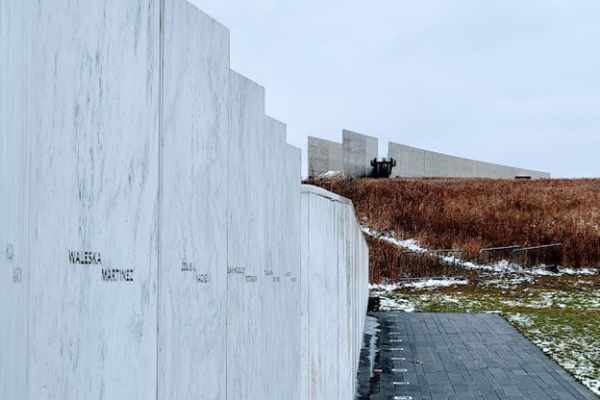 If you follow the alignment of the walkway at the visitors center and the Wall of Names out to the wooded hemlock, you will see a large sandstone boulder. During the 2001 crime scene investigation, the FBI methodically excavated the impact site over the course of 13 days. At the direction of the local coroner, the crater was later backfilled and contains remains of the crash site. The boulder signifies the impact site. Today the impact site and hemlock grove are closed to the public out of respect for the families who are allowed access to visit this final resting place.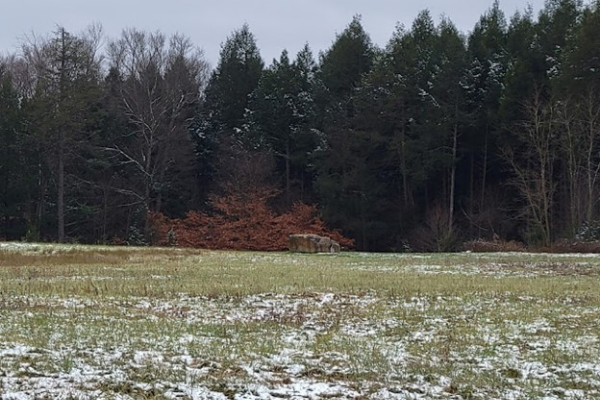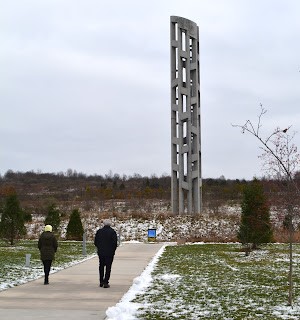 A dynamic feature of the Flight 93 National Memorial is the Tower of Voices, which serves as both a visual and audible reminder of the heroism of the 40 passengers and crew of Flight 93. The tower is a 93-foot-tall musical instrument holding 40 wind chimes (representing the forty passengers and crew members). The wind produces a distinct musical sound associated with each chime representing 40 people who were individuals yet banded together as one. This memorial really touched our hearts.
About 30 minutes away from the Flight 93 National Memorial is Shawnee State Park. The park has a nice, large campground that was a perfect location for all the attractions we wanted to see and had nice hiking trails. The park dates back to 1951 and is a very popular destination, attracting visitors with its scenic 451-acre lake that is prime for fishing, boating, and swimming. It also has over 20 miles of hiking trails (including a pleasant 3.4-mile trail that circumvents the lake), a large campground, ballfields, a concession stand, watercraft rentals, disc golf, and more. We settled into a spacious full-hookup pull-through site, #307 in loop B of the campground. (If you plan on staying at the campground and have a pet, make sure you reserve a site in a section that allows pets, because some sections do not.) The campground was full over the weekend, but most campers left on Sunday and we were all alone, which was great!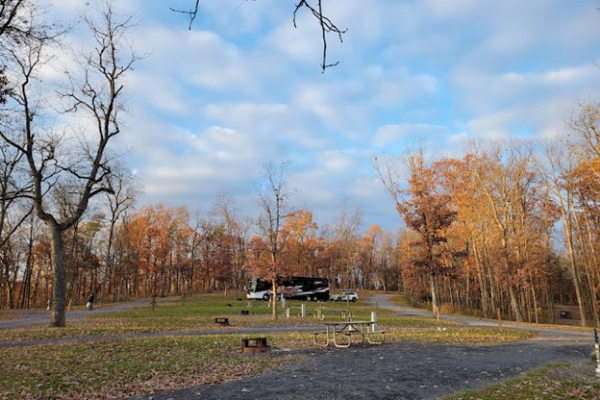 The town of Bedford is about a 10-minute drive from the campground and definitely worth a visit. Downtown Bedford is a charming town with lovingly restored historic buildings housing quaint shops, galleries, and restaurants interspersed with grassy parks. In yesteryears, visitors flocked to Bedford to soak in the medicinal springs that were believed to have healing powers. Many stayed at the world-famous Bedford Springs Resort, whose luxurious facilities have attracted 10 U.S. presidents. Today, visitors still come to Bedford for the springs, a few interesting museums, annual festivals, antique shops, and its Pennsylvania country charm.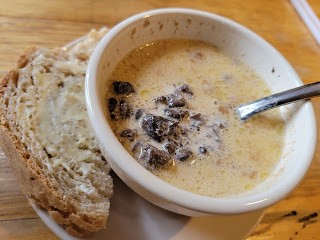 On our way downtown we stopped at the Horn of Plenty restaurant to sample some Pennsylvania farm-to-table fare. The restaurant is housed in a charming 1730s log and stone cabin with a wood-fired oven that turns out delicious dishes. The restaurant even has its own "farm shop" and sells canned, dried, fermented, and baked goods and small-batch specialty gifts. The menu is full of mouthwatering dishes, and we finally settled on splitting a roasted pork shoulder sandwich on homemade bread and their "Award Winning" creamy mushroom soup accompanied by fresh sourdough bread and soft butter that was delightful.
Bedford is located along the Lincoln Highway (also known as Route 30), which is one of the earliest transcontinental highway routes for automobiles across the United States of America. Formally dedicated in 1913, the Lincoln Highway runs coast-to-coast from Times Square in New York City west to Lincoln Park in San Francisco. Along the Lincoln Highway were numerous kitschy roadside attractions designed to attract weary travelers. One such example is Koontz's Coffee Pot. This one-of-a-kind, 18-foot-high coffeepot-shaped building was built in 1927 by David Koontz, who was trying to attract travelers to his gas station. The building originally was a diner, then it became a bar attached to a hotel, and later it served as a bus stop. Ironically, it was never a coffee shop.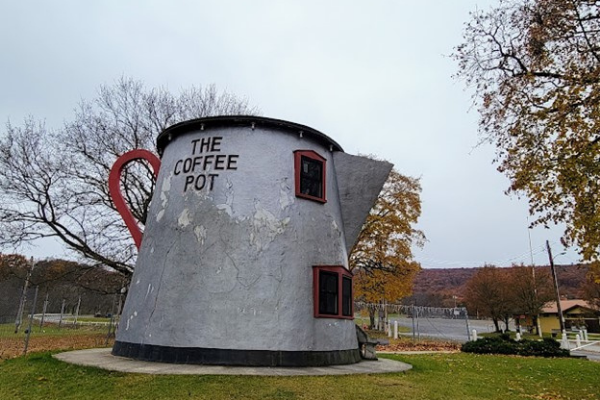 Over time, the lure of a stopping at an oversized metal coffeepot for gas was replaced by sprawling convenient marts with plenty of fuel pumps, 32-ounce sodas, and fast food. But, the people of Bedford were not ready to let go of the symbolic coffeepot and wanted to give it one more jolt of life. Local preservationists paid $1 to purchase it and spent $80,000 to move the building across the street to the fairgrounds. It was restored in 2004 and stands as a reminder of the days when automotive travel was a relaxing and fun way to explore the country.
Dunkle's Gulf Station along the Lincoln Highway in downtown Bedford is another throwback to the early days of American automobile transportation. Dunkle's was designed to be Gulf's showpiece service station between Pittsburgh and Philadelphia and is remarkably similar in appearance today as it was when it opened nearly 90 years ago. The shiny polychrome tile that adorns the building is a common feature in art-deco-styled buildings from the 1930s and one of the few remaining of such structures in the United States. Dunkle's has stood the test of time and still functions today as a gas station and automotive repair shop, and an architectural statement.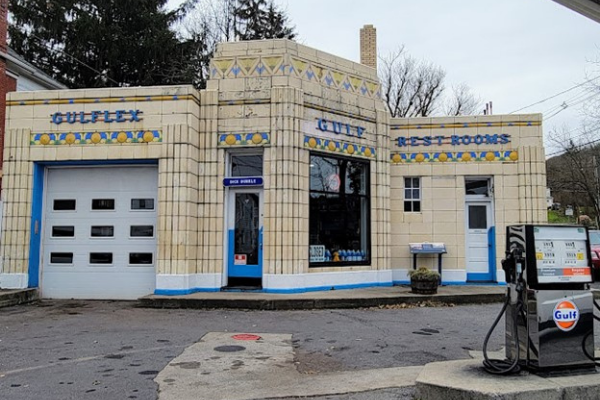 If you never thought old gas pumps could be considered art, you are wrong. The Lincoln Highway Pump Parade came about as a means to promote the historical significance of the highway and to revitalize the communities along the Route 30 corridor. Local artists painted vintage gas pumps to reflect scenes of the region and celebrate their history. The effort also features a combination of murals and waysides containing historical information.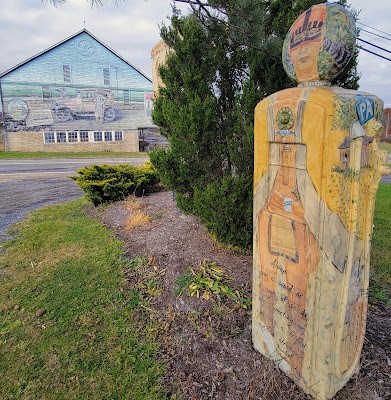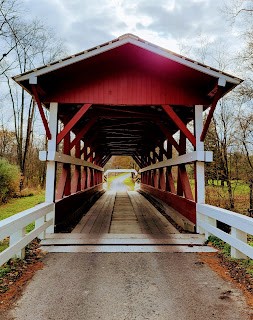 Another historical attraction that predates the Lincoln Highway are the wooden covered bridges that span the Bedord County. There are fourteen in all, and each has its own unique style and look. All are set in picturesque scenery, great for photos and for just marveling at the 100-plus-year-old structures.
One of Bedford's main attractions is the National Museum of the American Coverlet. The museum is housed in an old 1859 schoolhouse and showcases antique coverlets from across the nation. We admit we never gave much thought to the coverlet that drapes our bed (although it is attractive and adds just the right touch of warmth on chilly nights), so when we learned there was a museum dedicated to this little-understood bedding article, we decided to pay it a visit.
Upon entering the museum, you will be greeted by Laszlo Zongor, who, along with his wife, Melinda, is a founder and curator of the museum. Both used to work in the antique textile industry and are very knowledgeable and passionate about their collection. Laszlo explained to us what a coverlet is, how they were made, the differences among manufacturing techniques, and the types of looms and weaving styles that make a coverlet. He also shared how a coverlet differs from the ever-popular quilt. A coverlet is defined as one layer of woven fabric used as decorative bedding; whereas a quilt is comprised of several layers of fabric stitched together.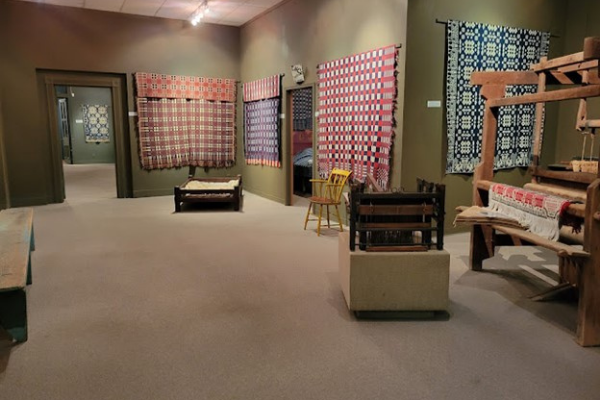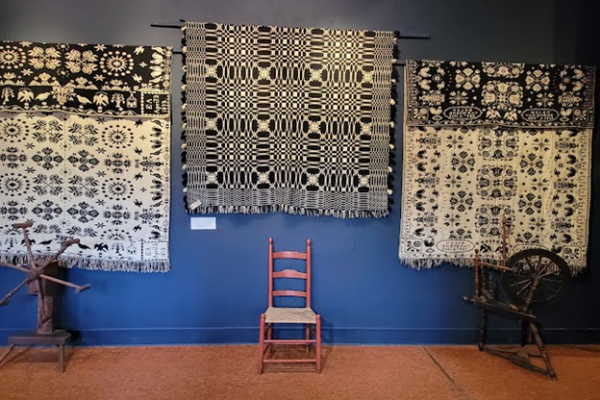 Currently, the museum's collection includes over 1,000 coverlets made between 1771 and 1889. The exhibitions change periodically, and coverlets are beautifully displayed on large walls with informational graphics providing a little bit of history about each piece. Interspersed throughout the museum are spinning and weaving equipment, including looms and a rare Jacquard head. We spent quite a bit of time in the museum browsing the collection and getting all our questions answered by Laszlo and Melinda. The museum is static with its exhibits, but the Zongors' forthcomingness to share their knowledge and enthusiasm for the American coverlets makes this museum dynamic.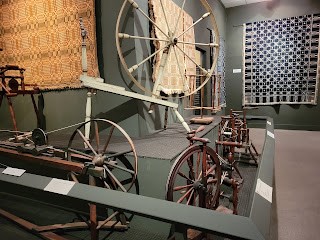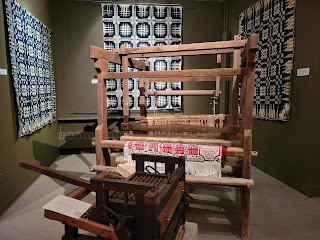 Upon learning there was a place nearby called Gravity Hill where your car would roll uphill and water flows the wrong way, we were intrigued. The website claims, "It's a place where gravity has gone haywire." The directions led us to a road in a remote area on the outskirts (like way outskirts) of town. Luckily, there are signs pointing you in the right direction; otherwise, Gravity Hill would not be easy to find. You know you have arrived when you see spraypainted words "GH End" on the road, but keep driving until you see "GH Start." Before you decide to defy gravity, check to make sure there is no one behind you; after all, you are in the middle of a public road. If clear, put your car in neutral and take your foot off the brake. Your car will slowly pick up speed as you appear to roll uphill. Turns out Gravity Hill is just an optical illusion, but it did have us wondering for a while.
So, that sums up our time in the little town of Bedford, Pennsylvania. Our activities and the attractions we visited involved a wealth of American history, where one was very solemn, heart-wrenching, and tragic and others quite comforting.
Nancy Walters and Dr. Betsy Dresser are the co-authors of RV-A-GOGO, a blog they started in 2011 to chronicle their travel adventures living full-time in an RV.  They retired from wildlife conservation careers and, after traveling the world, are now crisscrossing America seeking out everything there is to explore, from natural wonders and historic landmarks to quirky attractions and divey restaurants.  Their blog provides readers with information about travel destinations, "must-see" attractions, the RV lifestyle, recipes, campground reviews, and more