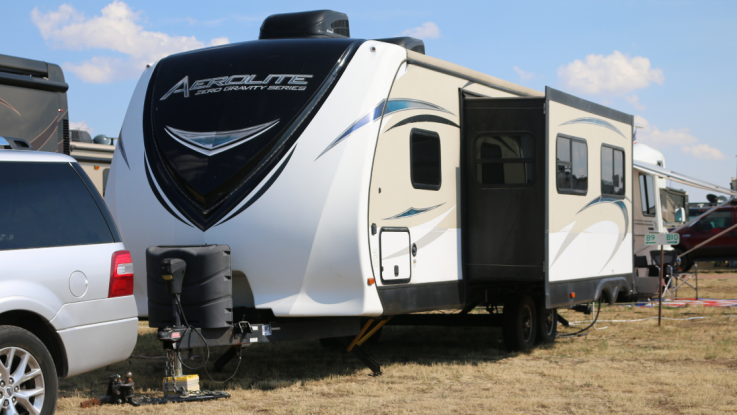 You've finally arrived at the RV park and now it's time to back your vehicle into the campsite. If you're pulling your RV with your car or truck, learning how to back in smoothly can seem tricky at first. While there are many campgrounds that have simple pull-through sites for RVs, some require you to back in, so this is definitely something you'll want to learn as an RV owner! With a little help and some practice, you'll get the hang of it in no time. To help out the FMCA community, RV Trader is breaking down how to back into your campsite with your RV.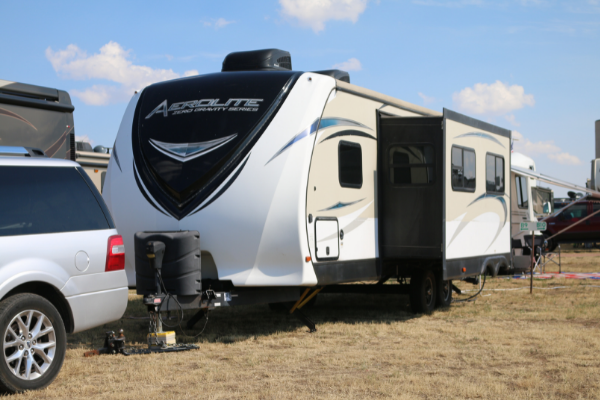 Look Over Your Campsite
Before you back in, give your campsite a quick check for any hazards or obstacles that might get in the way of your vehicle. Look for ditches, potholes, slopes, or mounds. When you go to park your RV, you want to make sure it's on level ground and is close enough to your hookups.
Have a Friend Spot You
Have a family member, friend, fellow RVer, or park ranger help spot you when you back into your campsite with your RV. Have them stand nearby to give directions, and make sure you can see and hear them as you back in. Your spotter will carefully direct you as you back in and keep you away from any obstacles.
Use All of Your Space
As you back into your campsite, take advantage of all the space you have with your towing vehicle. You want to position the driver's side of your towing vehicle near the edge of your camping space to give yourself more area to make a cut with the wheel as you reverse. When you back in, keep the area where you want to park your RV within your eyesight on the driver's side so you can see where you're going as you reverse.
Let Your Vehicle Guide You
Keep your windows down and communicate with your spotter as you reverse. Use your mirrors to guide you as you back in and to help keep the tires of your RV in sight. Focus on steering and getting your RV in a straight line.
Use the Bottom of the Steering Wheel
Keep your hands on the bottom of the steering wheel as you direct your RV back into the campsite. This will give you more control to pivot and turn your vehicle when getting into a straight line. Have your spotter give you directions when it's time to turn your vehicle into place.
Make a Cut with the Steering Wheel
When you're ready and in place, make a cut with the steering wheel in the opposite direction of the campsite and reverse slowly as you listen to your spotter's directions. As your towing vehicle swings, the RV will move into the direction of your campsite.
Make an S-Turn to Straighten Out
With your RV in place at your campsite, turn the steering wheel toward your site in the direction of the RV to straighten out both vehicles in an "S-Turn." Move with caution and take it slow. You may need to do this step several times to line up and get your RV in place.
Double Check Your Location
With your vehicle parked, get out and see if your RV is in the right spot. Keep the space around your RV clear so your slides can open. See that your cords and water hoses can reach the utilities, and be sure you can comfortably set up camp beside your RV.
Keep Your RV Level and Stable
You might have an RV that has auto-leveling jacks. If not, you can use a bubble level, leveling blocks, and/or manual leveling jacks instead. Stabilize your trailer with wheel chocks if it doesn't have a parking brake. If you don't have automatic stabilizing features, use a stabilizer jack that extends from the frame of your RV to the ground to keep it in place. You should use several jacks to evenly distribute the vehicle's weight.
Unhitch and Camp Out
Now, with everything in its right place, level, and stable, you can unhitch your RV from your vehicle, connect your hookups, and set up camp. You've done it! You've successfully backed into your campsite!
Final Thoughts
Backing into your campsite with your RV might seem difficult with your first few attempts. Don't stress though! Take it step by step and keep practicing, and soon you'll be backing in like an RV expert.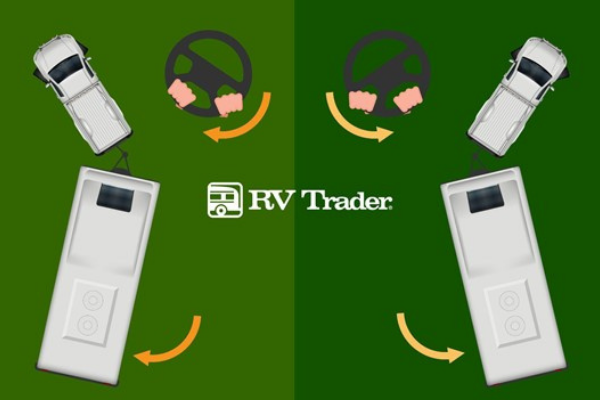 RVTrader.com is the industry-leading online marketplace for buying and selling new and used RVs, including Class A, B, and C vehicles, as well as campers and trailers. With over 191,000 recreational vehicle listings, RV Trader is a trusted resource for buyers and renters nationwide. And with over 4.3 million visitors every month, no marketplace is more trusted to generate inventory exposure for dealers and private sellers. RV Trader is a division of Trader Interactive and belongs to the well-known "Trader" family of brands.