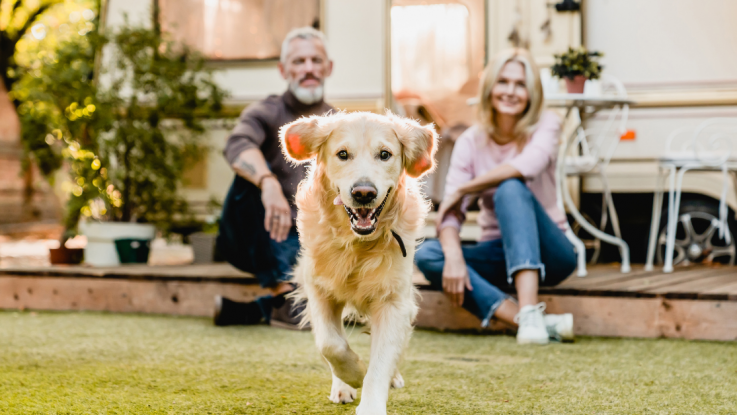 Traveling in your RV is great; what could possibly make it better? Traveling in your RV with your fur babies, of course! Camping with your pets may sound like a lot of fun, but there are specific precautions to take before and during a trip to make the experience safe and enjoyable for your furry friends. Recently at RV Trader, we published a series of articles about RVing with your pets. To provide the FMCA community with the most important highlights from all of our tips, here's everything you need to know about RVing with pets in one handy article: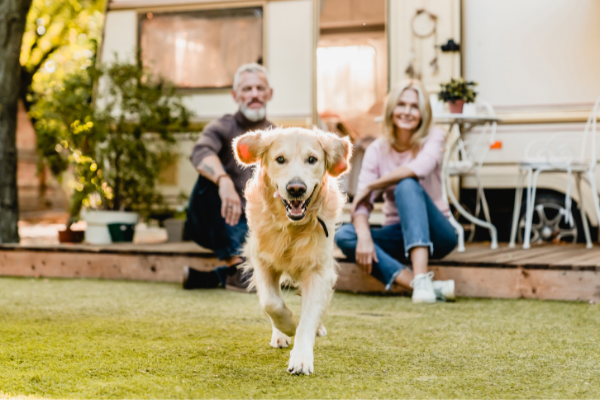 BEFORE YOU GO
 Call Ahead
The first step of taking your pets on the road is to make sure they're actually allowed at any park or destination you want to visit! Put in a call to each RV park and/or campground you plan to stay at and ask what kind of pets they allow, if any. If they do allow pets, ask if they have any specific rules or regulations about on-site animals, both at your campsite and at other facilities on the property.
Get Up-to-Date on Meds, Paperwork, and Tags
Make sure your pet is updated on all shots and other treatments, including flea and tick medication. You also want to have the most up-to-date vaccination paperwork for your pet to keep in your RV, as many parks will require a pet's health certificate and vaccination records before allowing them on the grounds. Finally, ensure that your pet is outfitted with a collar and tags that have your current cell phone number, in case they get lost. You may also consider having your pet microchipped.
Make a List of Supplies
The essentials like food and water are a no-brainer, of course, but be sure to write down absolutely everything you need for your pet, including bowls, treats, medications, harnesses and leashes, a litter box, waste bags, cages, a brush, and a crate, if needed. Also pack a few items from home that help your pet feel comfortable in their new surroundings, such as their favorite blanket and toys.
Introduce Your Pet to the RV
Before you set out on your trip, let your pet get comfortable with the sights and smells of your RV. Bring them into the rig while it's parked, and then take them for a short test-drive. Pay attention to your pet's behavior and, if they start showing signs of stress or anxiety (more on that below), pull over and give them time to relax. When you think they're ready to go camping, start with short-distance travel before introducing them to long road trips.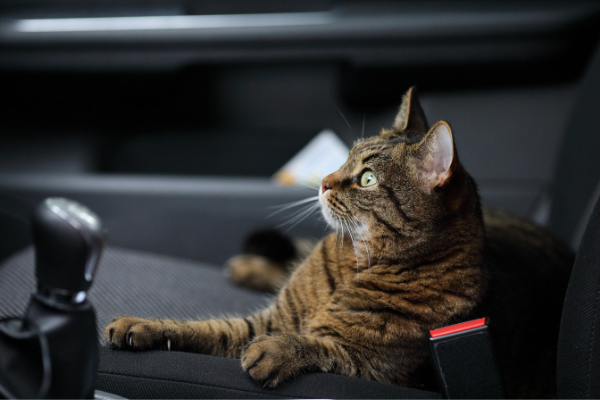 WHILE TRAVELING & CAMPING
 Ensure Your Pet Has Their Own Space
During the drive, make sure your pet has a safe and stable place to ride. If your pet is in their crate, anchor it to the floor so it doesn't slide around while the RV is in motion. If your pet is in a seat, invest in an adjustable harness that keeps them secure while still allowing them to easily sit or lay down. Or, for smaller pets, you can place them in a pet car seat.
Once you're at the RV park, you still want your pet to have their own space where they can feel safe and comfortable. Set up their crate, bed, and/or blanket in an easily accessible space, along with their favorite toy. For litter boxes, you'll have to find a spot where no one will accidentally step into it, such as a closet or under shelves. If your pet can go outside, they'd love for you to set up a portable/collapsible fence or pen so they have room to explore on their own.
Look for Signs of Pet Anxiety
RVing is not a good fit for every pet, and you don't want your fur baby to be scared or depressed at a campground. Keep an eye out for signs of pet anxiety, including excessive whining, howling, or barking; bathroom accidents; pacing; restlessness; attempts to escape; holding their tail close to their body; and/or unusual aggression or destructive behavior. Talk to your veterinarian about prescription or over-the-counter calming supplements, as well as anti-anxiety jackets and wraps. And, especially if you're introducing your pet to camping for the first time, be willing to go home if it turns out your poor pet is having a miserable experience.
Make Stops on the Road
It can be challenging to find pet-friendly places to stop at, but your furry friend will thank you. Pit stops while traveling can give your pet a much-needed bathroom break and let them stretch their legs and explore. New surroundings can be incredibly exciting, so be sure to keep them leashed and close by whenever they're out of the RV.
Monitor Your RV's Temperature
One of the biggest dangers to pets traveling in an RV is overheating due to high temperatures. Always keep your camper at a cool enough temperature for your animal to be safe and comfortable. If you have to leave your pet alone, use a monitor that notifies your smartphone of changes in the temperature and humidity in your unit. You can also invest in a pet cooling mat.
Practice Proper "Pet-iquette"
Getting to bring pets on-site is a privilege provided by campgrounds. Those of us with pets should show our gratitude and avoid messing it up for everyone else by practicing proper pet etiquette, or "pet-iquette." Here are some quick tips:
Always pick up after your pets and properly dispose of waste.
Don't leave your dog alone if they bark continuously when left behind in the RV.
When outside the RV, keep your pet on a harness and leash.
Ask fellow campers for permission before letting your pet approach them or their pets.
Don't let your pet jump up onto other campers.
When using a dog park or other pet area, keep track of time and be considerate of other pet owners waiting to use the space.
Keeping barking and other pet noises down, especially during quiet hours.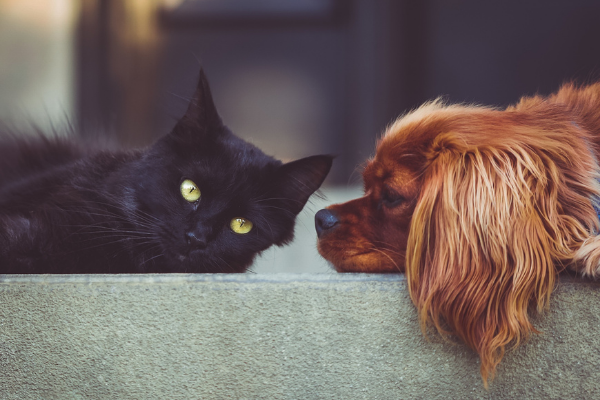 Don't Leave Your Pet Alone for Too Long
Finally, try to not leave your pet behind by themselves in the RV for extended periods of time. Being isolated in a strange environment can lead your pet to experience unnecessary distress, become destructive, continuously bark or otherwise disturb your neighbors, or even dehydrate themselves. If you do have to leave your pet alone, exercise them beforehand, ensure they have plenty of water, and monitor their condition with temperature-control and live-camera apps on your smartphone.
Final Thoughts
It can be an absolute blast to share camping adventures with your pets. However, to make sure those lifelong memories are positive, it's important to take specific steps to provide your furry friend with a safe and comfortable experience. Follow these tips, then get out there and have fun with your pets on the road – and be sure to send us pictures!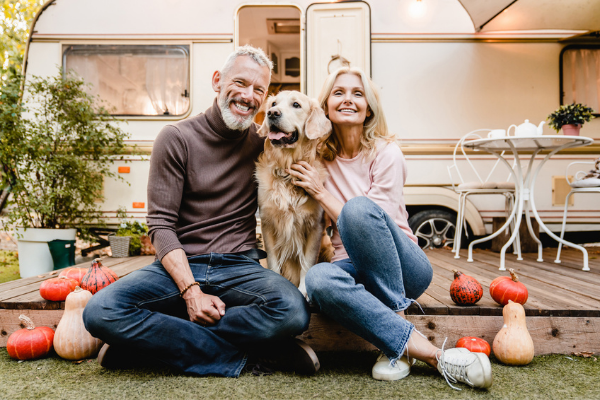 RVTrader.com is the industry-leading online marketplace for buying and selling new and used RVs, including Class A, B, and C vehicles, as well as campers and trailers. With over 191,000 recreational vehicle listings, RV Trader is a trusted resource for buyers and renters nationwide. And with over 4.3 million visitors every month, no marketplace is more trusted to generate inventory exposure for dealers and private sellers. RV Trader is a division of Trader Interactive and belongs to the well-known "Trader" family of brands.