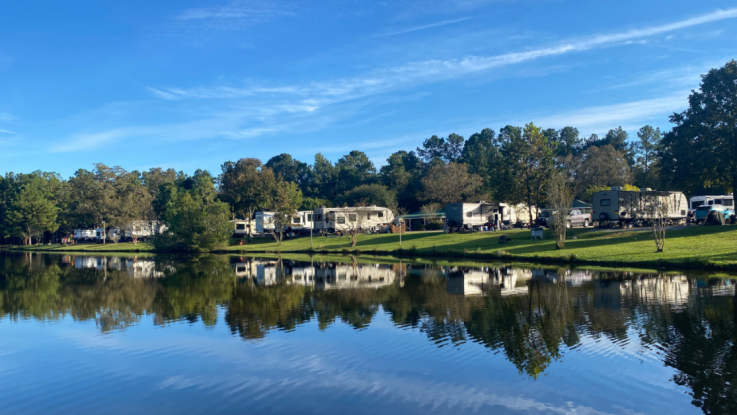 Just as I chose my cruises to be a nice mix of cruise ships and ports of call, I also pick my campgrounds in a similar manner. My husband and I have been on the road for 130 days now, trying to explore a different state each month. When we book an RV park, we consider it for the campsite offerings and for the exciting things and places we can see while using it as our home base. Here are three great Southern campgrounds — in Mississippi, Tennessee, and South Carolina — that make for fun day trips.
Hattiesburg/Okatoma River KOA — Mississippi
One of the newest KOA campgrounds has become a favorite of ours, the Hattiesburg/Okatoma River KOA. This campground is built around a body of water and has a friendly vibe, privacy, and pretty scenery. A well-stocked general store offers souvenirs, food and snack items, coffee, and t-shirts. We loved camping alongside the picturesque pond, which always looked so peaceful. Several campers were fishing in the pond (catch and release), and a few dozen Canada geese and ducks called it home. 
If you have little ones, you'll appreciate the playground area, which our granddaughter adored. Besides the typical offerings, the Hattiesburg/Okatoma River KOA also has a covered patio with a Ping-Pong table, several outdoor games, and a swimming and kiddie pool.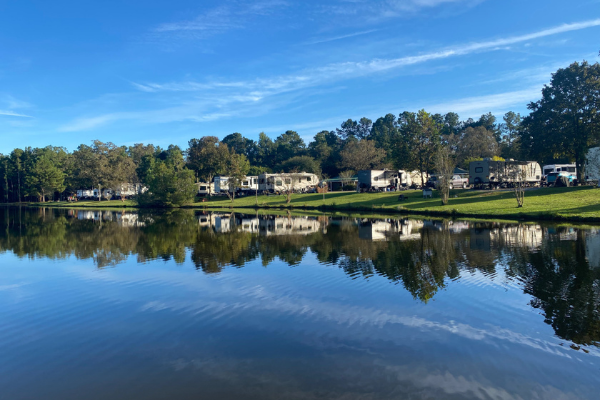 Visiting Hattiesburg is a fun time, with many excellent restaurants, shops, murals, and sculptures. Suppose you are in town on a weekend when The Lucky Rabbit is open; you'll be in awe of this whimsical store chock full of trash and treasures. The selection is carefully curated, and it's seriously like falling down the rabbit hole. My top picks for breakfast, lunch, and dinner, respectively, are Depot Kitchen & Market, Ed's Burger Joint, and Keg and Barrel. Grab a beer at one of the breweries. My favorite is Southern Prohibition Brewing.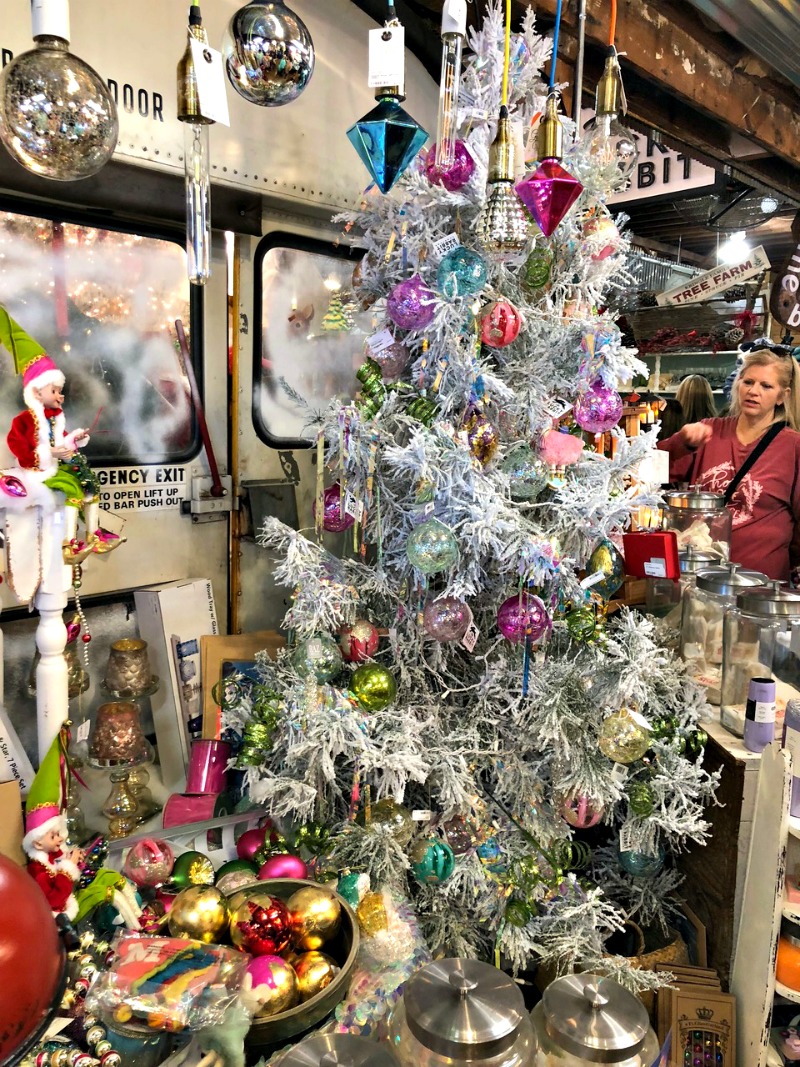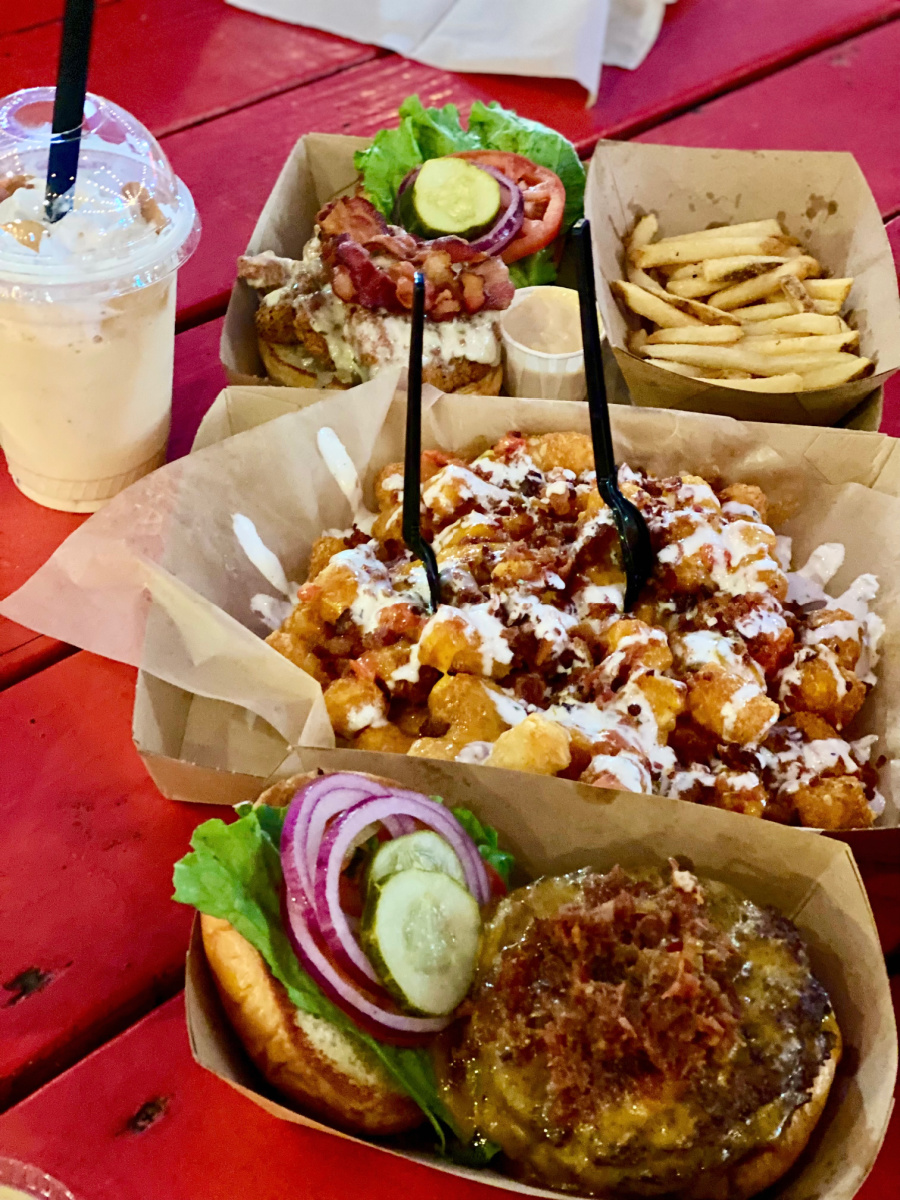 Into biking? Hattiesburg is on the Longleaf Trace, where you also can go horseback riding. Families will love the small but mighty Hattiesburg Zoo, with a high ropes adventure course, a train, and a carousel. 
The Hattiesburg/Okatoma River KOA is 35 minutes from Laurel, where the HGTV series "Home Town" is filmed and set. Be sure to browse Laurel Mercantile Co., Rusty Chandelier (antiques), and Cotton Boll, and then pop into Shug's Cookie Dough & Candy Bar for sweet treats. 
Satisfy the gambler inside with a 75-minute jaunt down to Coastal Mississippi, namely Biloxi, where you will find an extensive offering of casinos and resorts, such as Harrah's, Hard Rock, and Beau Rivage. Sitting on the Gulf of Mexico, Biloxi also has the Biloxi Lighthouse, which many want to see on their visit, and the Ohr-O'Keefe Museum of Art, located in a stunning Frank Gehry-designed campus and buildings. You also can enjoy the beaches of Biloxi and a chartered boat or fishing trip.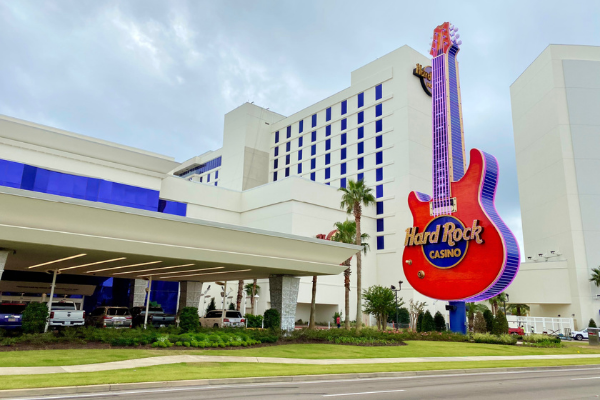 Manchester KOA — Tennessee
Staying with KOA properties, the Manchester KOA Holiday  is a great choice for dependable amenities and proximity to some lesser-known Tennessee towns that are deserving of a visit. The KOA has a lovely swimming pool, which I had all to myself since we stayed later in the year. Also included in your stay is access to the fishing pond, spray park, mini golf, an outdoor bowling lane, and an outdoor movie theater, among other amenities.
The campground offers a variety of accommodations besides tent and RV spots, such as cabins; a treehouse (which to me is a yurt with a tree growing through the center); teepees; glamping tents; and a covered wagon, my favorite.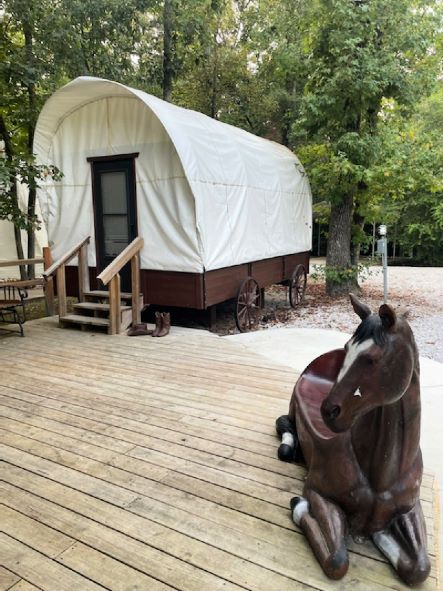 Our side trips included Fayetteville, Lynchburg, and Pulaski. Nashville and Chattanooga are an hour away, too.
In middle Tennessee, Fayetteville is just a tiny town, but it has a darling courthouse and cute little square to wander around. We did some shopping, took lots of pictures, and then ate the famous Slawburger from Ken's Fast Foods, a must when visiting Fayetteville. Apparently, Shoney's is making a big comeback in parts of the United States, so we stopped at one in Fayetteville to chow down on a slice of hot fudge cake. What a dose of nostalgia!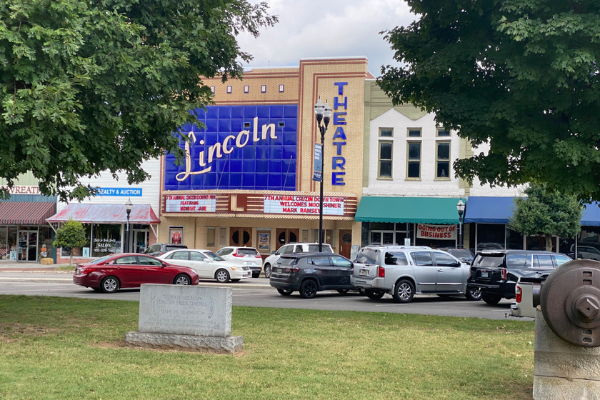 We met up with an old friend in Pulaski and had delicious coffee in a darling shop called Second Street Coffee House. Pulaski is another historic town with a gorgeous courthouse and town square. The Clothes Pen (children's clothing), The Outlook (running shoes and outerwear), and Statemint Studios (ladies' apparel) were the standout stores to me. Though we didn't have time to go during our visit, you can see the Milky Way Farm in Pulaski, a historic family-owned dairy farm. A creamery is on the property, so you can have uber-fresh ice cream, available in 48 "moolicious" flavors.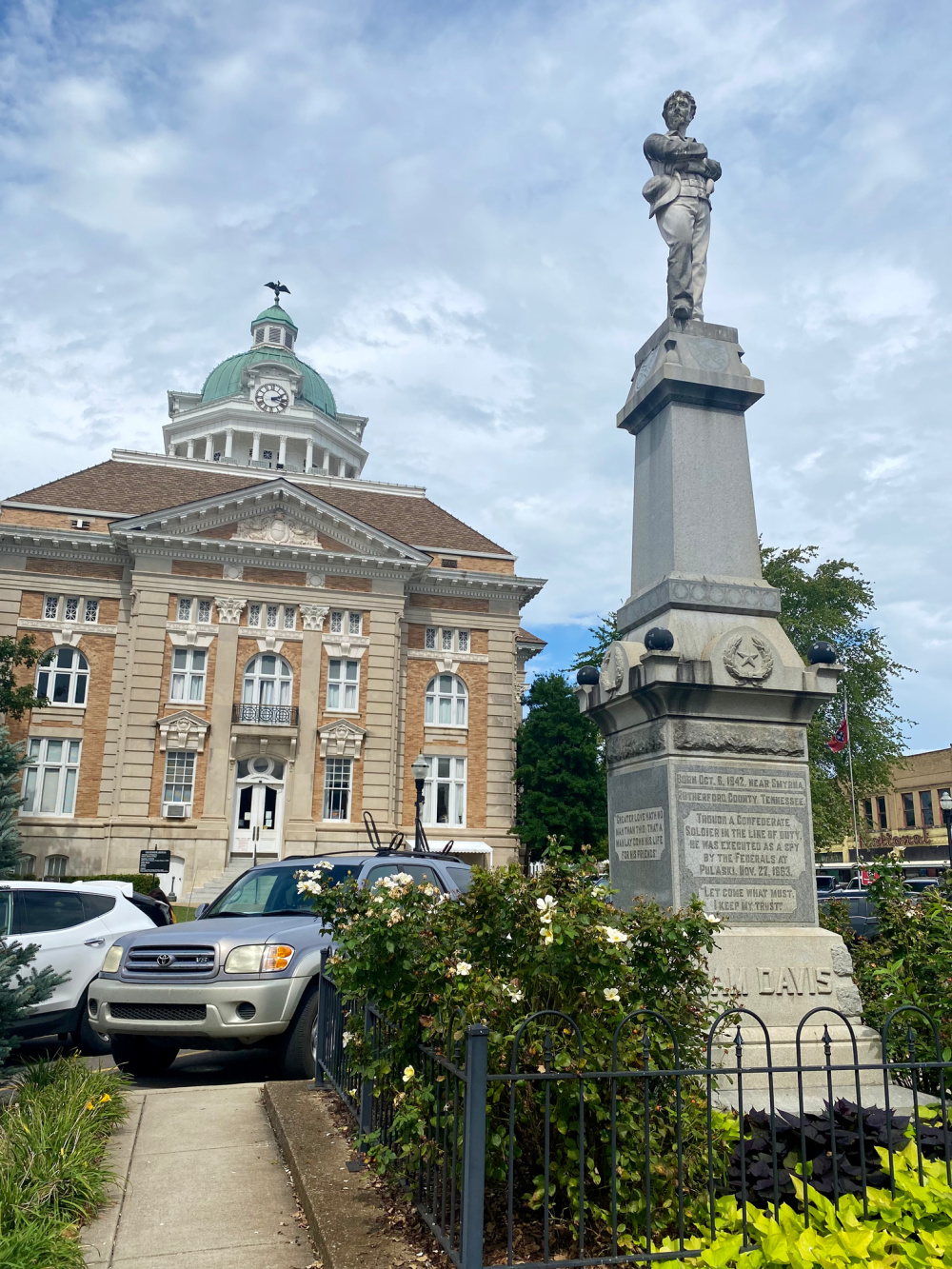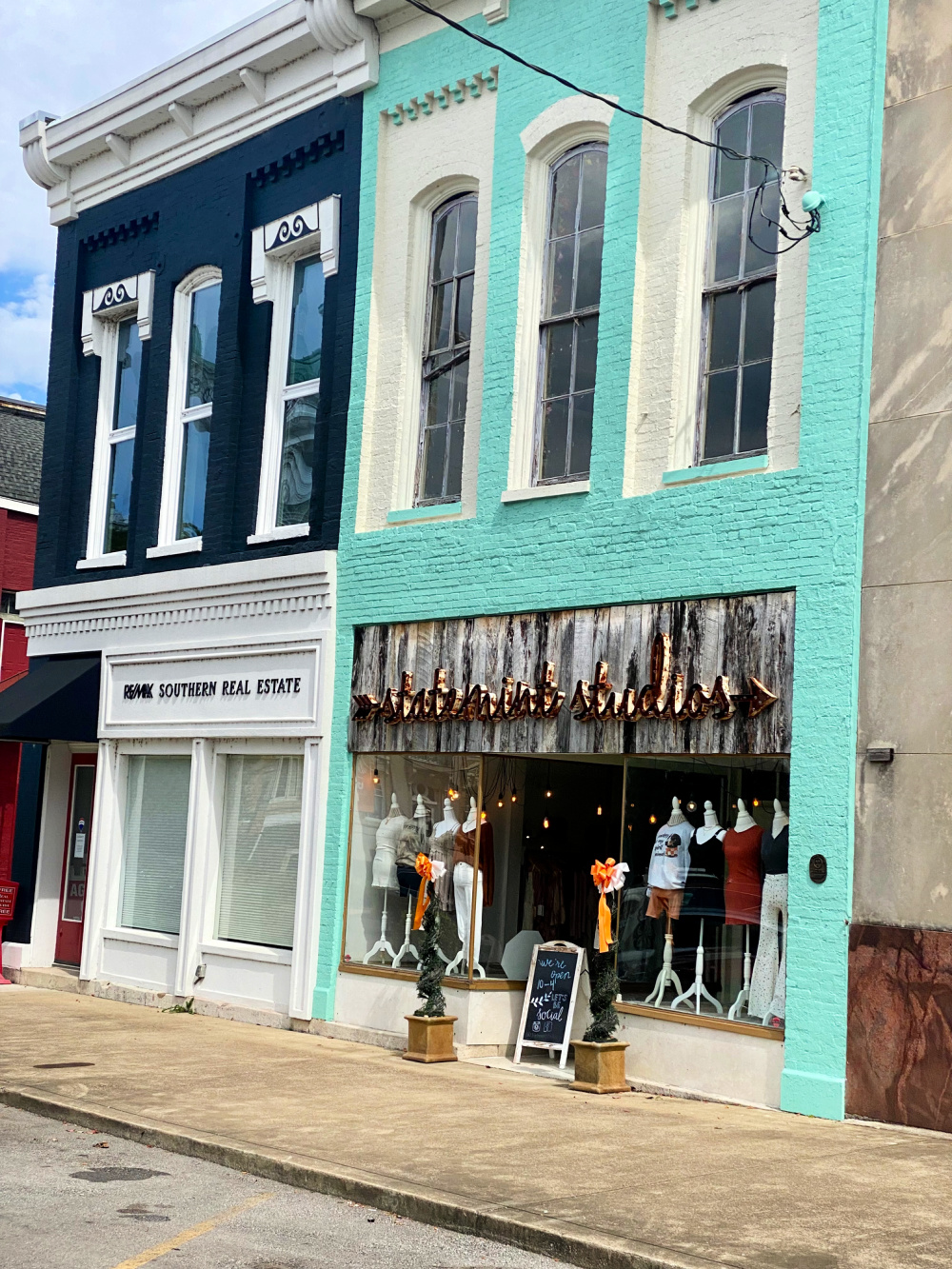 Lynchburg was the main reason for our stay in Manchester. Lynchburg is home to the Jack Daniels Distillery, maybe the most visited distillery in the world. We had such a fun day touring the Jack Daniels operation and doing a tasting at the end. On your trip, save time for meandering through the charming little town of Lynchburg. It has some nice boutiques and has the only store where you can buy Jack Daniels souvenirs and whiskey, since this is a dry county. Make a reservation for a memorable and absolutely delicious Southern meal from Miss Mary Bobo's Boarding House Restaurant, a 100-plus-year-old property.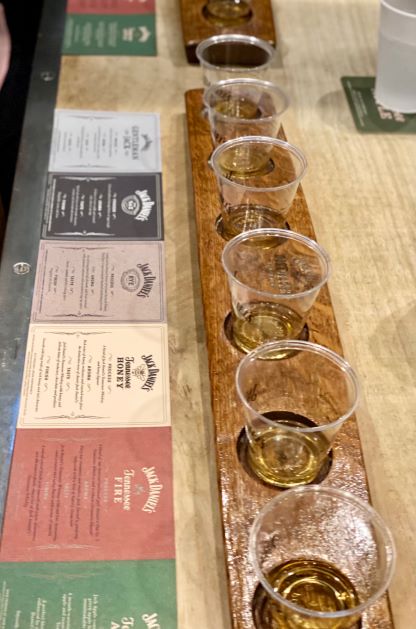 South County Cove Park — South Carolina
Oconee County, South Carolina, is the westernmost county in the state. It has three exceptional lakes and a bounty of beautiful waterfalls, many accessible only from the water. We stayed at South County Cove Park, one of three county parks. The rates were unbelievably affordable ($25 per night), and our campsite was lakefront on Lake Keowee, with full hookups.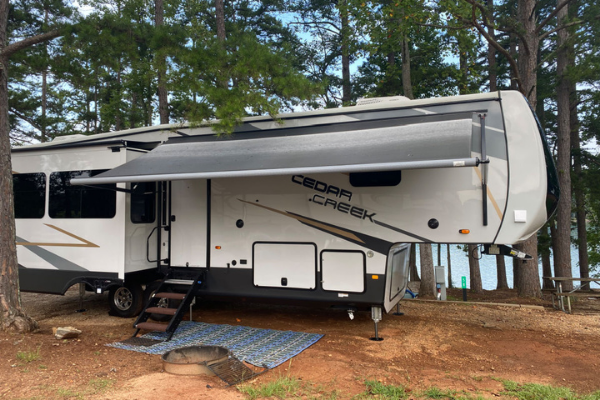 We enjoyed walking around the campground and admiring the scenery. There was a sand-beach swimming area, picnic shelters, charcoal grills, and boat ramps at the campground. Many of the campers were swimming, standup paddleboarding, and kayaking. The bathhouses were impressively clean.
If you want a one-of-a-kind experience, ask for Captain Zach at Jocassee Lake Tours and get out on picture-perfect Lake Jocassee all year long. You can fish, sightsee, have a picnic lunch, swim, or whatever your heart desires. Tours depart from Devil's Fork State Park.
HIking to Yellow Branch Falls should be on the must-do list for anyone who is in good shape and an experienced hiker. After 60 to 90 minutes of hiking in, the grand finale is worth the effort as you see the gorgeous Yellow Branch Falls waterfall beating down on the moss-covered rocks.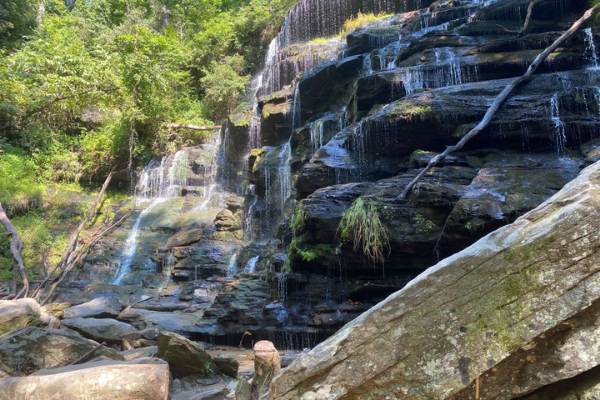 Note: Ramsey Creek Falls is easy to reach and only steps from the parking lot for those who want an accessible attraction. 
Seneca was our favorite town in Oconee County, with desirable local boutiques, a killer sweet shop (Walnut Street Bakery), Ram Cat Alley, and nice restaurants. I recommend Lighthouse Lake Keowee for the NC mountain trout and collards and Vangeli's Bistro for diver scallops and excellent pasta dishes.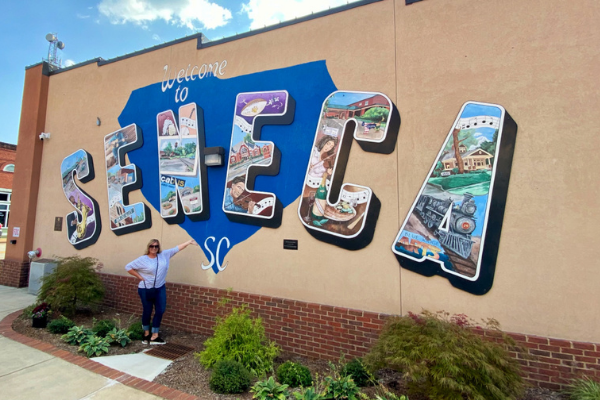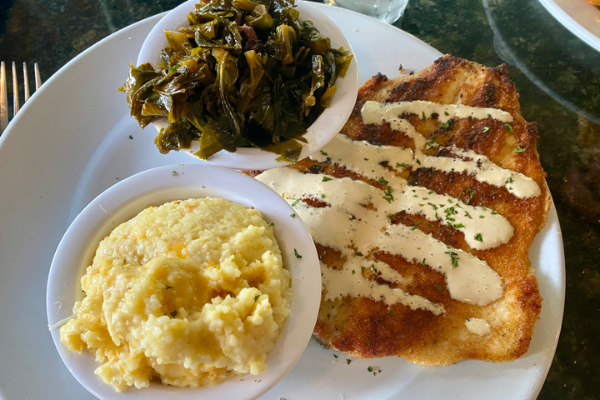 We enjoyed some time in Walhalla, with a walkable downtown, tasty comfort food restaurant (Steak House Cafeteria—don't miss the mac & cheese), a quality history museum, excellent coffee (Mountain Mocha), and eclectic art at End of the Road Studios. Check the calendar for the Walhalla Performing Arts Center and maybe see a concert or show. 
Chattooga Belle Farm is Long Branch, South Carolina's star attraction. This gourmet farmers' market, distillery, and bistro, all in an Instagram-worthy setting, is a must. Try the Musca shine at the distillery, and be sure to take advantage of the scenic overlook photo-ops.
Hi! I'm Melody Pittman, a freelancer, influencer, and co-owner of Wherever I May Roam Blog (Facebook) (Instagram) and Wherever I May Roll. Originally from Charleston, West Virginia, I moved to Vero Beach, Florida, 10 years ago and have loved every minute of it. I own the two blogs with my daughter, Taylor, and we also host an annual travel conference (Southern Travelers Explore) and small retreat.
I branched off of "Wherever I May Roam" to "Wherever I May Roll" now that I'm on an 18 -to-24-month extended RV trip with my husband of nearly 30 years, Eddie, and our 11-year-old King Charles Cavalier, who is deaf. We are seeing a different state each month and sharing our adventures as brand-new RVers (elementary level here) on our YouTube and Instagram channel of the same name. You can also follow our adventures at #whereverimayroll or on our YouTube or Instagram channels.  
Aside from RV life, I am an expert cruiser, love small towns, history, buying and eating local, and unique adventures. I'm blessed with two beautiful daughters — Taylor and Peyton, also my best friends; a fantastic son-in-law; and an inquisitive almost 3-year-old angel granddaughter, Scarlett, who will be joining in on my adventures very soon.