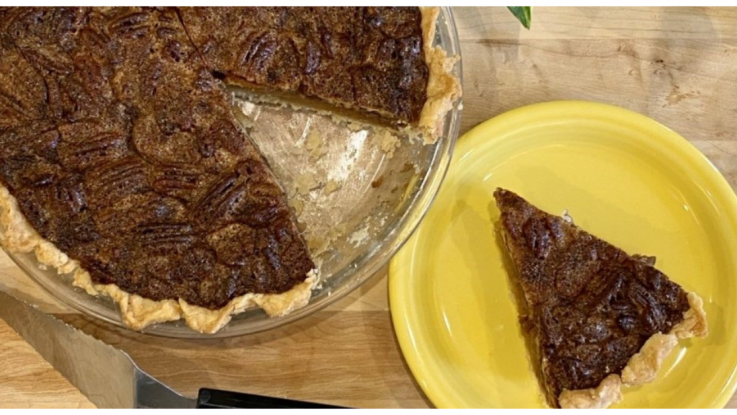 We're going back to my mom's Betty Crocker Cookbook for today's post.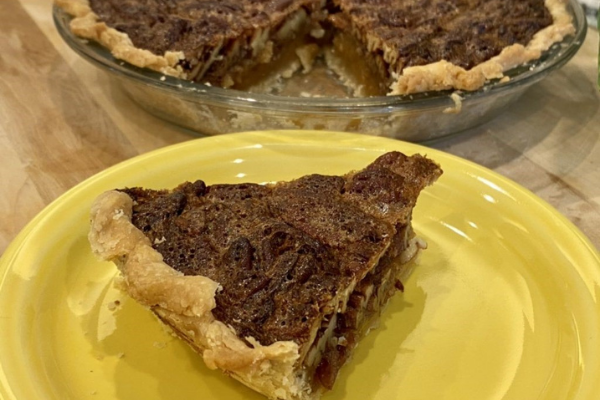 As many of you know, this cookbook is a cherished item of mine.  My dad thinks my mom got it when she graduated college, but he's not really sure.  To me it's a gold treasure that links me to her.  I turn the pages and wonder what recipes caught her eye, what ones did she make, what ones would she have taught me how to make?  I used to try to figure out which meals she cooked for my dad from this book while they were dating and first married.  She died when I was a toddler.  It's held together with book-binding tape and I will never part with it.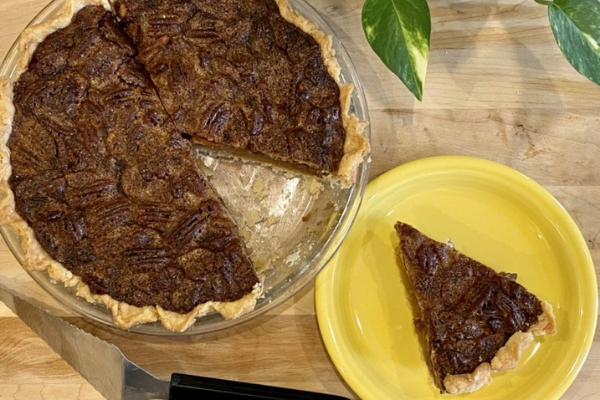 The Pecan Pie recipe sits on page 352 with this phrase under the title:  Traditional recipe from Tidewater, Virginia.  The choice among all desserts at world-renowned Williamsburg Inn in restored colonial Williamsburg.  Almost every recipe has some sort of historical reference or a short blurb about the recipe provider.  I should check out the newest Betty Crocker Cookbook to see if they still do this.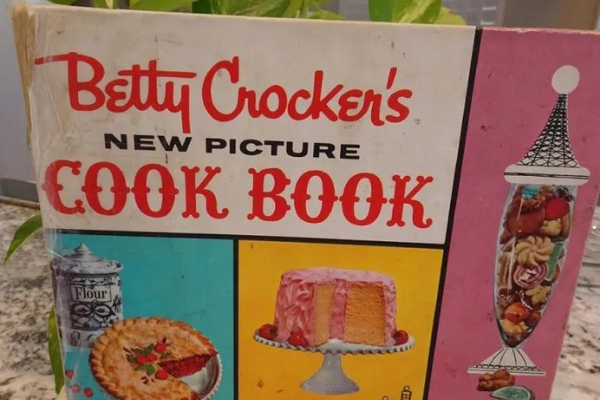 Did I mention how much I like pecan pie?  I like it warm with a scoop of vanilla ice cream on top; I like it at room temperature, both plain and with a little whipped cream.  I like it for breakfast, and I especially like it when nobody is looking!  Pecan pie is not safe around me.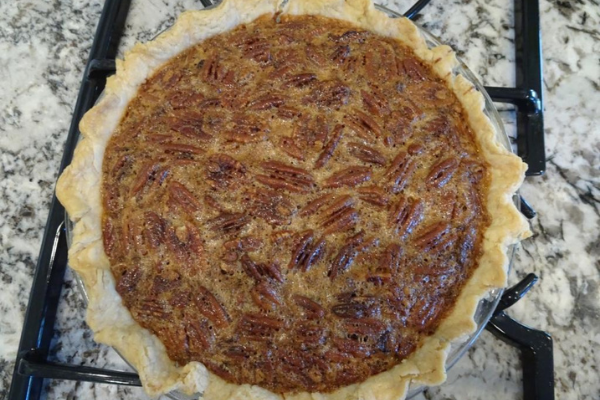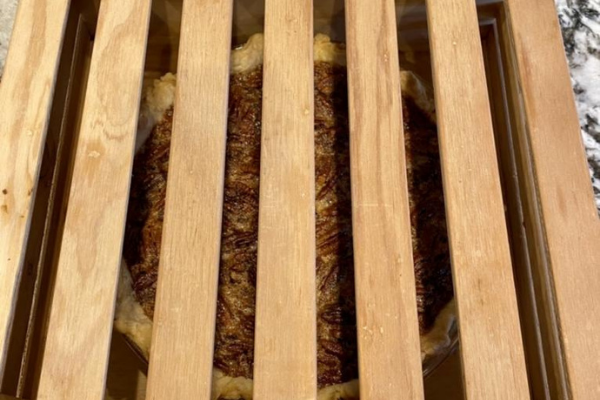 Not only is it insanely delicious, but it's surprisingly easy to make.  It only takes a few minutes to put it together and get it in the oven.  Oh, does the house smell good while it's baking.  It's packed with pecans, so you get a big pecan taste in every bite.  It doesn't need refrigeration after baking, so it's the perfect dessert to take to a gathering.  My uncle made me some beautiful pie carriers but any carrier will do.
Here's an added tip about storing your pecans.  I buy them at Costco; we use enough to justify the bigger bag size.  I keep them in the freezer where they will keep for 2-5 years.
I make my own pie crust, but you can make your own or use store-bought crust.  Here's the link to my mother-in-law's foolproof pie crust.
This recipe makes one 9-inch pie.  I've added the 8-inch instructions on the print feature.
Preheat your oven to 375°.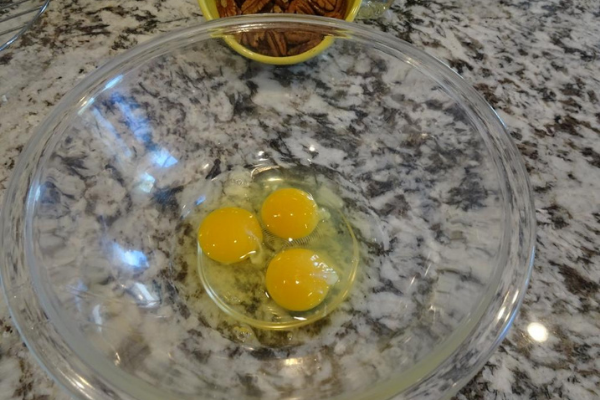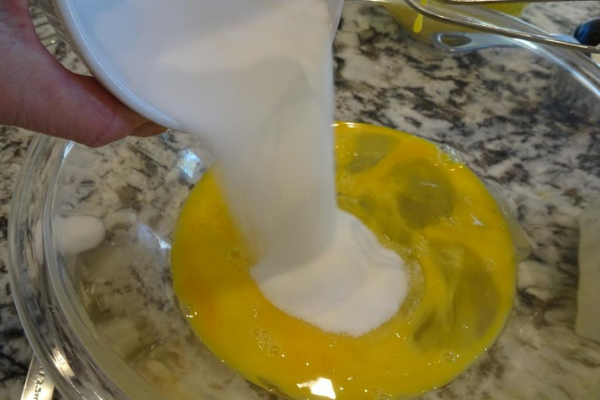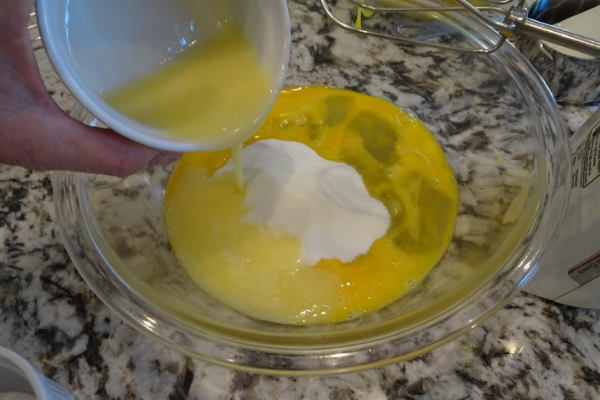 Beat eggs, sugar, salt, butter, and corn syrup.  If you have an old rotary mixer, that's what the recipe calls for.  I don't have one, so I use my electric mixer on low-medium.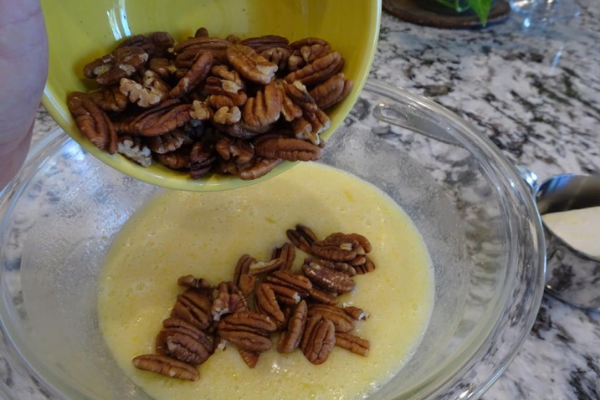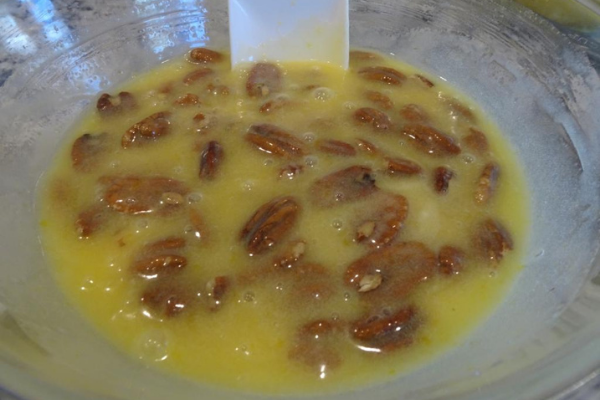 Stir in the pecan halves.  I did modify it just a bit.  I like a lot of pecans in my pie.  For me, one cup just isn't enough.  I measure mine on a food scale.  One cup of pecan halves is 4 ounces on the scale.  I double it to two cups or 8 ounces.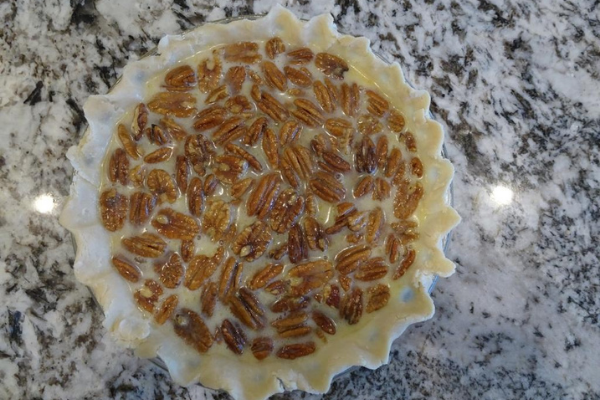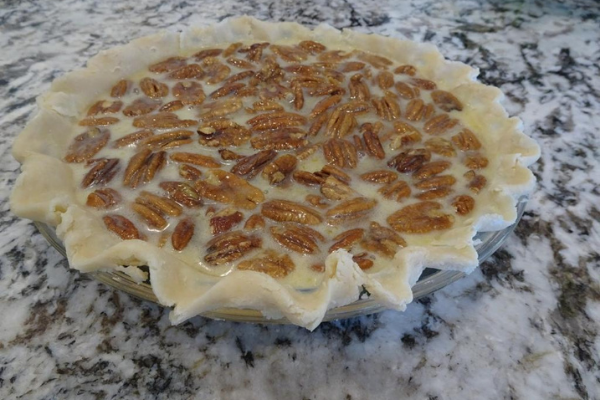 Pour the mixture into your prepared pie shell and bake 40-50 minutes until the pie is set and the pie shell is nicely browned.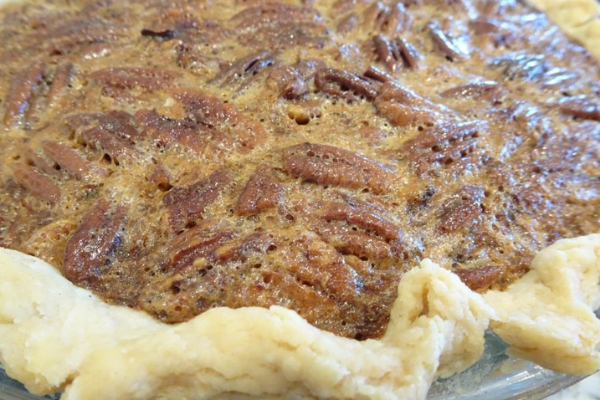 That's it!  Super easy and super delicious!  You'll wonder why you didn't try making one before and your pie will rocket up to the family favorite list in no time.
Easy Pecan Pie
3 eggs
2/3 cup sugar
1/2 teaspoon salt
1/3 cup butter, melted and slightly cooled
1 cup light corn syrup
2 cups pecan halves **
Preheat oven to 375°.
Beat eggs, sugar, salt, butter, and corn syrup until well blended.  Stir in pecan halves.
Pour into pie shell.  Bake 40-50 minutes until set and pie crust is nicely brown.
Cool on wire rack.
**Original recipe calls for one cup pecan halves.
Meet the Family
I'm Maureen Milne, F446881.  Mark and I are becoming empty nest veterans and you know what, we enjoy it!  We are always on the lookout for the next adventure, our friends call us the X-Games family. We are avid hikers, cyclists and skiers (both snow and water).  Mark does triathlons and we run several races a year.  We've been RVing together since we were teenagers and we love traveling with our two grown sons.  I share our RV adventures, RV friendly recipes, wonderful campgrounds and more on my blog, M&M Hit The Road.  You can also find our fun on Facebook, Instagram, Twitter and YouTube.